Welcome to Racerhead.
With the MXoN behind us and a new Monster Energy Cup coming up next week, it's a busy time around the test tracks, race shops and design studios. There are a lot of unanswered questions that should start getting more attention. How ready will Ryan Villopoto be to for next Saturday night's race?  How about Chad Reed? What will be the effect of Ryan Dungey's off-day in Belgium—his first defeat since May—have on his confidence? How fast will Justin Barica be on an SX track with his new Honda Muscle Milk CRF450?  What exactly will be Ricky Carmichael's role in the new collaboration with Carey Hart's Hart & Huntington Suzuki team? Will Eleven10 Mods be blue? (Regardless, we hope the Eleven10 box van stays flat black.) Is Darryn Durham hurt again? How is Davi Millsaps getting along with his new Rockstar Suzuki? How about Broc Tickle on his new ride? How fast will Adam Cianciarulo be on a Pro Circuit 250? And what's going on with James Stewart?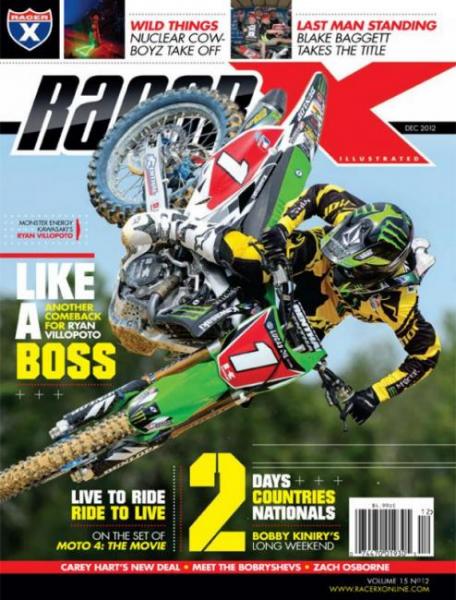 In only its second year, the Monster Energy Cup at Sam Boyd Stadium has become quite an event. With a wild track designed in part by RC, a thrown-out-the-window rulebook—only fuel and sound have limits—and some funky things like the split starting gate and the joker's lane, next Saturday night will be something of a spectacle. The whole thing airs live on SPEED, so if you're not actually going, be sure to stock up on beverages for some living-room bench-racing that should cover at least three and a half hours.
Of course there's also the million dollars that goes to any rider that sweeps all three motos, which is what Villopoto did last year. If you could bet on this race, who would you pick to potentially sweep it? Personally, I think it's a long shot for anyone. But I would give RV the best chance, knowing that he never really stopped training after he injured his knee at the Seattle SX, and that he's been back on the bike for well over a month. Dungey is probably still digging sand out of his ears from Belgium, having spent two full weeks over there riding in the silica, so his SX game may not be anywhere near where it was when he won the Las Vegas SX last May.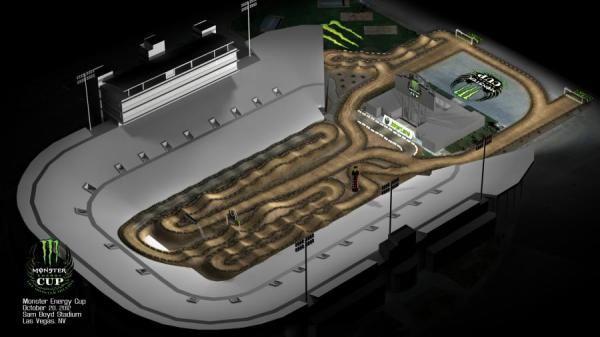 The MEC track is bound to shake things up.
Beyond the bright lights of supercross, there are still plenty of other motorcycle happenings taking place throughout the fall. I got to go out and spend some time in the woods on Sunday when the Can-Am GNCC Championships were held right across the state line in Ohio. I used to race this series a lot back in the day, and was ready for a long afternoon of watching guys putt around in the woods. Needless to say, I was impressed by the sheer speed kids like Kailub Russell, Charlie Mullins and series points leader Paul Whibley are going right now. It was almost a full-on sprint from start to finish! In the end, Russell (my brother-in-law Jeff Russell's boy) won by just a few lengths over Mullins after three hours of close racing. The title will come down to the last two rounds, as Whibley now holds a four-point advantage on Russell. The last two rounds will take place at Crawfordsville, Indiana, and then the finale will be at Loretta Lynn's Ranch.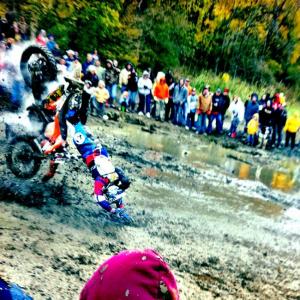 Not sure who this unlucky rider is, but his
mud-dive got about 2,000 "likes" on Instagram.
DC photo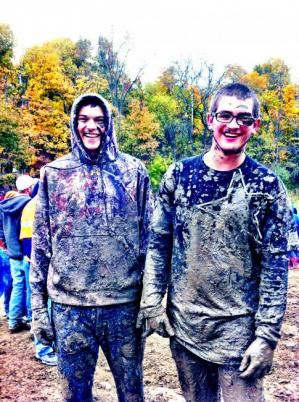 A couple of modern-day "Mud Fleas"
reminded us of the Blackwater 100 days.
DC photo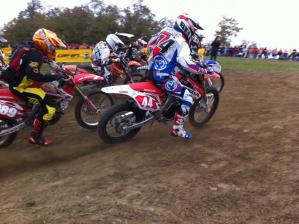 First-turn action via a well-placed iPhone.
DC photo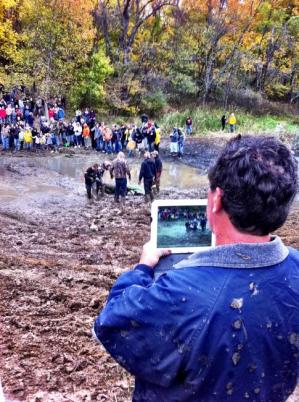 That's Doc McGee using his iPad to find himself better
lines for next year—he was stuck in this mud hole
for a half-hour during the morning race!
DC photo
I will let the guys below get more into the ramp up for the Monster Energy Cup, the news of the week, and a preview of what's right around the corner. I am on another drive through the Southeast, having just returned from New Orleans and last week's Superbike Finals and the AMA Pro Racing Banquet. I also have a little girl's birthday party that I need to start getting ready for; I was hoping for a Hangtown theme but I was out-voted—it will be Sloane-as-Alice-in-Wonderland instead. That's it from me, here's Jason Weigandt.
A month ago, I wrote an off-season manifesto (HERE) asking teams to help us help them. We can deliver great press and coverage, but they have to be willing to stop working in such secrecy during the off-season. Many, many times, you'll hear, "We don't want anyone seeing this rider/bike/gear/graphics until Anaheim 1." But here's the problem. Once the races start, the coverage is going to head toward the riders and teams that win the races. That's the nature of sports. But during the off-season, any rider and any team can create a story, and we'll be here to cover it. So, make up a story! Make up a press event! We'll take the bait, hook, line and sinker.
Now we've reached an even stranger part of the off-season, where riders and teams have already begun work on 2013, but they're not allowed to talk about it yet. Normally, October 1 serves as the deadline for new deals, but stuff is dragging a little longer this time. For example, yesterday I went to the JGR test track again (after watching Justin Brayton ride there two weeks ago) and saw Brayton and Brayton's 2013 teammate riding and testing. Who will this second JGR rider be? Well, we've hinted at it a bunch on this site, but we're not allowed to say until Yamaha officially announces their factory support teams (which I hear will happen on Monday). Anyway, both JGR guys will be racing Monster Energy Cup, so they're deep into testing, official Yamaha PRs or not.
And that's what is going on where I live in North Carolina. Similarly, our Morgantown boys know full well what's happening with the Eleven10 Mods team for 2013, because that shop is just a few minutes from our West Virginia office, and our guys go riding with their guys all the time. But yet, we're not allowed to say everything we know yet.
Down in Florida, we were hounding the BTOSports.com team's Forrest Butler for weeks asking for the real scoop on their new KTM deal. In fact, in our Monday Convo this week, Matthes interviewed team rider Matt Goerke, and Goerke said he had better not say anything about 2013 yet, because he could get in trouble. Finally, the last signature came in and Forrest was able to do an interview yesterday.
And out in California, our man Ping has been at the supercross test tracks working with Adam Cianciarulo on supercross stuff. From hanging around the SX tracks, Ping has a lot of knowledge about who is riding what bikes in the future (mostly surrounding amateur talent signing with pro teams. Current pros are pretty much locked up). But, right now, none of it can be made public. Just expect to see some new deals for amateur dudes at the Monster Energy Cup next weekend.
But then it can get even more complicated. Last year, Cooper Webb raced a KTM at the MEC in the Supermini race, but, he had not actually signed a deal yet. And he never did! He ended up going to Star Racing Yamaha. So even when you talk to team guys and know what's going on, it might not actually be official. And even when you actually see riders at the test track testing new bikes, it might not be official. And even when you actually see riders racing the bikes at an actual race, it still might not be official. Yeah, we could write it, but then we get in trouble, and we'll never get a scoop again. So, you'll note how we carefully trot out news using words like "rumor has it" just to cover ourselves, and yet let you in on what's happening, somewhat.
And, just for fun, I've attached a pic that I took of the JGR mystery rider here that I took yesterday.

Weege snapped this photo of the second JGR signing for 2013--but the team isn't allowed to say who it is officially yet.
That's it from me. Here's Matthes.
Trying to get away for the weekend with my wife to San Francisco for a quick two-day vacation, but before I do, a couple of thoughts that ran through my brain while trying to get Pulpmx and Promototalk.com (along with all the podcasts and Pulpmx Shows) back up and running. By the way, if you're looking for a server company, I suggest you don't use 1and1 as they say they'll give you thirty days to move to a dedicated server but they really mean eleven. Thanks a ton, guys!
Alright, on to more pressing matters. How in the heck do riders like Brett Metcalfe, Kyle Chisholm, Tyla Rattray, Bobby Kiniry and Les Smith NOT have rides at this point in the off-season? And those are guys just off the top of my head because I'm sure there are more, but as of right now, those guys are some of the more prominent riders still needing a job.
Last I heard, Chisholm is maybe going back with his old team (Jeff Ward Racing) or perhaps with Hart & Huntington for an SX-only deal on Suzukis. Metcalfe I heard is looking to do outdoors only. Not sure why, maybe his injuries are still affecting him? Rattray I heard may be wrapped up next week but at this point, who knows for sure? I still see him finding a spot next to Andrew Short on the L&MC Honda team. Kiniry? Nothing at all, but he is doing the MEC with his old Valli Yamaha team. Les Smith? Nothing new there, either.  I'm sure that we'll find out more as the week goes on (things are heating up) but when these guys don't have rides this far into the off-season, well something is strange.
I'm looking forward to the Monster Energy Cup next weekend. It should be a good time and I really hope James Stewart is going to show up. I haven't spoken to him but I'd put it at a 50/50 by talking to those close to the race and close to JS. When the #7 shows up, it's always a more interesting race. As for Ryan Villopoto, I've heard from some people that have seen him ride that RV is up to speed and there's absolutely zero worry about him losing his "edge" coming back from this knee injury.
Anyone else looking forward to seeing if super-mini Jesus Adam Cianciarulo can get on that 250F and win against a bunch of kids who are older and have way more time on 250F's than him? I know I am.
Last week I reported that Dean Wilson had signed with Answer for next year but as with everything in this sport, it's not official yet. I expect it to be but as of now, it's not done.
Thanks for reading and I'd love to be able to give you guys an update as to when the Pulpmx site and shows and podcasts will be back up but I really can't. We're working on it and I'm going to try to get away this weekend to San Francisco and not think about it while I ride the trolley cars up and down hills.
Okay, a little more random news and we'll let you get on with your weekend.
Planning on making an original video and submitting it for the 3rd Annual GoPro/Racer X Online Amateur Film Festival? You've got just under a month to finish it, as all entries are due on Nov. 9 at 11:59 p.m. EST. We're expecting a record number of entries this year, and the top four finishers will win some awesome prizes from GoPro and Unit. Their support of amateur filmmaking is awesome and appreciated. Oh, and the grand prize winner will be contracted to make an exclusive video for Racer X Online, too.
Also, an important note for videographers: we have relaxed the definition of "amateur" for this year. If you're already a top videographer in action sports, this contest isn't for you. But if you're just getting started, if you've created your own production company and you're trying to make a go of it, if you've been paid for some freelance work in the past—these things won't exclude you. Make a video and enter. If you have questions about your status, email us at contests@racerxonline.com.
Find more info on the 3rd Annual GoPro/Racer X Online Amateur Film Festival HERE.
We picked up a copy of the new DUB magazine—"the original automotive lifestyle magazine"—and it had Brian Deegan on the cover, plus a feature on six-time WMX #1 Jessica Patterson's sweet 2010 Chevy Silverado, built by N-Fab. Pick it up on newsstands now.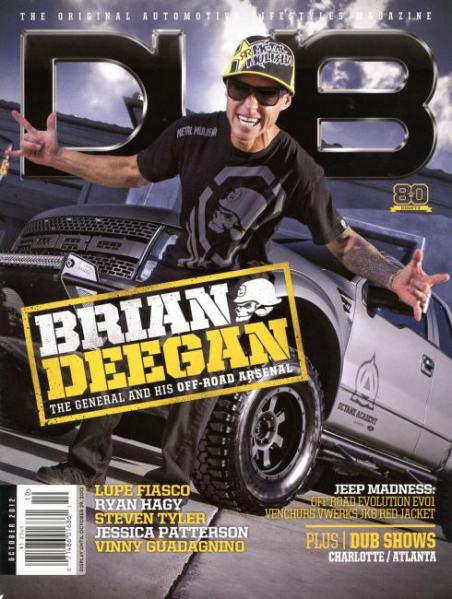 Deegan continues his brand building.
Here's an off-season project worth really diving into: Human Motorcycles. Supercross sideline reporter Erin Bates was recently invited to participate in an Advanstar art piece where she was the rider and a team of yoga enthusiasts posed as the motorcycles... Yes, she was naked. Yes, we have  video: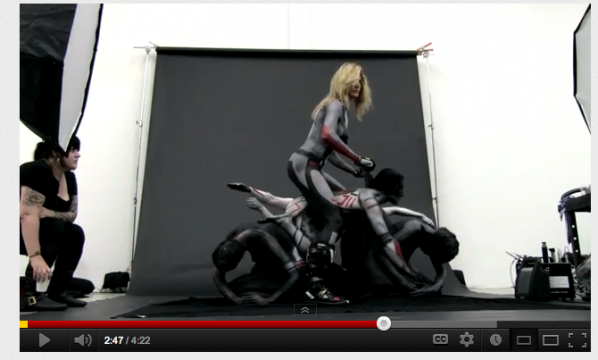 Bates! Click HERE to view.
Christophe Pourcel is trying to get his career back on track after parting ways with the Kawasaki team he rode for in 2012. The superbly talented but recently inconsistent Frenchman is going to be on a KTM for the upcoming Bercy Supercross in Paris. Our friend Bertrand Sanlaville sent us this cover shot from the latest issue of the French magazine Moto Verte of CP377 on an orange 350...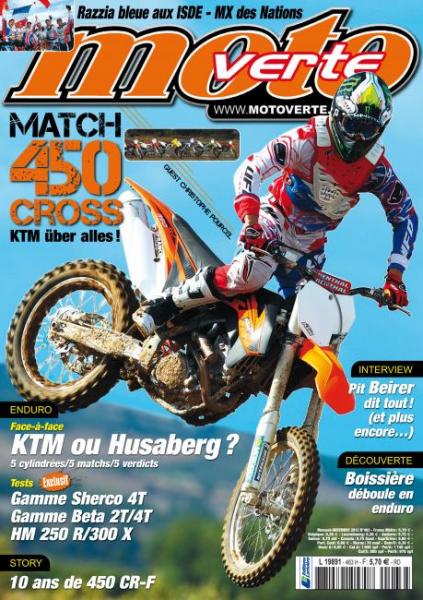 Pics are already out of Pourcel on his new ride.
Are you a Chad Reed fan? If so, you'll be interested to know that you can help play a part in deciding whether or not he races in Australia this year. Earlier this week it was announced that if the official Facebook page of the Australian Supercross Championship receives 10,000 likes in what has been named the 10K Fan Challenge, Reed will return to his homeland and take part in the series. So far there's no word on just how many races he'll participate in, but even a single appearance by the TwoTwo Motorsports superstar would be quite a thrill for the fans down under. As of Thursday evening, the series' Facebook page had already received over 8,000 likes. If you want to see Reed do a little racing before the 2013 Monster Energy AMA Supercross season kicks off in January, click HERE and do your part to push the number of likes over the 10K mark.
Here's a best-wishes and belated get-well-soon for Tom White, who earned himself a nasty case of face/road rash with a recent mountain-bike get-off. White, one of the world's foremost collectors of vintage motocross bikes and gear, as well as a Hall of Famer in the industry, will be announcing the upcoming Glen Helen Vet World Championships.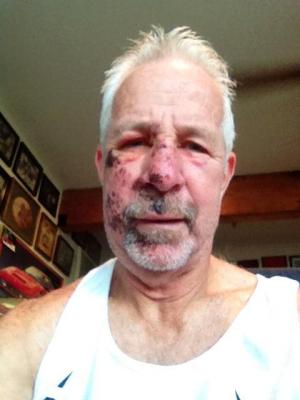 Ouch! Tom White in the "after" photo. Get well soon!
Here's a good idea for moto fans who are also video game addicts (Coy Gibbs, are you listening?) Check out these custom iPhone and console skins.  Customizable with your name, number and sponsors.  Made with the same heavy-duty material that we use on our BIKEgraphix.  You can match the graphics on your bike or come up with a whole new design.  Show your support for breast cancer awareness or promote your new sponsors or race shop!  Exact fit templates ensure you will have no problem installing these graphics in just minutes.  Available for iPhone 5, 4s, 4, 3gs, iPod Touch 4G, XBOX 360, Playstation 3, and Wii.  Only available at BIKEgraphix.com
Back to Erin Bates: Here's more on the Human Motorcycles project by Trina Merry, featuring Erin as the rider... The art work and body work really is extraordinary here: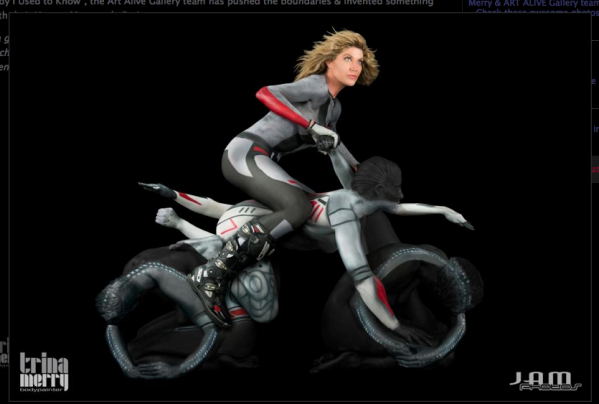 Again, Click HERE to see more.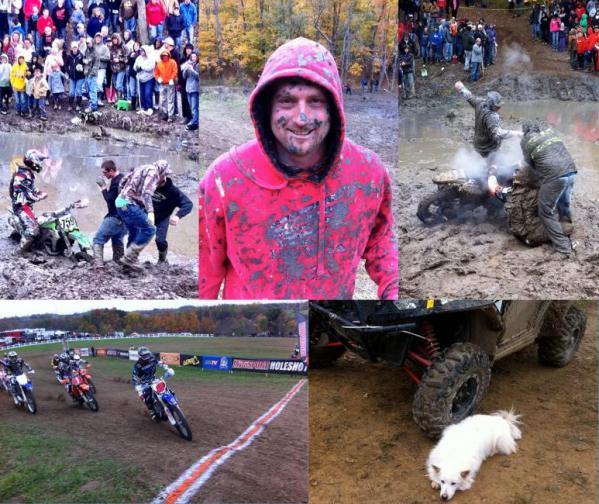 More fun from the Ohio GNCC.
DC photos
That's it for this week in Racerhead. See you at the races...