Lommel
Lommel

,

Belgium
MX of Nations
Motocross of Nations
You can't argue that Italy's Tony Cairoli has been the best rider in Europe for the last several years, but his Motocross of Nations results didn't reflect that much at all. Tons of crashes--often in the first turn, beyond his control--had cost Super Tony a chance to show what he could do in the biggest race of the year. But finally this weekend, at Lommel, things went his way, and his 1-1 overall finishes made him the top individual rider of the event. Matthes caught up with the six-time World Champion after the race.

Racer X: 1-1. What a job today. You've got to be pumped.
Tony Cairoli: Yeah, I'm really happy. For me personally, I did my best. I knew that only [Jeffrey] Herlings could come close to me on sand tracks like this, but then, with Italy, I was a little bit disappointed with the second race, while I was leading, they told me that the other rider was crashing and that he had dropped to 17 or 18. I just slowed down a little bit because I was losing motivation. Then I noticed Herlings was in the second position and he was coming really fast, so I had to step it up really quickly. I made one big mistake and almost came off the track. He came really close to me, but I knew I could fight with him for the victory. That was my only goal after Italy was out for the overall.
Yeah, team Italy was out. [Alessandro] Lupino hurt himself?
Yeah, he hurt himself on a stupid go-kart race on Friday! Some other rider took him out and he broke his ligament from the thumb. His racing already with that injury, and his bike is not the best on the sand. There is not so much power. So he struggled a lot, but [Davide] Guarneri did a good job on the first race with fifth, so we were still pumping. But I knew Lupino was not in good shape with the thumb.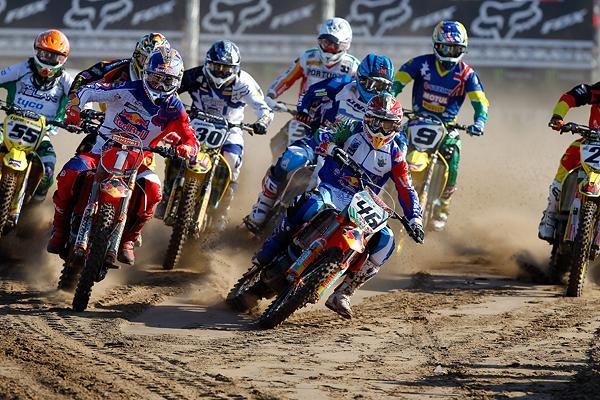 Cairoli (#46) won both of his motos in impressive fashion at the MXoN at Lommel.
Ray Archer photo
Yeah, Guarneri surprised me. I didn't know he was this good. I think he rode really good today.
His racing always at the Motocross des Nations is really fast and, also, last year in France he was really impressive. Saturday, he would fight for the lead with [Gautier] Paulin. I would pull in and he finished second or third in the Open Class. He's good. In the Motocross des Nations, he always steps it up a little bit.
You haven't had the best luck at Motocross des Nations, mostly crashes, over the years. You've got to be pretty pumped that you have finally shown "Hey, I'm just as fast as these guys."
Yeah, for sure. The first time I came to America, Budds Creek, there were a lot of boards making fun of me, "Where was Cairoli" and stuff like this. I never talk bad about America. I think America has the best overall riders. It's also the biggest country, so if Barcia is injured or Stewart is injured, they can pick another one that is almost just as good. In Italy, with Phillipheart's injury, we don't have so much choice. I think it was good. A fifth overall for Italy, it's okay. I think we could have finished third. Maybe next year, we'll have more luck.
How does this rank for you? There were the world's best riders and you worked them. How does this rank?
Yeah, I'm really happy, like I said.
[Laughs] You don't seem that happy though!
I'm happy! I am really happy! I think it's history. To win Motocross des Nations, at least overall, it's something really special that will stay in the book forever. I'm really happy. We showed all the world that we can do it. It's just a matter of a mix of things and to have a good strong group is also really strong motivation. Maybe a  lot of people don't know, but if you start on Friday and you come to the race and you don't have the group to win, you're not so focused and pumped to make it better. Those guys like America or France or Belgium, they have such a big group of good riders that they come in really pumped.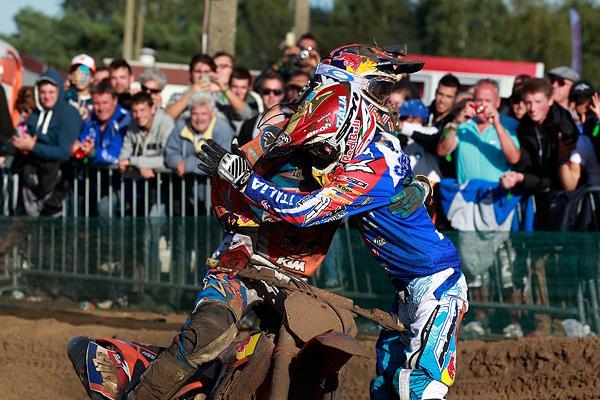 Jeffrey Herlings (left) embraces Cairoli (right) after their battle in third moto.
Ray Archer photo
I'm guessing you did not want Herlings to get by you. I'm assuming that's a pretty big rivalry. You've got to be pretty stoked that you held him off.
Yeah, like I said, I know that he was really fast. I was surprised that he wasn't there already the first three or four laps. I just did my rhythm, I didn't really push as much as I can. At the end, my mechanics showed me a little late that he was in second and he was ten seconds from me, so that was a mistake a little bit for them. I tried to step it up and I made a mistake and he was pretty close, so he was coming really close. But I could fight back.
Were you pretty confident when you were coming in that you could do this? You said earlier that it was going to be either you or Herlings. Obviously, you respect Ryan Dungey, but you thought you could win.
Yeah, for sure I thought I could win. But it's also not my country. I learned sand riding. Where I came from, in Italy, it's hard pack. It's not like I'm Belgian or Dutch that I learn on the sand growing up. It's good. I think the USA did good, but I think they should [have been] better. Justin Barcia surprised me. I think if he calmed down a little bit, he'd have the speed. I saw him in a few corners and a few pieces of the track where it was really rough and he was really impressive. The other two guys struggled a little bit too much. I didn't expect it to be so much like this.