By Brandon Short
Speedway Motorcycle Racing, the oldest form of two-wheel competition, hosted arguably the biggest night in its history last Saturday with the annual U.S. Speedway National Championship from iconic Costa Mesa Speedway. If it wasn't the biggest night for Speedway ever, it was absolutely the most important event in Costa Mesa's illustrious tenure thanks to title sponsorship from Monster Energy, which allowed for the biggest purse in the event's history at $11,000. This was American Speedway's night to shine.
Speedway competition dates back to the 1920's and it's simplistic, yet captivating nature has helped it stick around with a strong hardcore fan base for decades. Costa Mesa Speedway opened its gates in 1968 and since then, has served as the proverbial home of the sport in America, hosting National Championships for over four decades. The speedway's original founders Harry Oxley and 1937 World Champion Jack Milne, were even a part of the spawn of supercross concept, hosting a National Championship event at the Los Angeles Coliseum in 1975, just one year after the inaugural AMA Supercross Championship and three years after the Super Bowl of Motocross at the same venue.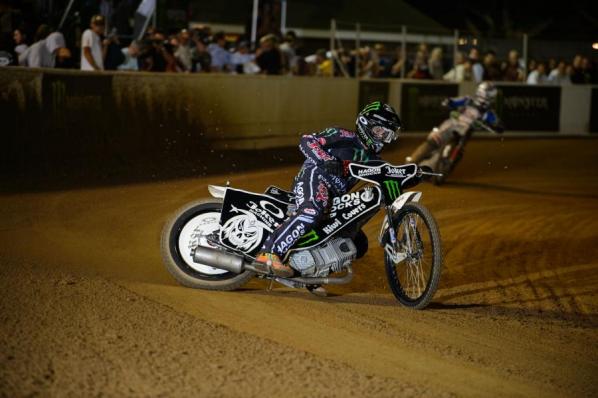 Simon Cudby photo
The most notable element of Speedway is the art of the slide. Ovals are typically only about a tenth of a mile with tight corners and riders compete aboard motorcycles with no brakes. As a result, the easiest and fastest way around a turn is to pitch it sideways – the old turn right to go left idea that is so popular in sprint car and the early days of NASCAR. This is truly an art form because it is where races are won and lost, plus it never gets old to watch.
However, the simplicity of Speedway is what also drives people to the races and is probably what has kept the sport around for almost 90 years. There are no manufacturers as frames are handmade, making it easy for virtually anyone to not only compete, but also be successful. You won't find million dollar budgets or massive semis. A box of tools is more than enough to suffice. Plus, races are merely four laps in length with typically only four riders on a gate. Action happens fast, which makes it appealing to virtually anyone.
Age doesn't tend to play a huge role either, as any rider over 50 years of age is more than capable of beating an upstart 20-year-old. In fact, a rider's willingness to throw it in deep and push the limit can really be all it takes. Go in faster and deeper than anyone else, and if it stays on two wheels, odds are you're going to come out in front. Recently, Billy Janniro was doing it better than anyone, looking for his third straight U.S. Speedway National Championship victory.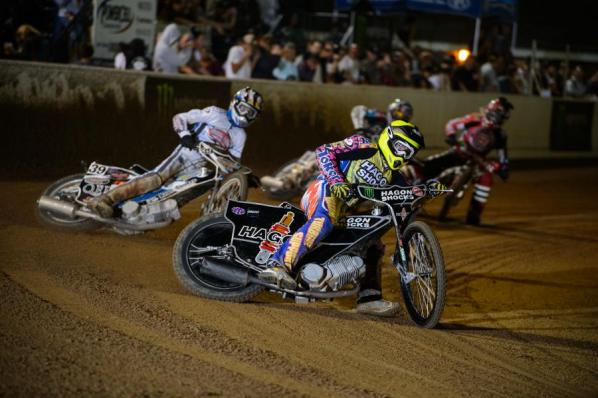 Simon Cudby photo
On Saturday, only 20 riders were invited for the shot at the title. A total of 20 heat races – composed of four riders each – would shuffle up the field with some built-in parity and ultimately ensure that every rider had his chance to start in each starting box. The four marked boxes on the starting line are held by a "rubber band" across the width of the track. When it raises, it's time to go – a-la a starting gate in motocross.
In these 20 heats, each rider earns points based on where he finishes – 3 points for first, 2 points for second, 1 point for third, and 0 points for fourth. By the end of the heats, the three riders with the most points automatically qualify for the main event. Positions fourth through sixth go to the LCQ, while seventh through 10th head to the semi, from which the winner advances with the final spot in the LCQ. Whoever emerges victorious in the LCQ will round out the four-rider field in the main event.
Southern California native Billy Hamill is a Costa Mesa Speedway fixture, helping his home track and current owner Brad Oxley any way he can and building a strong tie to the community of race fans that fill the grandstands on any given weekend. On Saturday, the stands were packed and near capacity. With 44 years of history, this event is a focal point for anyone with an interest in Speedway, serving as the most significant race in the country. Plus, with Hamill, a former two-time winner of the event, being one of the favorites to win, a lot of people came out to cheer him on.
As expected, Janniro was the class of the field in the heats, winning all four of his heat races and securing the number one seed in the main event. Behind him was Jimmy Fishback, a hard-nosed competitor who isn't afraid to mix it up. Fishback's pair of heat wins and pair of runner-up finishes granted him the second seed.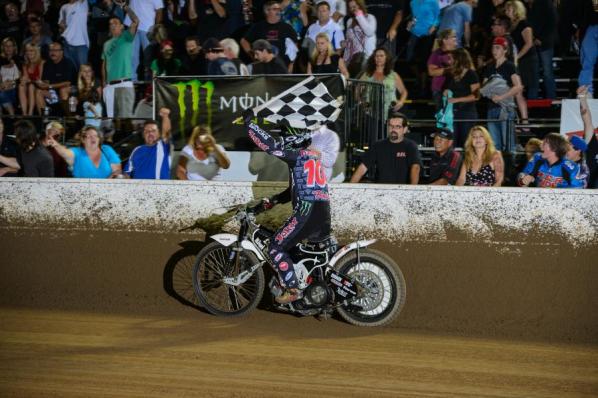 Simon Cudby photo
The third seed was up for grabs. Many assumed this would be Hamill's spot to lose and following a bike malfunction in his opening heat, that's exactly what happened. Despite scoring no points to start the night, Hamill bounced back like any champion would, winning his final three heats. However, this put him into a tie with Bryan Yarrow, who grabbed a pair of heat wins along with a runner-up and third-place effort.
In order to determine a winner, a run-off occurred between Hamill and Yarrow, with Yarrow getting the best of the veteran. As Yarrow moved on as the third seed into the main event, Hamill was relegated to the LCQ.
Even with the pressure to win in his final chance, Hamill rose to the occasion, dominating the LCQ and overcoming his early adversity to have a shot at the title.
The tension surrounding the main event was exceptionally high, as the thousands in attendance knew it would be a showdown between the Billy's – close friends Janniro and Hamill. Off the start, Janniro asserted himself into the lead, but Hamill stayed close. As they heading into turn 1 on the second lap, Janniro attempted a tactical move by dipping his front tire over a pipe that lined the inside of the corner, which would allow him to rotate easier and on the throttle quicker. However, as his tire popped back onto the racing surface, it forced his bike to flex and pop its drive chain.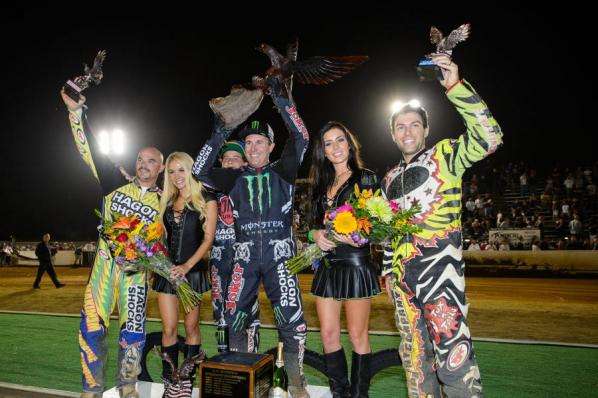 Simon Cudby photo
Janniro lost power coming out of the second corner, allowing Hamill to slip past by mere inches. From there, it was all Hamill, who happens to be a Monster Energy athlete winning on a night his sponsor helped make the most important evening in American Speedway history.
Hamill's road to victory on Saturday night was the kind of thing that you'd think was scripted, but it was simply just a glimpse into the wild and fascinating world of Speedway.