American Zach Osborne of the Bike-It Monster Yamaha team had a very good German Grand Prix as he captured second place overall in the MX2 Class. It was nice for Osborne to end his Grand Prix career with a spot on the podium. Osborne is coming back home next year to race for the GEICO Honda team in SX/MX but before that, he's got the Motocross of Nations this weekend for Team Puerto Rico. The day after the race, Osborne rang us up to talk shop.
Racer X: Zach, great job at the race. Can you tell us about it?
Zach Osborne: It was pretty good but I wish I didn't have a bad second moto. I got top five start and worked my way up into third and then got hit in the goggle lens with a rock and it popped out. I slowed down once I got dirt in there to clean it out and got busy trying to catch back up. I eventually passed into second and had about 15 minutes to go to catch Tommy Searle but I wasn't able to. I felt pretty good, I had good speed and felt like I had something for Tommy in the second moto. But I got a bad start, somewhere around twentieth, and then when I was up to around eighth I fell again and had to start all over.
So I put my head down and passed back up as best I could. I charged all the way up to fourth which is pretty good considering my start, my crash and the fact that I almost gave up on it all at one point. So I'm happy with the result considering I had a lot of big moments out there where I almost crashed.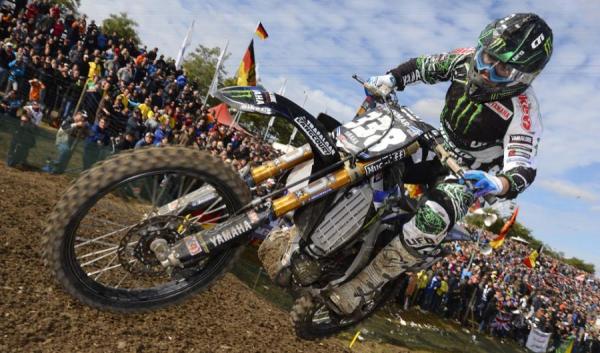 Zach Osborne said goodbye to the GPs with a second place finish in Germany.
Yamaha photo
So you wrapped up your GP career in style with a second and that's it, your GP career is over. How you handling that?
Yeah, it's a little sad because I never thought when I came here it would be hard to leave, but it is. It's actually quite hard to say bye and I've met a lot of great people who have shaped my career here and it's hard to know I won't see them for a while.
Yeah, going to Europe really saved your career and if it wasn't for doing that, you might be working at a 7-11 today.
Yeah, 7-11 or maybe the local Starbucks for me. I could see myself there.
You have the Motocross of Nations coming up, you looking forward to that?
Yeah, definitely. It's the Motocross des Nations, the biggest stage for motocross and I'm excited to ride for PR [Puerto Rico]. I think we have a real good shot at getting into the A final and going from there. I think we just need to focus individually on doing our personal best only and not worry about the other guys. I'd like to be on the MX2 podium individually and top ten overall.
Sand isn't exactly your forte though Zach…
Ah, don't write me off.
I saw that your team owner Steve Dixon wasn't able to be there to watch your last race as he had to have surgery on his back. How is he?
Yeah, he's okay. He sort of neglects himself all the time to say the least and he's had a few back problems over there years and on Friday it all came to a head where he had to go to the hospital. He ended up having three slipped discs in his back and has to stay there for five or six days but I hope to see him at Lommel.
Bummer he couldn't be there for your last race for him.
Definitely, and my teammate Arnaud Tonus was on the podium also so it was a good day for the team and he wasn't able to be there. We were all wishing he could have been there.
So what's your deal for coming back here and getting started with GEICO Honda?
I head back to America October 2, and then I'll get busy testing sometime in the beginning of November and we'll work forward from there.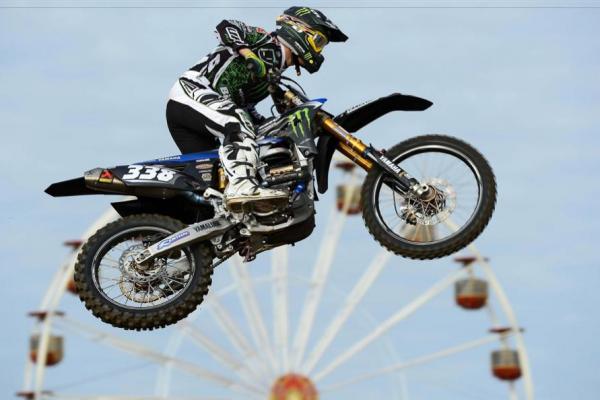 Osborne will be back in the States next year riding for GEICO Honda.
Yamaha photo
Do you know what coast you'll be riding yet?
No, it's a little early for that Matthes.
I'm sorry. Hey, you also don't get to run your #338 next year. Bummer bro.
I'm pretty bummed about that because I've worked hard to make that mine again and now I have to give it up. I'll be somewhere around number 67 and that's cool, if I have to be two-digits, I like it to be in the 60's somewhere because I think that's the coolest one out there.
What did you think of Ken Roczen's performance in the MX1 Class?
I think it was pretty good, I expected him to be there or maybe even win. I think he's a better big bike guy and I thought he'd maybe get an edge by being in Germany in front of his home fans and maybe be able to beat (Antonio) Cairoli. They were nuts, they were all there to see Ken. I thought that would do the trick but he wasn't able to do it. It was a great result for him but I thought he'd do a bit better to be honest.