Hello, everyone, and welcome to Rev Up. I've long considered this to be one of the strangest times of the year. The buzz of the summer is gone and we're left to spin through the convection of politics and pre-holiday banter. This should be a period of relative calm, but I find people are wound tighter instead of using this brief gap to catch their breath. Oddly enough it seems we operate better in chaos. Perhaps media has to reach farther with less going on, but there sure is a lot of noise in the wind right now, both in motocross and the "real" world. Away from motocross I caught a couple of headlines that captured my attention. One, the launch of the iPhone 5, and the other being the sad passing of NFL Films founder and visionary, Steve Sabol. Those two may seems worlds apart, but they are two of the most influential and visonary subjects of modern human history.

Jobs, and his biography is something I want to get into and relate on another column, but for now the launch of the iPhone 5 was enough to influence this week's Rev Up.

Steve Sabol passed away from brain cancer this week. Along with countless advancements in capturing professional football, Sabol came up with the idea of putting microphones on players, coaches, and referees. NFL Films set the benchmark for all of professional sports. If you have never seen any of the America's Game episodes you are missing something special.

Thinking of these innovative ideas, the headlines prompted me to think about some of the things in motocross that have evolved over the years.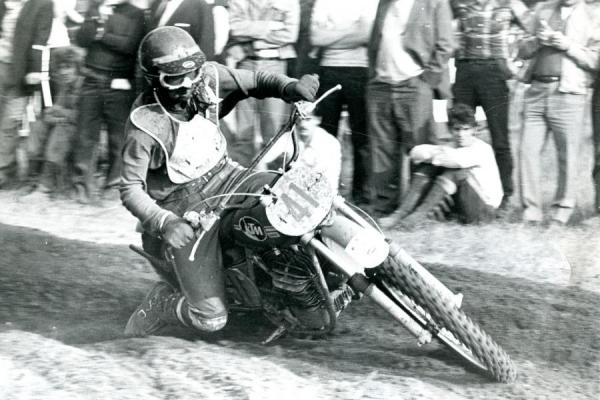 From that...
Racer X Archives photo
Bikes

It's almost impossible for the youth of today to understand what motocross bikes were once like. Dual shocked, air cooled, metal gas tank adorned tanks (that fell apart more often than not) were the machines that cut the first berms into outlined tracks. Water cooling came along, mono shocks and disc brakes. Later came upside down forks, digital ignitions, and ultimately the wondrous fuel injected four-stroke machines that are currently on display at your local dealer.

It always seemed to me like Honda and "HRC" were years ahead of technology in the mid 80s. Their works bikes in 1985 looked almost unfair against the other machines. Somehow Ricky Johnson beat them on that Yamaha...wow.

Names like Dave Miller, Gary Emig, and Mitch Payton made some of my machines during this time frame faster. I used to just marvel that they could make a machine that I thought was perfect, even better.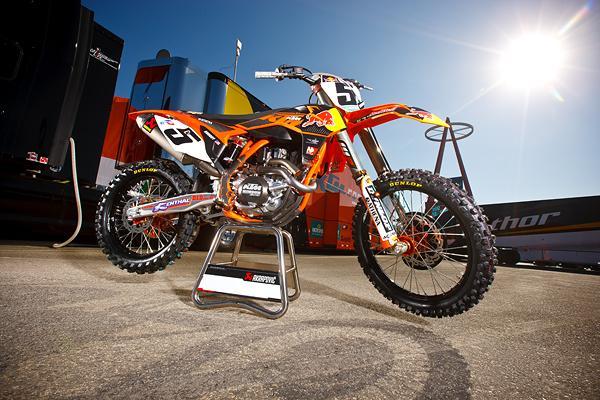 ...to this.
Simon Cudby photo
Helmets

Humans are a stubborn tribe. You need to look no further than the evolution of the motocross helmet for validation. Now, the bikes weren't as powerful back then as they are today, but the steel of a crossbar and the density of a rock were damn sure the same. Why wasn't the full face helmet invented first? The days of the open-face-venturi-raider, and the "joffa" were gnarly. Jeff Ward, Larry Brooks, and George Holland were some of the last guys to withstand the full face era. Wardy won 500cc titles with an open face. I believe 1989 finally marked the year everyone (even Ward) came to their senses. Ward, and I think JoJo Keller, raced the '88 supercross series open faced. Red Dragons.

The lightweight, carbon fiber editions we wear today look like jet fighter lids, and are probably more advanced. I consider this the single best thing to happen to motocross.

Boots

Do you remember your first pair of motocross boots? I remember seeing photos in Cycle News of Jeff Stanton's High Point boots bending around his foot pegs like a pair of slippers you get after a pedicure. It seemed like we were on the right track in the late 70s with the concrete-like SCOTT boots, but they faded quickly back into the Fox Comp 2, and Alpinestar Tech 2's that pretty much weathered into the early 90s. I'm not sure what we were thinking but I know guys used to soak those things in mink oil to make them even softer! AXO had a pretty sturdy boot during this time but it wasn't until the Fox Forma and the Alpinestar Tech 8 moon boots manifested did we finally get adequate foot and ankle support. Today you can literally race with a broken lower leg these boots are so good.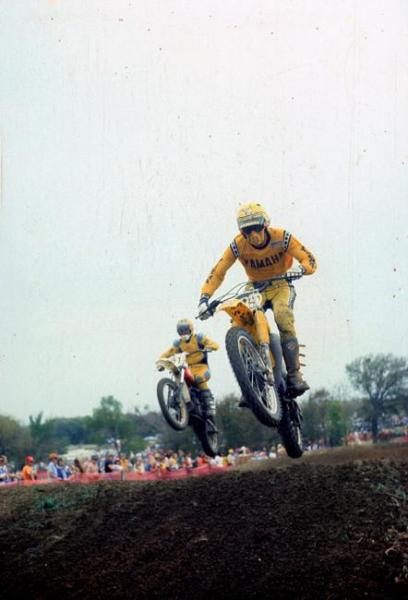 From open-face helmets...Racer X Archives photo
Starting Gates

Unless you have started a motocross race behind a rubber band, I don't want to drink beer with you and bench race. While primitive, the rubber band gets the nod over the forward falling piles of shit that followed. I remember seeing nobbies spinning by my helmet mere feet out of the holeshot by kids jumping them so badly. My brother Casey still walks funny because he looped out and broke his tail bone on a forward falling gate constructed of dual five-inch pipes.  

Concrete pads with chicken wire covered (backward falling) gates were all the rage in the late 80s. Denny Stephenson got protested at Ponca City for spraying hair spray on his rear tire during his burnout. I saw him throw the bottle back as he put on his goggles. Still one of the coolest things I ever saw at the track.

Today we start on dirt. After all of that.

Tear-Offs

If anything has seen monumental gains in motocross it is the tear off system of goggles. The first tear offs were bulky, blurry, miss-shaped contraptions that were shoved into the creases around the goggle lenses. I remember seeing the immortal Bevo Forti "prep" a pair of goggles for me at Loretta Lynn's this way. I just thought, "I better only use a couple all week, because no way can I do that again. And, I want these to last." Roll-offs were the standard for mud, then we tried to get fancy. SCOTT was one of my first sponsors and I was lucky to get one of the first pairs of "EFS." Electronic. Film. System. It was pounding rain at Ponca and I had no fear because this wonder of technology was being pulled over my helmet. I had the holeshot then hit the first patch of mud and carted huge. As I lay listening to my bike with the throttle pinned, the only thing more annoying was the motor of my E.F.S. system stuck on blast because mud was over the laser sensor. Before I could pick my bike up, the last inches of film flapped out and I spent the moto with a three foot streamer behind me. And muddy goggles.

Today's laser cut 15-at-a-time packs are wonders of evolution and technology. A blind monkey can apply them, and you can yank tear offs with the greatest of ease all moto.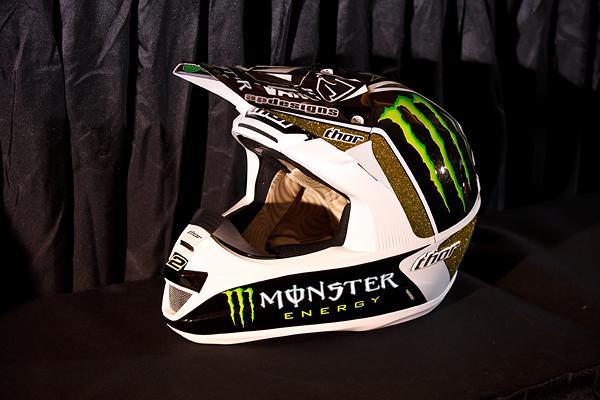 ...to this.
Simon Cudby photo
Okay, I've ventured past my word count already but I'd like to go on and on. I just wanted to chew the fat with you folks and share this little "evolution and visionary" kick I got this week. Bless the souls that have made things better for us. In motocross and in the world we are raising our families in. People who dare to think different have always inspired me. It's funny to me how we get so complacent to the status quo. We see things for what they are and robotically accept it. Every so often somebody looks at it and says, "It can be better," or "What if we tried this?" We reap the fruit of their vision. Be that as it may, times, then and now, are relative. The old timers like to say we have it easy and we aren't as strong as they were. To that I say, you did the best with what you had, and we're doing the same. I found an excerpt on the net from the late Steve Sabol that supports this argument:

"I've always believed in that famous quote from Karl Marx, something like; 'Men make history, but not under conditions of their own choosing."

Thanks for reading, see you next week.