There was good reason to be excited when Ivan Tedesco announced he'd be rejoining the Monster Energy Pro Circuit Kawasaki team for the 2012 Lucas Oil Pro Motocross Championship. With all the talent in the 250 Class, the fans were already looking forward to what promised to be (and was) one of the best 250 seasons in years, and the addition of the 2005 National Champ could only make things more exciting. Unfortunately, after a brilliant fourth overall at the first round, Tedesco's run was encumbered by multiple injuries. We caught up with Hot Sauce to talk about his recovery process, and what lies ahead.
Racer X: You've experienced several injuries this year. Give us a summary of everything that's happened to you this summer.Ivan Tedesco:
Hangtown
went pretty good, even though I started the season out being out of shape. Then at Texas in that first-turn pileup, I tweaked my knee and was kind of dealing with that. The plan was to get through those races and try to heal up a little bit through the break. Then I ended up hurting myself again at
Budds Creek
, the last one before the break. I broke a couple ribs and lacerated my kidney, so I had to take a month off after that. Then I tried to come back at
Washougal
and tweaked my knee in practice again, and that was kind of the end of my summer right there.
How is the recovery coming now?
The kidney wasn't as bad as it sounds, it was just a month off the bike.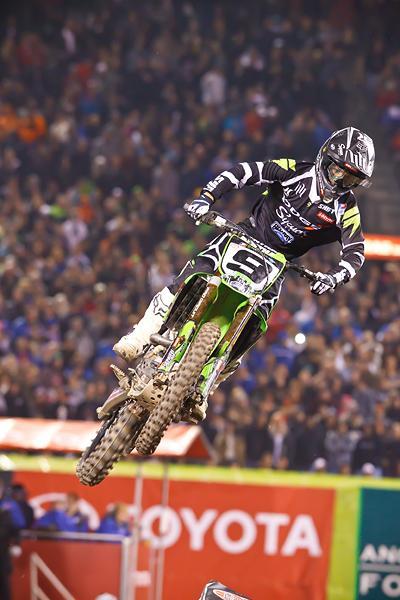 Tedesco began the year riding for Dodge/Hart and Huntington Kawasaki in the 450 Class.
Simon Cudby photo
I don't know, any injury with the word, "lacerated," in it sounds serious to me.
There was actually kind of a crazy story with that. After I crashed at Budds, I thought it was a cracked rib and I was just going to go home and deal with it. I drove myself back to the hotel and got up the next morning to fly out and I started pissing straight blood. So I had to find a hospital, checked myself in and had to spend the night.

See, that's serious!
[Laughs] Yeah, I know. Since Washougal I tried to make a run at doing Elsinore, but I just couldn't get in shape. So now I'm working on getting seat time and getting my fitness back up so I can come back out swinging next year.

Speaking of Elsinore, was there ever any pressure put on you to get back out there and help Blake Baggett?
To be honest, I even offered to race. I said, 'Hey, do you want me out there? I know he's by himself and they have a full team over there. I'm not 100 percent,  but if you guys need me out there, I'm in.' But Mitch is the kind of guy that wants to win, but he doesn't want to do it the wrong way. He wanted Baggett to go out there and do it straight up, and that's what he did. He locked it up.

So no Matt Walker-style team tactics were ever discussed?
Nope, none of that. We weren't racing Alessi, so we didn't have to deal with any of that. [Laughs]

I interviewed you right before the beginning of the season, and you said your main goal was to avoid taking another season off, and that you wanted to stay in the racing groove. So, despite the year not going quite as you had hoped, would you still say you had some degree of success with that goal?
I think I learned a lot, to be honest with you, by riding that small bike again and racing against those kids, even though I only raced five races. The 250 Class is intense, and those kids are going to be bringing that intensity into the 450 Class soon.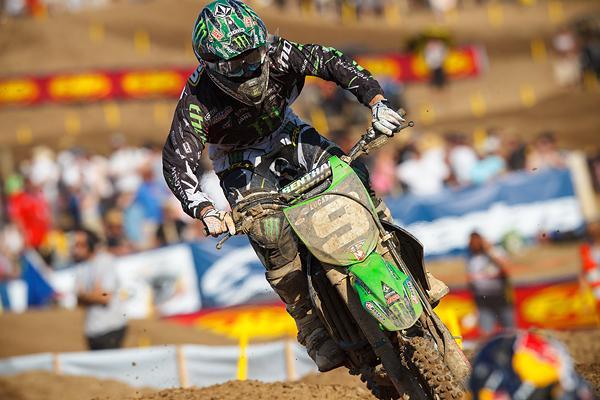 But would transition to the 250 Class with Monster Energy Pro Circuit Kawasaki for the Nationals.
Simon Cudby photo
In the last couple of years, everyone has been talking about the intensity of the Supercross Class. How would you compare that class to the 250 Class now?
I'd say the 450 Class is a little more calculated; they let the race kind of come to them a bit more. The Lites class, when that gate drops, they go. It's a sprint for 36 minutes, or however long the race ends up being. If you watch those guys, those four dudes that were running up front never let off the whole race. They never settle into a groove or anything, they just go wide open. For me, that was hard to get used to. They don't shut it off, and you just have to be able to hang it out. If you're not 100 percent fit late in the moto, and you're in a battle, that's usually when things go wrong. When your brain is telling you that you can do it but your body can't, that's when things go wrong.

Are you going back to Hart & Huntington next year?
I don't know where I'm going to be, but most likely not. I'm working on that right now. I'm looking at a few different things, and we'll see. I definitely want to race, and I feel like I still have something to offer. We'll see how it all pans out, and hopefully something good will come my way and I can get back to where I need to be.

Will you be racing the Monster Energy Cup?
I'm not sure yet. I hope so.

Thanks for your time, Ivan.
No worries.