There has been enough drama over the current Yamaha 450 motocross machine to last an eternity. When Yamaha turned things around by introducing their "backwards" motorcycle a few years back they ignited an argument that is still unsettled: Is this design any good? The answer, of course, is yes. Yamaha's woes would probably be a mild undertone if it weren't for their multi-year marriage to James Stewart. I'm not saying they hitched their wagon to a horse with no legs, but it certainly wasn't the union they hoped for. After some very long seasons of racing with mixed results, they cut bait, with Stewart and Yamaha parting ways. Now, they've gotten some solid rides from some other riders, and Stewart did win some supercross races on the bike. But while James was struggling on his ride, the other manufacturers had other riders winning races consistently for them. And James insisted it was the bike. He switched teams and immediately dominated the opening four motos of the Lucas Oil Pro Motocross Championship this summer. It was not looking good for Yamaha. Then James crashed in Colorado when a photographer crossed the track. He also crashed even more later in the summer and ended his season early. So, was it really the bike or did Stewart just think it was? Who knows? And, honestly, at this point who cares?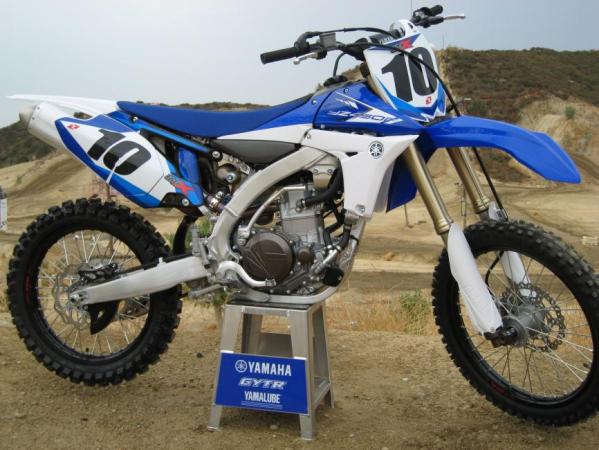 For 2013 Yamaha didn't make any changes to their bike. Well, the back fender is white and the handlbars are black. I don't think that will change lap times though. Many skeptics were shocked that they didn't introduce an all-new motorcycle to replace the current model. But the truth is, some people really like the current Yamaha 450. In terms of reliability it has one of the best records of any motorcycle out there; Yamaha has had no recalls, defects or major issues with the bike. And while Stewart struggled with it there were other riders who excelled on it. Davi Milsaps and Kyle Chisholm come to mind. The 2013 YZF450, just like the 2012 version, is a great motorcycle. The engine is very strong, reliability is excellent and components from the brakes to the clutch to the EFI work flawlessly. There is also a GYTR power tuner available [$279.95], which allows you to adjust and create a power that works for you. It's a really cool feature for those wanting to personalize the power for their riding style.
So, what's all the fuss about? Well, the bike is nothing like the previous Yamaha models. It is quick handling, if not a little nervous. The front end feels heavily weighted making high-speed sections somewhat death defying. And the most annoying habit is the unpredictability of the rear end. You can hit the same bump at the same speed and get a different reaction on different laps. That is not confidence inspiring. The bike is also really wide at the tank and shroud. If you ride with knee braces it almost feels like you are sitting on a bulldozer.
Yamaha has taken its share of heat for not bringing new bikes to market, both 250 and 450, last year and especially this year. While there has been talk of a 2013 and ½ model that will release early like the Dungey addition KTM last summer, the Yamaha brass assure me that is not happening. They are also tight-lipped about what is in store for 2014 in terms of new models. The great news is that if you like the 2012 version… you will love the 2013 YZ450F.