West Virginia's Thad DuVall was expected to be the future off the Can-Am Grand National Cross Country Series when he started dominating the mini cycle and amateur ranks a decade ago. He won the 2008 XC2 Lites Championship and headed to the XC1 (450) Class in 2009 with a factory Yamaha ride in hand. But he never was able to take the next step, piling up as many crashes, injuries and DNFs as podium finishes. And, he was never able to get that much-anticipated GNCC overall win.

Heading into this season, DuVall was without a ride and even joked on his Facebook page that he'd have to go out and find a real job. John Ross and Erik Nijkamp stepped up to help, forming the Shenandoah Honda/Off-RoadChampions.com team around DuVall. Yesterday, the 22-year-old finally made it happen, winning the Can-Am Unadilla GNCC. And it was a big one, because over 1900 other riders competed, making it the largest GNCC in the 32-year history of the series. Bad Thad finally got one!

Racer X: I think this conversation is five years overdue, but Thad DuVall, you've finally won a GNCC overall!
Thad DuVall: Thanks man! It really hasn't even sunk in yet! I'm excited, but I have to leave for Germany tomorrow to head for the ISDE, and that's going to be a long week of riding, so I'm trying to stay calm and keep everything low key right now.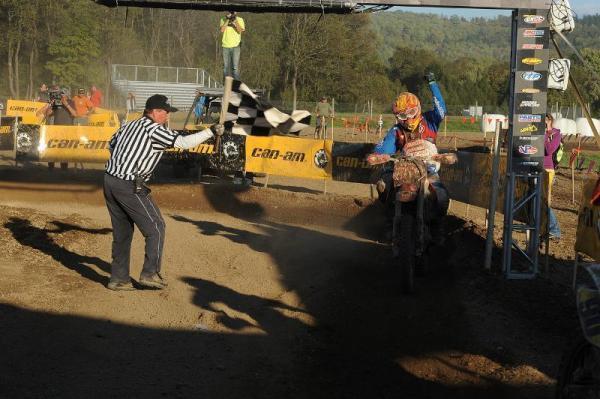 DuVall celebrates his first career XC1 win.
Ken Hill // GNCCRacing.com photo
So how did this win happen? Is there something you changed over the summer that you can point to, or did it just work out?
I think it just worked out. We did make a few small changes over the summer, got some new sponsors and new product on board and it worked out well. I can't thank the sponsors enough, they gave me another chance to go racing and I'm glad I can get a win for them. But really, we didn't do anything major, I just kept myself in a good position all day. There was a pretty big mud hole and I just stuck to my line through there are day. It was getting crazy near the end, some laps I'd come around and there would be probably 50 or 60 bikes stuck in there! I was able to get through that and stay up front, then Whibs [Paul Whibley], he was riding awesome, and he got around me. I just wanted to stay with him for as long as I could, kind of see what the pace is up front on the last lap. Then on the last lap we got onto the motocross track and I made the pass and got away. After the race, I found out Whibs had broken front brake lever so he had no front brakes, that helped me build a little cushion.

You've been in contention for a bunch of these wins before, but something always seems to go wrong.
Yeah, I've been up front and even on the podium quite a few times, but it never has worked out. My boss, John Ross from Shenandoah Honda, he's been working with me a lot to get me to calm down out there. Just aiming for podiums and trying to finish races. That has always been my problem in the past, not finishing races. I'm trying to be easier on the bike, and just ride my own race and a comfortable pace.

But they don't call you "Bad" Thad for nothing. You always had crazy speed--is that still there if you need it for one lap, or even just a few miles?
Yeah, it's still there. I think you saw a little of it yesterday, and I have even more, but again, I'm really trying to work on being consistent and finishing these races, first. Who knows, maybe we'll see more of the old "Bad" Thad kind of speed soon--maybe I'll bring him back out!

You're on Hondas this year, and not many people have really tried to race CRF450s at this level in GNCC before. How is that development going?
Yeah, switching to Honda, it was pretty big for me. I spent like 11 years on Yamahas, and I was on the Yamaha 450 for something like five years, so it was a big transition. Honestly, this was supposed to just be a learning year for us, we were just trying to maybe get some podiums. Of course I want to win, but we just wanted to finish races and learn. The bike has been good and Honda has stepped up and helped us out.

What was the Unadilla track like? I know they had a ton of riders out there--1900, the most riders they have ever had at a GNCC, ever!
Yeah, we were supposed to start our race at 1 p.m. and seriously it seemed like we started at 3 p.m. because there were such long lines at sign up and stuff. There were so many riders there! And Unadilla is a short lap, so we started catching lappers pretty quickly. You had to be smart through there. But the 20 minute lap is good for the spectators because they get to see us more. The track is awesome, we get a lot of time on the Unadilla motocross tracks, and I had some fun showing off for the fans over the sky shot jump. It was pretty awesome.

We have a picture of you on the podium with your dad, Chad. I know he was one of the top GNCC ATV pros back in his day, won a bunch of races, and he's been by your side as your mechanic through this whole process on bikes for you. What did this win mean to him?
Yeah my dad, you know, he's been through a lot, and he puts in so much work for me. He's my mechanic seven days a week, and he works a regular job, too. He accomplished a lot back in his day, so when we finally got home, I had that eagle [first place trophy] and I said, 'It's been a long time since we've brought one of these home.' It's pretty cool to say that my dad and I have both won overalls in Grand National Cross Country. I think I even saw a little tear in his eye at one point!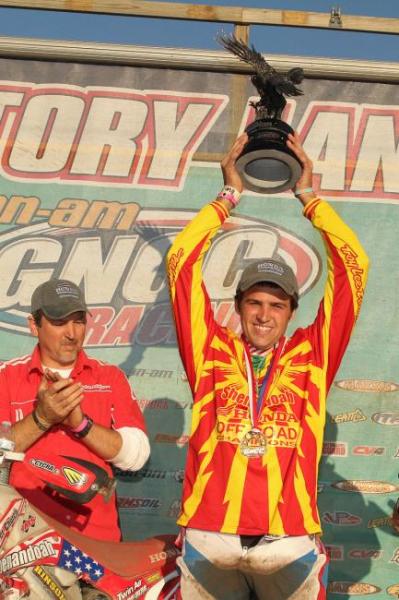 It's been a long time coming for DuVall to capture his first XC1 win.
Krista Shaw // Digitaloffroad.com photo
So now you have the ISDE coming up. First time?
Yeah, first time I've ever done the ISDE. My bosses, John Ross and Erik Nijkamp have gone over there before and they know what it's all about. When I made this deal, I knew there was a chance we could go, and we have gotten some good support from Honda to do it. [US Team Manager] Anti Kallonen offered me a spot on the Junior team, and everyone stepped up. I'll leave tomorrow, and we start next Monday with something like 150 miles on the first day! It's going to be a long week, I just want to stay smooth, stay healthy and come back for the next GNCC at Powerline Park and try to carry this momentum. That race is kind of like a home race for me.

The U.S. Junior Team has had some success at the ISDE in the past. You guys could do some damage.
Yeah, we're all fast riders and we're all good friends--we get along great. We'll see, maybe we can go out there and win it!

If you get through that smoothly, combine that with this GNCC win, do you think you'll be up a level for the last few GNCCs?
Hopefully! I want wins, but I'll be happy to just be on the podium. I feel like I learned a lot about the pace at the end of the race, and what it takes. I know it took a long time to get here but it feels good!
Any shoutouts?
Yeah, definitely to my dad, and the whole Shenandoah Honda/OffRoadChampions.com team.