Lake Elsinore
Lake Elsinore

,

CA
Lake Elsinore
Lucas Oil AMA Pro Motocross Championship
Monster Energy Kawasaki's Jake Weimer just wrapped up his first full campaign on the 450 bike with a great ride at Lake Elsinore. Weimer competed in every single race this year (he didn't make the main at Indianapolis SX, but he was there) and had a nice season. Early on in supercross he was the surprise of the season (he snagged a podium at round two in Phoenix) and in the Nationals, he sprinkled in several more attention-getting rides.
At Lake Elsinore, with everything else in the 450s pretty much decided, the battle for third in the points between Weimer and Andrew Short was the one to watch. In the end, Weimer got it by one point with two come-from-behind rides.
So with this year complete and a new two-year deal to stay with Monster Energy Kawasaki inked, we called up Weimer to talk about some stuff.
Racer X: Jake, great ride at Lake Elsinore as you passed 42 guys in both motos and probably got yourself another RC Hard Charger Award! Talk about it.
Jake Weimer: I think that in the first moto I rode pretty good. I probably had the two worst starts in my life. Literally! First moto I had a good jump but I was so far over the front of my bike, I hit the kill-switch and that put me way back. Then I got held up in the first turn and came from the back. The big deal was me and Shorty battling for third in the points and I got by him but then crashed.
So I had to get up, pass him again and so yeah, the first moto I rode well. Especially from where I started and all the guys I was racing through. In the second moto, I don't think I rode as well but once again I got a terrible start. I hit my shifter and went into neutral. I was dead last going into the first turn. At that point, as hard as I worked in the first moto and as hot as it was out there, I think the heat got to me. Falling down, making passes, eating roost was tough on me. The second moto wasn't as good and by the end I was feeling it for sure. But I don't think I rode bad, it was okay.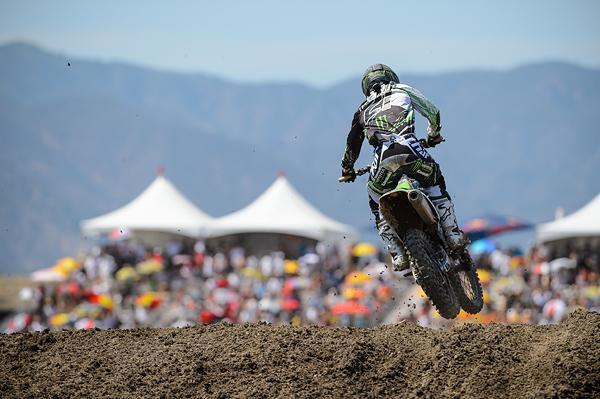 Weimer secured third in points with two come-from-behind rides at Elsinore.
Simon Cudby photo
I know that you and Short both were trying to deny you guys cared about getting third in the points, but now that you got it, are you happy with third?
Well…yeah, I mean you guys were saying it a lot. I never said one time that it didn't matter…
You acted like it…
I didn't say it didn't matter but I did say that I wasn't focused on it. My focus was on getting good starts and riding my race. And the flipside to that was that if I did all of that, then I would get third. And I didn't get the starts and still got it so that's good. When all that stuff started going on in the race, that stuff did come into my head and I tried to get all the points I could. Plus everyone else was making such a big deal about it that it kind of did start to matter more.
Hey, the 450 Class title was all wrapped up and we were searching for some storylines.
Yeah, I get it.
What did you think about the track and the facility?
I guess that now that it's over, it's probably not as bad as I thought it was going to be. I think the facility is unreal and I think the track was really good. But I think they weren't working with much in terms of the dirt. And we all knew that and that fact makes it difficult to have a primo track. We all knew the deal going into it and when you take crap dirt and lay two feet of woodchips on top, it's not going to fix the problem. I'm not a track builder and that's not my department. It was better than I thought it was going to be and I think it was about what we thought. Slippery and hardpack—that's what it is.
Overall, what did you think about your outdoor season?
My overall view is that I made it through the season. Last year was supposed to be my first whole season but I got hurt. So this year was it, all the supercrosses and all the outdoors. For me, in the future, I think this year will help me. I've done it, I know what to expect and I know how difficult it is. I like that part about it although I don't like the bad races. I'm healthy, I had quite a few moto podiums and overall podiums and obviously you always want to do better but it was fine and I'm looking forward to next year.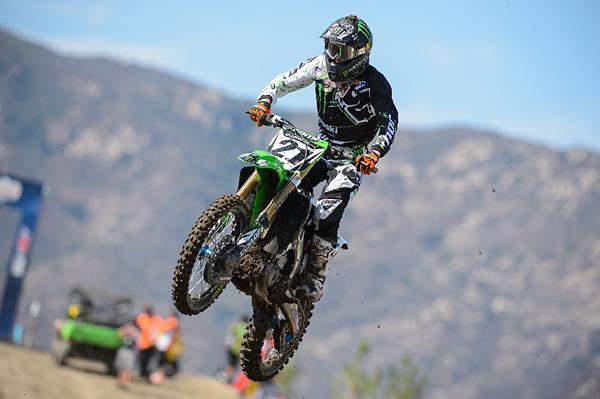 Weimer re-signed with Monster Energy Kawasaki for two more years.
Simon Cudby photo
You've got a new deal with Kawasaki signed as well and I imagine that is a great thing for you, to stay with the brand you've been on for so long?
Yeah, it's a seventeen-year deal, it's going to take me into my retirement. I'm pretty happy about it.
That's good, it will allow you to coast for a couple of years…
No, I signed for two more years and who wouldn't be super excited about that? I'm very happy to stay and I feel the whole team, the bike and the crew made progress this year. All the relationships are getting stronger and I'm getting closer to everybody. It's exciting for my future to have two more years and continue to build on the great package that we have already. Already being there I have some ideas on stuff I want to try on the bike and what direction I want to go with everything. It couldn't have worked out any better for me and they've all treated me very well.