Lake Elsinore
Lake Elsinore

,

CA
Lake Elsinore
Lucas Oil AMA Pro Motocross Championship
Imagine you're a professional motocross racer. You're coming into the final race of the season holding a five-point lead and only two motos stand between you and your seventh National Championship. Win this one and you'll be tied for the most titles of all time in your class. Lose it and you'll be forced to watch your fiercest rival pop the victory champagne and bask in championship glory that has motivated you and kept you pushing yourself to the breaking point all year. Oh, one more thing; you're nursing a broken hand and your rival is riding the momentum of a six-moto win streak. If you're Rockstar Energy Drink Suzuki's Jessica Patterson, you don't have to imagine any of this—it's your life.
If there is a silver lining to Patterson's cloud of injuries, it's that she's used to riding hurt, and has learned how to ride through it. "I've been trying to get a good, solid healthy year in, and every time I've had a good points lead it seems like something happens," Patterson says. "It's so weird, I don't understand how that works. I thought this year was going to be great, everything was going really well. I made it through X Games without injury, and I thought I was golden, but things change."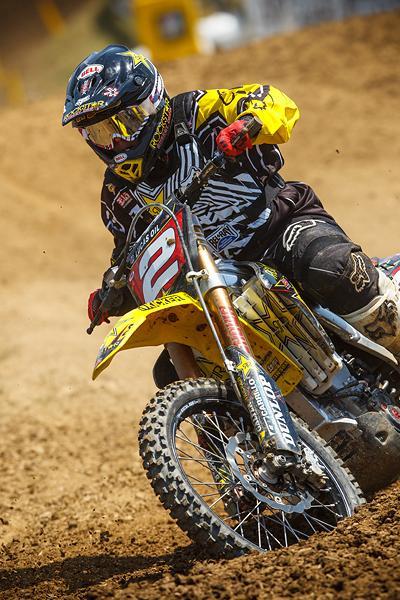 Patterson is still nursing a hand injury as the season finale approaches.
Simon Cudby photo
So accustomed to injury is Patterson that in the above quote, she neglected to mention a chronic problem with her shoulder that has been plaguing her for nearly two years. In fact, JP had problems with her shoulder in the first round of the season at Hangtown when it actually became dislocated during the race. Tenacious and undeterred, Patterson managed to get it back into place and went 2-2 on the day to take the overall.
When reminded of her shoulder injury, Patterson dismisses the possibility of it affecting her performance on the track. "It's fine. Honestly, it's pretty much a typical thing. I haven't really had a good shoulder for a few years," Patterson explains. "I had surgery on it at one point, but I had a crash and dislocated it again, and it's never been the same. I deal with it; it's no big deal really. I've been riding with it like this for almost two years, and I know what I can and can't do."
One injury that she cannot ignore is the broken hand she suffered just days before the Red Bull RedBud National. Patterson went from winning three of the first four rounds to finishing fourteenth and fourth after her injury. She did better at Southwick, finishing second overall, but Ashley Fiolek, who has fought through some adversity of her own after missing High Point with a concussion, went 1-1 for the third race in a row, putting herself just five points back of Patterson with one race remaining.
"Fiolek has a lot of momentum, but I'm getting back to where I was before this happened. Stuff happens, but I'm confident in what I've got going and in the team," says Patterson, who has finally been able to start riding during the week again. "It's better than what it was when I came back ten days after having surgery."
After her injury, just pushing on the bars and trying to go through corners was putting Patterson in tremendous amounts of pain, something she says she and the team have been working on. "We've tested the last few weeks to get to where I'm more comfortable with my hand, and that helped me a lot. The guys have been very, very helpful with that, and they understand that I can't grip very well with my hand yet. We work on it as much as we can, and we changed a few little things to make it better, so that when I do ride, I can hold on as best as I can."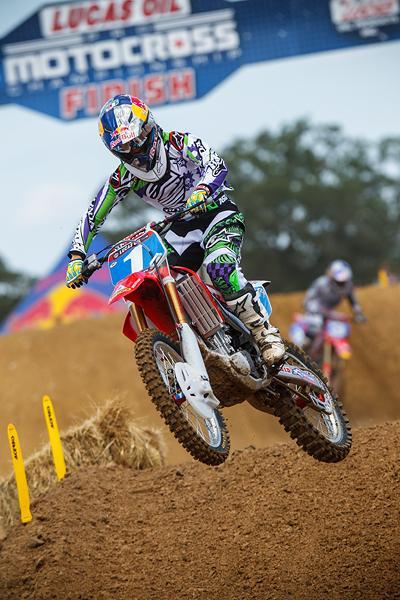 Ashley Fiolek has been red-hot lately, but will she be able to bring home the championship on Saturday?Simon Cudby photo
With the WMX motos taking place immediately following the 450 and 250 motos, the track is always extremely rutted and torn up, and the testing Patterson has done in the last couple weeks will likely prove invaluable at Elsinore, where the track crew has hauled in 150 truckloads of mulch. The addition of the soft soil promises to create one of the roughest and nastiest courses the girls have raced on all year, but regardless of what type of conditions she and the rest of the WMX field are faced with, JP says she'll be gunning for the W.
"I'm going for it. I want to win the first moto for sure, and of course I want to win the whole thing. I'm going out there and I'm going to race, and I'm going out there to win, that's for sure. I'm not going to hold anything back," Patterson says. "I know what I have to do, and that's pressure, but you have to race just like you have been. If you don't, that's when mistakes happen and that's what costs you championships. I'm looking forward to this weekend, and I really want to thank Rockstar Energy Suzuki Yoshimura team, and I really want to thank Tom from N-Fab for helping me out this year. Fox, Oakley and of course my mechanic and boyfriend, Eddie, have all been behind me and I want to finish this year off good for them and for myself."
No matter what happens this weekend, the racing is sure to be wildly intense as Patterson attempts to regain her early-season speed and put an end to Fiolek's hot streak. Both racers have experienced major adversity this season, and both have shown extraordinary heart in battling through it. Then there's Lucas Oil Troy Lee Designs Honda's Tarah Gieger, who won a moto at High Point and at just ten points out of the lead, is in a position to snatch the title should catastrophe befall Patterson and Fiolek. With so many variables present in a sport where anything can happen, the only safe bet is that WMX fans are in for some great racing at the Lucas Oil Pro Motocross Championship Finale this weekend at Lake Elsinore Motorsports Park. May the best woman win.