Delmont, PA
Steel City
Lucas Oil AMA Pro Motocross Championship
Hard to believe in a season defined by injuries, the final stretch of the Lucas Oil Pro Motocross Championship is going to be remembered for preciseness and consistency.
(And that's what this column is going to be about. Do not, however, let this story shine too positive a light on a dark season. We've seen seasons where a lot of dudes have gotten hurt, but I can't remember one where the injuries collided with such terrible timing. Sometimes, injuries help give a rider a break at just the right time. Kevin Windham was headed down the wrong path when a broken femur let him reset in 2002, and ten years later he's still racing. Ricky Carmichael said he would have retired at the end of 2004 if a torn ACL didn't force him out for a bit. Ryan Villopoto enjoyed his off time with an ACL tear in 2009. But this year has not been like that. When the big names went out in 2012, it happened at the peak of their powers. Chad Reed was pressing Villopoto in Dallas when he wadded it up. Ryan Dungey had just won the Atlanta Supercross when he busted his collarbone. And as much of a disaster as the James Stewart/JGR partnership appeared, Stewart and Davi Millsaps did go 1-2 at Daytona. Then Stewart crashed in the very first turn of the very next heat race the next weekend in Indy. Oh, and Villopoto had super mojo during his Seattle Supercross homecoming until his tore his ACL. Heck, poor Michael Byrne broke his leg while leading Unadilla. It's been a bad, bad year.)
And yet, here we are celebrating consistency as we head into the final round of the season. This year's outdoor year will be remembered for two things: Ryan Dungey's amazing run on a brand-new KTM, and the all-out battles of the 250 Class.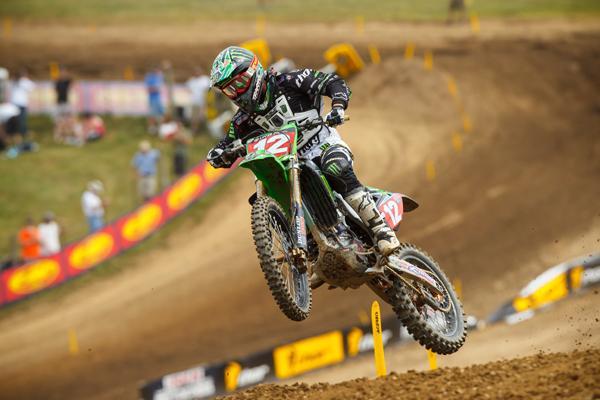 Blake Baggett leads the charge, and has had his most consistent season of his career in 2012, but he's not the only one.
Simon Cudby photo
Dungey is two motos away from avoiding all major mechanical problems on his new 450 SX-F. That's impressive because other riders who have hopped on the Dungey Edition KTM have found some of the typical bugs you'd expect from a new mount. I've heard stories of fried clutches and overheating (one could be leading to the other) for privateers, but Dungey and the factory boys had it dialed. And, the one freak racing thing that grabbed them (losing a gas cap at Southwick) was easily fixable. After Dungey had the 2010 450 title locked up, he bent a front brake rotor at Steel City and DNFed the first moto. And we know he had some bizarre, one-in-a-million things happen last summer. In fact, while we hold those three 24-0 seasons by RC and Stewart in high regard, they're aberrations. Even the champ normally has some bad luck or a big crash at some point—and even when the champion does avoid all the pit falls, the competition is almost always beset by bad luck.
Which leads us to the 250 Class, which has somehow featured not only all out intense riding in every darned moto, but has also produced remarkable consistency from five different riders. Check out 2010, when Trey Canard won the title with six finishes outside of the top five. But Christophe Pourcel crashed out of three motos that year, from a big high-side at Unadilla to the TKO crash at Pala. And last year, while Dean Wilson was crazy consistent with 22 podiums in 24 motos (and just one moto out of the top five) the competition ran into trouble. Tyla Rattray knocked himself out at Unadilla, Blake Baggett tailed off toward the end of the year (went 9-6-4-8 at Southwick and Steel City), and Tomac missed a few races due to a wild superman crash at RedBud. And Justin Barcia's 250 outdoor season last year was both a mess and a disaster wrapped into one.
When it's your year, it's your year, and we've seen champions stay consistent for 24 motos before. But rarely do you see five riders avoid DNF goose eggs all season long. In 22 motos, the Baggett/Tomac/Barcia/Roczen/Musquin group has produced an astonishing 109 top-ten finishes in 110 attempts (Musquin was 14th in moto two at Hangtown, otherwise these boys have occupied five of the top ten spots in every single moto this year). Baggett, Tomac and Barcia all averaging moto finishes under three—averaging a podium in every moto. That's an insane level of consistency!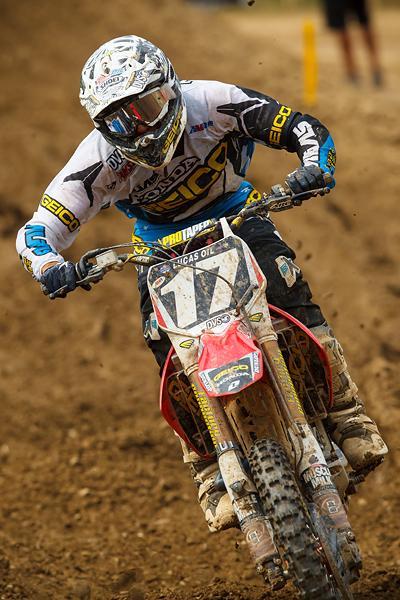 Eli Tomac has shined in his third season in the pro ranks.
Simon Cudby photo
Steel City, if you watched closely, told that story. This track was gnarly and technical. It wasn't rough and tough like Southwick. It wasn't the type of track where a classic Bob Hannah, hang on and pin it style was going to get it done. Steel City presented a mix of ultra slick dirt (helped by the rain) and deep, rock-hard ruts. The slick conditions and choppy bumps made it tough to put the bike where you wanted, but you had to do that because if you missed a line by even an inch in those ruts, you were going down hard.
All year, we've been hosting a feature on Racer X Online called Breakdown, where riding coaches analyze the top riders to see what they're doing right (and wrong, on occasion). Watching the top 250 riders on that technical track, I saw a lot that was right. These guys were riding up on the balls of their feet (something every single riding coach must even talk about in their sleep), they had their legs out and up for the ruts, they were careful with throttle control and line selection on the slick stuff. In turn, they made very few mistakes on a very difficult track. Today's young riders have been groomed and taught at a very early age. Their programs of riding and training as amateurs outstrip what a lot of pros were doing a generation ago. And now they all have masterminds behind them—we're talking people like Aldon Baker, Jeff Stanton, John Tomac, Mitch Payton and Mike LaRocco. These kids have taken the "surround yourself with good people" mantra to the nth degree.
The 250 guys poured it on at Steel City. Barcia grabbed one of his trademark holeshots and did what he does, which is ride as fast as he can for as long as he can. This year, he has not been fast enough to wheelie away from the pack, so Barcia has ridden under intense pressure race after race. He hasn't won as many of those motos as he would like, but he hasn't cracked under the pressure and crashed them away, either. Several riding coaches have told me that Barcia's biggest strength is his desire. His riding style isn't as picture perfect as others, but he makes up for that by just riding the edge and pushing it. Despite that, he hasn't held any yard sales, and has avoided the Bam Bam stuff, too.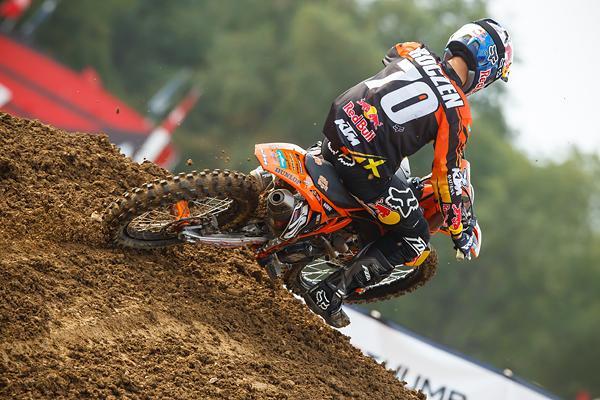 In his first season in the U.S. Roczen has been one of the most consistent riders on the circuit.
Simon Cudby photo
(They all have. For all the great battles we've seen this year, there's been little contact and no dirty riding. No off-track drama, either, even though some of the riders in this battle are teammates.)
Baggett's speed has been other worldly at times—which seems like a style bound to create some crashes. It was last year. This year, he made some mistakes at High Point and Washougal, and a crash at Millville cost him the overall win. He has not, however, wadded it up huge. Last year, he was down hard in the third moto of the season.
Tomac had a few falls at Southwick and Unadilla. He'd surely like to have those moments back now, but in any other year, they'd be minor blips on the championship radar. He was down in a first-turn crash at Hangtown, and salvaged a 10th from last, which is all you can ask. At times, he's been good but not great, and Baggett has left Tomac behind a few times as they were battling in traffic. But even Carmichael likes to say your championships are won on your bad days, and Baggett and Tomac have all played that card to the hilt. Even their bad days are pretty good, and when they're on, well, their speed is incredible. Unfortunately, even putting together superb, fast, consistent finishes still won't be enough, because only one of them can get this title. In a year defined by crashes and injuries, five 250 rides can be proud of putting together one of the most collective, consistent championship efforts we've ever seen.