Delmont, PA
Steel City
Lucas Oil AMA Pro Motocross Championship
BTO Sports is your number one source for all of your motocross parts, gear, accessories and apparel. BTOSports.com is a motocross company who is truly dedicated to the sport and to the customer. Proud sponsor of your Racer X Podcasts and the BTO Sports/BBMX Suzuki race team.
Round eleven of the 2012 Lucas Oil Pro Motocross Championship is over, and unless you're going to the MXoN or racing the Monster Energy Cup, there's just one more race to go before we can close the book on the season. This weekend's race was challenging in a number of different ways.
I think I've seen three or four different ways to prep the Steel City track. How you prep and water it (organically or not) changes how the track behaves and how you have to ride it. When it's left alone it gets pretty hard and choppy. Sometimes it's ripped up deep, and it gets mega-rough with tons of ruts. Then there's a medium prep where the traction stays pretty good and it's rideable. And then you have what we got this weekend where it got rough and rutty (probably around a seven out of ten on that scale) but in the second 450 moto, the rains came down and the track got incredibly slick. Like, ice rink slick, and dudes were on the verge of crashing everywhere. It was nuts.
This just in, the 250 Class is coming down to the wire. GEICO Powersports Honda's Eli Tomac has been absolutely human-torch-like on fire in the last little bit. The Colorado kid won both motos at Steel City, and although his teammate, Justin Barcia, led most of the way in the first moto, it still seemed that Eli was just waiting for a chance. Tomac was 36 points behind Monster Energy Pro Circuit's Blake Baggett five races ago and now the gap is down to 14 with one to go. He's won four out of the last six motos, many of them in dominating fashion. He's passed Barcia for second in the points and has all the momentum of that dumb train that Denzel Washington was trying to stop in that crappy movie.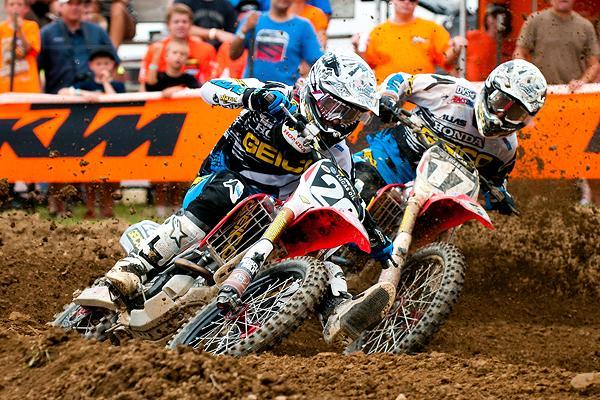 Eli Tomac (right) has charged past teammate Justin Barcia (left) in the standings and now sits just 14 back of Blake Baggett.
Amy Schaaf photo
There's no more talk of Tomac and his inconsistency, his battles with the heat or his rough go of it after winning the very first National he ever entered. In this crazy 250 Class where one rider after another has seemingly been, "the man," it's now Tomac's turn, and it couldn't happen at a better time. His starts were a reason for some struggles early in the season but he's got those things down and although it's going to be tough, overcoming a 14-point deficit is definitely doable.
So what's going on with Blake Baggett? The points leader for the entire season has been having his big points lead whittled away bit by bit in the last several races. He's been very average the last little while (compared to his high standards), except for two motos. But if you think about it, he sort of did this same second half fade last season as well, but this year, it's not as noticeable. Blake's just not the same guy he was in the first half of the year, and by all accounts he appears to be trying hard and he's still in shape, but in the first moto, he grabbed the start and went backward fast. That was weird. I have to think it's between the ears with him. The pressure of leading this thing may be affecting him a bit. Like his team manager Mitch Payton told me on Sunday night, it's easy when you're in Tomac's position to throw caution to the wind a bit and let it hang out. Baggett's got to be smart about his position and getting this title.
This weekend we're back in Southern California and I do think that helps Baggett out. Having ridden at Elsinore before, he'll be familiar with the track and soil a little bit. He's from California, he's got a 14-point lead in hand and I think he brings this thing home on Saturday night. But it's going to be close, no doubt about it.
Stats this summer:
Overall wins: Baggett 4, Tomac 4
Moto wins: Baggett 9, Tomac 8
Laps Led: Baggett 51, Tomac 79 (Barcia's got the most laps led & Roczen is tied with Tomac. I've never seen the top two guys third and fourth in laps led)
Holeshots: Baggett 1 Tomac 0—I don't think I've ever seen first and and second in the points have one holie between them. Weird.
Ryan Dungey won again but it wasn't his usual domination. He won the first moto but at one point, Andrew Short was catching him fast. This made The Dunge mad and he poured it on to win big. In the second moto he probably would've won big but the rain came down and as I've been saying, it was sketch city. He was probably taking it easy but the #800 led for a long time before getting passed (rather meekly I might add) for the lead. Mikey stayed close but in the end, Dungey put another 1-1 on the board.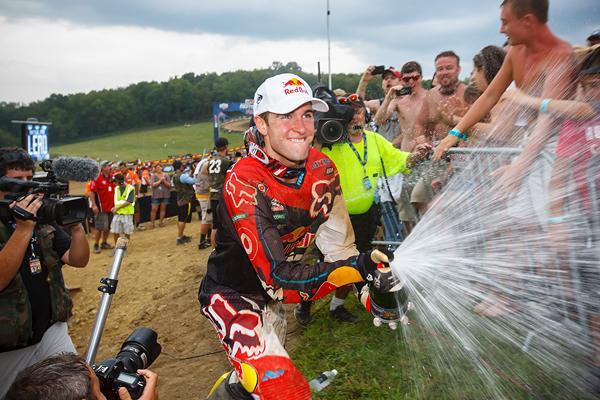 All he does is win, win, win!
Simon Cudby photo
And with the win Dungey moved into third all-time in 250 Class wins (now 450s, of course) and he's fourth overall in all-time wins behind RC, Hannah and Stewart. I started thinking a bit about Dungey's legacy in the sport. I touched on this on the Pulpmx Show as well, but it didn't go well when my co-host ambushed me and started yelling about how Dungey doesn't like me, so here's my chance. I think when it's all said and done, he'll be remembered more fondly when he stops racing than he is now. Plenty of times it's "RV got hurt" or 'Stewart's faster" or "Reed has him covered," and that can be true at times but those guys aren't staying healthy and Dungey for the most part, is. It's not Dungey's fault that these guys can't line up with him race in and race out every single year. He's the only guy out of the "big five" that's competed in every series since he entered the class in 2010. Yeah, he missed a few races this supercross season with a broken collarbone, but that's such a small injury for him, and the other guys have missed huge chunks of time.
When he's on the line with these guys, he runs their pace and even beats them. But, and I'm probably guilty in this as well, it's always about the other guys. Dungey is a lot like Jeff Stanton was back in his day. When Stanton raced it was first about Rick Johnson but then RJ got hurt (and when Stanton started winning it was ONLY because Johnson was hurt, or so the people said) and it became about Damon Bradshaw's incredible speed and style, but he often crashed out as well. Then the World Champion Jean-Michel Bayle came over and won one year, and his speed and technique were so much better than Stanton's. The farmer from Sherwood was so lucky. That's what "they" all said and I imagine if there were message boards in 1991, they'd be saying that on those also. None of this mattered to Stanton, he just kept winning and winning and racing the guys who were there. And he won over and over to the tune of six AMA National Championships. Bradshaw, Johnson, Bayle—they came and went and Jeff was still there.
And like Stanton back in the day, Dungey doesn't have the most dazzling personality. He's not very good in interviews, he doesn't reveal very much and he keeps everything pretty tight. Nowadays, we all love Jeff as a great interviewee, an honest guy and someone who was one of the best ever before retiring at a very young age. We appreciate Stanton way, way more now than we did back when he was racing. Dungey's going to be haunted by the, "what if's," during his career (unless he starts blowing the doors off RV, Canard, Stewart and Reed), but when it's all over, we'll look back and think about what an American Badass he really was. Such is his lot in life.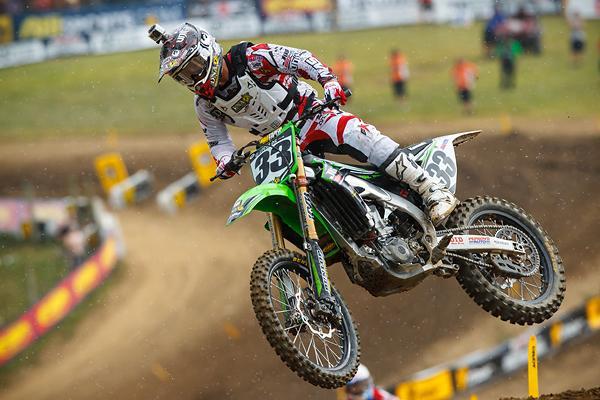 Josh Grant rode to his first podium of the season at Steel City.
Simon Cudby photo
A few years ago Josh Grant had the world at his fingertips. Making a lot of money, the ability to wake up in the morning and win that very day if he was in the groove, and a riding style that was something special. That was before a terrible string of injuries came along and basically caused him to miss a year-an-a-half with injuries to knees and shoulders. He joined the Jeff Ward Racing team this year and at first, he was rusty. The old Grant magic wasn't really there. But then again, this sport stops for no one and things go on. Ask Damon Bradshaw when he came back after a year-and-a-half off, or any of the other comebacks that never work.
It's at this point that my mind flashes back to my hero Mark Barnett making a comeback in 1989 with TUF Racing. It had been three years since he raced and it did not go well. I was there in person for this. Seeing my hero struggle with simple supercross jumps has scarred me for life. Okay back to the story.
If you've been reading this column all year you know I've been saying that Grant has to be patient. Every setback from injury is actually more harm than a "perceived" step back when he rides around in tenth. The tenths, sevenths, fourteenths are all part of the process of the rebuilding of Josh Grant. Josh Grant 2.0, I suppose. Grant probably got frustrated (I know his wife did at me when I tweeted at Toronto that I thought that Grant's mechanic was riding the bike), but he needed to just stay with it . You can't get from tenth to first without stopping at fifth along the way, right?
Well things came together at New Orleans this year when he got a second, and at Steel City he scored another podium with a third overall. He's not as flashy as he once was and he doesn't have those moments when you go "Holy shit, Josh Grant is flying right now" (by the way, Grant's RedBud 2009 ride is right up there in my mind as one of the, "I'm absolutely blown-away at the riding clinic I am watching" rides I've ever seen in my life.
Also in there, Reynard-Millville '95, Tortelli-Glen Helen '99 and just about any RC in MX or MC in SX or Stewart in '08 MX) but if you look closely, it's still there. You can't make or buy talent, you're are born with it and that's something Grant will never lose, which is why he's got to be patient. It'll come back, maybe not all the way, but it will. His talent dictates that. Great ride from him at Steel City.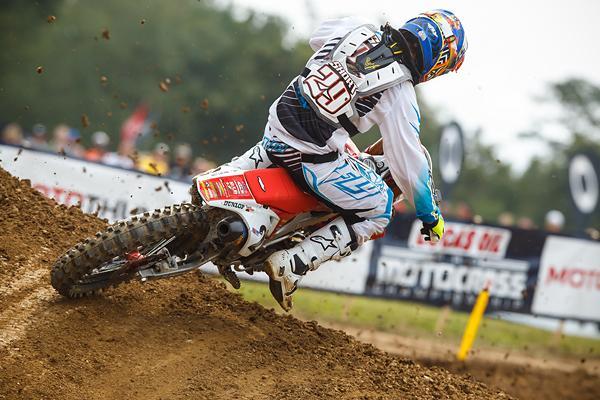 Andrew Short's amazing performance in moto one was washed away after a crash in the second moto.
Simon Cudby photo
Recently Grant Langston thought he had an agreement with TLD Honda's Christian Craig to ride for the Langston-Witt KTM 450 team next year, only to have Craig back out at the last minute and re-sign with TLD for 2013. No one asked me (come to think of it, no one has really ever asked me but I just keep writing my opinion over and over), but my opinion is that Christian should have taken the Langston deal because it would have kept him on a 450 full time. On TLD, he's going to have to ride a 250 on the West Coast, as the team does not go to the East Coast. I think Craig's too big for a 250, and we've seen him time and time again have problems staying healthy on the smaller bike. He lacks the aggression and the "gnarliness" one needs in that class. On a 450, he can ride it with finesse and skill, and he looks great doing it. Since he's come back from injury, he's sort of ridden himself back into shape and when he's 100 percent and going for it, he's very nice to watch. He's got to do what he's got to do but I would have gone 450 full time if I were him.
Speaking of the Langston-Witt team, they switched engine programs recently in the hopes of getting away from the run of DNF's they had with their old one. And to boot, they moved the surprising Zack Freeberg to the 450 Class as well. (On a sidenote, with Zach Freeberg racing, as well as Zach Bell and Zach Osborne next year, has there ever been more Zach's in professional racing? 2013 is the year of the Zach's!) Back to what I was saying about the Langston-Witt engines. The good news is that Freeberg, on the team's new KTM-Factory supported motors got one great start and showed some speed.
Another good thing was that their motor held together. The bad part was that a shock bolt fell out and Freeberg DNF'd while running in the top seven.
How about some silly season stuff? Langston's talking to Brett Metcalfe for next year if Suzuki doesn't end up keeping Metty (it's looking like they're not), Kyle Chisholm is talking to JGR, H&H and he even called Yamaha to volunteer to ride the YZ450F if they can place him with a team and Josh Grant looks to be leaving the JWR team and going to JGR (not 100 percent for sure yet though). Josh Hansen is lucky that Monster Energy still likes him, as they're working on placing him back with Pro Circuit or maybe on JWR if Grant leaves.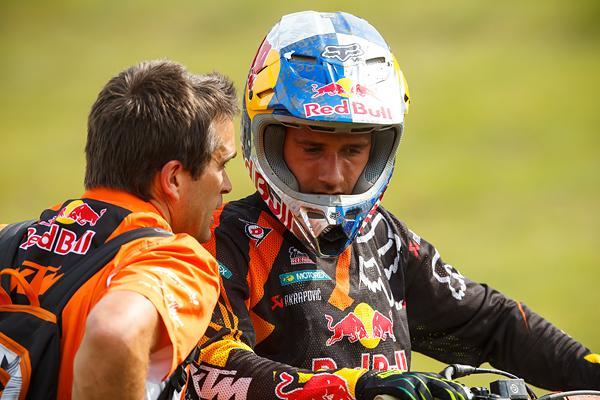 Ken Roczen's second overall was overshadowed by the championship hype at Steel City.
Simon Cudby photo
Let's take a look at the results shall we?
250 Overall
1. Eli Tomac 1-1 Hon
2. Ken Roczen 3-2 KTM- Lots of talk about Tomac for obvious reasons. Lots of chatter about Barcia and his near win in the first moto and people want to talk about what's wrong with Baggett but in the end, K-Rocz rode great to get second overall. After a slump around halfway through the year, he's been on the podium four out of the last five motos.
3. Justin Barcia 2-3 Hon
4. Blake Baggett 4-4 Kaw
5. Marvin Musquin 5-5 KTM- Musquin wasn't feeling well all day and that might explain his day. I thought he'd be a shoe-in for a podium, seeing as how he made the box last year at this track and he's coming off his first win last race at Unadilla.
6. Wil Hahn 9-6 Hon- Wilbur had a nice day. The top five guys are just on another level at this point, so if you're one of the other thirty-five guys in the moto, getting sixth is a win.
7. Alex Martin 8-9 Hon- Martin did this last year also, the whole "catching fire late in the season" move. Alex, like Hahn, was solid on the day and consistent as well.
8. Blake Wharton 7-11 Suz
9. Malcolm Stewart 6-12 KTM- Look at Mookie stringing together some consistency! Five out of the last six motos in double-digit points says so.
10. Jake Canada 11-10 Hon- Canada had his best race since Budds Creek. Yeah, that's right, I said Budds Creek. It's been a rough second half of the season for Jake but in the end, he's got a shot at tenth in the series and the title of, "Guy who did the most with the least," award.
11. Jeremy Martin 14-8 Yam- Jeremy Martin holeshot the second moto and ran well for most of it. He was actually battling his older brother Alex at one point and we finally all got to see our "Favorite Martin" battle out there on the track.
12. Kyle Cunningham 10-15 Yam- Nice return for Kyle from injury. He's been out since Budds Creek with an injury. Budds Creek! That seems like a decade ago, bro.
13. Jason Anderson 13-13 Suz
14. Jessy Nelson 12-14 Hon- A bad day for the rookie, in fact it was his worst national since Lakewood. As a rookie, a fourteenth being your worst finish in three months isn't very bad at all.
15. Justin Bogle 25-7 Hon- You're hot and you're cold, you're yes and you're no, you're in and you're out- you're Justin Bogle! (Sung to the Katy Perry song)
16. Cole Thompson 17-16 Yam- The Canadian is a bit frustrated with his results, but he's a rookie, his shoulder has been hurting him and let's face it, the 250 Class is gnarly. These guys don't fool around.
17. Travis Baker 15-18 Hon
18. Kyle Peters 20-17 Yam
19. Martin Davalos 16-37 Suz- Davalos should have, "Crushing Fantasy Moto Teams since '07," on the back of his pants.
20. Ryan Sipes 18-39 Yam- Sipes can have that same thing on his pants, but at least if you're Ryan you're like "Hey, I don't even have a practice bike and ride a two-stroke 250 during the week, what do you expect?"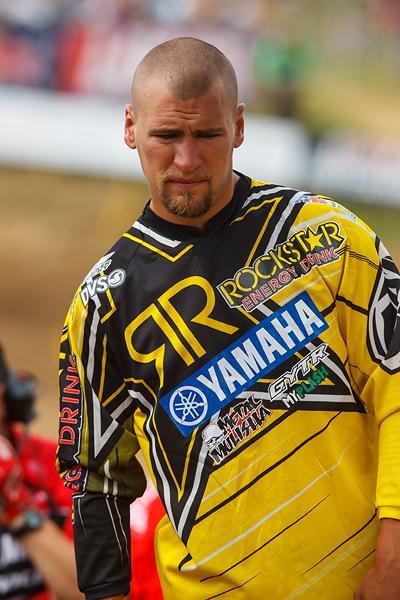 Kiniry put together another solid performance at Steel City.
Simon Cudby photo
450 Overall
Ryan Dungey 1-1 KTM
2. Mike Alessi 3-2 Suz- Alessi stayed close to Dungey in the second moto once again. The rain made it sketchy and I'm sure Dungey was just maintaining instead of pushing, but as we've seen before, Mike doesn't care. He'll take it and it helps his confidence.
3. Josh Grant 4-4 Kaw
4. Jake Weimer 7-3 Kaw- Six points between Weimer and Short for third in the series with two motos left. The battle for third—catch the 450 Class fever!
5. Tyla Rattray 6-9 Kaw- Solid day for Rattray, he'll take it because he's definitely not helping himself out for 2013 contract talks with the way he's been riding this summer on the 450.
6. Nico Izzi 8-8 Yam- Izzi was really good once again and for him, an 8-8 is consistent and that's something he's struggled with. A crash while higher up hurt him but all in all, he's got to be a contender for comeback rider of the year if there was such a thing, no?
7. Davi Millsaps 5-11 Yam
8. Phil Nicoletti 11-6 Hon- Just another top-ten overall from the guy from New York who's in a pickup truck in the back of the pits. That's all, and I suppose if you're a team manager looking for a rider, there's nothing to see here.
9. Andrew Short 2-32 Hon- Oh the ups and downs of Shorty's day. The first moto sixth to second to "catching Dungey fast" charge was something to see. It was probably the best Andrew has ridden all year. In the second moto he was doing ok until the rains came down and he was a fish out of water. Shorty went from a solid fifth to a very shaky tenth in just a few laps as the track turned into something made out of KY lube. He was just trying to maintain when he collided with Kyle Chisholm and both guys went down in a heap. Chiz says Shorty hit him, Shorty's guys say that Chiz hit him, and we have no video evidence to prove or disprove anything. Anyway, his bike was jacked up and he was forced to pull off. Bummer. Hey by the way, last time we saw Short on a Honda (2010) he was pulling ridiculous holeshots every single moto. This year? Nutting. What happened?
10. Justin Brayton 12-10 Hon
11. Ben LaMay 13-12 Yam- Great ride for the privateer LaMay.
12. Broc Tickle 32-5 Kaw- I heard that one time Broc was named after the great Broc Glover. I don't know what made me think of that as he rode off in the first moto with his third mechanical of the summer. I don't think Pro Circuit has had three mechanical DNF's in three years but somehow, the 450 program has struggled a bit.
13. Kyle Chisholm 10-16 Kaw- At this point Chiz is just going to do what he's going to do. Get a top twenty start and slowly move forward until the checkers fly.
14. Bobby Kiniry 33-7 Yam- Meathead was third in the first moto when a rock jacked up his front brake and he had to pull into the mechanics' area. That sucks for Kiniry, no doubt about it. By the way, this guy has NOTHING cooking for a ride next year and that's a-effing-mazing.
15. PJ Larsen 14-14 KTM- Larsen's back after once again missing a lot of time with an injury. One thing about missing time with an injury in this sport—it's super hard to come out and be consistent right away. So a 14-14 day for P.J. is very good.
16. Christian Craig 9-24 Hon
17. Austin Howell 18-15 Suz- After scoring six points in his previous fourteen motos, Howell has now scored 24 points in the last four motos. Someone tear that RMZ down!!! I'm kidding, nice surge for the privateer.
18. Vince Friese 15-18 Suz
19. Fredrik Noren 31-13 Hon- The Swedish Chef Noren finally backed up that seventh at Washougal in the second moto. It just took him not qualifying at Southwick and then three motos after that!
20. Jimmy Albertson 16-20 Suz
Thanks for reading this column. We've got one more left this season and then it's a bit of a break. Email me at matthes@racerxonline.com and let's chat, bro.