A Grand Prix in Holland. A Grand Prix in the sand. Another Jeffrey Herlings playground. The fourteenth round of sixteen in the FIM Motocross World Championship was never really going to be a case of "if" for the seventeen year old MX2 champion-elect but rather "by how much?" And the Red Bull KTM rider answered the question with the most startling display in Europe that anyone can remember.
Herlings—unbeaten on Dutch soil since entering the series as a works KTM rider in 2010—had never raced at a high level at Lierop; the kind of shifting sandy nightmare of a track that leaves a timely reminder of its nature on muscles and engine parts long after the crowds have departed. The MX2 Class leader since round one went 1-1 in front of a rapturous reception just two weeks after rival Tommy Searle dazzled his home public in the UK but the manner of the display was dominant, ruthless, and perfection to the point of humiliation.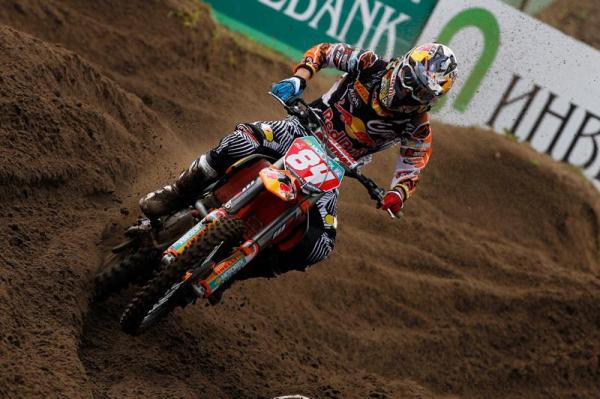 Herlings was untouchable in Holland.
Ray Archer photo
Herlings lapped up to teammate Jeremy van Horebeek in second position in the first moto and relegated all up to third place (an impressive Gariboldi Esta Honda's Max Anstie, more than justifying his selection for GBR for the Nations in similar but deeper terrain at Lommel) in the second race. His times were five seconds quicker a lap than the next fastest. It was a turkey shoot, and offered a sharp preview of what the gathered countries and motocross fans in four weeks time might be able to witness and marvel.
When the Dutchman lapped Tommy Searle in each outing it provided a visual image of the culmination of their long and often controversial duel for the MX2 crown. Herlings' capabilities were expected but this was a whirlwind, and with a 65 point lead in the standings and just 100 left to win KTM are set for a fourth MX2 crown with a third different rider in four years.
"I loved this weekend," he enthused. "I kept charging and charging and I saw I was lapping some good riders and it was a case of 'Okay, just one more.' I saw and passed Tommy, got Max and needed one more lap for Jeremy and that would have been all the field; it was a good first moto! "
"I honestly have no idea [on his superior ability]. I just did my own race. I grew up in the sand so I know how to race it. I rode almost the same pace for forty minutes and most of the other guys are fast in the beginning but then those lap-times drop by maybe over ten seconds. Mine drop also but maybe not as much."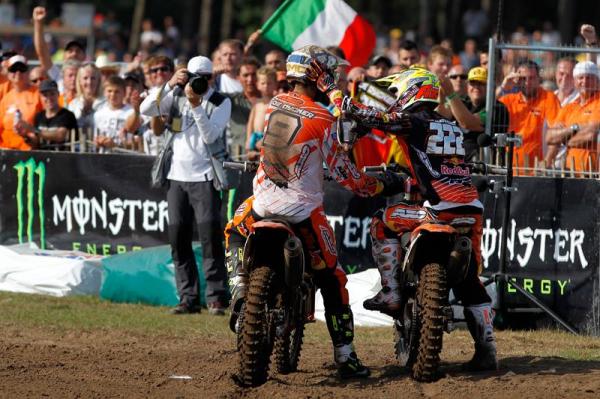 Cairoli (right) celebrates his fifth consecutive victory with teammate Ken de Dycker (left).
Ray Archer photo
Just as Searle marked a precious memory in the 2012 season in front of the British crowd, Herlings easily created one of the defining moments of the campaign and maybe something that will define his racing career. It is amazing to think of his age.
An eighth MX2 win (sixth double) was the main talking point of this event and even dwarfed the fifth consecutive victory in MX1 by reigning champion Tony Cairoli on the Red Bull KTM 350SX-F. The Sicilian equalled his best winning streak from the 2007 MX2 title-winning campaign and was also unchallenged on the track, going 1-1, but nothing would touch the amazing scenes set on the 250s. Cairoli injected some drama into proceedings by taking a patient approach to passing teammate Max Nagl in the first moto (the German crashed in the second heat and retired with a broken footpeg) and even endo-ed in the second race but was still comfortable ahead of teammate Ken de Dycker. The hard charging Tanel Leok made the podium with Rockstar Suzuki on the lowest step for the first time since Czech Republic in 2010. Leok's teammate, and Cairoli's only obstacle towards a sixth world championship and fourth in a row, in MX1 is Clement Desalle who was out-of-sorts on the sand with a painful right hand the consequence of his crash in the UK two weeks prior. Desalle's sixth position came behind season-best results for Honda World Motocross' Evgeny Bobryshev (fourth) and Monster Energy Yamaha's Shaun Simpson (fifth) but the extra points won by Cairoli sets up a highly likely and emotional celebration next weekend at Faenza in Italy.
CP377 Monster Energy Pro Circuit Kawasaki's Christophe Pourcel's tumble at the British Grand Prix a fortnight ago revealed a cracked shoulder blade and the Frenchman attempted the first moto but could not handle the Lierop lumps and bumps. The DNF and DNS meant Kawasaki Racing Team's Gautier Paulin leap-frogged his countryman into third position in the MX1 table.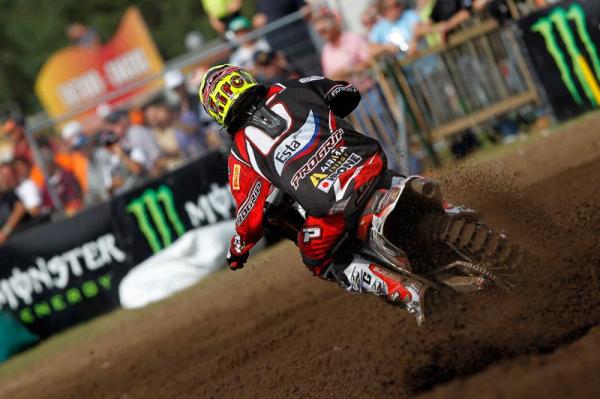 Max Anstie rode to a podium spot in Holland.
Ray Archer photo
In terms of American presence Zach Osborne was ninth overall on the Monster Energy Yamaha YZ250F with a 7-8 posting but was content with his handling of the surface.
"They didn't make so many waves this year and that was pretty good but it is still brutal. It is just insane. There is no rest out there and no place to sit down. No place to have a think. It is tough but I'm happy to leave safe and with another grand prix under my belt."
Teammate Michael Leib sat out the trip to Holland and its punishing demands to focus on full fitness for the final rounds in Italy and Germany.
MX1 Moto1
1. Antonio Cairoli (ITA, KTM), 40:53.149;
2. Maximilian Nagl (GER, KTM), +0:08.556;
3. Ken de Dycker (BEL, KTM), +0:34.571;
4. Tanel Leok (EST, Suzuki), +0:44.142;
5. Gautier Paulin (FRA, Kawasaki), +0:46.058;
6. Clement Desalle (BEL, Suzuki), +0:47.362;
7. Evgeny Bobryshev (RUS, Honda), +1:22.867;
8. Shaun Simpson (GBR, Yamaha), +1:27.570;
9. Kevin Strijbos (BEL, KTM), +2:03.584;
10. Marcus Schiffer (GER, Suzuki), -1 lap(s);
MX1 Moto2
1. Antonio Cairoli (ITA, KTM), 41:45.714;
2. Ken de Dycker (BEL, KTM), +0:15.837;
3. Tanel Leok (EST, Suzuki), +0:23.817;
4. Evgeny Bobryshev (RUS, Honda), +0:33.733;
5. Shaun Simpson (GBR, Yamaha), +0:35.324;
6. Kevin Strijbos (BEL, KTM), +1:00.708;
7. Clement Desalle (BEL, Suzuki), +1:09.225;
8. Rui Goncalves (POR, Honda), +1:11.132;
9. Gautier Paulin (FRA, Kawasaki), +1:34.509;
10. Jonathan Barragan (ESP, Honda), +2:06.153;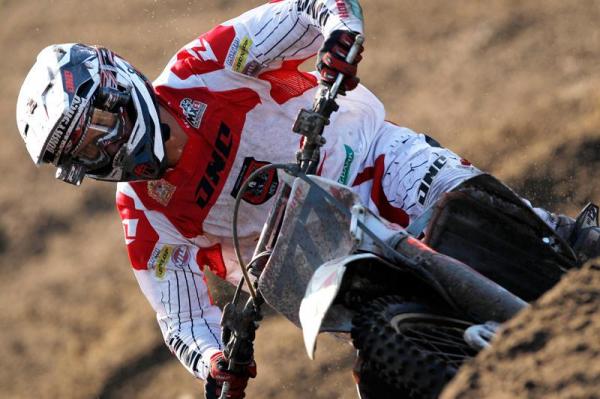 Evgeny Bobryshev finished just off the podium in fourth.
Ray Archer photo
MX1 Overall
1. Antonio Cairoli (ITA, KTM), 50 points;
2. Ken de Dycker (BEL, KTM), 42 p.;
3. Tanel Leok (EST, Suzuki), 38 p.;
4. Evgeny Bobryshev (RUS, Honda), 32 p.;
5. Shaun Simpson (GBR, Yamaha), 29 p.;
6. Clement Desalle (BEL, Suzuki), 29 p.;
7. Gautier Paulin (FRA, Kawasaki), 28 p.;
8. Kevin Strijbos (BEL, KTM), 27 p.;
9. Maximilian Nagl (GER, KTM), 22 p.;
10. Rui Goncalves (POR, Honda), 20 p.;
MX1 World Championship standings
1. Antonio Cairoli (ITA, KTM), 592 points;
2. Clement Desalle (BEL, Suzuki), 516 p.;
3. Gautier Paulin (FRA, Kawasaki), 468 p.;
4. Christophe Pourcel (FRA, Kawasaki), 452 p.;
5. Ken de Dycker (BEL, KTM), 446 p.;
6. Kevin Strijbos (BEL, KTM), 369 p.;
7. Xavier Boog (FRA, Kawasaki), 355 p.;
8. Tanel Leok (EST, Suzuki), 338 p.;
9. Rui Goncalves (POR, Honda), 315 p.;
10. Shaun Simpson (GBR, Yamaha), 271 p.;
MX2 Moto1
1. Jeffrey Herlings (NED, KTM), 40:41.884;
2. Jeremy van Horebeek (BEL, KTM), +2:07.139;
3. Max Anstie (GBR, Honda), -1 lap(s);
4. Tommy Searle (GBR, Kawasaki), -1 lap(s);
5. Jake Nicholls (GBR, KTM), -1 lap(s);
6. Arnaud Tonus (SUI, Yamaha), -1 lap(s);
7. Zachary Osborne (USA, Yamaha), -1 lap(s);
8. Jordi Tixier (FRA, KTM), -1 lap(s);
9. Glenn Coldenhoff (NED, KTM), -1 lap(s);
10. Alexander Tonkov (RUS, Honda), -1 lap(s);
Jeremy van Horebeek (left) and teammate Jeffery Herlings (right) celebrate a 1-2 finish in Holland.
Ray Archer photo
MX2 Moto2
1. Jeffrey Herlings (NED, KTM), 39:32.414;
2. Jeremy van Horebeek (BEL, KTM), +2:04.344;
3. Max Anstie (GBR, Honda), +2:07.174;
4. Tommy Searle (GBR, Kawasaki), +2:27.492;
5. Arnaud Tonus (SUI, Yamaha), -1 lap(s);
6. Glenn Coldenhoff (NED, KTM), -1 lap(s);
7. Jordi Tixier (FRA, KTM), -1 lap(s);
8. Zachary Osborne (USA, Yamaha), -1 lap(s);
9. Jake Nicholls (GBR, KTM), -1 lap(s);
10. Dylan Ferrandis (FRA, Kawasaki), -1 lap(s);


MX2 Overall
1. Jeffrey Herlings (NED, KTM), 50 points;
2. Jeremy van Horebeek (BEL, KTM), 44 p.;
3. Max Anstie (GBR, Honda), 40 p.;
4. Tommy Searle (GBR, Kawasaki), 36 p.;
5. Arnaud Tonus (SUI, Yamaha), 31 p.;
6. Jake Nicholls (GBR, KTM), 28 p.;
7. Glenn Coldenhoff (NED, KTM), 27 p.;
8. Jordi Tixier (FRA, KTM), 27 p.;
9. Zachary Osborne (USA, Yamaha), 27 p.;
10. Alessandro Lupino (ITA, Husqvarna), 20 p.;


MX2 World Championship standings
1. Jeffrey Herlings (NED, KTM), 622 points;
2. Tommy Searle (GBR, Kawasaki), 557 p.;
3. Jeremy van Horebeek (BEL, KTM), 519 p.;
4. Jake Nicholls (GBR, KTM), 387 p.;
5. Joel Roelants (BEL, Kawasaki), 367 p.;
6. Jordi Tixier (FRA, KTM), 367 p.;
7. Max Anstie (GBR, Honda), 314 p.;
8. Dylan Ferrandis (FRA, Kawasaki), 272 p.;
9. Jose Butron (ESP, KTM), 263 p.;
10. Alessandro Lupino (ITA, Husqvarna), 241 p.;