Lucas Oil Pro Motocross Championship
Steel City Raceway - Delmont, PA
450 Points Standings
Ryan Dungey 530pts. KTM *Clinched 2012 450 title
Mike Alessi 409pts. Suz

Andrew Short 333pts. Hon
Jake Weimer 327pts. Kaw
Broc Tickle 309pts. Kaw
Josh Grant 262pts. Kaw
Justin Brayton 222pts. Hon
Kyle Chisholm 198pts. Kaw
Davi Millsaps 176pts. Yam
James Stewart 163pts. Suz
Nico Izzi 149pts. Yam

Brett Metcalfe 142pts. Suz
Michael Byrne 138pts. Suz

Tyla Rattray 136pts. Kaw
Tommy Hahn 101pts. Hon
Ryan Sipes 94pts. Yam
Bobby Kiniry 87pts. Yam
Ben LaMay 85pts. Yam
Vince Friese 82pts. Suz
Christian Craig 74pts. Hon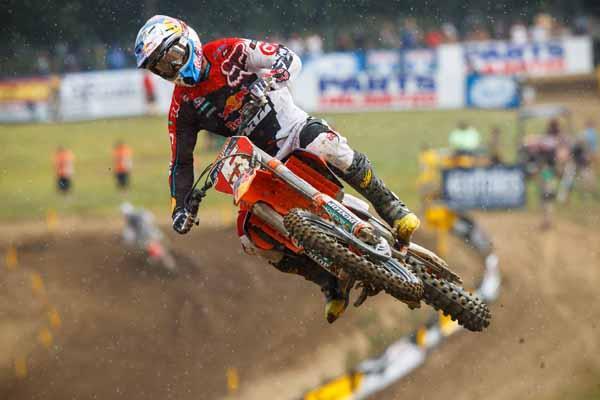 Ryan Dungey went 1-1 for the overall at Steel City.Simon Cudby photo
250 Overall
1.  Eli Tomac 1-1 Hon
2. Ken Roczen 3-2 KTM
3. Justin Barcia 2-3 Hon
4. Blake Baggett 4-4 Kaw
5. Marvin Musquin 5-5 KTM
6. Wil Hahn 9-6 Hon
7. Alex Martin 8-9 Hon
8. Blake Wharton 7-11 Suz
9. Malcolm Stewart 6-12 KTM
10. Jake Canada 11-10 Hon
11. Jeremy Martin 14-8 Yam
12. Kyle Cunningham 10-15 Yam
13. Jason Anderson 13-13 Suz
14. Jessy Nelson 12-14 Hon
15. Justin Bogle 25-7 Hon
16. Cole Thompson 17-16 Yam
17. Travis Baker 15-18 Hon
18. Kyle Peters 20-17 Yam
19. Martin Davalos 16-37 Suz
20. Ryan Sipes 18-39 Yam
21. Jackson Richardson 21-19 Hon
22. Michael McDade 19-28 Hon
23. AJ Catanzaro 32-20 KTM
24. Gannon Audette 26-22 KTM
25. Vann Martin 29-21 Hon
26. Kaven Benoit 28-24 KTM
27. Chris Canning 30-23 Hon
28. Dakota Tedder 22-33 Kaw
29. Tevin Tapia 23-35 KTM
30. Joseph Dalzell 34-25 Kaw
31. Joey Peters 27-32 Yam
32. Ryan Zimmer 31-29 Hon
33. Broc Schmelyun 24-36 Kaw
34. Luke Vonlinger 35-26 Hon
35. Theodore Pauli 33-30 Kaw
36. Daniel Herrlein 40-27 Hon
37. Steve Roman 39-31 Yam
38. Justin Starling 38-34 KTM
39. Sean Hackley 36-38 KTM
40. Jacob Hayes 37-40 KTM
250 Points Standings
Blake Baggett 472pts. Kaw
Eli Tomac 458pts. Hon
Justin Barcia 454pts. Hon
Ken Roczen 427pts. KTM
Marvin Musquin 368pts. KTM
Wil Hahn 282pts. Hon
Blake Wharton 239pts. Suz
Jason Anderson 222pts. Suz
Jessy Nelson 205pts. Hon
Travis Baker 177pts. Hon
Jake Canada 170pts. Hon
Malcolm Stewart 161pts. KTM
Alex Martin 144pts. Hon


Justin Bogle 126pts. Hon


Kyle Cunningham 113pts. Yam
Gareth Swanepoel 106pts. Yam
Ivan Tedesco 105pts. Kaw
Martin Davalos 85pts. Suz
Kyle Peters 78pts. Yam
Ryan Sipes 58pts. Yam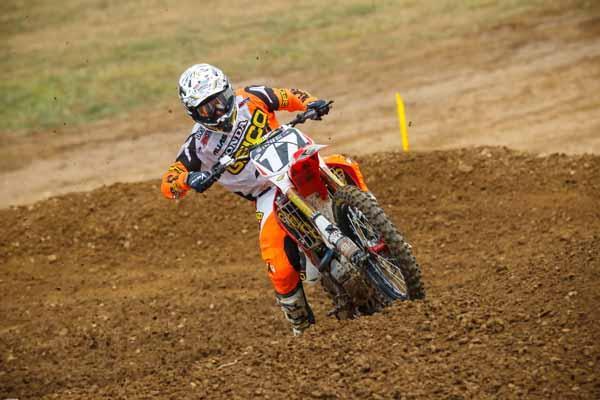 Eli Tomac closed to within 14 points of series leader Blake Baggett with a 1-1 performance at Steel City.
Simon Cudby photo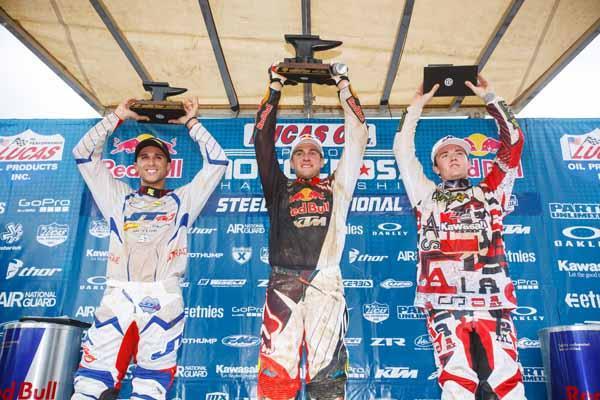 Alessi (left) and Grant (right) would round out the 450 podium.Simon Cudby photo
FIM World Motocross Championship
Grand Prix of Benelux - Holland
MX1 Overall
1. Antonio Cairoli 1-1 KTM
2. Ken de Dycker 3-2 KTM
3. Tanel Leok 4-3 Suz
4. Evgeny Bobryshev 7-4 Hon
5. Shaun Simpson 8-6 Yam
6. Clement Desalle 6-7 Suz
7. Gautier Paulin 5-9 Kaw
8. Kevin Strijbos 9-6 KTM
9. Max Nagl 2-26 KTM
10. Rui Goncalves 14-8 Hon
11. Xavier Boog 12-11 Kaw
12. Marcus Schiffer 10-13 Suz
13. Davide Guarneri 13-12 KTM
14. Milko Potisek 15-14 Hon
15. Jonathan Barragan 27-10 Hon
16. Marc de Reuver 11-24 Kaw
17. Gert Krestinov 18-15 Hon
18. Bryan Mackenzie 19-17 KTM
19. Davis Livs 21-16 Kaw
20. Augusts Justs 17-23 Hon
27.
Christophe Pourcel
25-DNS Kaw
MX1 Points Standings

Antonio Cairoli 592pts. KTM
Clement Desalle 516pts. Suz
Gautier Paulin 468pts. Kaw
Christophe Pourcel 452pts. Kaw
Ken de Dycker 446pts. KTM
Kevin Strijbos 369pts. KTM
Xavier Boog 355pts. Kaw
Tanel Leok 338pts. Suz
Rui Goncalves 315pts. Hon
Shaun Simpson 271pts. Yam

Evgeny Bobryshev 267pts. Hon
David Phillippaerts 212pts. Yam
Jonathan Barragan 212pts. Hon

Davide Guarneri 190pts. KTM
Sebastien Pourcel 178pts. Kaw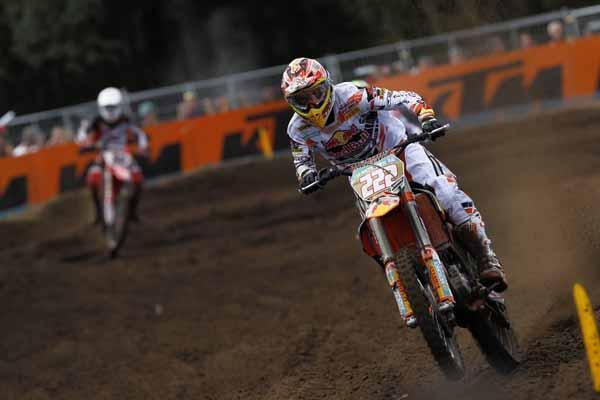 Antonio Cairoli took the overall in Holland on Sunday.

Ray Archer/KTMImages photo
MX2 Overall
1. Jeffery Herlings 1-1 KTM
2. Jeremy van Horebeek 2-2 KTM
3.
Max Anstie
3-3 Hon
4.
Tommy Searle
4-4 Kaw
5. Arnaud Tonus 6-5 Yam
6. Jake Nicholls 5- KTM
7. Glenn Coldenhoff 9-6 KTM
8. Jordi Tixier 8-7 KTM
9. Zach Osborne 7-8 Yam
10. Alessandro Lupino 11-11 Husq
11. Alexander Tonkov 10-13 Hon
12. Nikolaj Larsen 13-12 Suz
13. Valentin Teillet 12-14 Kaw
14. Dylan Ferrandis 27-10 Kaw
15. Julien Lieber 16-15 Suz
16. Even Heibye 15-16 KTM
17. Romain Febvre 14-17 KTM
18. Jose Butron 17-19 KTM
19. Ivo Monticelli 30-18 Husq
20. Ceriel Klein Kromhof 18-32 Hon
MX2 Points Standings

Jeffery Herlings 622pts. KTM
Tommy Searle 557pts. Kaw
Jeremy van Horebeek 519pts. KTM
Jake Nicholls 387pts. KTM
Joel Roelants 367pts. Kaw
Jordi Tixier 367pts. KTM
Max Anstie 314pts. Hon
Dylan Ferrandis 272pts. Kaw
Jose Burton 263pts. KTM
Alessandro Lupino 241pts. Husq
Glenn Coldenhoof

238pts KTM
Arnaud Tonus 182pts Yam
Romain Febvre 168pts. KTM
Valentin Teillet 154pts. Kaw
Nikolaj Larsen 153pts. Suz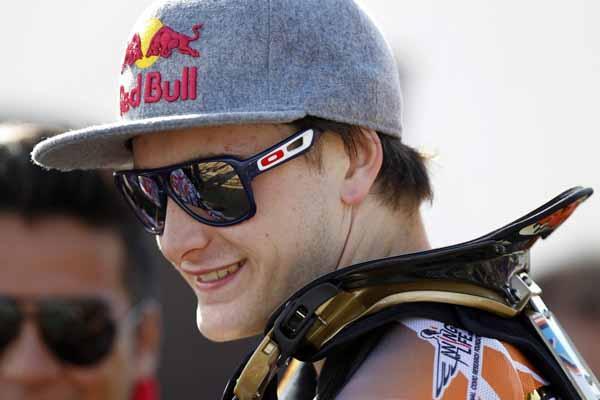 Jeffery Herlings dominated in the sand once again.

Ray Archer/KTMImages photo
Can-Am GNCC Championship

XC1 Points Standings

Paul Whibley 225pts Yam
Kailub Russell 216pts KTM
Rory Mead 167pts KTM
Thad DuVall 138pts Hon
Jordan Ashburn 132pts Yam
Charlie Mullins 129pts KTM
Chris Bach 123pts Yam
Garrett Edmisten 116pts Kaw
Takeshi Koikeda 100pts. KTM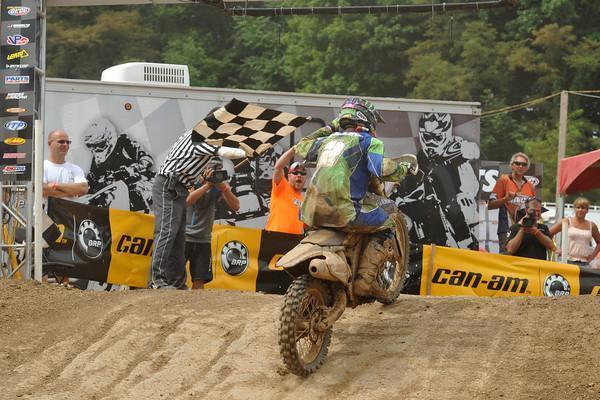 Paul Whibley leads the XC1 Class.
Ken Hill//GNCCRacing.com photo
XC2 Points Standings
Steward Baylor 200pts KTM
Jason Thomas 188pts HSQ
Andrew Delong 172pts. HSQ
Jesse Robinson 155pts HSQ
Jedediah Haines 153pts YAM
Brad Bakken 130pts YAM
AJ Stewart 107pts. Yam
Cody Gragg 91pts. Yam
Scott Grills 87pts. Hon
Zach Nolan 84pts. KTM
Red Bull Pro Nationals
MX1 Point Standings
Nicolas Aubin 217pts. Hon
Martin Barr 198pts. Suz
Gert Krestinov 172pts. Hon
Stephen Sword 167pts.
Alex Snow 134pts. Kaw
Josh Waterman 108pts. Suz
Marc de Reuver 83pts. KTM
Ray Rowson 73pts.
Jamie Law 59pts.
Dorren Coutts 58pts.
MX2 Point Standings
Neville Bradshaw 213pts. Hon
Steven Lenoir 181pts. Yam
Graeme Irwin 159pts. Yam
Nathan Watson 152pts. Hon
Stuart Edmonds 140pts. Suz
Jordan Booker 113pts. Hon
Bryan MacKenzie 107pts. KTM
Matthew Moffat 102pts.
James Cottrell 101pts.
Luke Remmer 102pts. Yam
Maxxis British Motocross Nationals


450 Points Standings
Kevin Strijbos 388pts.
Shaun Simpson 339pts.
Matiss Karro 308pts.
Gert Krestinov 264pts.
Martin Barr 243pts.
Kristian Whatley 201pts.
Jamie Law 200pts.
Stephen Sword 198pts.
Alex Snow 186pts.
Dorron Coutts 170pts.
250 Points Standings
Mel Pocock 343pts.
Elliott Banks-Browne 327pts.
Nev Bradshaw 271pts.
Steven Lenoir 254pts.
Nicolas Aubin 239pts.
Graeme Irwin 239pts.
Bryan MacKenzie 235pts.
Stu Edmonds 174pts
James Cottrell 152pts. .
Lewis Tombs 141pts.
Expert Points Standings
Taddy Blazusiak 69pts. KTM

Mike Brown 61pts. KTM
Taylor Robert 57pts. Kaw
Cody Weeb 57pts. Beta
Colton Haaker 51pts. Kaw
Kevin Rookstool 44pts. Husq

Destry Abbott 36pts. Kaw
Cory Graffunder 32pts. KTM
Bobby Prochnau 25pts. KTM
Justin Soule 25pts. Kaw

Taddy Blazusiak continues the Expert Class
.
Garth Milan photo