Steel City Raceway
Delmont

,

PA
Steel City
Lucas Oil AMA Pro Motocross Championship
GEICO Honda's Eli Tomac is riding the wave of momentum at the right time, setting super fast laps en route to moto wins at Southwick and Unadilla, and then putting it all together for a 1-1 at the FMF Steel City National over the weekend. At the halfway point of the season, RedBud, Tomac sat third in the series and 36 points behind Blake Baggett. Now, he's 14 down heading into the finale, giving him a real shot at the Lucas Oil Pro Motocross Championship in the 250 Class.

Racer X: Great job today.
Eli Tomac: Thanks. This was the best thing we could hope for, I guess. I went out there and did what I could do and got a 1-1.Basically now we're within a moto in points, so I'll do what I can do there and see how it turns out.

What's it like riding against your teammate, you're running 1-2 in some of these motos, and you're close in points. That first moto, you guys almost touched over a jump, I think.
I think we got as close as you could get without touching! It was wild, but, we're really just both trying to catch Blake right now so I think that's why there's not a whole bunch of tension between Justin and myself. We're just focused on the guy in front of us.

I feel like I have to ask every week, but, it seems like you've really been on the gas at the last few races--anything change?
Today it was my starts. Those were the most consistent, top-three starts I've had all year. First moto, I started fourth, well, basically third but Kenny snuck by me, and the second moto I almost holeshotted, but [Jeremy] Martin got it. That was what really made a difference for me today.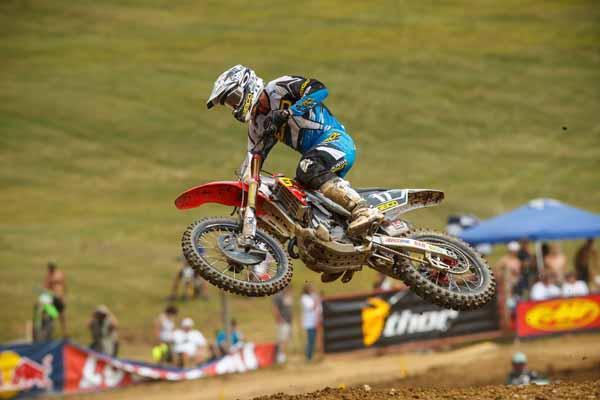 Tomac has found his groove at just the right time. Or is it too late? We'll know in five days.
Simon Cudby photo

Where you almost freaked out leading on the first lap of the second moto? I think that was the first time we've seen you out front on lap one all year!
[Laughs] Yeah it was my first, first lap leading. But, you know, I look forward to that clean air, I'm not afraid of getting a good start. It's heard when you're getting roosted, or getting sucked into the pace of the rider in front of you. It's easier to ride by yourself.

You did really well at High Point and then again here. Is there something about these Pennsylvania tracks that works for you--the ruts, off-cambers, or just the dirt?
Yeah I like off-cambers and ruts. This track was super tricky, it had shiny parts that were so slick. You had to be on your toes. I actually could have been thrown down on the ground twice in that second moto, it was tough.

You seem totally relaxed now. Is that the difference between being second in the standings instead of carrying the pressure of being first? Are you even thinking about points?
I mean, I don't really have anything to lose since I'm the guy in second now. I just have to go out and do what I can do, which is try to win, and like I said earlier, at least it's not going to go down in the first moto, I'm close enough in points two where both motos have to play out, so that helps a little bit.

With the finale being at Elsinore, it's kind of neutral ground because no one has raced a National there yet. Do you think that's better or worse for you?
For me, this being my third season, I think it's helped my qualifying, at least compared to newer guys like Ken [Roczen] and Marvin [Musquin], I know the tracks pretty well. Now we'll all be on a level playing field, maybe some of the California guys have ridden there a bit, but we have press day on Thursday, so that's going to help a lot, too, so that's good.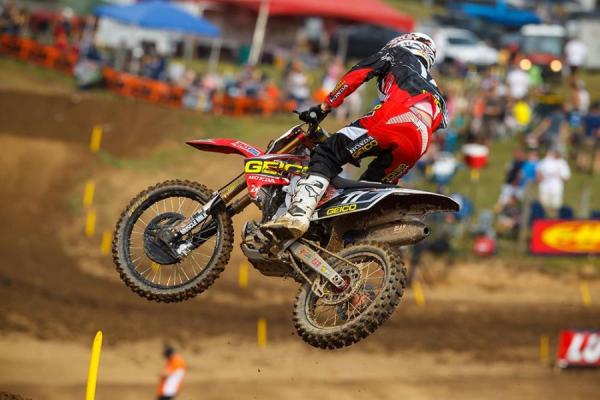 Tomac swept both overalls at the two Pennsylvania races this year. Too bad they don't hold the Pittsburgh Supercross anymore!
Simon Cudby photo
You were like 30-some points behind just a few races ago. So, are you just pumped to be in this position? Did you think you could shave off almost a whole moto's worth of points before the finale?
I mean, I wish I was closer! At Unadilla I went 6-1 and threw away a bunch of points in the first moto, and at Southwick I hit a tree. If those coulda' shoulda' moments would have been 1-1s, it would have been tighter. But, considering the points I have made up and the way things are going, I can't complain about that at all.

Talk about your race pace. It seemed like earlier in the year, Baggett was running you guys down later in the moto. Are you finding the right flow now on the track? Something different in training and riding?
Experience helps. Nothing can beat knowing how hard you can go. Being relaxed on the bike early in the moto is key, too. If you get locked up early in the moto, it's hard to get loose. So it's almost like you have to go easy at the beginning of the moto, and be relaxed, but without going so slow where you get passed! It's hard to do. That second moto I tried to sprint hard at the start and get away from those guys. I'm definitely happy with it.