Steel City Raceway
Delmont

,

PA
Steel City
Lucas Oil AMA Pro Motocross Championship
With star studded rookies Zach Bell (GEICO Honda) and Jeremy Martin (Star-Valli Rockstar Yamaha) garnering the headlines, Vann Martin, a  2011 Loretta Lynn Champion and a contender in the A class in 2012, has slipped through the cracks. It's been a long, strange journey for Martin since making his on-off pro debut at Freestone (Martin would return to the amateur ranks to compete at Loretta's). After Loretta's, he returned to the pro scene to race Southwick and Unadilla. The Texas native has had to overcome more than your typical rookie nerves but has shown resiliency well beyond his years through it all. We caught up with Martin earlier this week to talk about his unusual beginning to his pro career and his thoughts moving forward.
Racer X: You are three races into your professional career. How would you sum up your performance thus far?
Vann Martin: So far it has been okay. I haven't had the greatest starts and have had to come from way back, which has made it hard on myself. I feel like if I can get a good start I should be top-15 easy. I've gotten two top-20s thus far and a couple of points, so it hasn't been too bad, but not exactly where I want to be. I just need to keep working hard and hopefully get some better starts and better results.
You had a quite a bizarre trip just getting to Southwick. Take us through what happened?
Yeah getting to Southwick was crazy. We left our house and the highway was shut down for like two hours, so we missed our flight. We were able to catch a flight to Orlando and then that flight was canceled. We ended up getting to Albany, NY at like four in the morning, but we couldn't get a rental car until six, so we had to sleep in the airport. Then we had to drive three hours to get to Southwick. Everything seemed to go wrong on that trip, hopefully that won't happen again!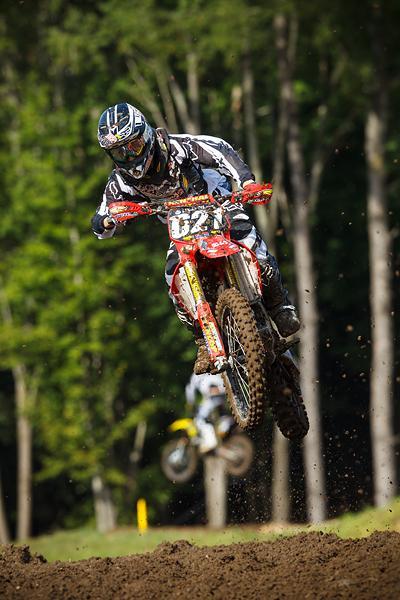 Martin finished a career-best 19th in the second moto at Unadilla.
Simon Cudby photo
That actually was just the beginning of your unusual weekend. You crashed in the second turn of the first moto and your fuel cap vent hose came off. So basically you had fuel splashing all over you the entire moto, correct?
Yeah, I crashed in the second turn with Wil Hahn and a bunch of other people. I kind of crashed by myself and then got ran over by a bunch of people. Then about the third lap something started splashing all over my face and it was burning. I looked down and saw that my fuel cap was loose and the vent hose was off so there was fuel going all over me the entire moto. I managed to still work up to 25th from dead last so it wasn't that bad.
Explain what that feels like. Southwick is already one of the roughest tracks without having to deal with fuel begin splashed all over you.
It was definitely the worst feeling I have ever felt during a moto. Southwick is already as rough as can get, even though it was only the first moto, it was still rougher than any track I have ever ridden. You're trying to stand up everywhere, you're body is getting beat and at the same time you're getting fuel all over you so your whole body is burning. It hurt so bad the entire moto, but I didn't want to pull off because I knew I would be so mad at myself if I did.
At Unadilla you ran into some more bad luck in the first moto. You got trapped in a pileup and then had a crash of your own. But through all of this you have shown a lot of resiliency in being able to deflect these bad situations and continue to fight through the pack.  
Yeah, I definitely need to get better starts so that I don't have deal with all the chaos of the first lap with everyone going down. I've gone down two of the last four motos, so I'm just trying to stay up that first lap and stay within the top-15 so that I won't have to work my way from last. I know my strength is there at the end of the motos, I just need to work on getting better starts.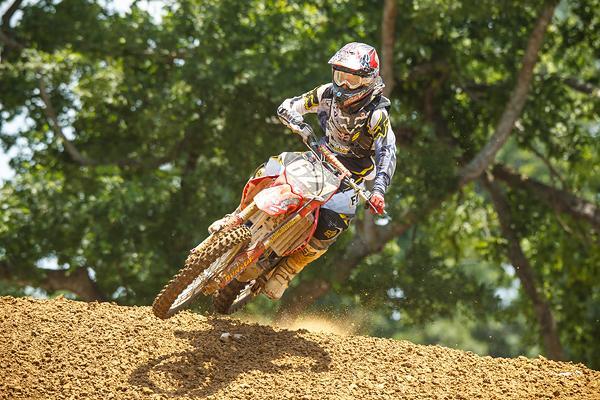 After making his pro debut at Freestone, Martin would go back to the amateurs and race Loretta's.
Simon Cudby photo
One of the biggest things that have held you back thus far is your starts. What have you done over the break to help alleviate the problem?
During the break I have done a ton of starts. The start is about 90 percent of the race, so you have to get those starts down. I have been working on those first few lap stretches, as well. The pace is super gnarly at the beginning and then settles down at the end, so I've been working on my spiriting for those first few laps.
The last two rounds have featured arguably the roughest tracks on the circuit. How much of an adjustment has it been going to those tracks from the amateur ranks?
Yeah, coming from the amateurs there is nothing like any of these tracks. Amateurs tracks get pretty rough but nothing like how rough the National tracks get. They are the gnarliest tracks I have ever ridden. The amateur races aren't nearly as intense either. Everyone is close and fast up front, but every single person in the pro ranks is fast. From first to fortieth, everyone is a known name, so that first lap is really crazy. Everyone is trying to get up front early, so there is a lot of banging going on, which is something I need to adjust to so that I can get up front.
Your dad runs Honda of Houston, which is a big part of Honda's amateur program. Explain how that program works, and what is it like to ride for your dad?
Riding for my dad through amateurs was awesome. We had the semi going to every event and Honda helped out with things up until the last year or so. It was awesome being able to travel in a semi and feeling like a factory rider, until about a year ago when Honda pulled their support and we didn't have a semi anymore. It was awesome having the opportunity to grow up like that and knowing that if I'm going to attract a big team one day that I would already know what it feels like and I would be ready for it.
How much has that changed since entering the pro ranks? Zach Bell and Jeremy Martin joined ready-made pro teams, how does it work for you?
At the moment we are pitting under an e-z up and don't really have anything that the factory teams have. We are just trying to get by with what we have. We are working under a little e-z up with a box of parts and some tools, because we have been flying to the races. I would really like to be back under a factory rig, which if I keep trying and pushing I will hopefully be able to.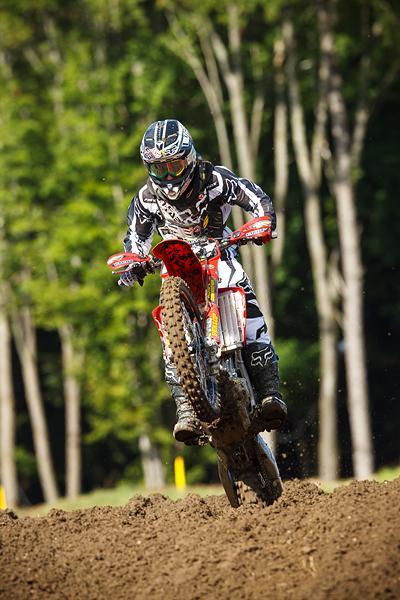 Martin is hoping he can secure a spot inside the top-15 at Steel City.
Simon Cudby photo
Does it give you added motivation the last two rounds to prove yourself, and like you said, get back under a factory rig?
Yeah, for sure. These last few rounds I want to be way up there and prove that I should be under a factory rig. Top-20 is good, but I need to be further up there. But everyone that beat me at Southwick was a factory rider so I'm not really complaining about it, I just want to be up there racing against those guys.
We get back to racing this weekend at Steel City. What are your thoughts on the track and the upcoming weekend? 
I heard it gets really slick toward the end of the day, but that shouldn't be to bad because a lot of the tracks around here get the same way. Hopefully it gets really rutted and slick. I'll look at some videos coming into the race to get a better understanding of the track.
Thanks again, Vann. Who would you like to thank for helping you out this season?
First off I would like to thank everyone at Honda of Houston. Also, my dad and my whole family for supporting me. My mechanic Alan, Fox, Smith, N-Fab, DVS Shoes, Monster, Factory Backing, Factory Connection, Renthal, DID, Dunlop, Leatt Brace, Ryno Power, Kyle Williams, Next Level MX, Yoshimura, VP Racing, and just everyone that helps me out I would like to say thanks for supporting me during my career.