Unadilla MX
New Berlin

,

NY
Unadilla
Lucas Oil AMA Pro Motocross Championship
While Red Bull KTM's Ken Roczen has grabbed most of the attention this year after leading a ton of races but falling short of a victory, teammate Marvin Musquin has not been far behind, trying to get into the "fast four" group of Roczen, Blake Baggett, Eli Tomac and Justin Barcia. The friendly Frenchman just couldn't seem to crack the podium code, however, until Unadilla when he suddenly delivered his first win in the U.S. For the 2009 and 2010 MX2 World Champion, the victory was a long time coming. He talked about it at Unadilla's post-race press conference.
Racer X: Congratulations, Marvin. Big day for you and your team.
Marvin Musquin: Thanks! We were here last year. Washougal was my first race back and I was struggling. Southwick was hard, too, and here I did that [struggled], too. Then I did my best result in Washougal [this year] and then Southwick and then here. It's great. Today, I just felt really good in the morning. The track was muddy in the morning with big ruts. I was finding some good lines and I was enjoying riding. I love these conditions because it's really technique. I was standing up on my footpegs and finding new lines and stuff like that. I was the fastest of the lap times and it was great. Then second practice, I did the same thing. I was pretty happy. But I'm always fast in the morning when the track is like this, kind of slippery and muddy, and during the afternoon, the track gets dry and screws up berms and it's different. But it's the same for everybody, so today was perfect. I got a good first moto start. First moto I was too shy in the first three laps and [Ken] Roczen got the lead pretty early then I finally passed into second and Roczen was pretty far. I tried my best, but I finished second. It was my best result, so it was good because Kenny got the first win for KTM and I was second, so it was great. And then second moto, I really focused on the start. The last few races, the second moto, I missed the start. Every weekend, I'm not going to do the same things. So I did a good start. I was around the top three. It's a good way to get a podium. But I was thinking about the overall too much. I knew [Eli] Tomac and [Justin] Barcia had a bad first moto, then I did two good motos, second and third. So I was thinking too much at the end of the second moto and then [Justin] Bogle was right behind me. He didn't pass me, fortunately, and I got the overall. So it's a great day because Ryan Dungey got the championship, Kenny won the first moto for KTM for the first time and I got the overall for the first time. So it was a perfect day.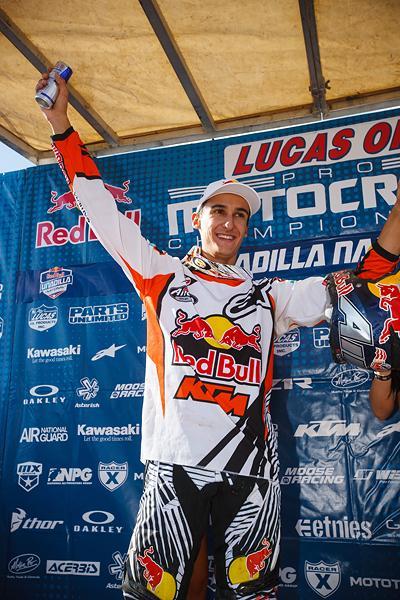 Musquin captured his first career Lucas Oil Pro Motocross overall at Unadilla.
Simon Cudby photo
Racer X: If we go back to the beginning of the season, 48 hours before the opener I saw you with a cast on your hand.
Yeah, the first rounds were really hard for me and my hand hurt, but after the third race, it was all good. I am just trying to get better every week, doing motos and working hard. This year, the competition is really tough and those guys are really, really fast, like Tomac, Barcia, Baggett, Roczen. I'm getting better every weekend and, like I said, it was the perfect track for me and perfect conditions. It took good technique up front. But second moto, Tomac, once again, was way faster than everybody. So, like I said, the competition was really tough. But I'm really happy to get the ball rolling. It's my fault that I always finish second moto out of the top three and I always finish fourth in the overall, always. It's 4-4-4-4. And even when I get a fourth and fourth in my motos, I get fourth overall, and then when I get and second and fifth in my motos, I get fourth overall! And today, I get a second and third for first overall!. It's great.
We talked a lot to Roczen this year about the transition to the United States, but we didn't get to ask you a lot last year because you were out of a lot of the races. So what is the transition like? What are some of the major differences you've had to adapt to compared to racing the GPs?
I don't know, there are a lot of things. It's a different country, different language, it's all different. We only have two 15 minute practice sessions to learn the track. I feel like the tracks are rougher and have more bumps. Roczen, this is his first year and this is my second year, but this was my first season of supercross. Last year was a nightmare for me and this year went pretty good for me with the supercross and now fifth in the outdoors. But I broke my hand again right before supercross. It was tough, but right now I feel good in the U.S. and everything is going good. The team is awesome and I'm really enjoying racing and I have great people around me. It's just if you don't get the start, if you're not racing at the beginning of the race, you lose positions. It's competition. It's getting tougher and tougher. It's great to be on the top of the box. It's a good feeling.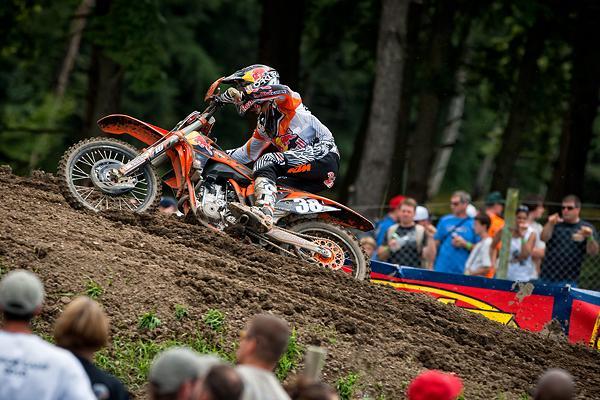 Musquin is signed with Red Bull KTM for the next two years.
Garth Milan photo
Your timing was actually pretty good with KTM. You signed with them partway through the year in Europe a few years ago, long before anyone thought that Roger DeCoster would be here in the U.S. Talk about how well that's worked out for you that, by the time you wanted to move to the U.S., the team was on the rise. I think other teams have talked to you, but you want to stay where you are.
Yeah, we have a crazy time in Europe when I switched teams from the private team to Red Bull KTM in the middle of the season. I got two championships in Europe then I signed for the U.S. It was my goal to come here and race in the U.S. My first goal was to do a good race in Europe and that's what I did. That was a perfect way to come here. Tyla Rattray, I watched him. He won some races in Europe and a championship. Roczen is a world champion too and he's having a hard time here and it's the same for me. That's why I said the competition's really hard. But right now, I'm really happy to be on the Red Bull KTM team and I'm with some great people. I signed for two more years. It can't be better.
We're heading off to Steel City. You've got some time off, two weeks. Your final thoughts going into Steel City.
Steel City went really good for me last year and I got my first overall third there. I like [Steel City]. It's got a lot of jumps and it's a fun track. We have one weekend off and we are racing since January, since A1, so it is a long season. In Europe we have a lot of breaks, weekends off, so this is a long season. It will be good to have a weekend off, and I'll keep training and be ready.