Unadilla MX
New Berlin

,

NY
Unadilla
Lucas Oil AMA Pro Motocross Championship
I've been hanging out in my home land of New Jersey this week, staying in the North Eastern vibe between Southwick and Unadilla. And, of course, no song speaks to me more than Bon Jovi's 2006 hit "Who Says You Can't Go Home," which the band donated to the state of New Jersey for free to use in tourism adds. Yeah, Jovi never forgets their roots!

(BTW, most of the Racer X staff is already road tripping up to Unadilla today so no one is editing my stories. I have the lock and key so I'm writing whatever the heck I want, as you've already noticed. I also want to mention that Bon Jovi recorded a country version of that song with some hottie who does that kind of music. Not really important, though, because Bon Jovi will forever overshadow anyone in their path.)

Where was I?

Oh yes, who says you can't go home? Ken Roczen did during the two-weekend break between Washougal and Southwick, visiting friends and family and even doing some racing in Germany. He returned to the U.S. with a little extra spring in his step. After scoring overall podiums at the first five races of the season, Roczen went podium-less at the next three, and ended Washougal looking pretty down in the dumps. Some time back with his buddies in Germany seemed to help.

"I went back home after Washougal," says the 18-year-old. "I got back there and was just hanging out. I did a round of the German Championships on a 450 against [Max] Nagl and [Xavier] Boog. I did well, I went 1-1 and had like a a 12-second gap in each moto. And actually, Nagl did good at the last GP so I was pretty happy with my speed. After that I went to Belgium for a few days to train, but other than that, I just hung out with friends a lot."

And that's the real key. Roczen is still young, and I've heard several people say he generates results when he has a balance of hard work and fun in his life. Some riders can robotically churn out motos at home (Ryan Dungey) but others say the moment it starts feeling like work, their results tank. Witness Dean Wilson last season, relaxing, putting fun back into his program, and then waxing the field at the last few nationals. Could Roczen be turning a similar corner?

"Actually, I have to say I was wanting to stay at home a little longer," he sys. "It was good, my friends at home, they didn't have to work during that time, so we got to hang out a lot. It was good to get back."

Okay, at Southwick, Roczen went 4-2 and finished third overall, so the trip home didn't suddenly shock his system into a 1-1. Roczen has now generated a dubious stat, where he has led the second-most amount of laps of anyone in the 250 class (more, even, than points leader Blake Baggett) but yet doesn't have a single moto win to show for it.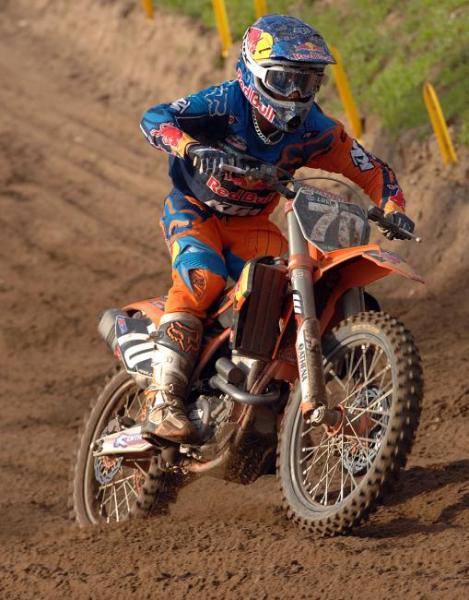 Roczen appeared rejuvinated at Southwick. Before the race, at least. After the motos, everyone look whipped. But although tired, Roczen still looked happy with his performance.
Carl Stone photo
But this weekend, cooler temps and a GP-like circuit await, and that could be the final boost K-Roc needs. What does he think? "I haven't actually seen a bit of the track, and that's kind of my fault, I should have looked at it earlier so I could get some ideas," he says.

Well, hey, he could have done more homework, but sometimes these kids do better when they take things a little less lightly. We'll see if that works for Roczen this weekend.