Southwick, MA
Southwick
AMA Pro Motocross Championship
Moto-X 338 is an unforgiving beast. The deep sand of Southwick was host to round nine of the 2012 Lucas Oil Pro Motocross Championship last weekend and it was a good one. Even the 450 Class, which has turned into Ryan Dungey runaways most weekends, had some very exciting moments this past Saturday and the 250 Class, well that thing is just ridiculous.
Southwick's soil has gotten harder and harder over the years and even though it's not a true "European" style sand track, it's the closest we have on the circuit. Even riders like John Dowd, who first raced there in 1987, say the same thing. Like all tracks, the native soil gets pushed and taken away and basically moves downward toward the base more and more over the years. Southwick's still sandy, but it's got a harder base than ever before. And this year, with the rain that hit the day before, the track was really choppy, rutty and according to Dowd, the corners didn't flow nearly as well as they have before.
One thing I feel strongly about it is the direction of the track. After running it clock-wise for fifty years, the owners thought that they would start running it backward a few years ago and in my opinion (and many others I've spoken to), they made a mistake. The only benefit to this switch is the fact that the first turn in now a left-hander, which means the riders can use their rear brakes as they come into turn one, which theoretically means fewer first-turn pileups. In reality though, it hasn't seemed to matter, as there's still a ton of accidents in the super sharp first turn. In its current direction, the track doesn't flow as well as it did in the old days. It's more of a point-and-shoot track now and I urge Southwick to go back to the old way.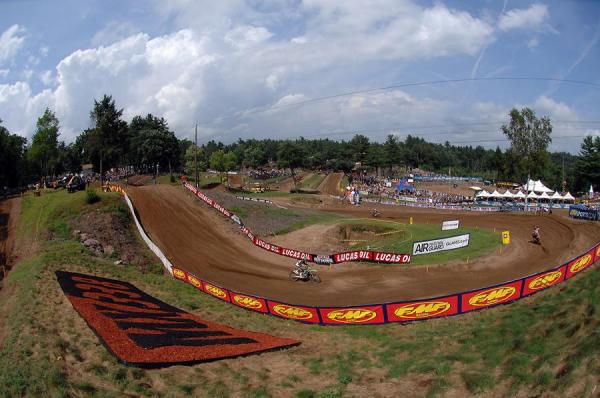 According to Steve Matthes, Southwick's soil has gotten harder and harder over the years.
Carl Stone photo
It's still a real cool National. It's right in the middle of the town, the pits are really nice, it's surrounded by trees and sand is always a cool environment to watch. Remember how I wrote a couple of weeks ago about how this summer we've been blessed with absolutely great weather? Well that streak threatened to be over when rain started coming down in the first 450 moto, but it didn't last long. When it cleared up, the sun came out and perfect weather remained for the rest of the day.
Before the race, it was just a matter of 250 points leader Blake Baggett trying to limit the damage. We knew that Justin Barcia had won three out of six motos he's ever competed in here, it's his home track and he flies in the sand. Baggett, who is from Southern California, surely didn't stand much of a chance against the "rippah" known as Justin Barcia, right?
Well in a place that's sometimes been a house of horrors for the Monster Energy Pro Circuit Kawasaki team, Baggett definitely limited the damage. In fact he actually increased his points lead. Blake won Southwick and shut doubters like me up with a pair of great rides. He might have gotten a bit lucky to get the overall (more on that later), but worst case scenario, he ends up second overall and still makes points on Barcia. The second moto saw Baggett as exhausted as we've ever seen this year after he hunted down Ken Roczen, made a move, got re-passed by the German and then got him back for the win. It was a herculean effort by the BB Gun and like I said, a real surprise to see him this good at Southwick.
I can't help but think about Baggett going to Florida earlier this year for three weeks as being one of the keys to his improved performance at Southwick. Last season, Baggett went 9-6 in the sand and didn't show his usual speed. This year, locked in a battle with sand specialist Barcia, Mitch Payton and Baggett agreed on a plan for Blake to head to Florida to ride the sand with Jake Weimer, Tyla Rattray and others. Payton's not a big fan of letting his riders stray too far from Pro Circuit's headquarters in Corona, Calif., but it worked for Dean Wilson last year and this year, and it worked for Baggett at Southwick. It was a bang-up plan for everyone.
Baggett stretched out his lead in the series to twenty-four points -- almost a full moto's worth -- and if he can withstand another Barcia track this weekend at Unadilla, the championship is surely his. Great ride by Blake!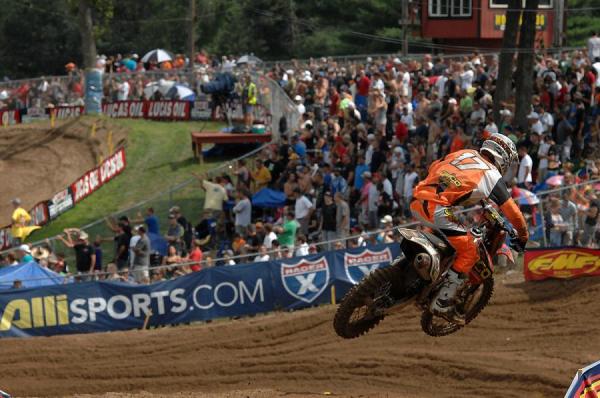 Tomac was on another level at Southwick, but a late mistake in the second moto cost him the overall.
Carl Stone photo
When I say BB was a bit lucky to get the overall, it's because Eli Tomac should've, could've, would've won Southwick. Tomac was unbelievably fast over the weekend! He was fastest in both practices and won the first moto going away. In the second moto, he didn't get the start he wanted and around the halfway point, was a good seventeen seconds or so back of the leader Ken Roczen. It was then that Tomac either:
A- Cut the track lap after lap
B- Attached a rocket to the back of his bike and hit the "go" button
C- Started really getting busy and picking up speed
I'm going to go with C but I just can't rule out A or B. On lap nine of the second moto, Tomac set his best time (no other 250 Class racer even came within two laps of setting their best time so late in the moto. Most racers did it on lap two or three, not nine!) and then kept it rolling with three straight awesome laps. He caught the leaders, made the move into second and surely would have gone into the lead in a matter of moments but then caught a tree with his shoulder and was pitched off his bike. That was it, the dream was over for Eli. The best he could do was a third (second overall and tied in points with Baggett on the day) but for a while there, it was incredible to watch the Extra-Terrestrial Tomac show blinding speed. I wish Vegas took bets on motocross because I would immediately go and slap down the deed to my house and all four of my bassett hounds on Tomac winning Southwick 2013. He was that good, that dominant and that incredible.
In case you're wondering, Baggett and Tomac have seven-race podium streaks this year, Barcia has six and Roczen has five. With six of twenty-four moto's left, Baggett's only missed the podium three times this year. Last season Dean Wilson only missed the podium twice in twenty-four motos. That's a pretty amazing streak also.
Ryan Dungey won again which is what we've been saying for weeks and weeks now but this weekend, it was so, so different from what we've usually seen. In the second moto Dungey went down and his gas cap popped off and fuel spilled all over the ground. After the race Dungey's mechanic, Carlos, mentioned that there was a little divot in the gas cap that Carlos theorized was something hard hitting the cap in the exact way that caused it to spin off. The threads on the tank were also jacked up a bit which means it was a pretty solid and direct hit. What a fluke! That's got to be a one-in-a-million shot, right?
On a side note, in 1989 I had a Kawasaki KX125 and one day I came up short on a double while competing in the fiercely competitive Manitoba motocross scene. The nutting by me on the cap broke the tank at the base of the gas cap threads and I proceeded to ride the last couple of laps with gas spilling all over my private area. And let me just say that gas on the err, private area, burns like mad. I had to stand under the track's shower for what seemed like an hour before the burning stopped. The lesson here is that Dungey is lucky he didn't spill gas on his private area because that would've really sucked for him.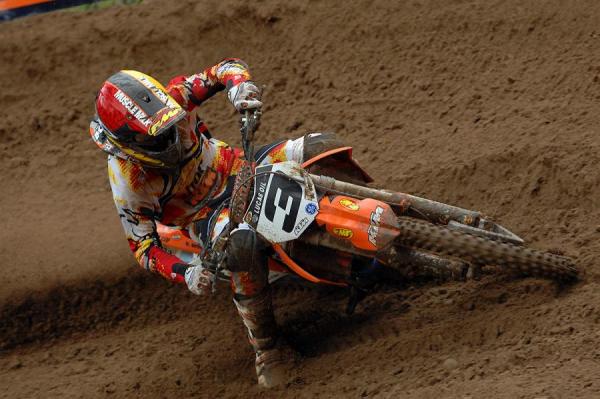 Mike Brown was impressive once again, finishing sixth at Southwick.
Carl Stone photo
Anyway, the decision was made to pull Dungey in for a pit stop, which was a good call because mechanic Carlos said that there was no way Dungey would have had enough fuel to finish the race otherwise. Dungey pulled in, the team dumped a couple of canteens of gas in the tank and Ryan was back out in second behind Rattray. A splash and go as it were. It was a brilliant call by KTM, and it saved the overall win for Dungey, even though he was unable to get by Rattray. Had there not been some miscommunication the lap earlier when Dungey slowed and looked at the guys to see if he should pull in, Dungey would've won the moto. He had that big of a lead! That hesitation cost Dungey some seconds but in the end, it was worth it to pull him in.
I watched from the mechanic's area and was able to capture the stop in all its glory.
Team USA for the MXoN was announced before the race, and it's Dungey, Baggett and Barcia. Some people (ahem, like me) thought that Mike Alessi should have gotten more of a look than he did but in the end, the baggage that Mike and his dad brought to Suzuki, and then KTM, while Team USA manager Roger DeCoster was there wasn't enough to outweigh his fine riding this summer. In the end, and I want to be clear on this, Barcia's a great pick and he'll do fine over there.
That said, I know Mike was eager to show everyone on the selection committee what was up this weekend and he rode a pretty good race. Mike's good, but not great in the sand. He did make the podium on a KTM 350 in 2010, so there's that. This weekend he led both motos for a bit before getting eaten up by Dungey (and Rattray in the second moto). Afterward he told me that he wasn't very pumped with the suspension on his bike and felt like he was fighting it a bit. Having the right setup in sand is key and Mike felt like his was off a bit. As usual with Mike, he showed heart and grit out on the track and maybe one day, he'll get to represent Team USA.
John Dowd is such a cool story it's not even funny. With his longtime rival, Doug Henry, there to watch, Dowdy continued his march to get the twenty-five points that he needed to keep his number and although it was close, Dowd got the points he needed plus one. The dude is 47 YEARS OLD. 47!
What a hero Dowdy is and yeah, he's the man at Southwick but really, he's the man everywhere, period. The old-man-beats-the-kids is an awesome story for sure but I don't think we should be bagging on the dudes he beat. Let's celebrate Dowd for the guy that he is. He crashed a bunch in the second moto and was in twenty-seventh or so about halfway through. But being the guy he is, he kept plugging away and ended up getting those points he needed. The lesson is, as always, you can still be old and do good stuff.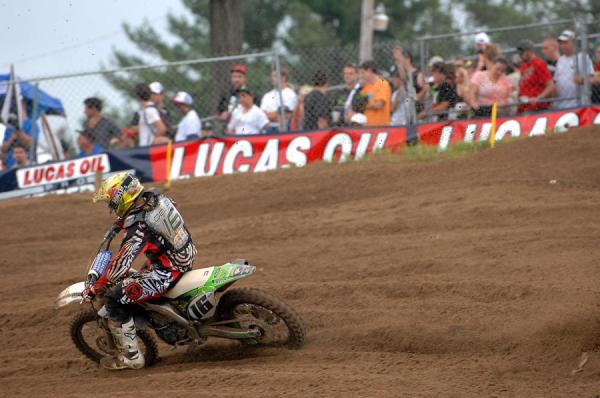 Dowd got the twenty-five points that he needed to keep his number at Southwick.
Carl Stone photo
Mike Brown, who's almost as old as Dowd, got sixth overall on his Dungey-replica KTM 450SX-F. Brownie pulled out of the WORCS series when KTM decided they had enough and is now doing Baja desert racing. And since it's sort of hard to have Baja races every weekend, Brownie finds himself with more and more time on his hands. Brown's done four out of the nine races and if you give him the sure points he had when his bike has let him down (three times!), he'd be solidly inside the top twenty in the points.
As David Pingree and I were talking about on The Pulpmx Show, has there ever been a racer with more of an up and down career path than Mike Brown? Seriously, the guy has been written off more times than Donald Trump. This is a kid who got a Pro Circuit PEAK ride and promptly sucked ass. Then he avoids that scarlet letter and gets picked up by Honda of Troy, where he wins some races. Then he goes to Europe for a couple of years, which is where most American careers go to die, comes back for Pro Circuit and wins a title.
Those were the salad days for Brownie and life was good. He then rode at PC for a few years before latching on back at Yamaha of Troy right when that thing was crashing like the Hindenburg. He got out of there and became a privateer Honda dude and only raced the Nationals. At this point he was pretty much done for most of us fans. He got effed out of an MXoN spot, but did get a ride with Bill's Pipes Suzuki with like-minded riders like Jason Lawrence, Ryan Mills and Sean Hamblin. That went about as well as expected and off to Europe he went. AGAIN! After two years there he came back to a new career in off-road racing where, guess what, he ended up being pretty good. Brown never lost his moto roots throughout this whole ordeal and would pop in and out of the Nationals from time to time. Mike Brown is motocross, it's that simple.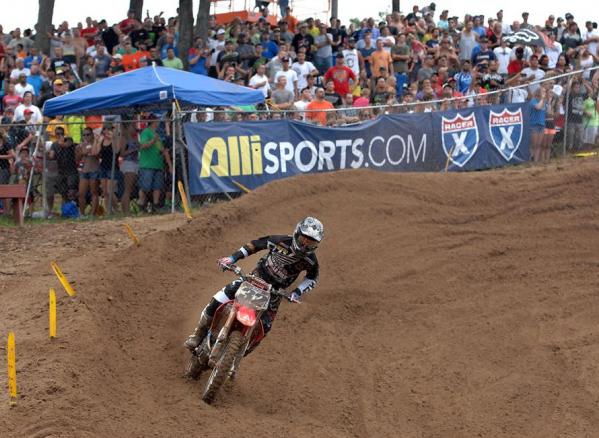 A hard crash in the second moto keep Tommy Hahn from getting an overall podium.
Carl Stone photo
Let's take a look at the results shall we?
250 Overall
1. Blake Baggett 3-1 Kaw
2. Eli Tomac 1-3 Hon
3. Ken Roczen 4-2 KTM- Roczen makes a return to the podium and almost won the second moto. Just like he almost won a bunch of motos this year. The kid is close but can't seem to close the deal.
4. Marvin Musquin 2-5 KTM- Poor Marvin…what does this guy have to do to make the podium this year? Who knew Moving Marv was this good in the sand by the way? I sure didn't. By the way, Marvin's overalls this year have been 9-6-5-5-5-4-7-4-4, which, if you're counting, is pretty damm good.
5. Justin Barcia 7-4 Hon- Justin had his worst Southwick since he turned pro on the day that he needed his best performance ever. Crashes and bad luck (combined with bad luck's cousin named bad starts. Whenever you see bad luck, bad starts aren't far behind) did him in. He rode hard and tried his best but it was a bad day to be sure.
6. Malcolm Stewart 6-7 KTM- Mookie has his best National by one point over Thunder Valley and he was fast. I really, really wish his brother had been ready for Southwick. That would have been something to see indeed.
7. Alex Martin 8-6 Hon- Great rides for Alex Martin, two good moto scores in the sand and his fitness seemed pretty good as well.
8. Jessy Nelson 5-11 Hon- Nelson had a great day in the sand. One would think the rookie from California would struggle his first time at Southwick but nope, his great season continues. I feel like he and his teammate Baker are flying under the radar a bit. Having both guys inside the top ten is not something that I would have predicted from this team.
9. Travis Baker 10-10 Hon- See above.
10. Ryan Sipes 12-12 Yam- In Ryan Sipes' practice bike news, he still doesn't have a 250F yet. But that's ok, he's been practicing on a YZ250 two-stroke during the week and he seems okay with that.
11. Justin Bogle 11-13 Hon
12. Jason Anderson 37-8 Suz
13. Wil Hahn 21-9 Hon- Wilbur didn't have a great day but it would have been worse if Mike McDade didn't pull Hahn's bike off of him in the first turn. If it weren't for McDade, Hahn might still be there today underneath that bike.
14. Blake Wharton 9-28 Suz
15. Cole Thompson 13-18 Yam- Thompson faded badly at the end of the motos but he's still dealing with a bad shoulder from his crash at Washougal. A sore shoulder and Southwick are not a nice combination to have.
16.  Jacob Hayes 16-16 KTM
17. Tony Lorusso 15-17 Suz- Check this out! 2012 is now officially called "Attack of the Old Timers" as Lorusso reached back to 1996 and produced a couple of great rides. He's got to be over 40 years old. Great ride!
18. Zack Freeberg 33-14 KTM
19. Shawn Rife 14-29 Hon- I've seen Rife break down and pull off so many times that I've stopped expecting him to do much (after watching him win motos and races in Canada a couple years ago), but hey, at least he got a couple of motos under his belt.
20. Martin Davalos 35-15 Suz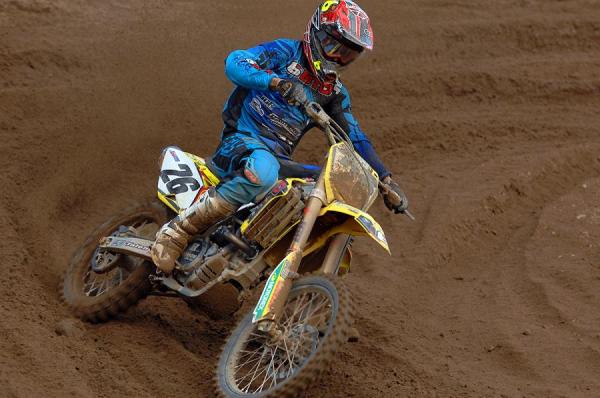 Byrne bounced back in the second moto to secure a fifth place finish.
Carl Stone photo
450 Overall
1. Ryan Dungey 1-2 KTM
2. Mike Alessi 2-3 Suz
3. Broc Tickle 6-4 Kaw
4. Davi Millsaps 7-6 Yam-Millsaps was practically begged back by the JGR guys because, well, let's just say the Kyle Regal experiment wasn't working. Despite only having three days of riding under his belt, Davi went out and rode pretty well, all things considered. A fourth overall with 7-9 moto scores was pretty lucky but nevertheless, a good ride for Millsaps.
5. Tyla Rattray 20-1 Kaw- Rattray has been very, very good at Southwick in his career and his move up to the 450 Class didn't do anything to dispute that. He won the second moto after a crash-filled (not all his fault) first moto. He had Dungey all over him like a spider monkey but he kept calm and composed and pulled it out.
6. Mike Brown 9-7 KTM
7. Josh Grant 8-8 Kaw- Grant came from fifteenth to eighth in the second moto and set his fastest lap time on the fifteenth lap, something nobody else even came close to doing. After talking to some people on the team, I learned that Grant was given a bit of a talking to before Washougal in terms of, "Hey, if you want to give us some reasons to keep you next year, now would be the time to show us."  Grant doesn't have his old gnarly, crazy-ass speed but he's building up after missing some time and it's going to take a while to come back.
8. Andrew Short 5-11 Hon- Shorty faded in the second moto which was so, so unlike our little #29. Not sure what the deal was but after the race team manager Larry Brooks told me that he wasn't angry with Andrew. He told Short he was "disappointed like a dad would say to his kid," which made me laugh.
9. Kyle Chisholm 11-9 Kaw- Chiz flies in the sand and always does well at Southwick but bad starts did him in this year, despite a season-best qualifying effort. It's the year he's having; he hasn't been bad, he hasn't been good -- he's just been, well, there.
10. Tommy Hahn 3-35 Hon- Even when things go right for Hahn, things always seem to go wrong. Hahn rode great to get a third in the first moto and in the second moto he was moving forward when he crashed out. Out of the thirty-five races this year (seventeen supercross mains and eighteen motos), Hahn has only finished nine of them, which isn't good. Still, a third is something to build on and Hahn's fighting for a job next year.
11. Robby Marshall 4-32 KTM- I erred in Racerhead on Friday when I lamented the lack of local racers coming to The 'Wick and shocking the series regulars. I forgot about Marshall! My new movie is called "Forgetting Robby Marshall," in theaters soon. Yeah, he's raced two other Nationals this year but still, he's a local guy and his fourth in the first moto showed that my whimsical memories of yesteryear are in fact, still a reality.
12. Michael Byrne 40-5 Suz- Byrner's a past winner at Southwick and when you can ride sand, you can ride sand. It's that simple folks. I was looking for a strong Byrner race and that's what we got, except for a crash and broken rear brake line in the first moto. In the second moto he went from fifth to tenth because there was a needle leftover from his butt-patch installation poking him in the leg. He had to slow down and take it out, and then promptly passed the five guys back. Good race for a good guy.
13. Kevin Rookstool 14-12 Hon
14. John Dowd 10-16 Kaw
15. Christian Craig 15-15 Hon- I wasn't sure about Craig's strategy of riding himself back into shape (he was so exhausted at his first race back, I thought someone was going to have to have oxygen ready for him) but by golly, it's sort of working. Craig faded back in one moto on the weekend but overall, he's been working hard in the motos.
16. Les Smith 37-10 KTM- Les seems doomed to do one good moto, one bad moto all year. Milville was the only race this year that he's scored a decent amount of points in both motos.
17. Ben LaMay 18-14 Yam
18. Jake Weimer 13-19 Kaw- Weimer crashed so much that I wouldn't be surprised if he got home and his hard drive crashed.
19. Bobby Kiniry 12-21 Yam- Bobby was ninth in the second moto until crashing with a few laps left. His day would have been so much better if he'd been able to keep it upright. Then after the race Bobby drove seven hours north to Canada and raced two more motos for his Canadian team on a rougher-than-Southwick-sand-track and went 2-3 up there. The VERY NEXT DAY. Seriously, someone needs to sign this guy for next year. He'll literally never, ever complain about anything, and he'll get you good results.
20. Phil Nicoletti 35-13 Hon- Filthy Phil switched to a privateer 450 for the rest of the races and was sixth in the first moto for a while before, yep you guessed it, the proverbial anvil fell on him again. He was able to get a thirteenth in the second moto to somewhat salvage his day.
Thanks for reading. We're hitting up Una-effing-dilla this weekend and I'm jacked up for Gravity Cavity man! The other side sucks! Email me at matthes@racerxonline.com if you want to chat.