Loretta Lynn Ranch
Hurricane Mills

,

TN
RedBull AMA Amateur National Motocross Championship (Loretta Lynn's)
Amateur National Motocross Championship
Make no mistake, the format for the Red Bull AMA Amateur National Championships at Loretta Lynn Ranch, perfected over 31 years, provides the best and fairest way to determine the next great professional champion. Even the strange parts—like selecting first-moto gates at random instead of via practice times—help ensure an even playing field. The three moto format, with motos coming on different days and at different times of the day, also prevents one-hit wonders from claiming a title only because they had one great day. Everything, from track prep, to the "no cheering on the infield" rule (which really is a rule) is designed to let the racers race, and eliminate the variables.
But you can only strip away so much. Once you introduce the vagaries of age, bike size, physical and mental maturity and other elements, you still end up with a dizzying array of classes and champions—so much that you'll still struggle to figure out who really impressed, even if you watch 99-straight motos like I did. To really figure it out, you've got to crack the code on what each class means. And that's what we're going to do here in our annual ReduX Loretta's Code Breaker. Here we go.
The Youngest:
Loretta's now offers four 50cc classes. The first two are for riders aged 4-6, one class for the venerable stock Yamaha PW50, and the other for "shifter" type machines like Honda CRF50s. These classes are hilarious to watch because the bikes and riders are so small. And, the bikes are so quiet that it's the only motocross race where you can literally hear moms and dads yelling encouragement and advice at their riders. And, invariably, that advice is "Go (fill in name here) go!"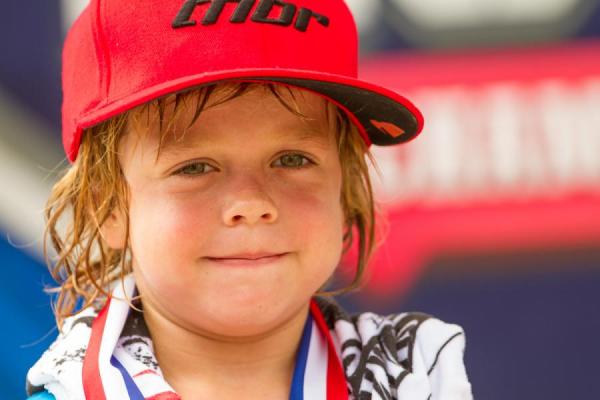 Ryder Difrancesco is six and a two-time champion at Loretta Lynn's.
Mark Pearson photo
The crazy thing is, even at age five you're seeing a talent discrepancy, because the fastest kids don't even race PWs or CRFs. They race Cobras in AMA Class 1 (4-6). The Cobras are the opposite of the PWs—they're way fast and way loud. There's a sensation building in that class with Ryder Difrancesco, who dominated last year at age five, and then returned with the #1 plate this year to win again. He's six and he's already a two-time champ! As far as anyone knows, no rider has ever won that class at age five and come back to defend it with the number-one the next year. That's nuts!
Past this comes AMA Class 2 (7-8), which also features Cobras. The rider to beat this year was Gage Linville, who won the (4-6) class in 2010 and has been cleaning up (7-8) at other races this year. Linville had a heartbreaker this year, though, as he crashed while leading moto one (on the last lap!) and couldn't get his bike restarted. He came back to win the second two motos, giving him DNF-1-1 scores, but no title.
Now It Means Something:
But Linville need not worry, because they don't hand out ten-year-factory contracts to 50cc champs. The 65cc classes come next, and that leads to a precipice for 50cc champs. The 65s pack real gears and clutches, so that's a big difference from 50s, and the ages get mixed up. There are 65 Stock (7-9) and 65 Stock (10-11) classes, and also 65 (7-11) Mod. In that mix, some of the 50cc kings keep on ruling, and others fall to the wayside. In that gap right now is Team Green's Stylez Robertson. He won a 50cc (4-6) and 50cc (7-8) title, making him a potential future star, but this year took second to a dominant Pierce Brown in 65 (7-9) Stock. Will Stylez rebound and start dominating again in the future? Is Brown the next guy? Is it way too early to analyze 10-year-olds to this level? Maybe. But I remember back to the first time I watched Loretta's, and then-AMA Manager Steve Carnegie said to me, "Dude, you want to see a good riding style? Check out a kid like a Blake Baggett on a 65cc and you'll see a good riding style." So it's not too early!
In the older 65 divisions, Conner Mullinex went 1-1-2 in 65 (10-11) Stock and Carson Mumford was super impressive with a 1-1-2 in 65 (7-11) Mod. These kids may have just proven they have what it takes, because….
Where the Playground Legends Play:
The outstanding young 85cc pilot at Loretta's this year is Suzuki's Jordan Bailey. He's from Florida (of course!) and put himself on the map by winning the 51 (7-8) Class in '09 and the 65 (7-9) Class in 2010. This year he delivered both the 85 (9-11) Stock and Mod titles. He won four of his six motos and took second in his other two. I see it like this: a 50cc title means you might have something, a 65cc is a definite maybe, and dual 85cc crowns means you can start penciling in your pro national debut in a few years. For real! If you've got the goods to win two titles in the heart of the 85s, the talent is undeniable. Now destiny is in your hands—don't get burned out, don't lose focus, and don't get derailed by injury and the world is yours.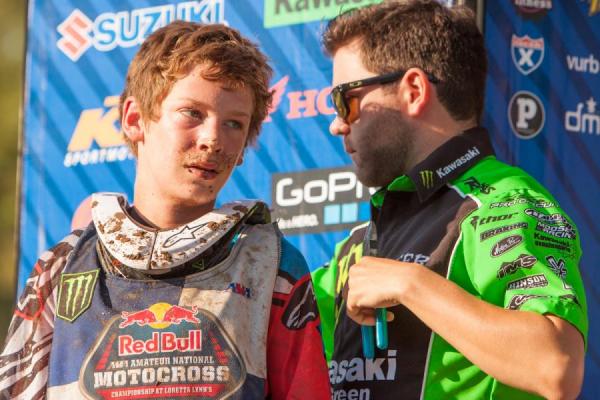 Already on the books for a pro contract, AC will now make the long-awaited move to the 250F after winning two more Super Mini titles at Loretta's.
Mark Pearson photo
As proof, I'm going to give you some names of riders who delivered two 85cc titles in the younger divisions in same year: Damon Bradshaw, Jimmy Button, Nick Wey, James Stewart, Mike Alessi, Nico Izzi, Justin Barcia, Jason Anderson, Adam Cianciarulo… each one eventually had a pro factory ride at some point in their career (Cianciarulo already has his guaranteed!)
The ages 9-13 are sweet spots for minicycle racing. Beyond that, things get murky because some riders get too big for minis and have to move up, while others stay, so the talent pool gets sliced up. A rider could dominate the 14-15 Mini or Super Mini ranks, but it's no guarantee of future success. But it's still a pretty darned good indicator—you can argue, statistically, that Kevin Windham, Ricky Carmichael, James Stewart, Mike Alessi and Adam Cianciarulo are the best ever at the Ranch, and they all have titles in those divisions.
Yeah, that's where Cianciarulo played this year. In the Super Mini classes, he Cianciaruled it with six moto wins. Also worth noting is Mini Sr. (12-14) Stock and Mod Champ Justin Hoeft. He won five of his six motos to make him next in line behind the great Cianciarulo. But how will they hold up when they rejoin riders of the same age who moved up to big bikes a little early? That's the big question.
Big Time:
If you've been cleaning up on 85s, stay healthy and keep your head straight, you're on the direct path to fame and fortune. But it's possible to hook onto the gravy train even if it doesn't work out on minis. The Schoolboy and B classes represent the first classes during the transition to big bikes, and a few riders find their groove, suddenly, on those. Recently, I'm thinking about Trey Canard, Dean Wilson and Justin Bogle making their big breakouts in the B ranks. Neither had won minicycle titles at Loretta's, but no one is arguing their talent now.
And of course those riders that did win on minis usually rule the B and Schoolboy classes. Factory Connection Honda's Barcia/Tomac combo killed the B classes during their time, and they were also faster than any of the A riders when they were doing it. This year's Killer B? Yet another FC Honda recruit, Matt Bisceglia. Dude is a dead ringer for Kevin Windham (even on the same team!) and that's obviously a good thing. The B classes were the most stacked of any this year, and Bisceglia (Bish-shay-lee-uh) was the only won to win two titles.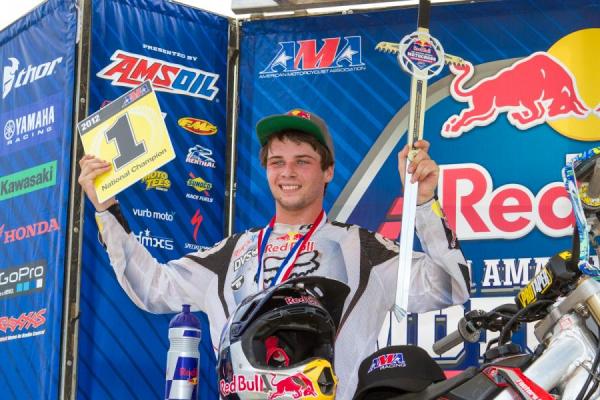 Factory Connection's Matt Bisceglia was the top B rider at the Ranch.
Mark Pearson photo
Other B flyers include Star Yamaha's Cooper Webb, JGR Yamaha's Anthony Rodriguez, and, well, I'm not kidding there are like seven B riders with the potential to make great pros. This division is super stacked—and just imagine if Cianciarulo had jumped to big bikes and raced this class, too!
This year's "guy who didn't win on minis but just made a name for himself in B" is Shane McElrath, who won two motos and also had four second-place finishes. He also had the fastest lap time of the week.
Time for School:
Okay, at the upper levels of amateur moto, school is, um, often taking a backseat to training and riding. Sorry, just the truth here. But the Schoolboy classes do not suffer from a lack of focus. Schoolboy 1 (12-15) is for 125s (yes) and Schoolboy 2 (13-16) is for 250Fs. The fastest out of that group appeared to be Suzuki's Jordan Smith, who won the 125 Class. This year, though, no one rider dominated these divisions, and Troy Graffunder won the 250F class with 4-3-4 scores. We've seen super talents race here and shine, but nowadays the class is restricted to B and C riders, where A riders (like James Stewart and Davi Millsaps) used to be able to race it.
A Okay:
If you're really, really advancing through the ranks, one of two things happen: If you're James Stewart or Mike Alessi, you blow through the B class so quickly that you pretty much skip it and go A. Or, if you're Barcia or Tomac, you stay in B and dominate so badly that you just turn pro instead of going A. Either way, you're the fastest amateur in the country within a year of leaving the minis. Congrats, it's time to start shopping for a sweet new truck because you're getting paid.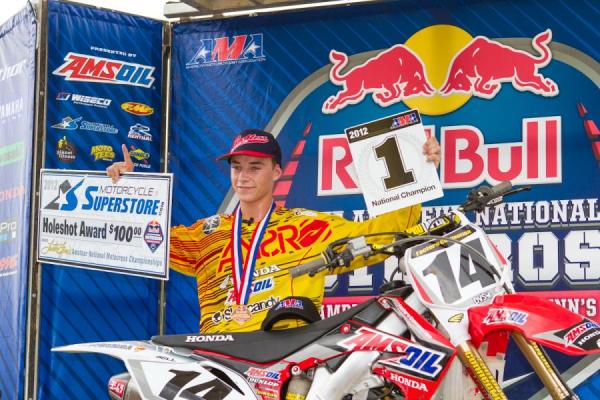 The 2012 Horizon Award winner, Zach Bell, will make his pro debut at Southwick on Saturday.
Mark Pearson photo
Other riders develop more methodically. I'm pumped that Star Yamaha's Jeremy Martin reached "next big thing" status this year in the A class, because he was always a hard working, super fit, super nice kid who always had bad luck stacking against him. Every year it seemed like J-Mart would have two awesome motos and one bad one in his class and come up empty. He has six moto wins in his career and Loretta's, but no titles. Finally this year it was coming together, everyone was telling me how incredibly fast and solid and consistent he was. And then…he busted his shoulder ten days before the race! C'mon!
Martin already has his pro deal with Star/Valli set so don't cry for him. Would have been nice to see him match up with Zach Bell in 250 A this year, though. Bell has always been super, duper fast but has also had some major injuries through the years. This year, he crushed Loretta's with four moto wins (including one against 450s while riding a 250F in Open Pro Sport) and looked like the fastest guy to me. McElrath had faster laps in one of his B motos, but it's hard to compare times since the track and weather changes so much during the week. Suffice to say Bell had the A classes covered, and has the speed, for sure, to do damage at the next level.
And that, really, is what everyone is looking for at Loretta's. The road map to finding the next star is a little complicated, but the info is all there, in one long, glorious week.