Loretta Lynn Ranch
Hurricane Mills

,

TN
RedBull AMA Amateur National Motocross Championship (Loretta Lynn's)
Amateur National Motocross Championship
1. Pro Sport is Wentland's Land: Jesse Wentland is holding a pair of pocket aces with his second moto win in Open Pro Sport, as he also won moto one on his KTM. The second moto was a tough break for Zach Bell, who led parts of moto one before crashing twice and finishing third. In moto two, he fell while running second on lap one. He came from 37th to 8th, but now has almost no chance of challenging Wentland for the title.
2. Cianciaruling it (again): Another Super Mini moto, another dominant win for Adam Cianciarulo. Then, later, another Super Mini moto, another dominant win for Adam Cianciarulo. He's four-for-four in his motos so far.
3. A Case of the Jordans: It must get confusing in the Suzuki pits when someone yells out the name Jordan. Both Jordan Bailey and Jordon Smith snagged moto wins on their RMs. Bailey is matched up with Kawasaki's Garrett Marchbanks in a 85 (9-11) Stock battle, and they have 2-1 and 1-2 scores. Bailey is 1-1 in the Mod class. Smith is trying to win both the Schoolboy 1 (for 125s) and Schoolboy 2 (for 250s). He's won both in the 125s, but is on the outside looking in with an 8-1 on 250Fs.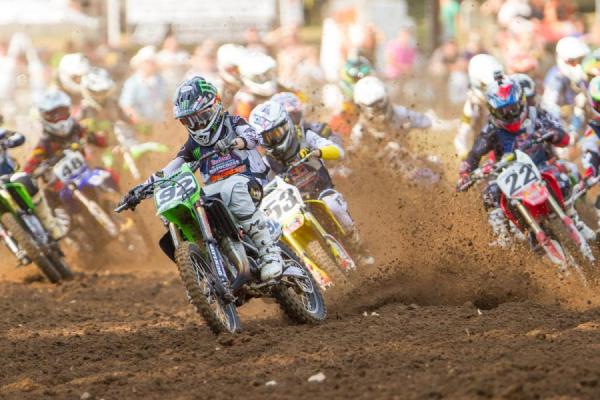 AC92 has been unchallenged in the Super Mini classes.
Mark Pearson photo
4. Linville Bounces Back: After leading every lap of his first 51cc AMA class 2 (7-8) moto except for the last one—when he crashed out—Gage Linville rebounded to win moto two. He started just about last and worked his way forward to grab an impressive win. But the title looks to be swinging toward Jaiden Taylor, who leads the points after the first two motos.
5. RSeason: Ricky Carmichael looks better and better each time he rides, this time pulling an even bigger lead en route to his second 25 Plus win, and once again the fences were jammed with spectators trying to take a look. His old rival Robbie Reynard rallied from a bad start to finish second. "Starts have always been my weakness," said Reynard. "I'd love to get up there and maybe have some fun with Ricky."
6. Best Moto of the Day: The stacked 250 B Mod class delivered when Star-Valli Rockstar Yamaha's Cooper Webb met up with Factory Connection Honda's Matt Bisceglia. It was one heck of a battle, as Bisceglia made the pass for the lead, and then Cooper stuck with him through every inch of it. They each had strong points on the track, and Webb kept changing up his lines to find a way around. He couldn't, and Bisceglia won by less than a second.
7. Heartbreak in the Women's Class: Kawasaki's Brandi Richards was in contention for two titles, battling in both the Girls and Women's classes. In Women (14+) she won moto 1 and led moto two. It was all heading her way, until she crashed hard in some ruts. She took a big hit and wasn't able to rally back into the top ten. Australia's Mckenzie Tricker held off Taylor Higgins under huge pressure to win the moto. Tricker and Higgins are tied in points heading to moto 3.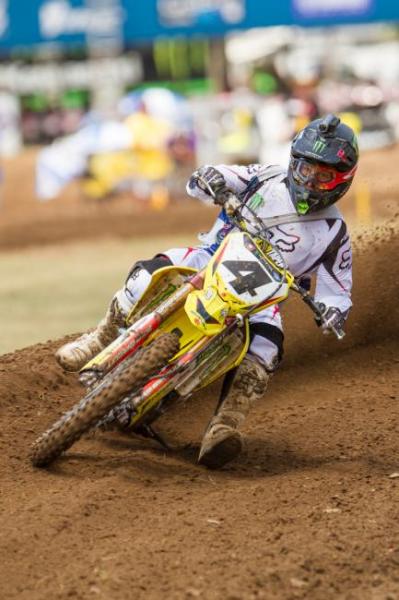 RC was back to his winning ways on Thursday.
Mark Pearson photo
8. Haven't I Seen You Before?: Lots of familiar names in the 40 Plus, 45 Plus and 50 Plus classes. In 50 Plus Masters, Gary Semics, at 58 years old, is in control with two moto wins. Dubach is making a bid for both the 45 Plus and 40 Plus titles, and he's 49! Dubach has 45 Plus on lock but he's sitting in a 3-1/1-3 tie with New England hero Mike Treadwell in 40 Plus.
9. Savatgy Sets Sail: Suzuki's Joey Savatgy wasn't feeling it when the week began, but he found his form by mid-week and absolutely crushed the 450 A second moto. Rumor has it that Savatgy was dealing with an injury coming in, but the Georgia native wouldn't let on. "In my head, I thought I was 100 percent," he said.
10. Hoeft Throws his Weight Around: It's always fun watching kids that are growing too big for minis try to leg out one more title. California's Justin Hoeft is handling his Mini Sr motos with ease. The Yamaha rider has swept the Mini Sr. Stock and Mod (12-14) classes, winning all four motos.
11. McElrath Vs. A-Rod: The 450 B Mod showdown between Shane McElrath and Anthony Hector Rodriguez shaped up nicely in moto two. McElrath, little-known when the week began, had his dream week going as he got to the lead and held a small advantage over A-Rod. But late in the moto, he tangled with a lapper and went down. Rodriguez snagged the lead and the moto win, and it's going to be close between them for the third moto.
12. Here's Carson: Domination of the 65 (7-11) Mod class for Carson Mumford, who followed his first moto win with a come from behind victory in moto two. He was about tenth early, and then went from seventh to third to first in the manner of two laps to take the lead and the win. Even a late crash didn't stop this Team Green future star.