Loretta Lynn Ranch
Hurricane Mills

,

TN
RedBull AMA Amateur National Motocross Championship (Loretta Lynn's)
Amateur National Motocross Championship
Factory Connection's Matt Bisceglia is lighting the Ranch on fire. Having only lost one moto thus far (Moto 1 250 B Mod) the Texas native finds himself on the edge to taking home the 250 B Mod and 450 B Stock titles. We were able to grab Bisceglia for a quick interview after the second 450 B Stock moto.
Racer X: Pretty good week so far.
Matt Bisceglia: Yeah, the first moto of 450 B Stock I got a good start again and got into the lead about halfway and took the win. The first moto 250 B Mod I was in second and then crashed and A-Rod [Anthony Rodriguez] got around and got about 8 or 10 second on me. I was able to catch up by the end, but it was a lot of ground to make it. We just got off 450 B Stock and I pulled a good start again and from there I pretty much pulled away. I didn't come here to lose, I came here to win; simply as that. I want to thank Jerry Masterpool for helping me out this summer. I would also like to thank everyone at Factory Connetion and all my sponsors.
You were a Yamaha guy for a while, but are now part of a team that has had great success in the past. How close is your program to what the pro guys do?
There is not really much I can say, it's pretty undercover really [Laughs]. No, its pretty much a factory program for the amateurs. Fresh bikes all time, surrounded by good mechanics, and that's what you need to win. I'm fortunate enough to have this oppoutunity and can't thank everyone enough. Hopefully I can pull out a couple of wins this week and prove that I'm worthy of the deal.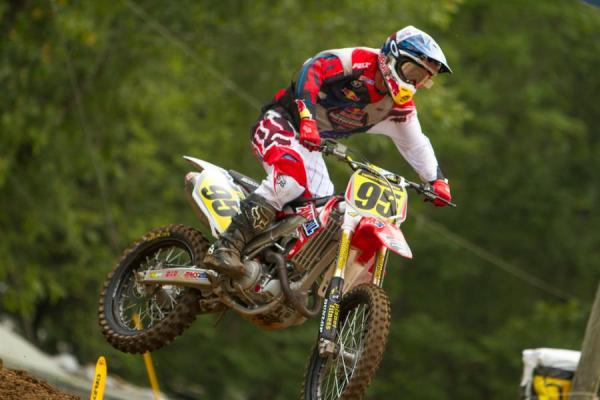 Bisceglia is on the verge of two titles at the Ranch.
Mark Pearson photo
What's the plan for the future? Will you be in the amateur ranks next year?
It just depends. Everything is pretty much performance based. Obvioulsy they have a good program going right now with what Eli [Tomac] and Justin [Barcia] are doing, and Wil [Hahn] is right up there too. I get to ride with those guys whenever I'm in California and they help me out a lot. I also want to thank Tommy Hahn and Ben Martin for being my training buddies during the summer; the hard work has paid off.
You're running #95 this week. Can you explain the reasons behind that?
Yeah, there are a couple of different reasons. #95 was my first number back when I started racing on 50's. And the whole Masterpool family has been helping me a lot and Jesse always ran #95 here. I just figured I would run a different number and hopefully it works.