Hurricane Mills, TN
RedBull AMA Amateur National Motocross Championship (Loretta Lynn's)
Amateur National Motocross Championship
1. 50cc Classes Underway: In AMA Class 2 (7-8), Gage Linville is the favorite after winning a ton of motos throughout the year. And in his first moto, he grabbed the holeshot and led most of the way. But on the last lap, he high sided and cartwheeled! Jaiden Taylor grabbed the lead and the moto win, while Linville's title hopes went up in smoke.
2. A-Rod Wins Again: There was a showdown expected in 450 B Mod between Anthony Rodriquez and Shane McElrath, who both won motos in different B classes on Tuesday. The Club MX-based McElrath led early but crashed, then MTF-based Rodriquez took the lead and win. McElrath dug deep to finish second, so expect more battles throughout the week between these two.
3. JDR KTM Jumps Into the Game: With GEICO Honda, Monster Energy/Pro Circuit Kawasaki and Star-Valli Racing all scooping up talent from the amateur ranks, this week the J-Star JDR KTM team joined the fray. From a team PR: JDR Motorsports announces a new direction for 2013 and into the future with their newly formed amateur team. Chase Bell [who is out for Loretta's with an injury] is the first rider to join the team after signing a multi-year deal that will see him race all the major amateur nationals, all the while working with the team on preparing for his professional debut.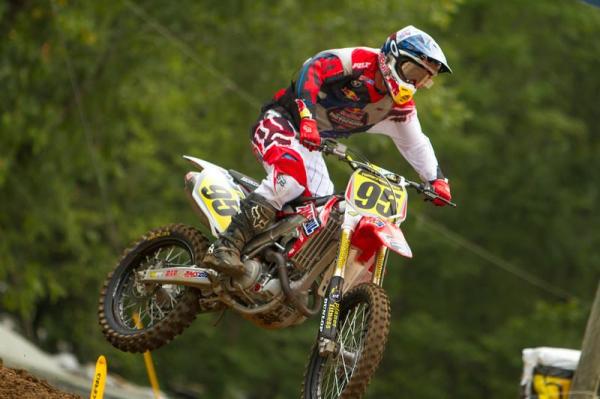 Matt Bisceglia is on a tear down at the Ranch.
Mark Pearson photo
4. Smoking Section: The Two-Stroke class made its debut at the Ranch, and Ty Siminoe won the moto on a KTM fitted with, oddly, green plastic. There was no doubt about the colors used by the second place rider, Michael Sleeter. Sleet is a KTM employee, not only heading their testing department, but also running the Orange Brigade amateur program. Minutes before the moto, Sleeter was helping coordinate the 2013 demo ride with Mike Brown and Malcolm Stewart.
5. Cianciaruling it (again): AC crushed them again in the Super Mini 2 Class. This time he had a terrible gate pick and needed to come from the far outside. He still pulled the holeshot!
6. Team Green Reunion. On a Yamaha: The 35 Plus second moto looked like a Kawasaki ad, with Kawi-mounted ex pros Clark Stiles, James Povolny, Mike Treadwell and Scott Sheak dueling with Kawasaki off-road star Destry Abbott. Then a lone Yamaha, piloted by Robbie Reynard, showed up on the scene and rolled past them all. Remember, Robbie's best days at the Ranch came in Team Green colors as well!
7. Senior of the Mini Senior Class: Justin Hoeft is showing who is boss in the Mini Sr. 85 (12-14) Class. He won moto two to match his moto one win on Tuesday. Austin Forkner was second and Tommy Maxey came from the back to finish third.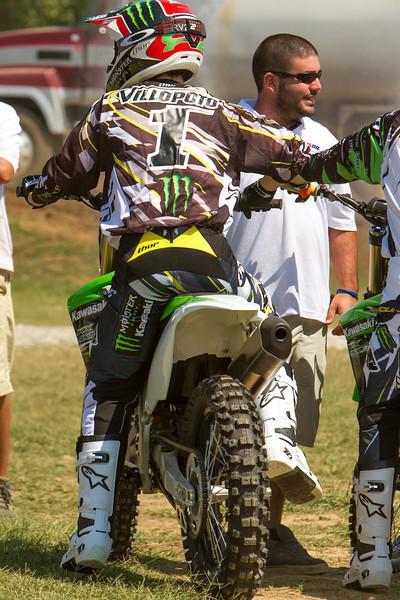 RV was on hand to show off the new 2013 KXs.
Mark Pearson photo
8. Stars Return to the Ranch: First, Mike Brown and Malcolm Stewart put 2013 KTMs through their paces at the Ranch in a demo during intermission, and later Blake Baggett and Ryan Villopoto rode 2013 KXs. For RV, it's his first ride in public since tearing his ACL in April. Don't worry, he still looked fast!
9. Webb Picks his Spot: After terrible gate picks (and starts) in his first motos, Star-Valli Rockstar Yamaha's Cooper Webb knew what to do in his second moto of 250 B Mod. He gated about fifth and carefully worked his way forward until he was in second behind first moto winner Shane McElrath. Then he turned it up, going from a 1:58 lap to an impressive 1:53, making him five seconds faster than anyone else on the track! "I saw Blake Baggett out there at intermission so I saw what I needed to do," joked Webb. Now he and McElrath are tied with 2-1 and 1-2 scores heading into the final moto.
10. Zach Bell Versus the Lap Charts: The numbers don't lie. Zach Bell is the fastest rider at the Ranch based on lap times. His 1:51 was fastest on Tuesday and his 1:53 was the fastest yesterday. You'll see this GEICO Honda recruit at Southwick, and we hear he's even better on sand.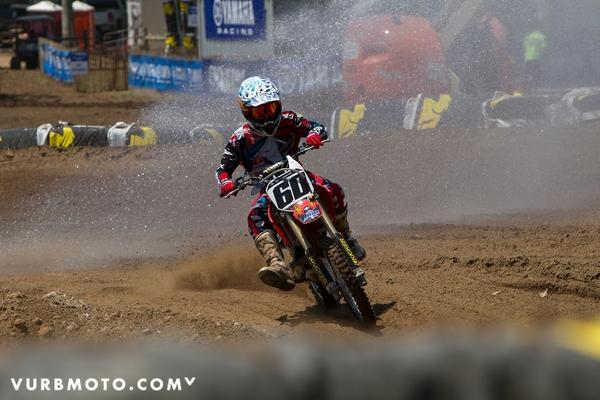 It was an inspiring moment when Stone Edler took to the track.
Brent Stallo // VurbMoto photo
11. Bisceglia Beats Them Up: Factory Connection (GEICO) has yet another star in the ranks with Texan Matt Bisceglia. While Bell is running a Kevin Windham-liked #14 on his Honda, Bisceglia looks more the part with his smooth style, lanky frame and his smooth talking on the podium. And like Windham, he wins—he's got 450 B Stock on lockdown.
12. Stone Edler gets his Chance: This is a sad story with a nice moment. Super Mini contender Stone Edler qualified for Loretta's and then suffered a minor injury. When he went in to get checked out, the doctors took blood as standard procedure and found out... that Stone had cancer. Harsh therapy then began, and Stone had to withdraw his entry from Loretta's. But in a show of strength, he came out for intermission yesterday and rode a lap, cheered by fans at the fences the whole way. At night, the Rock River Yamaha team held a big benefit auction for Stone and his family.