There's a lot of debate amongst fans about who the sport's greatest rider is. Some say it's Ricky Carmichael because, well, he holds most of the records. Some say it's Jeremy McGrath because he's far and away the winningest supercross rider ever. Yet others will tell you Bob Hannah is the man because when he raced, the equipment was so bad that you had to be in better shape than anyone else.
I'm not going to debate any of that right here. What I'm here to tell you is that there's a racer out there who is criminally underrated among all of us fans. A guy that's definitely in the list of top ten motocrossers ever, but sadly is never mentioned much. He retired, as so many great riders do, quietly and without fanfare. When he hung the boots up he was one of the greats. Here are some more stats for you: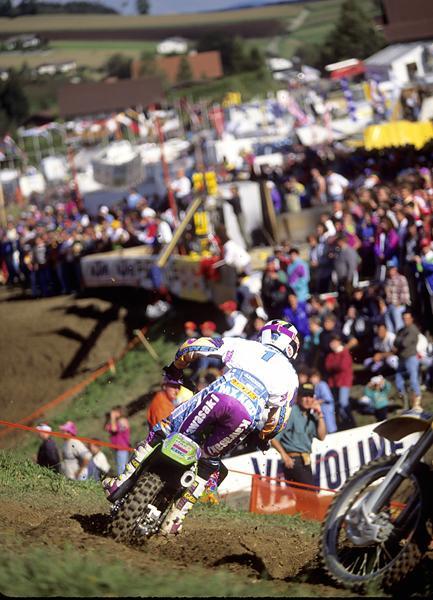 Racer X Archives photo
-  He was a four-time National motocross champion.
-  One of two riders in history to win a National motocross championship in all three classes.
-  When he retired he was fifth on the list of all-time combined SX and MX wins.
-  He won the Daytona Supercross three years in a row.
-  He won three races in his final year of competition, meaning he was still on top of his game.
-  Rode for Team USA four times at the MXDN and went 3-1.
Yes folks, I'm talking about Mike Kiedrowski, a guy that none of you really ever talk about. Just admit it now, he's been forgotten by you, by your buddies and, well, by everyone. Now that it's years later, we can look back and realize that Mike really didn't get his just dues back when he raced and he certainly doesn't get them now. Mike was unfortunate enough to have to race supercross against Jeremy McGrath while MC was in his prime, and before that, he raced against Jeff Stanton, one of the riders that does get the credit he deserves.
As I said, Mike was eighth in all-time combined wins when he hung it up and only the mighty Stanton had a shorter time period between his first and last wins. Stanton won thirty-seven times in four years, which is an incredible achievement, but guess what? Kiedrowski won thirty times in six years. Not as impressive as Stanton, but not that far off either. Admit it, you had no idea that the MX Kied only trailed Stanton by seven wins did you? The other six guys ahead of Mike on the all-time list don't come close to the six years between first and last wins. And one could make the case that Mike retired way too early. Stanton didn't win a race his last year while Kiedrowski again, won three races in his final year!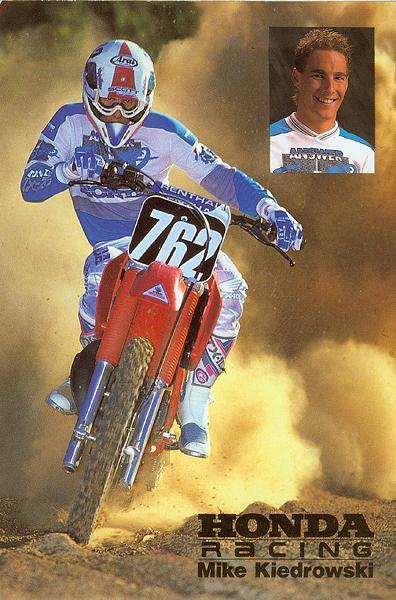 If Mike had raced in 1996, his combined points would have earned him National number 3 but he hung it up. Hung it up! Clearly, this was a rider still very much on top of his game, who probably could have gotten some more wins and at the very least, could have milked some more contracts out. But that was it. He was done. Can you imagine nowadays a rider retiring when he was the third best racer in America?
In an old podcast I did with Mike, he mentioned that one of the reasons he retired when he did was because his mechanic at the time, Brian Lunnis, suggested that he should! I'm not making that up. No word on whether or not Brian told him when he should breathe in or out. It should be noted that Shane Nalley, Kiedrowski's mechanic for all his titles, wasn't around at this point.
Most of the reasons why Mike isn't talked about more or held in higher regard is the fact that he never captured a supercross title. And it's true, Mike's indoor skills weren't as good as his outdoor ones, but let's not kid ourselves here. The dude was no stiff when it came to the indoor stuff. Yes, he only has five career supercross wins and three of those were at Daytona, which, unlike today, was way more of an outdoor track back then than a supercross track. But even though the stats say he wasn't great at supercross, he was indeed very, very good.
Take a look for yourself:
- Mike raced two complete seasons in the 125 SX Class and finished second in 1988 and second again in 1989 behind American badass Damon Bradshaw. Then he moved up in 1990.
- Mike raced 250 SX for seven seasons and finished inside the top five in points in six of those years. The only year he didn't get a top five was in 1997 when he came out of retirement and raced for Honda of Troy. He got hurt, the bike sucked and I'm never going to talk about this one-year comeback ever again. So in effect, every single year he raced, he was top five in the points indoors. Not that bad right?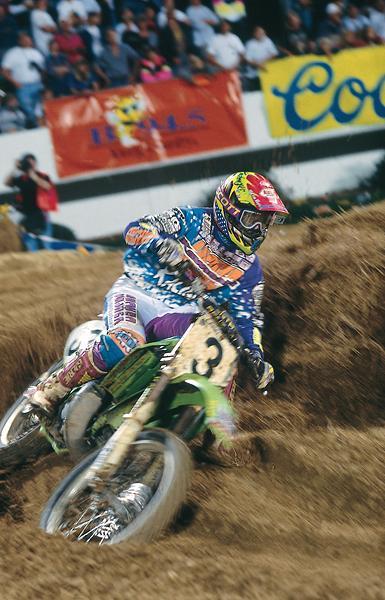 Racer X Archives photo
- He ended up with thirty-five SX podiums from 1990 to 1995 and raced 104 races for a podium percentage of 33 percent while Stanton raced 112 races and garnered 55 podiums in supercross for an impressive podium percentage of 49 percent. Stanton's got him in podium percentage and wins (seventeen to five), and I'm not here to tell you that Mike was a better racer than Jeff. The point I'm making is that while we rightfully think of Stanton as an icon in the sport, Mike Kiedrowski isn't that far behind. YET NO ONE EVER TALKS ABOUT MIKE KIEDROWSKI.
Again, I'm not picking on Stanton, but he was an outdoor warrior right? A complete animal when the conditions were hot and the tracks were rough. These are points we can all agree on. When Stanton retired he had twenty motocross wins. And guess what? When Mike Kiedrowski retired he had twenty-five wins and was tied with Mark Barnett for fifth all-time. Bet you didn't know that!
Mike burst onto the scene in 1988 as a Team Green amateur kid and ended the year second in SX points. For 1989, Dave Arnold at Honda handpicked Mike to get a spot on the Factory Honda team. His three-digit number not indicative of his status, Kiedrowski won the Eastern Regional 125 SX title, as well as the 125 National championship in his first year as a full-time pro! Winning the first national of that year started it all off on the right track. That's right, he went from #762 to #1 just like that.
The next year he moved up to the 250 Class (now the 450 Class), and in one of the deepest fields ever in supercross, the rookie ended the supercross series in fourth. That summer he tried to defend his 125 National title but Honda had Roger DeCoster's favored child, Jean-Michel Bayle, in the class and Mike got screwed a bit with JMB receiving some of the better parts. Once Bayle, the series points leader, went out with a broken arm, his motor went to Mike and he promptly rattled off three wins in five races and made the podium at the other two. Credit to Guy Cooper in a win-and-you're-the-champion final round at Unadilla where Coops won and Mike got second, losing the title by just one point. Almost a five-time National champion people!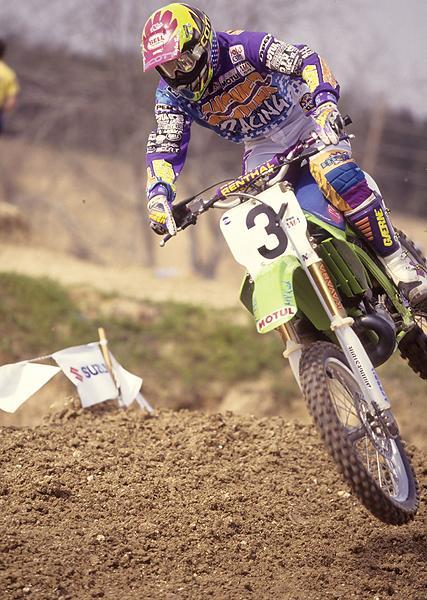 Racer X Archives photo
With hard feelings everywhere at Honda because they favored Bayle (and already had the best rider in the world in Jeff Stanton under contract), Kiedrowski left Big Red and returned to Kawasaki, which would be the brand he rode out his career with. Again, we're not talking about the 1997 comeback because those things are always a bad idea. Ask Damon Bradshaw, Marty Smith, Mark Barnett and about a hundred other dudes.
In 1991, he would again battle with Cooper but this time Mike came out on top to regain the 125 National title. A bump up to the 250/500 National title in 1992 awaited him and Mike finished second in the 250 Nationals and won the 500's. The MX Kied won the 1993 250 MX series and finish third in the 500's. If you're scoring at home, this is three straight years and four out of five years that Kiedrowski won a major title in American racing. The next two years saw Mike finish third in the 250 MX series and then Brian Luniss handed out those incredibly awesome words of encouragement for Mike. Please keep in mind, this whole time Mike was never finishing outside the top five in the supercross series.
In the MXoN, Mike went over as a surprise selection in 1989 and did his job in the 125 class with a 1-2 and Team USA won. In 1990 he was somehow bypassed for Damon Bradshaw, who dropped down to the 125 and was terrible. Kiedrowski was back in 1991 in the 125's on a deep sand track and scored second overall behind Stefan Everts and Team USA won again. The 1993 MXoN was in Austria and Mike rode the mighty 500 to a first moto victory and despite some crashes, came through in the second moto big time. In the words of mechanic Skip Norfolk, who was there that day, "Kiedrowski was absolutely amazing. Kiedrowski was the man. He finished it and took care of business for us."
Mike and Team USA's MXoN streak ended in Switzerland in 1994. Overall, everyone had a bad day, with Kiedrowski going 4-3 in the 250 Class. Still, his MXoN record was almost spotless with some great rides.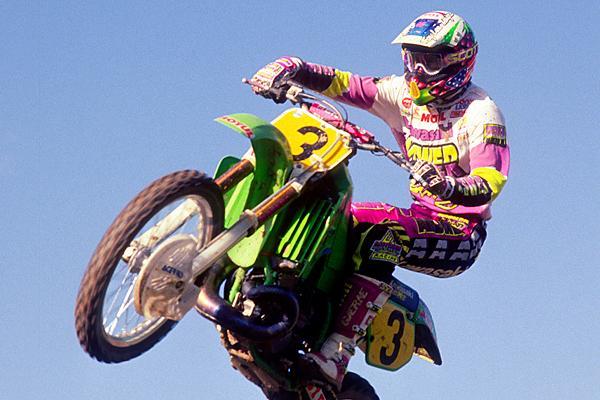 Thom Vetty photo
The facts are all here. I've made my case and I stand by it. Mike Kiedrowski is the most underrated motocrosser of all time. The soft-spoken Kiedrowski doesn't demand this attention and isn't involved in the sport anymore. After 1997 he went into a long off-road career and is currently training to be a firefighter up in Northern L.A. You don't see a lot of Mike around the races and sometimes, that's the stuff that hurts a guy in the legacy department.
So the next time you and your buddies are sitting around talking about great riders, you'd better remember to bring up the MX Kied. He may not care all that much, but guess what, it's your duty as a fan to remember this guy.