Washougal MX Park
Washougal

,

WA
Washougal
Lucas Oil AMA Pro Motocross Championship
Welcome to Racerhead. It's been a long week here—they always are when you lose a friend, and the entire motocross community lost one last Saturday afternoon. Right about the time the first 250 moto was going off the gate at a very crowded and hot Spring Creek MX Park in Millville, Minnesota, Art's wife and his two daughters were saying goodbye to him at St. Mary's Hospital in Rochester, MN. Jefferson, a lifelong Southwick MX-338 man and the paddock coordinator for MX Sports, suffered a stroke while at dinner with friends and co-workers on Friday evening. He had just finished another day of guiding all of the big rigs into the paddock, working with the riders and teams to set up their coaches and pit lanes, and smiling from ear to ear as he cruised the paddock on the most recognized blue Zuma scooter in the history of motocross.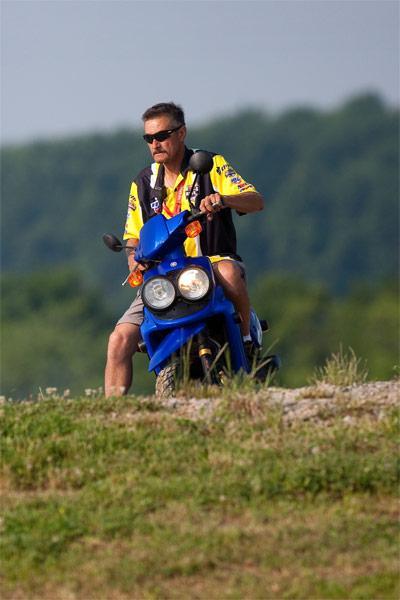 Godspeed, Art Jefferson.
Even with access to one of the best hospitals in the world—the Mayo Clinic, to which St, Mary's is connected—doctors could not bring Art back. They were able to sustain him until the next afternoon, when his wife Linda and their daughters arrived from Chicopee, Massachusetts, and then he passed. It was a terrible turn of events, and the race went on even though everyone was hoping and praying that things might somehow work out for Art. There was no announcement about his passing until after the race, so it was hard to have so many folks ask about his well-being—from race winner
Ryan Dungey
to his mechanic Carlos; from the Martin family, who were running the race and also trying to catch a glimpse of their son Alex as he raced, to a few fans hanging over the fence—and not be able to tell them the sad news.
Art must have ranked among the most universally liked people in motocross. His passing was a shock, but he had left instructions for his wife as to what to do with his ashes should something unexpected happen. And that included spreading some around his beloved Southwick home track. (If you just smiled, good for you—that's what Art would have wanted.) So on Saturday, August 11, following the Southwick National, Moto-X 338 and MX Sports are inviting all of Art Jefferson's friends from motocross and his old NESC days to stick around for an old-fashioned wake, held in his honor among his many friends in the paddock. There will also be a remembrance before the race.
There will be a funeral and remembrance service tomorrow in his home town.
Here's the obituary
for Art Jefferson. He was 52 years old. Godspeed, Art.
Knowing how much the man loved motocross at all levels, he would probably have wanted everyone to just pull a tear-off and move on.... So that's what I'm going to do here, but with one last gesture on his behalf. Art loved bench-racing, and he loved our online records stack we call The Vault. It features all of the results of every professional AMA Supercross/Motocross National since 1972. I had told him the night before his passing about a different records collection that we were going to unveil soon. It's not quite ready—it's still in beta testing—but it's good enough to move the rigs forward, as Art would say, and keep this show on the road. It's the Loretta Lynn Vault, and we're soft-launching it today at http://llvault.racerxonline.com/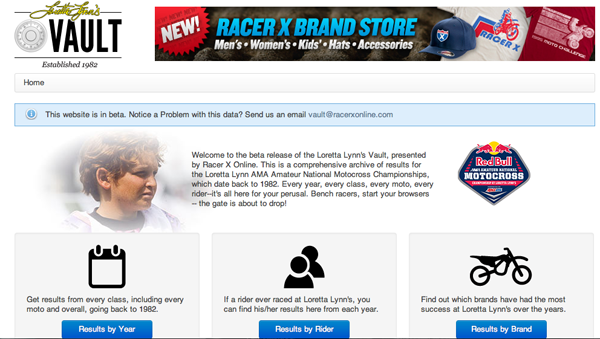 How many motos did Mike Alessi really win at Loretta Lynn's? How good was Jeff Emig on an 80? Who the hell was Billy Fosnock? Has anyone been better, for longer, at the ranch than Kevin Foley? Who was better on 125s, Ryan Dungey or Zach Osborne? How well did Ken Roczen or Christophe really finish there as kids? Was Doug Henry ever there? The answers are all in there: Every rider, every race, every year from the Red Bull AMA Amateur National Motocross Championships at Loretta Lynn's Ranch since 1982.  Like I said, our friend Art would be eating that up right now, so have at!
After the race—another 1-1 for him—Ryan Dungey and his family went from their home race to the starting area of the MN Major River-to-River Ride he was hosting to benefit St. Jude's Children's Hospital. They had a fantastic turnout, and Dungey once again showed his maturity and leadership by helping run the whole show. Well done, Ryan.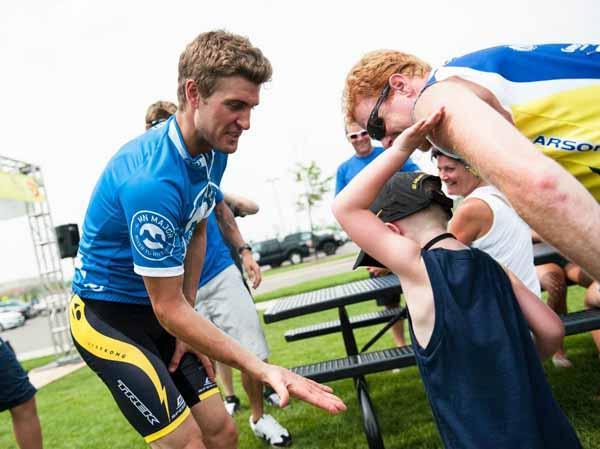 Ryan Dungey greets a young rider at the MN Major River-to-River Ride Day.
On another hospital note—two actually—a pair of the sport's nice guys got banged up pretty good at
Spring Creek
. As you probably saw on TV,
Nick Wey
suffered a spectacular crash early in the day and ended up with a dislocated hip and a couple of cracked vertebrae. And Star-Valli Yamaha's
Gareth Swanepoel
suffered a broken leg. Everyone at Racer X Online wants to say get-well-soon to both NYK and Swanie.
Speaking of Swanepoel, his injury opened a spot on the team, and they acted quickly in scooping up the superb rookie Cole Thompson, who finished eighth overall in the 450 Class at Spring Creek. The team also named Ryan Morais as their new manager, giving the veteran his first post-career gig, as it appears that Morais is done following his ugly crash back in January with Trey Canard at the LA Supercross. Simon Cudby spoke to both Cole and Ryan while out at the practice tracks earlier this week.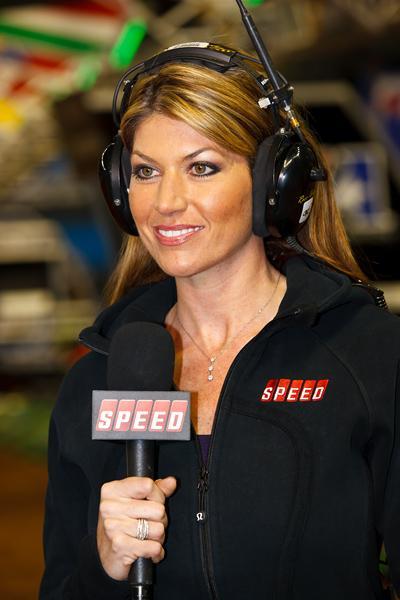 How the hell did we leave Erin Bates off of Canada's finest moto moments in America?
On the same day that Thompson was joining Star-Valli, Dean Wilson was apparently signing with Jeff Ward Racing for a factory Kawasaki KX450F ride for 2013 and beyond. In his exuberance for all things Canada—Tim Horton's, Arcade Fire, Steve Nash, Justin Bieber—Matthes pulled together this list of 10 great days for Canada in America, with both the Scotland-born-but-Canada-raised Wilson and Thompson making the cut.
But Steve somehow forgot the most high-profile Canadian of all in the sport, and that's SPEED TV and CBS Sports pit reporter Erin Bates! Sure, she's lived in the States for some time, but so has Matthes, and he still considers himself cut from the same maple leaf as Wayne Gretzky and Nova Scotia. So hats off to Miss Bates, and sorry for the oversight.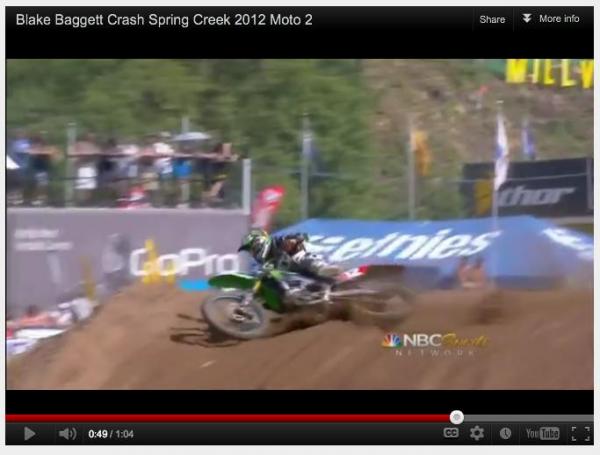 Check out that low-riding scrub!
Back to Millville. I was lucky enough to watch a good part of the races with two of my favorite people to bench-race with, Larry Brooks and Pit Beirer. Brooks of course is the co-owner/manager of the Chaparral Honda team, along with Jeremy McGrath (who was rocking an awesome 1995 look out at Lake Elsinore last weekend). I was watching Brooks on the infield as he was watching Andrew Short, who was still being chased by Cole Thompson halfway through the second moto. As they went by Larry just stared at the kid on the #160 privateer Honda, then shook his head, pressed the button and shouted into his headset, "Who the hell is Thompson?!" By the time the moto was over, he knew, and so did Mike Genova from MotoConcepts, Bobby Regan from Star-Valli Yamaha, etc...
Then I got to hang out with Pit Beirer, the global boss for KTM Racing. We didn't really talk much about what was going on with Ken Roczen and Marvin Musquin, other than the fact that he knows the learning curve here has been steep for both—especially outdoors. We talked about the heat, the pace of the lead three of Blake Baggett, Justin Barcia and overall winner Eli Tomac, and also a little bit about track prep (he thought Shane Schaefer and his crew did a superb job working with Director of Operations John Ayers on keeping Millville moist and rough, yet safe). I wasn't really sure why Pit was there, but it was good to see an old friend who once dominated the Motocross of Nations for Germany on his CR250.
But on Monday I noticed this on the French magazine website Moto Verte.
My nine weeks of French class disappeared somewhere in the nineties, but I could read that it was not a positive piece on
Ken Roczen
. So I asked Ludo from 100%--my go-to French guy since 1991—if he could help out with a quick translation.
Where has Kroc been?
The MX2 world champ with style last year, everybody was waiting for Ken for his U.S. beginnings. But the #2 East SX finisher is currently fourth in the outdoors, and the German is not as radical as planned…
…[then they talk about the past outdoor races and results at those]… at the beginning of the season, his goal was to be the first world champ to follow immediately with a US title, but it won't be the case. In the U.S. pits, rumors start to float around. He appears less focused than before, especially in regards to his training for example. At KTM, the trust in him has been eroded following forgettable tweets. Last week, Pit Beirer made the trip to Milville to recap the season with his troops and maybe redirect Ken's focus. He has five races left to show he can be the boss and put himself on the championship podium. A final sprint which will start this weekend at Washougal.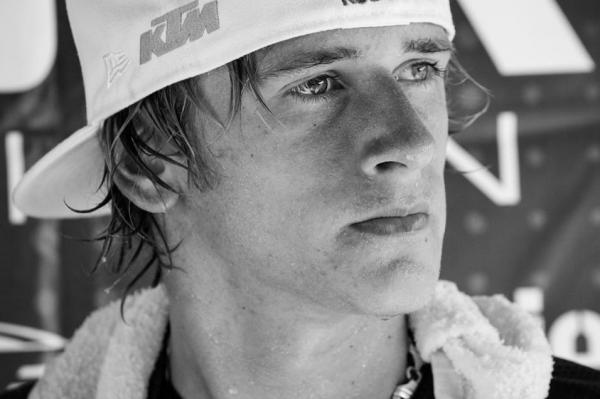 Ken Roczen is starting to feel some real pressure from Europe to win.
Simon Cudby photo
Wow, I wasn't quite prepared for that—I thought Ken was doing pretty damn well. I also think the expectations placed on him and Marvin Musquin were overblown, based on the vast differences between the European circuits they evolved from and the U.S. circuits, where they are trying to learn the American way of racing under intense scrutiny. As I have said before (many times, actually), it is a much different world on either side of the ocean. Just as Zach Osborne and Ryan Hughes and Michael Leib and Jimmy Albertson have all found out, racing in Europe means big changes, and it does here too. And Roczen and Musquin landed smack-dab in the middle of the rise of can't-miss-kids Baggett, Barcia and Tomac. K-Roc and MM are damn good riders, and they will figure it out. It's just different over here, and it's harder. As Roger DeCoster himself told MXA this week, "The level of competition is higher."
Maybe tomorrow will be the day for an orange breakthrough in the 250 Class. The Peterson Cat Washougal National starts at 4 p.m. ET, live on Fuel TV and also streaming live (and free) on www.allisports.com. And after having all four motos live last weekend, the second motos are delayed this time until 11 a.m. Sunday morning due to the previous programming schedule on NBC Sports Network. Stay tuned to Racer X Online all day long as everything unfolds at Washougal.
Speaking of TV, back at Budds Creek the Spike TV crew of Dhani Jones' Playbook 360 came out to "Get Dirty" and break down the motocross races. They hung out with Dungey, JGR Yamaha's Jeremy Albrecht, and I even got a chance to explain jumps. (I know, very mainstream stuff, but also very cool). Check out the clips right here:
In more mainstream TV news, Travis Pastrana will be appearing on The Tonight Show on Monday, July 23, as Jay Leno's host. Pastrana has his feature-length film Nitro Circus 3D coming out on August 8, so it will be cool to hear about the film and all of Travis' other plans.

Travis Pastrana will sit next to Jay Leno on Monday night on The Tonight Show.
Chris Tedesco photo
Ryan Villopoto
will be at
Washougal
this weekend, which would be his home race -- if he were racing. The defending AMA Supercross and Motocross #1 is out of course with a knee injury, but that didn't stop him from getting out there and pit-boarding for his brother Tyler...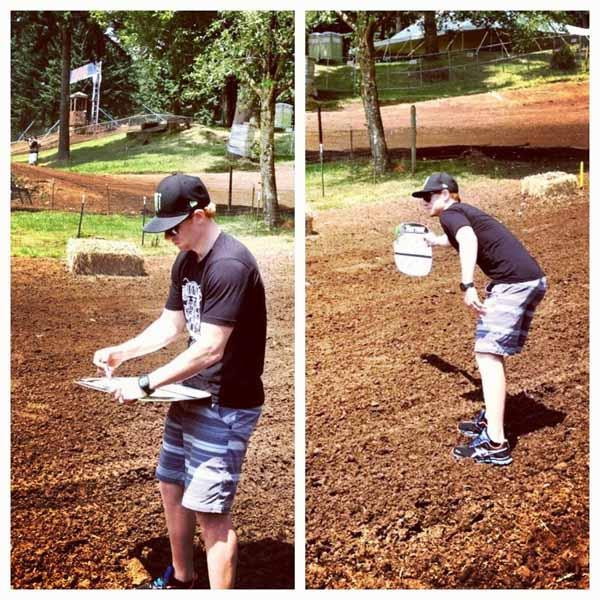 Also,
VitalMX.com
's Guy B.
caught up with RV
for a chat about what's next for the sidelined star (besides throwing out the first page at the Angels game on Sunday)!
And speaking of Northwestern local heroes, welcome back to Josh Hill, who will be on the starting gate for the first time in a very long time tomorrow.
Before I pass this off to the other guys, the FIM World Championship circuit is in Russia this weekend, and I have to admit that's the one race more than any other on the schedule that I wish I could have attended. I've heard stories about how vast the crowds were in the old USSR back in the sixties when Victor Arbekov was battling Torsten Hallman for world titles. DeCoster himself told me on Saturday that he remembers being there way back when 100,000 fans scattered around a valley. "There wasn't much else to do back then in Russia," explained The Man.
So when I came home from Spring Creek I dug up a few old archived photos from back in the sixties at those races, and they look downright incredible. I am sure the crowd won't be nearly as big as they were a half century ago, but it's cool that they are taking moto back to the Motherland of Russia.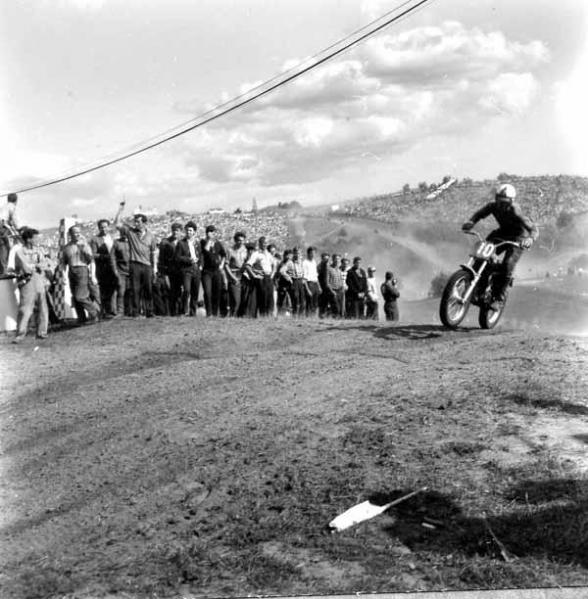 MX Sports implemented the wheels-on-the-ground flag to try to help prevent a downed rider or stalled motorcycle in a landing area being hit by someone coming up behind them. It works similarly to the lighting system in Monster Energy Supercross, which comes on when guys go down on or after the triples. It's worked well over the past three years, though there have been some controversies. It would have definitely helped in Latvia last Sunday in the FIM World Championships when KTM's Tony Cairoli crashed on a tabletop and was stuck in the landing area for a few frightening seconds. Fortunately, he did not get landed on, but check out how close this came to being downright ugly.
This was a similar incident to what happened to Christophe Pourcel back in 2007 in Ireland, nearly ending his professional career.
So who is in for Team USA this year? Ryan Dungey, sure. But who else? Villopoto? Stewart? Alessi? Baggett? Barcia? Actually, the team is all set … for the MX Vet des Nations! Team USA legends Jeff Stanton, Jeff Ward, Ron Lechien, and Ryan Hughes are all ready to fly out to the ancient 500cc Grand Prix track at Farleigh Castle in England on September 14-16. According to promoter Dave King, for this year there will be two VMXdN races, one for any twin-shock, air-cooled, drum-braked bikes and another race for any bike made before 1990 (Evolution).
In the Evo des Nations, Stanton will be on a 1988 RC500 Honda factory replica while Ward, Hughes, and Lechien will be on fully restored Pro Circuit-backed KX500s. Stanton, who first rode the event last year, vowed to return to better the team's third-place finish last year. Other former GP and AMA greats participating on their old factory bikes are Kurt Nicoll, Stefan Everts, Rob Herring, Graham Noyce, Werner DeWitt, Peter Hansson, Johan Boonen, and more. If you're going to support Team USA at Lommel, Belgium, this year, why not hop on the plane two weeks early and cheer on the legends? Vistit www.vetsmxdn.co.uk for more.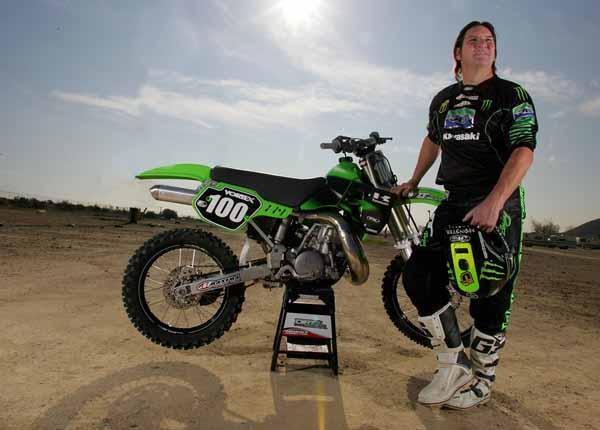 That's Team USA Vet Ron Lechien and the bike he will race at Farleigh Castle in England this September.
Here's Matthes:
We're going up to the beautiful Pacific Northwest this weekend for round eight of the Lucas Oil Pro Motocross Championship. Washougal is always one of my favorite stops of the circuit. I love the scenery up there but I do expect to hear plenty of griping about "grip," "traction" and my favorite, "gription." The track is very slippery and shadowy as well, which makes for tricky conditions for the riders. They're never happy with their tires, and throttle control is key at Washougal. Having said that, I don't expect to see any new faces on the podium this weekend. It's going to be more of the same, but maybe the very technical and smooth Marvin Musquin can finally get on the box. But I said this last year and he had a terrible race. I'm going with Musquin to do some damage—this is his kind of track.
Dean Wilson to Jeff Ward Racing? Not done yet but very soon it will be. Nice move for the team to get the future star in this ongoing silly season. Looks like they've reeled in a big sponsor for the next three years, so look for that announcement real soon. Wilson's going to get factory parts for his bike as well so that's what probably helped this deal along. He'll also bring Monster as a personal sponsor and get to do his own deals head to toe. Dean Wilson is going to be making a lot of money next year, no doubt. And I think he's going to be right in there for top-fives and podiums next year like his buddy Justin Barcia will be on the factory Honda 450.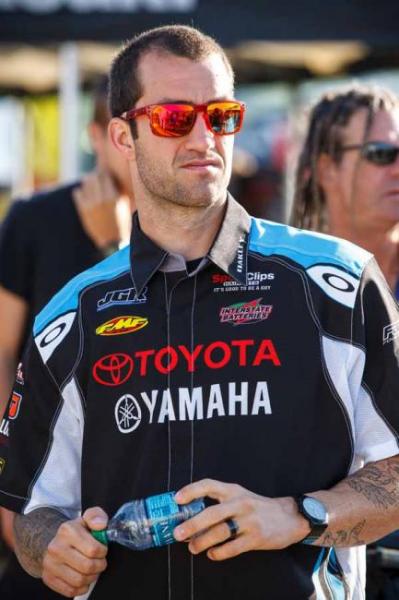 Davi Millsaps to Yoshimura Suzuki?
Simon Cudby photo
Davi Millsaps to Rockstar Suzuki is an interesting move and it puts Davi back on the brand he raced almost his whole life. It's a two-year deal and apparently is going to involve him having a whole other semi for himself. Rockstar Energy Drink strikes back! With Millsaps and a four-man 250F team, manager Dave Gowland is going to be very busy at the races next year.
So what's Millsaps' old JGR Yamaha team going to do? They were all in on the Dean Wilson sweepstakes (as was Mitch Payton, who may have just needed more time to commit to putting Dean on the 450), and now that they lost out, maybe they look to bring back Justin Brayton? Honda has two riders for next year and maybe will add Brayton, but if they don't, Brayton enjoyed some solid rides on the JGR team. Maybe that will work out? Larry Ward rode for factory Suzuki a couple of times, so why not Brayton back at Yamaha?
Everyone's favorite privateer hero, Jason Thomas, won't be at Washougal this weekend—he's over in Holland at something called Zwartecross with Kyle Partridge, Dennis Stapleton, Josh Hansen, and Austin Politelli, among others. Check out this tabletop jump that some guy is going to air out—probably while the band is playing!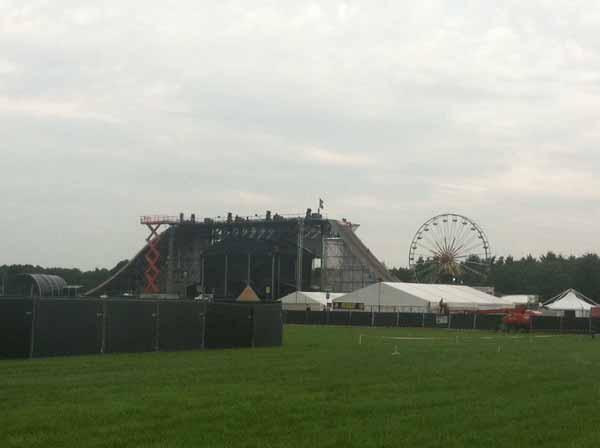 Cue up the danger music, this is one big jump!
This Monday night, the 100th episode of the Pulpmx Show is going down, and we have a special edition of the show planned. We're going to get the band back together! Stay tuned on Monday night at 6PM for more on this.
Here's a couple of things I wrote over on Promototalk.com about the
MXDN situation
and
more on Millsaps
.Check out Pulpmx.com for more stuff but only once you've read everything you can here on Racer X.
Time for The Weege:
This just in: Jake Weimer is riding well this summer. It has almost seemed to go unnoticed, as Weimer's typically solid, low-key approach doesn't garner headlines or, as our TV pit reporter Kelli Stavast has said to Jake, "make noise." Weimer is a close third in 450 points, just 12 behind Mike Alessi, but Alessi's results get a whole lot more attention since he's usually holeshotting and leading laps, while Weimer usually starts near the top five and methodically works his way forward.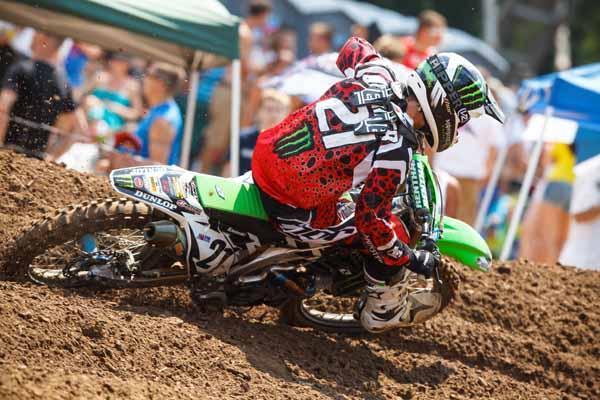 Monster Energy Kawasaki's Jake Weimer has been rising through the 450 pack.
Simon Cudby photo
Does Weimer feel a bit overlooked? "It's been that way my whole career," he said when I talked to him last Saturday. "My dad always used to tell me that if you go out, get the holeshot, ride like crazy, and crash, a lot more people are going to notice than if you just finish consistently." That has always been, and always will be, true in this sport, but Weimer also knows that as a professional racer, going crazy and crashing out isn't the best way to go (especially in a season where so many riders have been injured). So Weimer's trying to find a balance between still delivering solid results, staying off the ground, and staying healthy, while also making a little more noise. As always, he says that starts with better starts. Okay, I know, every rider talks starts, but Weimer's starting style reflects his riding style a bit too much—he doesn't get terrible starts, but he doesn't get spectacular ones, either.
Weimer admitted winning a race or the title this year is a long shot, but he thinks he could improve quickly if he could just see Ryan Dungey for a few more laps at the beginning of the motos. "It's not like my starts have been terrible, but I'll be in sixth and Dungey will be second or third, and I don't get to see him," he said. "If I could just get behind him and watch what he does, I could see what he's doing and learn. I don't know how long I could stay there. Maybe it's three laps. Maybe it's one lap. I don't know. But you can learn a lot, very quickly, when you're riding behind someone that's going faster."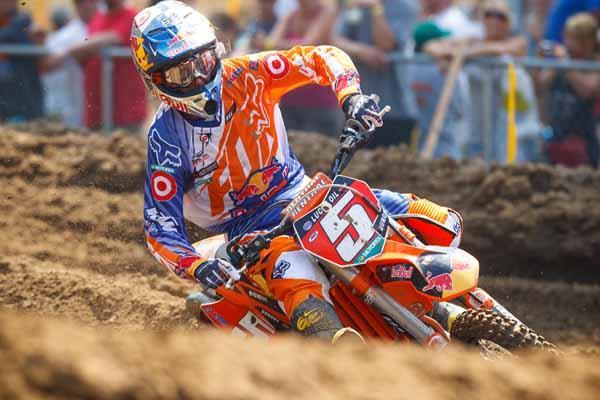 Weimer needs to be near Ryan Dungey at the beginning to have any chance of being near him at the end.
Simon Cudby photo
Weimer had a look at Dungey last week at Millville when he started ahead of him in the first moto, but by the time they were out of the sand whoops, Dungey had already pulled a sizable gap. "Those sand rollers were eating me alive today," Weimer said after the race. As Dungey pulled away through there, Weimer's chance of hitching a ride ended.
This weekend's track is a little more technical, so it could suit Weimer's style a bit more. He's admitted that he's more of a tactician than a pin-it-and-hang-on kind of rider. And while he knows beating Dungey straight-up for a win could be a ways off, the more he gets to run with him the closer he will come (and Alessi has said the same thing). We'll see if Weimer can stay close this weekend—but to see it, you'll have to notice.
Okay, let's close out with some random notes and suggestions...
Weston Peick, the guy with no ride at the moment, won the annual Thursday Night Motocross Privateer Challenge that precedes the Washougal National each year over an impressive field. Canada and Friese rounded out the podium. To learn more about Peick's journey check out this piece by our own Chase Stallo: They Only Life They Know.

Check out the cool trucks that Red Bull wrapped in the Southeast Region for the upcoming Red Bull AMA Amateur National Motocross Championships at Loretta Lynn Ranch. The trucks will service the Nashville area and beyond.... Somewhere, Jessy Nelson has to be stoked!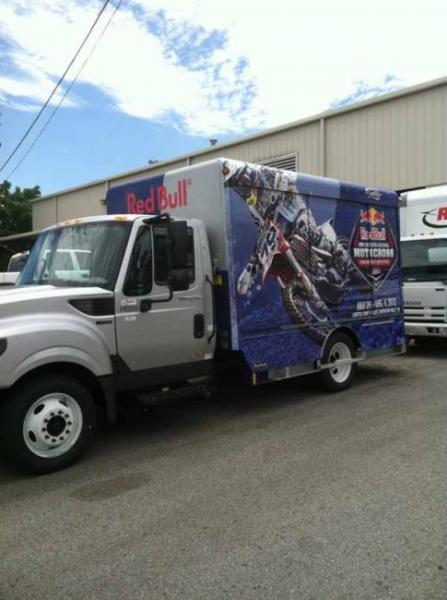 Red Bull has Loretta Lynn's graduate Jessy Nelson wrapped some of their Tennessee regional trucks.
Here are some cool Instagram pics from the weekend courtesy of Allisports.com's Motogasm, er, Motograms.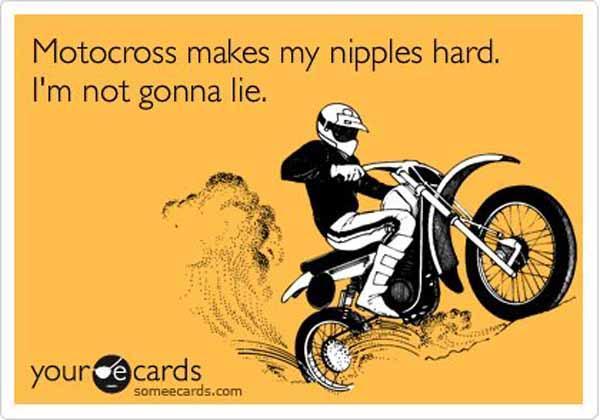 Another funny motocross card...
Simon Cudby posted two films this wee from Competitive Edge—one featuring Cole Thompson and one covering pro practice. Check 'em out!
Racer Xer-turned-Fly Racing media man Matt Ware spotted this PSA with action sports athletes discussing their concerns and warnings about concussions.
Ryan Villopoto and Miss Supercross, Dianna Dahlgren, will be throwing out the first pitch at the Los Angeles Angels game this Sunday at Angel Stadium. Check out the press release for more information. Game time is 5 p.m.
Our old friend Dean Jocic sent over this gem from yesteryear—the first Racer X National stickers!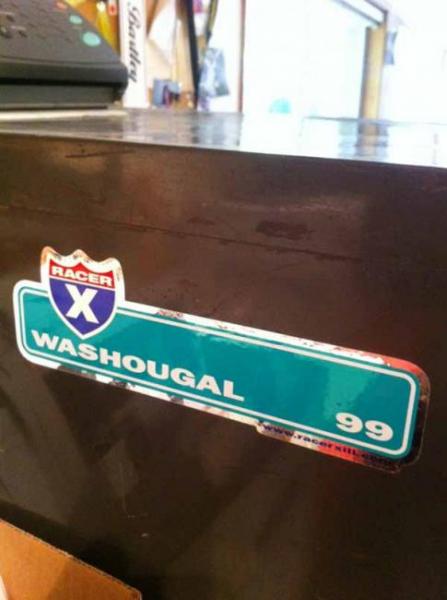 Allisports.com got Erin Bates and Jeff Emig together for a cool video show where Emig, the four-time champion and current color analyst for Lucas Oil Motocross, breaks down the first half of the season with Monster Energy Supercross pit reporter Erin. Check it out as you prep for Washougal.
And speaking of old friends, congratulations to Danny Dobey, longtime industry man, on his new gig with Next Level Sports Management. We've known Danny since his JT Racing days nearly twenty years ago, when he somehow talked the company into advertising in our little newspaper. He went on to do great things with One Industries, and now he's going to work with Tony Gardea and company. Good deal.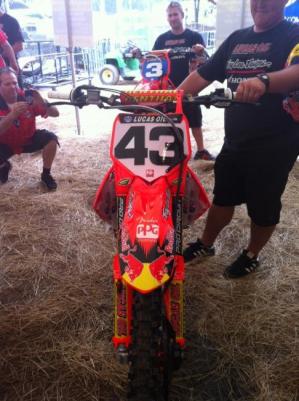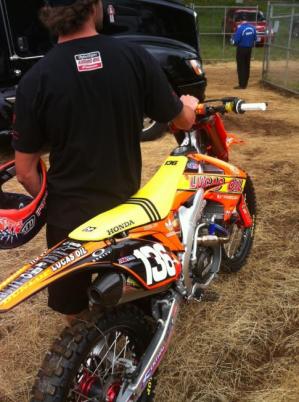 Check out the Lucas Oil/Troy Lee Designs bikes for this weekend.
Jeff Canfield photo
Heading to Washougal? Spend the day in the pro pits with the Racer X all-day pit pass, on sale at the Racer X booth on vendor row tomorrow.
There are only 300 of these passes available, and this is the only way for you to get into the pro pits past noon. Spend five more hours in the pits! For $40 you get 12 issues of Racer X plus an all-day pit pass, good from 9 a.m. - 5 p.m. You can get the subscription for yourself or send it as a gift. If you need to buy more than one pass you can get a multi-year subscription to the same address.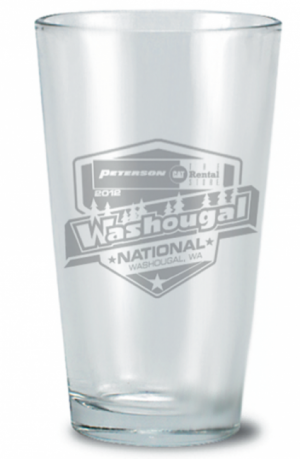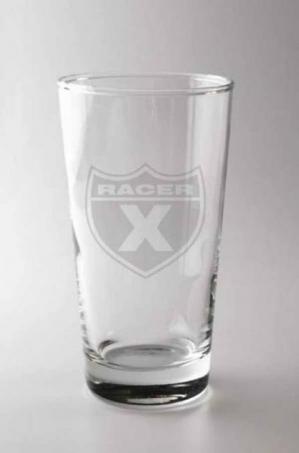 Also, stop by the Racer X booth on vendor row to pick up your collectible Washougal 2012 sticker! And if it's time for you to subscribe or renew your subscription to Racer X, we have a special offer at Washougal! For only $20 you get 13 issues of Racer X plus Washougal and Racer X pint glasses.
That's it for Racerhead. God bless Art Jefferson's family and friends. We will miss you, old friend.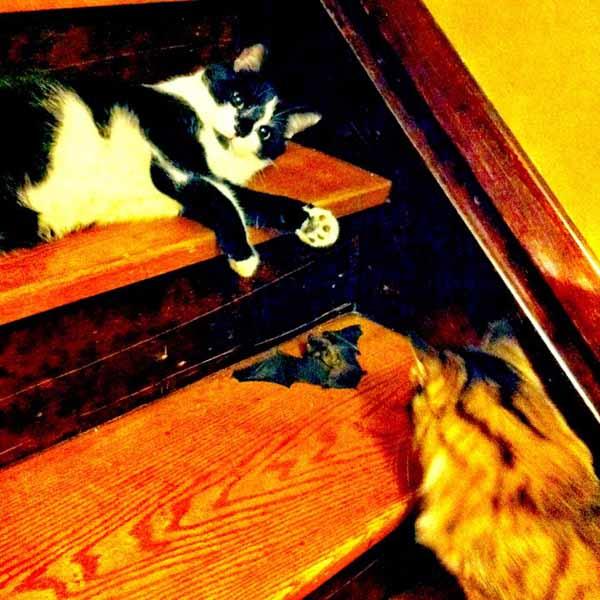 Cudby and Zsa Zsa with their catch of the day. Coombs cats: 1, Neighborhood Bats: 0.