Washougal MX Park
Washougal

,

WA
Washougal
Lucas Oil AMA Pro Motocross Championship
There's an old adage in motocross that echoes the sentiment "You're only as good as your last race." For a second, imagine if the opportunity was no longer available. With the economy still at a standstill, factory and satellite rides are becoming more and more exclusive, but does it stop the dreams of those that have, for a variety of reasons, fallen by the wayside?
"It will come around. When I get an opportunity I'll be able to prove I have what it takes. And when that time comes, I'm ready for it," explained two-time Loretta Lynn Champion, and former J-Star JDR KTM fill-in rider Chris Plouffe. Plouffe couldn't find a deal for the Nationals, so he waits.
The key component of that sentiment is, "I'm ready for it." Although Plouffe has yet to secure a ride for the Lucas Oil Pro Motocross Championships—after an injury riddled Western Region Lites Supercross rookie season with the 51 Fifty Energy Drink team—he continues to train and race at an elite level, patiently waiting for his next opportunity.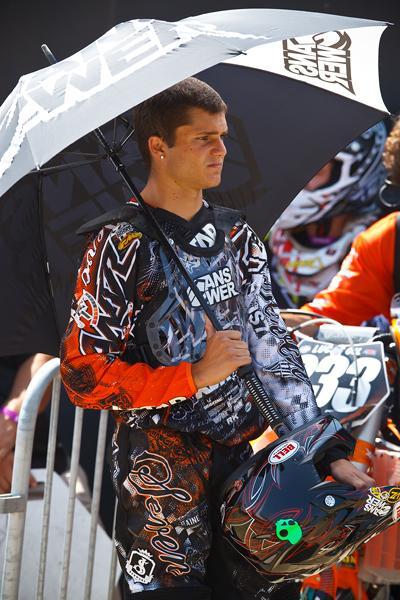 After graduating from the amateur ranks last year, Chris Plouffe raced the last two rounds of the Nationals with J-Star JDR KTM.
Andrew Fredrickson photo
"I recently won a title at Mammoth, and there were a couple of pros there, so it was good to get a win," explained Plouffe, who won the Open Pro Main title at Monster Energy Mammoth Motocross.
The competitive drive that seems to engulf every racer, whether you're a weekend warrior or the next rising star, can make life tough when you have nowhere to go. In a "what have you done for me lately sport", the sometimes smothering expectations—that racers force upon themselves—can cause riders to rush back from injury prematurely. For Nick Paluzzi, who rose through the ranks with Star Racing Yamaha and Rockstar Energy Suzuki during his rookie campaign last year, injuries have derailed his 2012 season.
"I ended up breaking my scapula and it has been pretty hard to come back from. About a month ago it was finally 100 percent and since then I have been training and getting ready for a replacement ride or something for next year," remarked Paluzzi on his recent rash of injuries.
It's hard to imagine, but sometimes an injury can be a blessing in disguise, as Paluzzi explained.
"Not being able to race has sucked, but it has allowed me to rest up on the weekends so that I am able to train as hard as I can during the week. In the long run I think it will be better for me."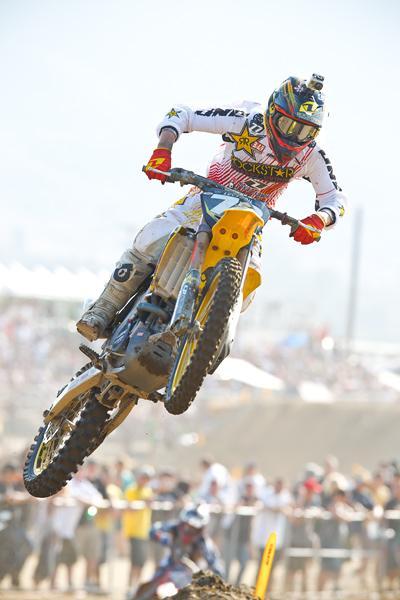 In 2011, his rookie season, Nick Paluzzi rode for Star Yamaha and Rockstar Energy Suzuki.
Simon Cudby photo
Staying in the spotlight
It's not easy to stay relevant when you're not at the races. For Weston Peick, who filled-in for Star-Valli Rockstar Yamaha during Monster Energy Supercross, having the advantage of living in the SoCal area—the Mecca of motocross—has provided him the opportunity to be seen by teams while searching for his next opportunity.
"I have been going out there [Glen Helen, Competitive Edge, etc.] every day that all the teams go to practice," explained Peick.
"I've just been trying to go anywhere a team may be so that I can try to get noticed. That is definitely what I have been trying to do the most," echoed Paluzzi, who also resides in the SoCal area.
As for Plouffe, well, he's following the common trend. Riding anywhere and everywhere a team may take notice.
"I'm from SoCal, so I ride all the tracks that the teams ride in hopes of getting noticed," he says.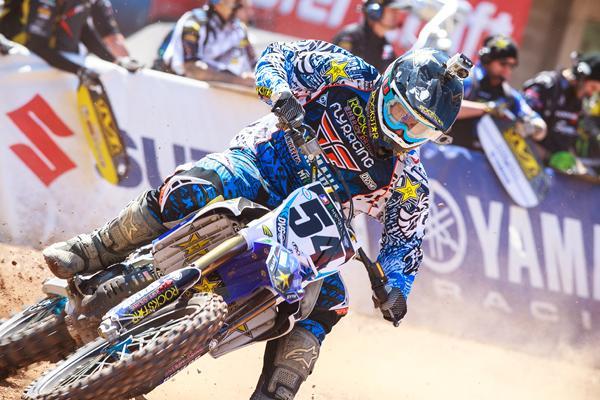 Weston Peick was a fill-in rider for Star Valli Rockstar Yamaha during Monster Energy Supercross.
Simon Cudby photo
Going Abroad
In the National Football League, players that have been cut from a team may get an opportunity to stay with the team on the practice squad. There's also the option of the Arena Football League and the Canadian Football League. Major League Baseball players can dwell in the minor leagues for years, sometimes an entire career, before being called up to the big leagues.
In 2001 the National Basketball Association opened the doors of the NBA Development League; a minor league system they hoped would rival Major League Baseball's, in hopes of keeping budding young stars from heading to Europe and Asia in search of more lucrative contracts.
In motocross, the opportunity for young stars and veterans alike, to compete in Europe, Canada and Australia can prove tempting and very beneficial. Just ask Zach Osborne, who spent the better part of his early pro career racing Grands Prix, and now has a GEICO Honda deal for 2013. Or Matt Goerke, whose stock has risen to new heights thanks in part to his domination in the Canadian Nationals. Or Bobby Kiniry, who's also made Canada a second home the past few seasons. Or young stars Michael Leib (Europe), Gavin Faith (Australia) Austin Politelli (Canada and Australia), Teddy Maier (Canada) and Topher Ingalls (Canada) among others, who have used their time abroad as a means of gaining valuable racing experience.

"Lately I have been considering it," stated Paluzzi on the option of racing abroad. "Unit [the Australian based clothing company] is one of my main sponsors and I know they have some connections in Australia, so I have been talking to those guys to see if there is anything open over there. But as of right now, I don't think there is."
No stranger to racing in Europe, after spending last off-season racing supercross everywhere from Greece to Germany to Finland, the opportunity is enticing for Peick.
"If it gets to the point where I need money I may go back to Europe [for off-season supercrosses]," says Peick. "I may go back to Greece this year; their pay outs were pretty good last year."
Yet, Peick still has reservations about going back. "It's hard going over there, especially when you're by yourself and don't know anyone."
Plouffe raced in Finland last off-season, and had a deal to race the Australian Super X series with Serco Yamaha. But he later had to pull out of that deal when his deal to race supercross here in the U.S. finally came together. He would welcome the chance of going back to Europe to race supercross this off-season.
"I don't mind going abroad for racing," he says. "I went to Finland last year and that was a great experience."
While the chance of broadening their horizons by racing supercross in Europe and Australia has been alluring, all three riders are determined to remain in the States, chasing their dreams of competing at the highest level of racing again.
"I want to be racing supercross and outdoors here in the States, even if it's on my own I will at least do West Coast only in the Supercross Class next year," said Plouffe.
On the horizon
With the last leg of the Nationals on the horizon, and the prospect of securing a fill-in ride becoming increasingly marginal, the steadfast Peick continues to chase every opportunity.
"I went out and bought two 450 Suzukis and am getting everything together right now and plan on racing Washougal and Lake Elsinore," commented Peick on his plans for the remainder of 2012. "I think I have the speed right now to run top ten outdoors, so I'm definitely ready."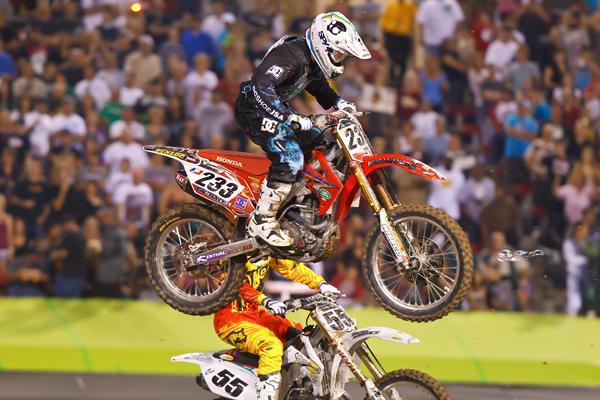 Chris Plouffe had an injury riddled rookie supercross campaign.
Simon Cudby photo
The exhausting anticipation of getting back on the national level will stretch until
Lake Elsinore
for Plouffe and Paluzzi, who both plan on racing the season finale.
"It's painful to watch. But this is my first year of racing and I have plenty of years left," proclaimed an optimistic Plouffe.
"Having to sit at home and watch the races just wishing you were there is the hardest part. But it's something that I think drives me the most and makes me want even more," continued Paluzzi.
While the prospect of not being able to race every weekend is excruciating for this young group of riders, the dream of living to line the gate one more time continues to push them—push them just as hard as the riders who are actually racing. After all, this is the only life they know.