Millville, MN
Spring Creek (Millville)
Lucas Oil AMA Pro Motocross Championship
BTO Sports is your number one source for all of your motocross parts, gear, accessories and apparel. BTOSports.com is a motocross company who is truly dedicated to the sport and to the customer. Proud sponsor of your Racer X Podcasts and the BTO Sports/BBMX Suzuki race team.
The Spring Creek National, site of round seven of the 2012 Lucas Oil AMA Pro Motocross Championship, wasn't really a turning point of the series like many of us thought it could, or would be. We're heading toward the home stretch in the Nationals; the end isn't here yet, but you can certainly see it in the distance.
The track in Millville, Minn., is one of the best in the series. It's undergone many changes over the years but I think right now, it might be at its peak as far as layout, jumps, soil and everything else. Its most famous section is the double pack of sand whoops on the back half of the track, which are pretty gnarly. It's two straightaways of beach-sand whoops that test setup and fitness. Like everything else, the whoops have also changed over the years and right now, there aren't as many of them and they're further apart than they used to be. I think they're easier now than they've ever been. Back in the day, there were not only more whoops, but they were even deeper, if you can believe it.
Getting the bike setup just right at Millville is very hard because of the whoops. Teams want to stiffen up the suspension and slow the rebound down for the whoops, but that's not a combo that works well on the front section of the track, where it's choppy and a little hard-packed. It's a real dilemma for the guys. Andrew Short's suspension wasn't stiff enough in the sand after practice and the guys went much stiffer for the race. The game within the game is often more interesting than the game itself.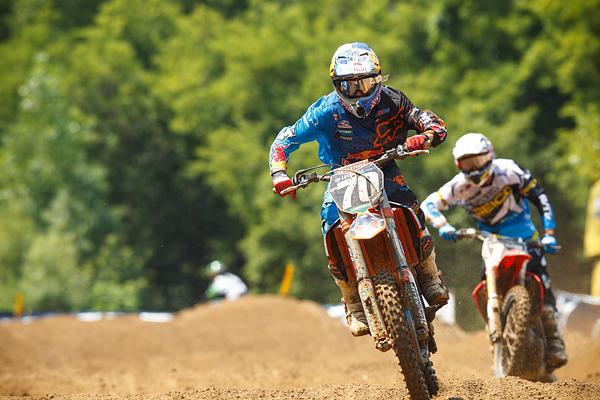 Ken Roczen (near) was unable to hold off a charging Eli Tomac (rear) in the first moto at Millville.
Simon Cudby photo
GEICO Powersports Honda's Eli Tomac won Millville's 250 Class with some nice riding, but he and teammate Justin Barcia (who finished second overall) would do well to thank the moto gods for taking down Monster Energy/Pro Circuit Kawasaki's Blake Baggett in the second moto while he was leading. Okay, maybe not the moto gods, but maybe Dunlop tires for not making a tire that could hold the edge while Baggett scrubbed a single jump before the whoops at about 1000 MPH. Somebody, somewhere, should be thanked by Tomac and Barcia because Blake Baggett was the man at Millville.
To go from around eight seconds down halfway through the race to passing the three riders you're battling with the for the title, then creating a seven-second lead in 15 minutes plus two laps, says to me that you're the best rider on this day. But the money, points and chicks go to overall winner Tomac, who grabbed the brass ring that Baggett dropped. The best that Baggett could do was make it back to fourth in the moto for a third overall.
Both Tomac and Barcia (and to a lesser extent Ken Roczen) have to be wondering what in the hell they're going to do to stop this hairless Chupacabra from inflicting damage every weekend. The passes that Baggett made on both were supremely confident, and sort of, "eff you" moves. He's just the guy right now and although both of the GEICO guys made points up this weekend, there wasn't anything that I saw to make me think that Baggett's still not the heavy favorite for this title. As a matter of fact, Vegas just posted better odds that Baggett will give a good interview at the end of the race than he'll lose the title. And that folks, is amazing!
The only thing I could find to nitpick on in regards to Baggett is his tendency to berate the lappers that get in his way. I've seen it the last couple of weeks and I'm not sure that it's a smart move. Lappers are a fact of life for someone as fast as Baggett and sometimes, crap happens. And you could also look at the fact that Blake, as much as anyone, has benefitted from lappers getting in the way of his competition. Sometimes they help, sometimes they hurt. None of the lappers out there are intentionally trying to hold the BB Gun up, this I assure you. I'd just like him to cool out on the gesticulating and theatrics when it comes to passing the lappers, they're people and have feelings too!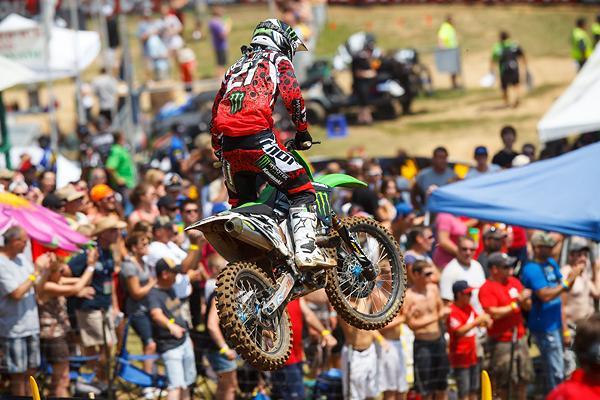 Rounding out the 450 podium at Millville was Monster Energy Kawasaki's Jake Weimer.
Simon Cudby photo
I've been saying this for weeks and weeks but we're going to come to a head soon in the championship. Feelings will get hurt as we get closer to the end, I've seen it time and time again. Tomac and Barcia are going to be in desperation mode soon and Blake's not going to be able to "just get by them" without paying some sort of price. Eventually even the most level-headed guy (Tomac) or crazy mustached kid (Barcia) gets tired of being taken back to the moto woodshed and getting beaten like they have been. Keep an eye on this folks.
We figured that KTM's Ryan Dungey would do well at Millville, and by, "well," we mean simply dominate and go 1-1 on the day. I thought he would win even with Yoshimura Suzuki's James Stewart racing against him and when we saw that Stewart had pulled out with an injury, well the odds went heavily into the "Dungey wins" column. And win he did, going 1-1. Nice bit of racing from Ryan; very in control, very fast and ridiculously in shape.
The only rider that can seem to run Dungey's pace is Mike Alessi, and as I said before, Mike's going at 100 percent while Ryan's at 85 percent (all numbers subject to change at my discretion), and sooner or later, Dungey is getting by. But Alessi doesn't always make it easy, and I'm amazed at how well the rearview mirrors on Alessi's bike work. I'm just waiting for Dungey to put Mike into the snow cone vending area at one of these races. I know that Mike's trying to beat Dungey and wants to run the pace, but some of the swerving he's done out there this year surpasses even the moves of the great Mervyn Fernandez. Bonus points if any of you dear readers know who that is.
Dungey's a pretty clean guy though. He reminds me a bit of Jeremy McGrath, who never wanted to get involved in that stuff (although Weimer would beg to differ) and just concentrated on getting by you. There's no doubt in my mind that he's got to be behind Mike and just going, "Here we go again…" while he tries to not get his front wheel chopped out from under him.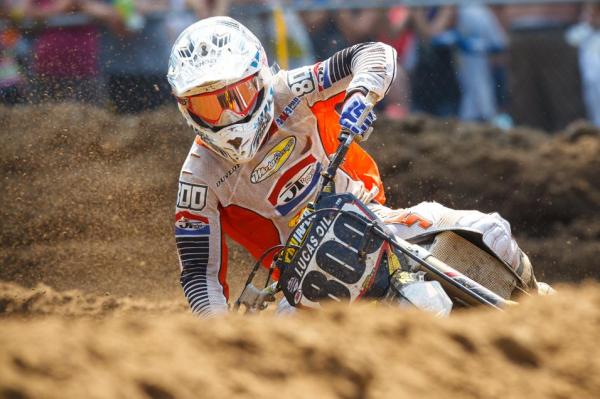 While he couldn't hold off Ryan Dungey, Mike Alessi was able to hold on for second.
Simon Cudby photo
I've been getting Tweets and emails asking how in the world Suzuki can not give Mike either a complete factory bike or some parts because he's the top Suzuki rider right now. You know what? As much as I think that Mike would indeed benefit from some factory unobtanium, I definitely think that Suzuki's making the right call in not helping out. Mike's doing great on his own with MB1 suspension and a TUF Racing motor, along with all of his other sponsors, and when the MotoConcepts team chose to go the route of all black plastic and not have an OEM name or logo anywhere to be found, well, then that's their bed they chose to lay in. And hey, I don't blame Mike Genova the owner of MotoConcepts one bit. What he's doing is unique and with two riders in the top ten on bikes (Jake Canada in 250s) you can basically buy, his program is working.
What's in it for the Suzuki brand to help Mike out? No one knows he's on a Suzuki, the bike is black and doesn't say Suzuki anywhere on it. Mike's second in the series and although works suspension would help him out a bit here and there, it's not going to be the difference in beating Dungey. So in short, everyone should be happy with what they get and what they are doing.
Sometimes the OEM's do get a bit controlling. After all, they are the gatekeepers of everything. The bikes, the parts, the SX test tracks, they own the board and you have to play by their rules. But, if you're a super rich dude who loves hot tubs and hot tub accessories, well, then you're in luck. You don't need the OEM's, you can just buy what you need. It takes cajones and tons of cash but I like it. Genova is trying to build a new racing model. He's actually turned down title sponsorship in the past in order to grow the MotoConcepts name. In short, he's saying to the OEM's to go pound sand. Genova equates the publicity of Alessi, Canada and his other guys to be worth a certain amount of bikes and parts and when that doesn't come, he turns the hot tub up to spicy hot and kicks it.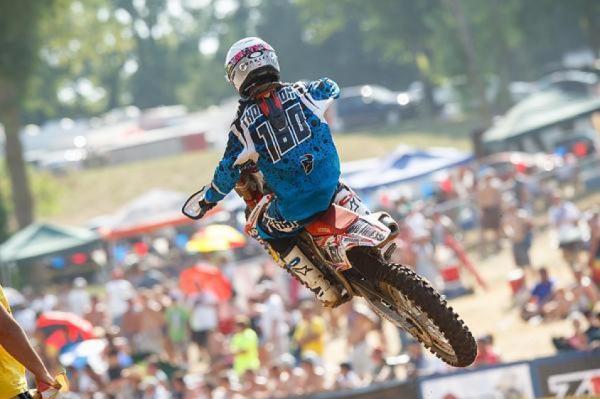 It was announced earlier this week that Cole Thompson has been signed by Star Valli Rockstar Yamaha to compete in the 250 Class.
Simon Cudby photo
A while back I wrote about the weights of the top factory bikes HERE. This was info I got by asking some officials, some mechanics and some riders. I also used a few other sneaky ways. I was pretty confident in these being in the ballpark because in many cases I doubled checked them and cross-referenced my sources. But this story didn't make Carlos Rivera, Ryan Dungey's mechanic, very happy. In the story I predicted that Dungey's bike weighs somewhere in the 231 lb. range, and you would have thought that I had pooped on Carlo's lawn while slapping his mom in the face. He was offended and he's been on me to correct this error. Well this past weekend, he showed me the weight right from the AMA scale and he wanted an apology.
It was 227. I was off four pounds, and for this grievous error, I do apologize to Carlos, to Ryan and to the entire KTM company. Man, was I ever off, just terrible. Thanks to Carlos for supplying me with the numbers.
*The above is sarcasm by the way*
The big boss of KTM was at attendance at Millville taking everything in. Pit Beirer is the head of KTM Racing for the whole world and also one of the nicest guys around. I've gotten to know Pit here and there from GP's and MXoN's, and I also did a feature story on KTM for Racer X Illustrated at the beginning of this year. After the race, I spotted him and we chatted for maybe twenty minutes about the GP series, the AMA series, his own racing career and how everything is going. I was watching a 1999 250 GP series recap, and he was telling me some of the stories behind the races and at the same time asked me if I could get him a copy of it, as he's never seen it. Consider it done, Pit!
Thompson! Thompson! Thompson! Canadian kid Cole Thompson sort of backed up his strong ride from RedBud with a 15-7 score for eighth overall. Cole's second moto was very strong and his first moto was so-so after coming from a bad start. The last two finishes were enough to earn him a look from the Star Valli Rockstar Yamaha team on a 250F for the last bit of the season. Thompson wanted to race a 250F from the beginning, but due to costs associated with being a privateer and the high cost of racing in that class, he opted to jump on a 450. Thompson will be back down to the 250's now, and will be looking to make his mark. He's been great for a rookie, but he's now going to get thrown into the deep end with the Pro Circuit and GEICO guys. His bike will be up to the task -- I think those Star Valli bikes are pretty good -- and now it's up to Cole.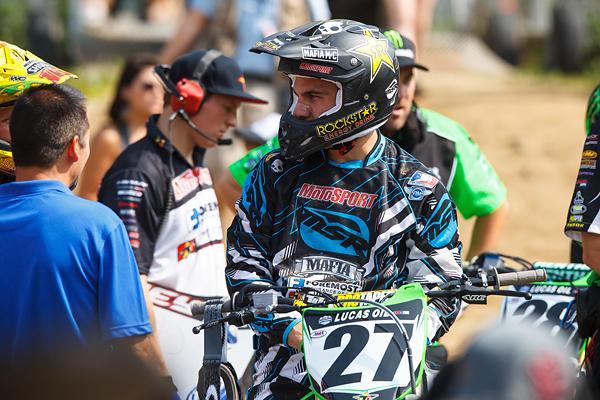 Get well soon, Nick!
Simon Cudby photo
One thing about the Star Valli team is they let their team manager Doug Schopinsky go after Millville, which is a move I wonder about. The plan is for injured rider Ryan Morais to step in and help out. It means that Star Valli is now on their third team manager in less than a year. I frankly don't know what it going on over there in terms of why they have this turnover, but make no mistake about it, it's not good. They've got a Yamaha 250F that is behind the times, some serious turnover in staff and have made a few questionable choices with riders. The Rockstar Energy Drink Suzuki team has at times looked a little rudderless too, but has recently pulled it together and has made gains as far as being a team that can attract, and keep, talent. I have no doubt that Star Valli can do it too, but sometimes you have to be honest and address your program's strengths and weaknesses.
Best wishes to Nick Wey, who's absolutely one of the most popular riders in the pits, both with the fans and his fellow racers. Wey's on a selected schedule this year for the Nationals and at Millville, he went down hard in the sand whoops. A dislocated hip and some back injuries are the result. A long recovery lies ahead for Wey and I've heard some industry people saying that this could be the crash that puts Nick into retirement. I say, no way is Wey going out like this. He'll heal up and be back next year because, that's the way the guy is.
Let's take a look at the results shall we?
250 Overall
1-Eli Tomac 3-1, Hon
2-Justin Barcia 2-2, Hon
3-Blake Baggett 1-4, Kaw
4-Ken Roczen 4-3, KTM- Nothing wrong with Roczen's year, says his boss Pit Beirer. He's very happy with what Kenny has done so far and wishes that he wouldn't be so hard on himself.
5-Blake Wharton 6-5, Suz- I'm a fan of Wharton and feel like he should be in or around this spot pretty much every weekend. The guy has got some skills.
6- Wil Hahn 5-7, Hon- Wilbur wasn't happy with his ride after the race and after watching it on TV, I wouldn't be either. He was indeed up there in both motos and got dropped. He's having a nice rebound year, though.
7-Marvin Musquin 7-6, KTM- After going 4-4-4-4 in the last two races, Marvin had a bad race at Millville. Not sure what was up but I suppose if a 7-6 is bad, most guys would take it.
8-Justin Bogle 10-8, Hon- This was Bogle's first race since Hangtown, and I think this spot is about right for a first race back. He'll get better.
9-Jason Anderson 8-10, Suz
10- Jake Canada 9-13, Hon- Canada was higher in the second moto but suffered in the heat and lost some spots late in the moto.
11- Jessy Nelson 9-13, Hon
12- Travis Baker 13-11, Hon- Don't look now but Baker's making a case for himself for 2013.
13-Alex Martin 16-9, Hon- Hands up if you thought Martin would do much better on his home track. Okay, Eleven 10 owner Chad Sanner, we see you waving frantically.
14- Malcolm Stewart 12-14, KTM
15- Dakota Tedder 17-16, Kaw- Tedder is the man, he's improved a lot in the last year or so.
16- Mike McDade 20-15, Hon- Eleven 10 Mods has been helping out McDade, who Weege told a hilarious story about in yesterday's, Racer X Podcast.
17- AJ Catanzaro 18-17, KTM
18- Kyle Peters 14-36, Yam- Bummer for Peters as he suffered a shoulder injury and will probably miss some time. This after a passionate plea by me last week that the Star Valli guys should keep him around!
19- Gareth Swanepoel 15-37, Yam- Annnnnd another Star Valli guy down as Gareth broke his leg on the last lap of the first moto. Bad deal for the fastest guy that NO ONE ever talks about.
20- Ryan Zimmer 29-18, Hon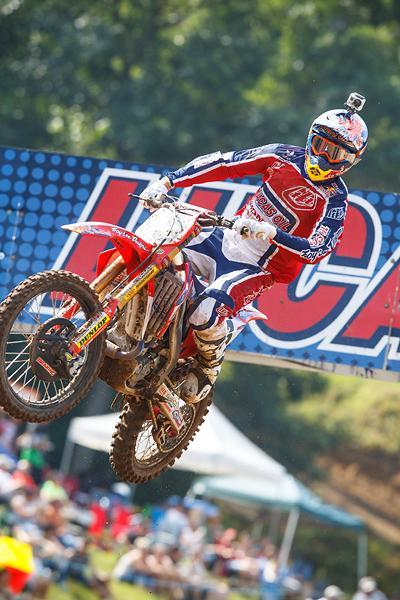 It was a bizarre day at Millville. In fact Christian Craig finished in tenth with 14-14 moto results, if that tells you anything.
Simon Cudby photo
450 Overall
1-    Ryan Dungey 1-1, KTM
2-Mike Alessi 3-2, Suz
3-Jake Weimer 2-3, Kaw- Weimer just didn't get the start in the second moto but in the first, he put in a good ride to catch and pass Alessi. Alessi's the only rider (other than Dungey) to get second overall twice this year. The volley is now in Weimer's court for next week in Washougal. Right now, Weimer and Alessi are, to me, numbers 2 and 2a in the series.
4- Justin Brayton 4-4, Hon- The slump is over! Brayton rode very well at Millville in catching and passing Short. Justin's been very good the last couple of races. His first moto 13th to 4th was nice to watch.
5-Andrew Short 5-6, Hon- Shorty had a so-so Millville following a so-so RedBud. He's fourth in the points but is losing touch with Alessi and Weimer. At Millville he moved up each moto from his first lap but he can't be pumped with Brayton getting him.
6-Broc Tickle 12-5, Kaw
7-Les Smith 11-9, KTM- Great ride for Smith on the Langston/Witt KTM team. Smith almost doubled his season points in one race! Smith's been riding the Dungey-replica KTM for the outdoors as well. How weird was Millville, where a 11-9 gets you seventh overall?
8- Cole Thompson 15-7, Hon
9- Tyla Rattray 6-28, Kaw- Rattray accidently hit Mike Brown so hard in the second moto that he sheared his front disc bolts off! Like the wheel stopped and the disc kept going. Amazing! And Brown, yeah he didn't go down at all.
10- Christian Craig 14-14, Hon- A 14-14 for tenth? Like I said, it's a weird day. Craig's got a beautiful riding style, no doubt about it.
11- Tommy Hahn 7-38, Hon- Hahn made his return from injury and a seventh is about right for a first ride back. He couldn't start the second moto when he had some sort of allergic reaction to something (maybe to Shane Drew?) and swelled up. I'm serious people.
12- Kyle Chisholm 33-8, Kaw- Chiz had bike problems in the first moto. In the second moto, eighth was his season best so far. I can't believe I am saying this, but maybe Chisholm has got to get back on a Yamaha?
13- Michael Byrne 9-20, Suz- Byrne had two great starts and for a while in the second moto, he was on his way to getting another top ten. Then he went down and it was all over. Kudos to Byrne for staying out there when he was down about 73 minutes from the next guy, but he salvaged one point.
14-Josh Grant 8-34, Kaw- Josh went down in the second moto in the first turn and like so many others, his day was ruined with one good moto, one bad moto.
15- Mike Brown 18-12, KTM- Brown's the man. How have I not done a podcast with this guy?
16-Derek Anderson 22-10, Kaw- Good to see Anderson with a tenth. Great ride for him but he's got to be bumming that he's been lost in the Cole Thompson hype. What? I'm the only one with the hype going?
17- Jimmy Albertson 10-32, Suz- Albertson got his first top ten on the season. And to his fans, like Sinjin Lloyd, it couldn't come soon enough.
18-Ronnie Stewart 21-11, Suz
19- John Dowd 19-13, Kaw- Yeah! Dowdy gets a thirteenth! That's awesome for sure and it's an incredible story to see this 47-year-old man out there.
20- Vince Friese 17-16, Suz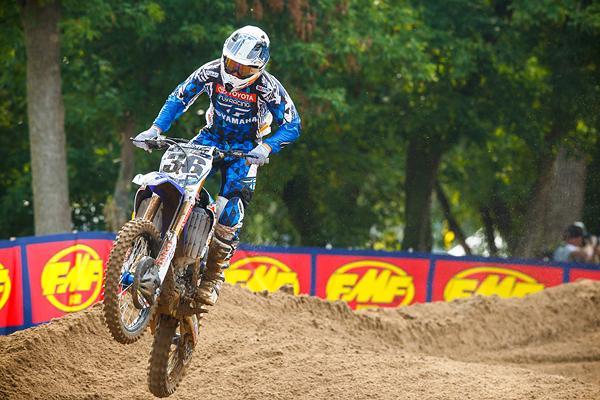 Will Kyle Regal be able to turn his season around?
Simon Cudby photo
Ryan Sipes had a bad day at Millville and overall, he's trying to race with a hand injury that's preventing him from being as good as he can be. Sipes is fast and I applaud him for being in the 450 Class. That's where he belongs, but can this dude stay healthy and race a whole season? That's always been the question with him and I'm here to say that he can indeed do that. In 2010 he raced the Nationals with the MotoConcepts team on a 450 and ended up eighth in the series. He can do it, no doubt about it. I'm a fan!
What is going on with Kyle Regal? This guy, on a track that he's made the podium before, started in the top three in both motos and DNF'd both of them. In the first, before he crashed, but before that, he had simply faded from third to outside the top twenty. In the second moto, because of a crash in the first moto, he pulled out but even without the crash, there's something happening with Regal. He's a shell of his former self out there. Neither Kyle, who's looking for a ride next year, nor JGR, who's trying to get a top talent to the team for 2013, need these terrible results right now. I'm at a loss of words to explain what's going on over there.
Thanks for reading, I appreciate it and you can email me at matthes@racerxonline.com if you want to chat. No seriously, email me. Please.