Atlanta, GA
Atlanta
Monster Energy AMA Supercross Championship
The opening west coast swing is over in the Monster Energy AMA Supercross Series, and we're heading east for the next seven rounds. That means a few things; tackier dirt, domed stadiums, seriously hard-core fans sporting tucked-in jerseys, and things getting more and more amped up. Did I mention mullets?
I've been going to the Dallas Supercross for years and I have to say, this might have been the best dirt they've ever had. From what I understand, it had been raining in the area for a while so the dirt was a little moist and it was primo soil. In the past, the dirt in Dallas has always kind of sucked. It's been hard, slippery and blue-grooved, and even when we moved into the dome that Jerry built, the dirt remained the same. But this year it was awesome and the riders seemed to love it.
The track design itself left a lot to be desired. There was one rhythm lane which had two basic ways to do it, and the whoops were just ok (I guess they didn't hear all the praises from, ummm, EVERYONE last week). They did, however, implement the sand section properly by making it a straightaway with some whoops built into it, but other then that it was sort of a ho-hum track. There was one triple that caused some serious carnage in practice. In terms of horsepower, the 250Fs were right on the edge of making it, or in some cases not making it, over the gap, and I saw more than few riders come up short and crash hard. Gannon Audette broke his wrist and ended his season on this very triple during practice.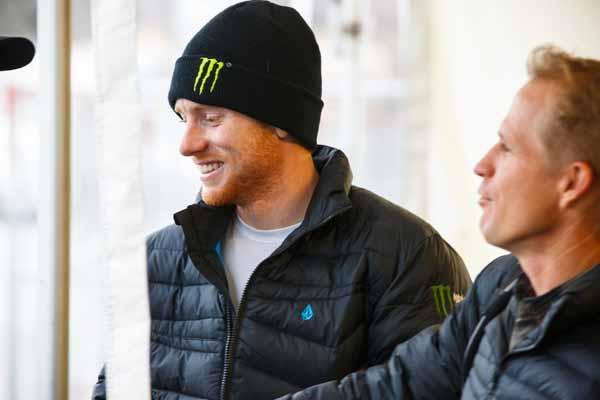 It's all smiles in the Villopoto camp after his third straight win last weekend in Dallas.
Photo: Simon Cudby
Let's get into some of the racing action that took place in Dallas. In what was supposed to be one of the closest, most hotly contested seasons ever, we're beginning to see a breakaway as we approach the halfway mark of the series. We started with the big five (remember Trey Canard?), then it was four, and after Chad Reed went over the bars jumping into the sand section, we're down to three riders. You could really make a case that we're down to two guys, because honestly, what in the world is going on with James Stewart and his season? It's like he let Rado ride the bike while he kicks it in the lounge. More on that later.
When Reed went down, he was really pushing himself hard to keep onto the back of RV, who was also going hard. The two were putting some serious distance between themselves and Jake Weimer, which isn't a slam on Weimer. Villopoto and Reed were going so fast they probably would have gapped Jesus at this point. To give you an idea of how fast these two were going, their times were in the 46-second range, and NO ONE else was able to even get into the 47s. Yes Virgil, they were on it. Unfortunately for Reed, who was tripling into the sand, he misjudged the takeoff on what will now be known as the seat-bounce heard around the world and splattered himself everywhere. It certainly didn't help when his boot got caught on the razor-sharp works Honda foot peg and drug him along for the ride, flipping his body into some sort of awkward Richard Simmons exercise move in the process. The result were back, leg and knee injuries that will most likely keep Chad out of action for the rest of the year.
That's a serious blow to Reed, the supercross series itself, and his entire team, which is a one-rider show. Reed's really matured over the years from when we worked together at factory Yamaha, and has become, along with Kevin Windham, a real figurehead of the series, as well as a fan favorite. Reed's been a renaissance man the last few years, and although he was sort of backed into a corner when he started his team, it's been a blessing in disguise for him and he was authoring a nice story to the back half of his career. Get well soon Chad, I hope you do some TV while you're off, because that would certainly be the gift that would keep on giving.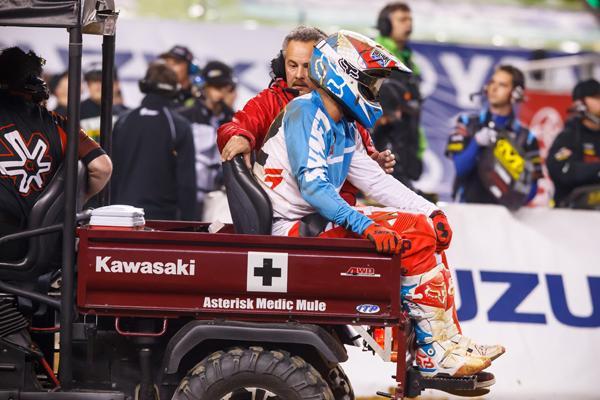 Reed is out for the season after suffering multiple injuries in a crash at Dallas.
Photo: Simon Cudby
Kawasaki's Ryan Villopoto won his third race in a row (his fourth on the season), and is getting some serious confidence going. He withstood some serious heat from Chad Reed early on and pulled away for the win. As I mentioned above, the track wasn't really tricky, and RV used the tackier soil to his advantage in the corners. RV blasts into turns, maneuvers the rear wheel with the throttle, and just blows everything up. Nice berms and slightly looser soil are right up his alley.
So this week in the living hell that appears to be James Stewart's season, Stewart stalled the bike after running into his teammate, Davi Millsaps, who had gone down in front of him. It took Stewart a little while to get going before working his way through the pack to yet another mediocre finish. We're seven rounds in and there's no denying that Stewie's not Stewie. Or maybe he is. I just don't know. I know he's still not happy with his bike (The JGR guys tested down at his house last week), but this is getting ridiculous. He's 42 points down already to RV. 42! Say what you want about him, but when you've won at a ridiculous rate your whole career and now you're struggling to get into the top three, people in the pits are going to talk. And what are people talking about? I'll give you some of the gossip that's out there, along with a rating of 1-5, with 5 meaning, stamp it and take it the bank.
-  The bike is no good. He can't ride it the way he wants to, and it's all the bike's fault. Rating: 4
-  He's hit the deck too many times. As a result, he's riding tentatively because he doesn't want to get hurt. Hence the lack of Stewie-magic; the bike has nothing to do with it. Rating: 2.5, because I've heard from many riders like Ferry and Lusk that as you get older, the ground hurts more.
-  His compound at his house is watered and prepped perfectly, which makes it nice for him but when the tracks get rough, he's lost. Rating: 1
-  He's in it for the money, and doesn't train anymore because he doesn't care about winning. Rating: Negative 324. It takes a tremendous work ethic to get to the top level in our sport, and you don't just shut that off. James cares about his legacy, wants to do well, and isn't going to just ride around.
-  The aliens that kidnapped Brett Metcalfe at A1 decided to stick around and now they have James. You can tell this because the geranium that JGR has in their truck is slumped over. Rating: 1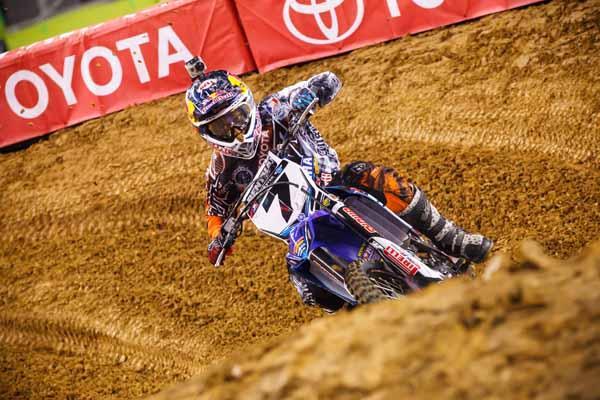 Can Stewart turn things around in Atlanta?
Photo: Simon Cudby
The JGR crew are a good bunch of guys, and I'm sure they're working really hard at trying to get the #7 to the front. It's got to be really frustrating for James, the people around him and the JGR guys to be doing what they're doing right now. No one really knows what's going on, but there's no doubt, that almost halfway through the series, the magic is not there.
Six-time AMA champion and former Factory Honda and Yamaha rider Jeff Stanton doesn't suffer fools. As a self-made champion (with a nod to Rick Johnson showing the way early on), Jeff is ranked as one of the sport's best riders and for years after he retired, worked with Honda as an advisor trying to help the new Honda riders be like the old Honda riders. Then budget cuts came and Jeff went home to Michigan to hang out, be a dad, ride snowmobiles and generally lead the good life.
Then, Justin Barcia reached out to Jeff for help in his career and now, Stanton's in Barcia's corner. On an interesting side note, Lorraine Barcia, Justin's mom, was quizzing me at Bercy one year on what Tim Ferry did with Trey Canard during Canard's last season in the 250 class. I have to believe they saw the success that Trey had, and figured that maybe Justin could get the same bump from a mentor. Stanton doesn't need the money or the attention from being back on the scene. The first time you heard about Barcia and Stanton breaking up (after a short stint last year), it was because Stanton felt that he was wasting his time. But for now, everything is peachy between the two of them. I spoke with Stanton for a while in the press box, and he told me he's going down to Barcia's place every other week to show him the way. He indicated that he can't tell Justin how to ride (he's gone that down path before), but he can help with the physical fitness side of things, as well as the mental side of racing.
In case you didn't know, Stanton is old school, and the first step was getting Barcia to cut his hair, which is why Barcia's Sammy Hagar-like locks are now gone. Step two was chopping the billy-goat goatee, and although it's not totally gone, Stanton can deal with what's there. Yes, I'm serious. I think step three was getting Barcia into the right kind of shape, a step which Stanton says they have yet to complete.
Judging by Barcia's performance in Dallas, however, they appear to be good enough. Barcia won the opening round of the east with ease as he took the lead from Darryn Durham and took off for the unchallenged win. Barcia was able to do this even though he didn't get a very good start. He didn't get the start he needed in the heat either, but still managed to win that race as well. So I guess the new thing for Stanton to work on is the starts, as Barcia looks like he's on point and ready to take that next step. I got some tweets and emails saying the same old stuff about Barcia being a dirty rider, but I don't see it that way and to be honest, I saw it in a totally different manner. I've come down hard on Bam-Bam before for his moves, and at one point Honda and the GEICO guys had to sit him down and tell him to stop making enemies out there. What I saw on Saturday was Barcia checking up in spots where the old Barcia might have kept on plowing ahead. Look, this is supercross racing, and block passing is part of the game. Barcia looked like he came in hot in a few corners, got some guys a little spooked and made the pass. But it also appeared that he behaved more maturely than in the past, and some of that credit has to go to Stanton.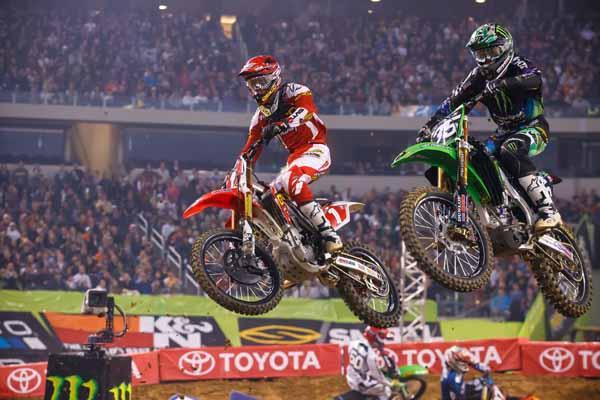 Barcia's training with Jeff Stanton looked to have paid dividends in Dallas as he took the opening round win.
Photo: Simon Cudby
Run for the hills, KTM is back in the 250 class! Man, it was ridiculous out there in practice as it seemed there was one hundred new KTM teams that showed up to race. We saw Munn Racing, AG KTM, Violation1/Shea Racing and Langston Racing all show up on the pumpkins, and out of the forty bikes that made the night show, there were twelve KTM's out of forty which must be an all-time high for the Austrian brand. The only bike that was represented better was Honda, who had fourteen bikes in the fast forty. The least represented? Yamaha. This should come as no surprise, as the blue brand is stuck in the old-ages with their five-valve, carbureted, external oil-tanked bike. Just two riders were on blue, and only one privateer chose to ride a Yamaha. The glory days of the early 2000's when everyone was on blue are long gone, I'm afraid.
In tech news, the weight of the bikes is a source of pride for the mechanics and teams out there, but no one really knows what each of the factory bikes weighs. When I was a mechanic, I was always trying to make my bike the lightest on my team; it was somewhat of a competition between the mechanics to do this. Well, the last few weeks I've been going around and bugging the crap out of the teams, riders, mechanics, the AMA, you name it and I've asked them. Why, you ask? I don't know, I'm just curious. Think of me as a tubbier version of Curious George, the curious little monkey.
Surprise, surprise, no one at all wants to come clean with numbers! Well, two mechanics did on the grounds that I not reveal them, and one of them claims they saw the number of another bike while getting weighed after the race. An important variable to remember is that different tires differ drastically in weight, so going off of my VERY unofficial findings, I present to you some ballpark numbers when it comes to weights of the bikes.
The AMA limit is 220 pounds and from what I can gather, Andrew Short's CRF450 is right there on the limit. The reason that Shorty's bike is lighter than the others is his FMF exhaust and his seat foam. Apparently there's a company making seat foams for the factories that are super-light, but not all riders like the way it feels. After Shorty's bike come the other factory Hondas of Reed, Brayton and Canard which weigh 222 or 223 pounds.
Broc Tickle's Pro Circuit 450 comes in next at about 226 or 227 pounds. The Showa Air Fork, which uses no fork springs (just air, duh), saves about two pounds off a regular fork. By the way, look for KYB to have their set of air forks ready for the nationals. Showa already has them for the factory guys in Europe, but according to people I talk to, they're not where they need to be in terms of performance right now for racing over here.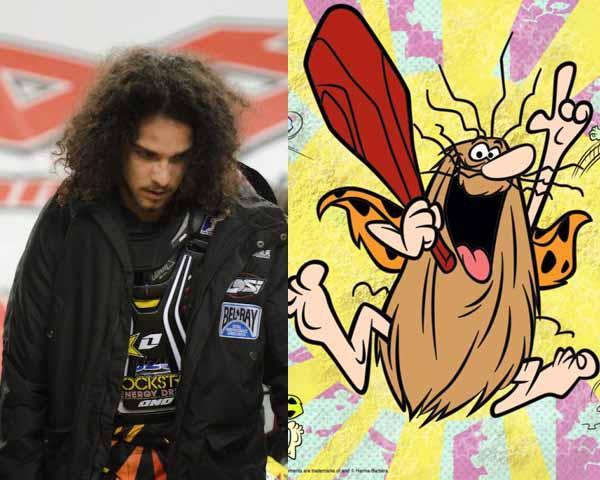 "Separated at birth?"
Photo: James Lissimore
The Factory Kawasakis and Suzuki follow at 228 to 230 pounds. After them, at 231 pounds (give or take a few pounds depending on tire selection), is the factory KTM of Ryan Dungey. The heaviest bikes out there are the Yamaha YZ450Fs of the JGR team. Even people at Yamaha will admit that their bike is the heaviest. It sits somewhere around the 235-pound mark, although I had a person who would know tell me they thought it was around 240 pounds. If that's true, Stewart's bike is a whopping 16 pounds heavier than the factory Hondas! A typical, non-Yamaha privateer team's bike is around 233-235 pounds, by the way. The weight savings is in transmissions, suspension components and other little trinkets.
No doubt there are some factory guys that are scoffing reading this and once again claiming I'm full of poop, but I'm pretty confident in these numbers. I've done some pretty heavy snooping these last few weeks, and I know I'm in the ballpark. Just ask the guys at the trucks that have told me to get lost!
Let's take a look at the results shall we?
Lites East Overall
1. Justin Barcia Hon
2. Darryn Durham Kaw - After practice we were wondering what was going on with Durham, due to his ninth place qualifying time. Our worries turned out to be unfounded, as DD rode a great race to a second place. I think sometimes we just see a PC guy and figure he's going to be the man, but with a guy like Durham, it's going to take a while. He's done the up and down thing and needs to be "reprogrammed," if you know what I mean.
3. Ken Roczen KTM - Due to injury, Roczen didn't have a ton of time on the bike going into this race so his podium finish is admirable. He definitely waited too long behind some guys before getting up there, but as the old saying goes, you can't win the championship the first race, but you can lose it.
4. Blake Wharton Suz - Wharton had a rough night, and was used as a pin by everyone else's bowling ball most of the night. Still, he showed some speed, and his fourth was hard-earned by coming through the pack. Last year he rode the entire supercross season with bad shoulders, so it's nice to see him back to his old speed.
5. Phillip Nicoletti Hon - Filthy Phil was supposed to race in Australia, but his Visa got denied so he's back in America. Judging by his great ride, he's ready to race. He's on the Eleven-10 Mods team, and just like last year with Durham and Alex Martin, Filthy's looking to make a big mark with a small team.
6. Malcolm Stewart KTM - Mookie made a bonehead move in cleaning out Bogle. Other than that, he was fine. He'll learn from it and we'll all move on and calm down.
7. Jake Canada Suz - I didn't notice Jake all that much but in a Racer X season preview, I said that with his team and support level, he should take that jump up from a tenth-place or worse guy to a sixth or seventh-place guy and I suppose he's done that.
8. PJ Larsen KTM
9. Cole Thompson Hon - Thompson is a real Canadian. Not like that other guy from Scotland (just kidding everyone. Sort of), and this was his first pro race. So making the top ten in this field is pretty impressive. Cole is as privateer as privateer gets.
10. Lance Vincent KTM
11. Alex Martin Hon - The Ewok Warrior was ok, I probably expected a bit better but then again, he probably did also. If you can get through the first round in decent shape, I'd say you've done well.
12. Hunter Hewitt Suz
13. Austin Politelli Hon - Austin raced in Canada last year. Just an FYI.
14. Justin Bogle Hon - Bogle looked great and should be a top five or better guy every week. He just got "Mookied." What can you do? His emotions got the best of him for a moment, but it happens to all of us.
15. Blake Baggett Kaw - Blake did not have a good night. After suffering from a virus all week, he showed up to Dallas to try and do his best. Unfortunately he went down on the first lap and had to pull back into the mechanic's area. I'm not counting him out though, he will win some races before this thing is done.
16. Les Smith KTM - If Les makes it to Atlanta on the same team and same bike, he'll be ahead of last year!
17. Angelo Pellegrini Suz - He's from Italy, had an all-white helmet and stock graphics. And he made the main. That's about all I know about the guy. Last year we saw a Russian show up outdoors with an all-white helmet and stock graphics and do well and now we have an Italian doing the same thing. Note to American graphic companies and helmet painters, move to Europe and kill it.
18. Sean Hackley KTM
19. Matt Lemoine Kaw - Lemoine was poised to be the "Filthy Phil" of Dallas until he went down around the first corner. So instead of talking about Matt and his impressive all-privateer speed, we're talking about Filthy. I bet we're talking about Matt real soon though.
20. Kyle Cunningham Yam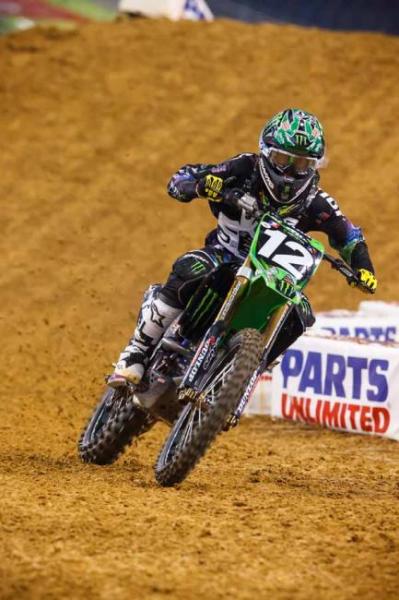 Blake Baggett didn't have the start to the season he was looking for in Dallas.
Photo: Simon Cudby
Supercross Overall
1. Ryan Villopoto Kaw
2. Ryan Dungey KTM - Hard to see if Ryan and his bike got any better in the whoops after last week because this week's whoops weren't that tough. Still, he got into the main via the final transfer spot in the heat race after a crash that was way gnarlier in slow motion on TV than it looked in person, and considering all that, he did well to get the runner-up slot.
3. Jake Weimer Kaw - Weimer badly needed this podium after a few bad weeks, and although he's got to be bummed on getting caught by Dungey who was a ways back, it's still a great ride.
4. Mike Alessi Suz - Despite being warned by an AMA official not to do it, Mike lined up crooked on the gate (which is a no-no) and pulled off a great start. He was fined $500.00 after the race but if you're Mike, you pay the fine and take your fantastic fourth-place finish. Afterwards Mike's dad, Tony, apologized for Mike ignoring the AMA official.
5. Josh Hansen Kaw - Hanny's been great this year. He's been pretty much the opposite of what I thought we'd see. There is no blazing speed but there's also no pulling off and screwing off.
6. James Stewart Yam
7. Kevin Windham Hon - Weird race for KW, he was all over Alessi for fourth when he inexplicably lost two spots in the last couple of laps. Afterwards he seemed to be at a loss when asked to explain what happened.
8. Brett Metcalfe Suz
9. Justin Brayton Hon
10. Kyle Chisholm Kaw - Chisholm's been slowly getting better and he's going to be back in Florida for the next little while. Let's see what that does for his results in the upcoming rounds.
11. Broc Tickle Kaw - Broc was due for an "up" week, but alas, his pattern of alternating between good and bad races did not hold up in Dallas. Although, maybe an eleventh is pretty good, I'm not sure.
12. Nick Wey Kaw
13. Kyle Partridge Kaw - Partridge passed a bunch of guys and was on the move to the front before getting tired and fading. He's got to be working during the week to fix this problem. There are no more excuses for him.
14. Robby Kiniry Yam - Kiniry made it through the LCQ once again. He's the new Jason Thomas.
15. Davi Millsaps Yam
16. Matt Goerke Suz
17. Gavin Faith Hon
18. Nico Izzi Yam
19. Jeff Alessi Suz
20. Chad Reed Hon
In case you missed it, an interesting scoring decision was made regarding the final transfer spot in the 450 LCQ. Despite a nice charge by Gavin Faith, Weston Peick grabbed the last spot into the main event. The transponders even said so, and although it was only by a .0002 margin, Peick looked to be the guy.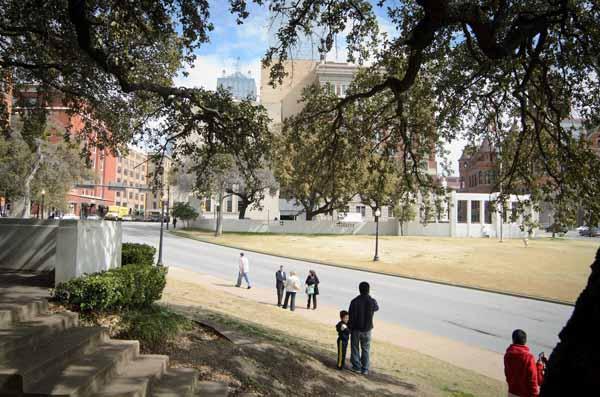 On Friday, myself and James Lissimore went down and checked out the JFK site right downtown Dallas and a five-minute walk from our hotel. Talk about a little creepy and the tour of the sixth floor depository made it even weirder. Anyways, check out this shot from the grassy knoll where some people (like the guy with the card table selling DVD's) believe a second shooter was located.
Except he wasn't the guy after the AMA overruled the transponders and used a "visual override" to award Faith the spot. So what happened? Well after a call to the AMA to get some clarification on what went down, it works like this: The official finish line is the top of the finish line jump but the transponder pick-up isn't at the very top because of ruts and truck maintenance don't allow the cable to stay buried up there. So, transponders aren't necessarily the final call. There are three scorers that determine where you finish; two AMA human beings and the transponder loops. The two humans thought that Faith had it at the top of the jump, as did the finish line flagger. So that was it, Peick's finish was overruled and although I totally get him being upset, I also get that it would have been easy for the AMA to do nothing at all. When the finish line flagger radioed in that he thought the transponders were wrong, and the scorers agreed, the AMA made a tough decision but in the end, it was the right one.
Here's a cool story. Andrew Short showed up to do his best with a banged up shoulder, and although he only managed to put in a couple of qualifying laps, it was enough to put him through into the night show. But the pain was too much, and Short pulled out before the night got going. Generally when this sort of thing happens, it's a privateer who makes the show and he doesn't want to officially drop out because he wants to keep the purse money for making the night show, as opposed to the big fat zero you get if you don't make the fast forty. But because this was Short, and the $400 bucks or whatever it is for last in the LCQ isn't that key to him, he let the AMA know he couldn't ride. The rider who was forty-first was Travis Bannister, and according to FMF rep Jeff Northrup, when he went back there to tell Travis that he actually was going to race on this night (because Short dropped out), he saw Travis shaking his hand because Bannister had just finished punching out his van window in anger at being the forty-first guy. So yeah, good times. Bannister makes it in and probably makes enough money to buy a new window!
Thanks for reading, send me an email at matthes@racerxonline.com and we can chat some more.