Spring Creek MX Park
Millville

,

MN
Spring Creek (Millville)
Lucas Oil AMA Pro Motocross Championship
Halfway through the second moto on a hot day at Spring Creek—and on a very rough track—Christian Craig found himself with a unique challenge. Just ahead of the Troy Lee Designs/Lucas Oil Honda rider was the second-oldest competitor in the race, 40-year-old Mike Brown on a KTM; just behind him was John Dowd, the oldest man on the track at 46 years, 11 months, and 21 days. Craig, who will turn 21 on July 19, is one of the younger guys in the 450 Class, but he probably never thought he would find himself as the meat in a nearly 87-year-old motocross sandwich!
Mike Brown and John Dowd are legends and still very, very fast. Both are racing the Nationals right now not only because they still love it—and they still can rail—but because they want their kids to see them out there while they still have the chops to race Lucas Oil Pro Motocross. In fact, Dowd is raising a promising young racer in his own right, and he and his son Ryan were just using the amateur days at RedBud and Spring Creek for Dowd the Younger to get a feel for what might soon be ahead for him if he pursues his legendary father's line of work.
No matter, Dowd was going fast, and poor Christian Craig must not have known he was coming, because as soon as #16 finally caught the kid on the tenth lap, Christian—who has been on the sidelines for much of the season is still trying to get back in shape—seemed to find another gear and pick it back up. Even though he'd seemed to pull the parachute already, he took off and re-passed John Dowd. No way he was going to let TWO forty-somethings beat him in a national!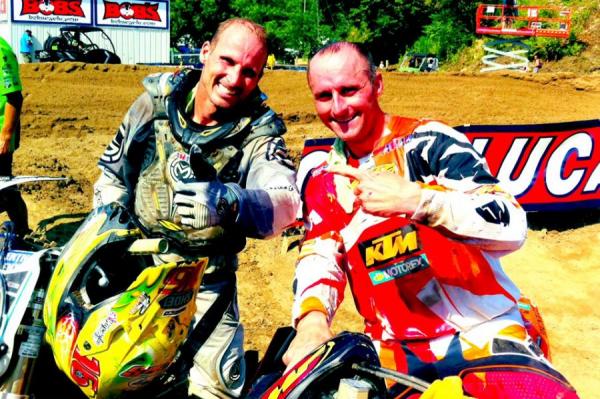 Yeah, they still got it.
DC photo
Unfortunately for Christian, there were still five laps to go at Spring Creek. When he pulled the cord the second time, an anchor came out instead. His lap times went from 2:19 to 2:21, then 2:23, then 2:26....
As for Dowd, he didn't seem to notice, and he kept on plugging away, just like his buddy Brown. These guys have been racing together for more than twenty years, which means for longer than Christian Craig has been on this planet. They finished twelfth (Brown) and thirteenth (Dowd), and it made every fan there of a certain age (including this reporter) very stoked to see that these guys still have it.
After the race, Dowd and Brown sat on a cooler and bench-raced behind the podium, laughing and enjoying another remarkable moment in their collective journeys through the motocross world. Christian Craig has nothing to be embarrassed about—he was smart to ride within his means and not add another injury. And the other twenty-seven guys behind Brownie and JD have nothing to be embarrassed about either. Mike and John are two-of-a-kind: Once fast, always fast.