Spring Creek MX Park
Millville

,

MN
Spring Creek (Millville)
Lucas Oil AMA Pro Motocross Championship
In the midst of a 450 season filled with so much bad luck and bad news for many, MotoConcepts' Mike Alessi has been a bright spot, reestablishing himself as a front runner and taking over second in Lucas Oil Pro Motocross Championship points. After another strong day at Millville, where he went 3-2 to edge Jake Weimer for second overall, Alessi talked about his day and his season.
Racer X: You had some good battles with Ryan Dungey today.
Mike Alessi: Yeah, first moto was good. We didn't get a great start and I bonzied hard through the whoops to get by Jake [Weimer]. I can't wait to see that on TV and see how out of control I was! It was not good, but Ryan was coming and I knew he was coming. I tried to put up as big of a fight as I could, just to try and see if I could. He was riding good. He got by me and I tried to stay with him. We made some changes for second moto, some suspension changes, and it was working a lot better second moto. I came out and it was riding a lot better.
Here we are, going into the second half of the season. You're second in the points, you're strong and people are talking about how emotional you are this year. Your fire's been reignited. What do you attribute to that?
Just my heart. I'm going for it every weekend. I really want to win and we're not just here to help someone else achieve by riding around. We do the best that we can to try and win. Every single rider here doesn't try and lose. We put forward our best effort and try to win.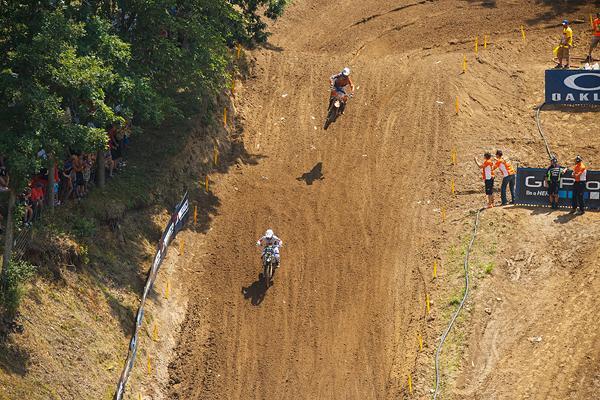 Mike Alessi trying to hold a charging Ryan Dungey at bay during the first moto at Millville.
Simon Cudby photo
I know you're working on the bike and you say it's getting better. I've heard in the past, and maybe you've said it yourself, that testing has never been your specialty. Do you feel like you're learning and getting better at setting up the bike?
It's different. Especially like at this track, we've never ridden the yellow bike here. So we don't have any technology from the past because the two years that I rode for Suzuki, I was injured. It was okay here. I think it'll be good to have it figured out and click in. This weekend and last weekend at RedBud, we had to learn the hard way and try and find those things. Every motorcycle's different. We went from the orange bike last year to the yellow bike this year. We had to develop a few settings. It's not easy. We're going to be trying to get better and get the bike better.
People might forget now that eight years ago, you made your pro debut here and you even lived at this track a little bit. What's Millville like for you? Do you still have some memories of this place?
[Laughs] Eight years ago and the "Believe the Hype" shirts. I'm glad those are gone. The fans have actually been treating me really great this year and I really appreciate that. It's awesome to hear and see fans that are excited to see me here and it's been a long time since those shirts have been around. Those days have kind of come and gone. I'm happy about that!
It seemed like, when you were struggling over the least few seasons, you weren't getting as many of your trademark holeshots anymore. Now you've gotten your starts back. What do you think is the biggest thing that you attribute to that? How to make your starts good again?
I didn't have that great of starts today. I was second in the first moto and top fourth or fifth in the second moto. You pin it but you don't want to be too fast on the start for the first lap. I kind of need to work on those starts this week. They were a little off par. Second, third, fourth, fifth. It's gotta be first (for me).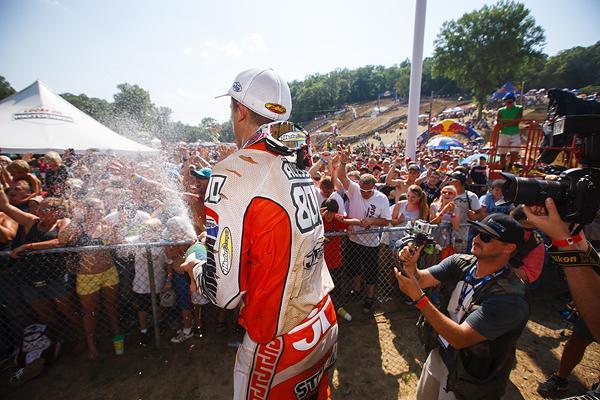 Alessi celebrates his second place finish at Millville.
Simon Cudby photo
What do you learn from Dungey when he gets by you?
I'm just trying to find better lines. He's riding good, so I do kind of pick up on those lines when he gets by and if there is a mistake, I capitalize. He hasn't made many, so we're just going to keep working to get there.
Second in the 450 points. James Stewart's out for now. Could you and your team potentially put an effort together for Motocross des Nations, if you got a chance? You're not on a factory team, could you guys get an effort together? Have you thought about this?
I think for sure as a team, we'd love to go and represent our country and try to go there and win. That's the goal. We're not going there to lose. So I think MotoConcepts and the whole team would be more than willing to go put forward the great effort. We'll see what happens. And that's all I can really say about that right now.
Going into Washougal, what are your thoughts headed up there next week?
It should be good. It's MotoConcepts' home race. It's going to have a lot of people, a lot of fans. I'm looking forward to that racetrack. It seems like I always fall in the second turn, but we're not going to do that this year. We're going to get good starts!