Spring Creek MX Park
Millville

,

MN
Spring Creek (Millville)
Lucas Oil AMA Pro Motocross Championship
Call it
Millville
, call it
Spring Creek
. Call it round seven of the Lucas Oil Pro Motocross Championship, sanctioned by AMA Pro Racing. Or just call it Dungey land. In the 450 Class, the race represented another coronation for Minnesota's favorite motocrosser,
Ryan Dungey
, who delivered his fifth-straight win at his home track, dominating the day with 1-1 scores. The
Millville
fans can speak to Dungey's long road to the top, as they watched him grow up at this track racing alongside his brothers, and now find him atop the motocross world.
MotoConcepts' Mike Alessi and Monster Energy Kawasaki's Jake Weimer swapped moto scores, but Alessi took second overall via his 3-2 scores, with Weimer third with a 2-3.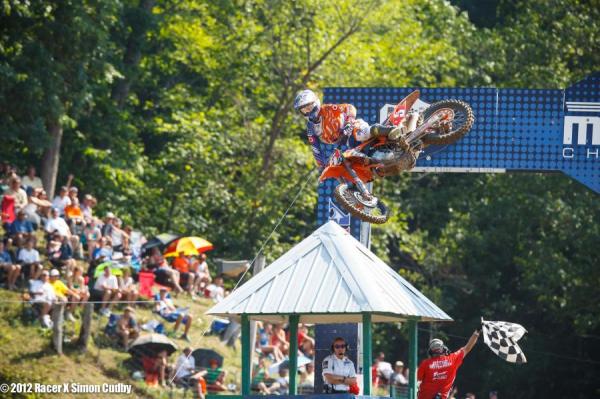 The Dungey Express keeps chugging along.
Cudby photo
Meanwhile in the 250 Class, it looked like Monster Energy Pro Circuit Kawasaki's Blake Baggett was heading toward his third-straight overall win, but GEICO Honda's Eli Tomac hung tough, didn't give up, and his persistence paid off when Baggett crashed in the second moto. His 3-1 scores gave the Colorado native his third win of the season, with his teammate Justin Barcia second with a 2-2 and Baggett third with 1-4 scores.
In the first 450 moto, BTOSports.com/BBMX Suzuki rider Michael Byrne grabbed the start, but then bobbled before the second turn, and that actually held up Dungey and pushed the series' leader back a few spots. Meanwhile Weimer and Alessi carved past Byrne for the lead, and Alessi made a wild pass for the lead while getting sideways in the sand whoops. For a few laps, Alessi set a blistering pace, pulling away from Weimer while Dungey began his methodical charge through traffic to get to third. He then overhauled Weimer for second and went after Alessi for the lead, but Alessi proved stubborn, riding one heck of a wide MotoConcepts Suzuki and thwarting Dungey's pass attempts for quite some time. Dungey's patience paid off as he eventually got around Alessi to take the lead and then take off with the moto win—his ninth straight.
Weimer really rallied in the second half of the race. As Alessi and Dungey slowed each other up a bit, he closed in, and then he kept pushing forward and passed Alessi back for second. Alessi hung on for third. Behind him a huge battle broke out for fourth, with Justin Brayton battling past Andrew Short, Tyla Rattray to get the spot.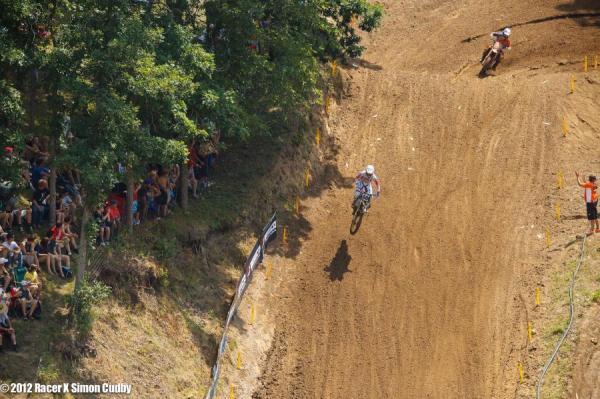 Alessi worked hard to keep Dungey behind him in the first moto.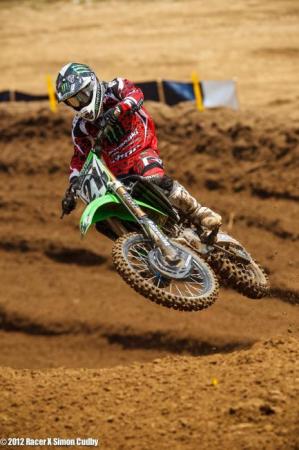 Weimer rallied late in the first moto to pass Alessi and finish second.
Cudby photos
In moto two, Byrne nailed another incredible start, with Dungey right behind him, but this time Dungey got through the first corners clean and quickly made the pass for the lead. At that point, everyone at the facility knew The Dunge was going to win the moto and the overall, but that was perfectly fine for the partisan Minnesota fans that treated every lap of the race as if it were a victory lap.
Alessi knifed into second early and tried to keep Dungey in sight for a few laps, and he did, but eventually Dungey got away. This time Alessi rode strong all the way to the end, saying that some bike changes between motos helped his charge. Weimer started about sixth, not too far back, but just enough that when he finally arrived in third, he had no chance of catching Alessi this time.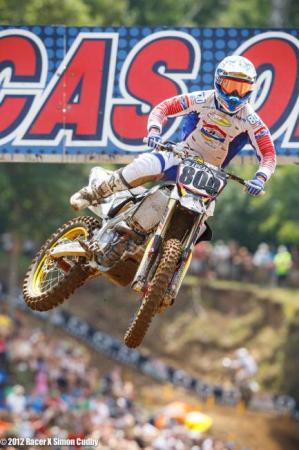 Alessi was stronger in moto two and took second behind Dungey, good enough for second overall.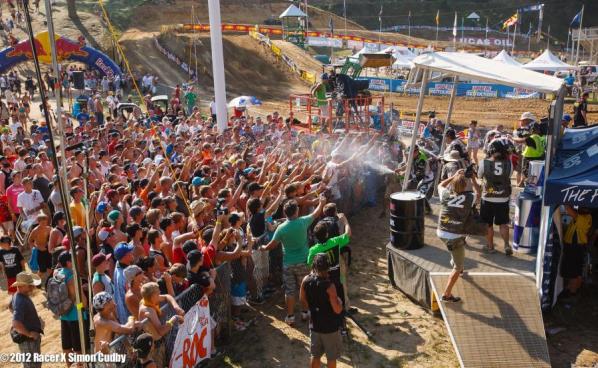 Big crowd on hand, and they stayed right until the final podium celebration.
Cudby photos
Brayton logged another solid run with a 4-4 day, while Broc Tickle, who crashed back to 12th in the first moto, took fifth in moto two. The second moto was one of attrition, as 13 riders didn't finish for various reasons. Rattray, for example, crashed with Jimmy Albertson while up front on the first lap, then rallied back to 14th, only to run into Mike Brown and bash his front wheel, knocking him out of the race.
Brown, by the way, logged an impressive 18-12 day, and fellow 40-plus rider John Dowd went 19-13.
In the 250s, Barcia grabbed the first moto holeshot with Red Bull KTM's Ken Roczen right behind him. Barcia's teammates Wil Hahn, Justin Bogle and Tomac were right there off the start as well. Soon Tomac sliced his way into third and started graining on Barcia and Roczen, leading to a spectacular three-rider battle for the lead. At first, there was no sight of Baggett, who was bumped off the track in the first turn and finished the first lap in eighth. Later, Red Bull KTM's Marvin Musquin fell in front of him, but Baggett was able to get around and not lose too much time. But he launched another one of his huge charges and climbed to fourth, and then started logging times nearly two seconds per lap faster than the leaders. Baggett was able to catch the Tomac-Roczen battle for second. He then passed Tomac around the outside of the turn connecting the two sand whoop sections, and then on the next lap, Roczen bobbled in the same turn and Baggett was able to pass him. Tomac got around Roczen as well for third, and he seemed to get fired up to try to stay with Baggett. Baggett and Tomac then caught Barcia. Tomac was challenging Baggett for second again but Baggett then executed an incredible pass on Barcia for the lead, diving super deep down to the inside of a fast sweeping corner and barely making the turn. Once into the lead, Baggett was able to check out, while Tomac couldn't get around Barcia and settled for third. Roczen was fourth with Hahn fifth.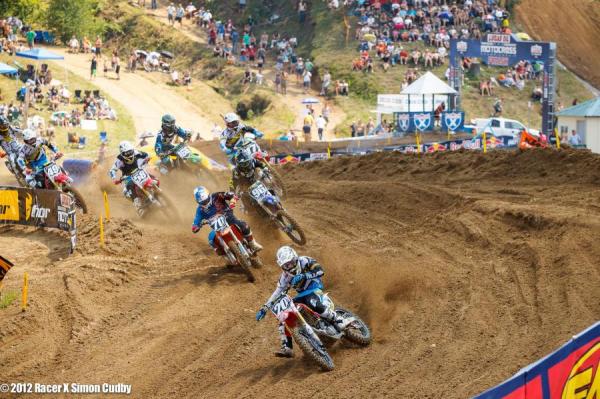 Barcia and Roczen led early in moto one.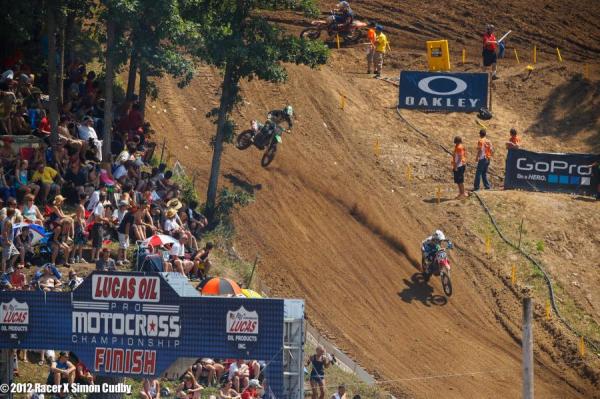 Baggett came from far back in moto one to catch and pass Barcia for the moto win.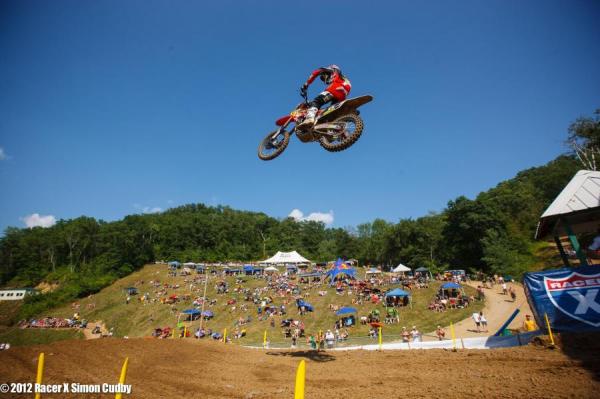 Tomac took third in the first moto, then won moto two to take the overall win.
Cudby photos
In moto two, Barcia grabbed the early lead again, but Tomac started in second and was able to pas his teammate to take the top spot. Baggett was closer to the front early, though, and then passed Barcia as well. This set up a Tomac vs. Baggett battle for the lead, and about halfway through Baggett was able to make the pass on Tomac to get the spot. Just a few turns later, however, Baggett slid out going up the face of a tabletop and crashed. He slid to a stop at the bottom of a blind jump, but had the presence of mind to run to the side of the track to avoid being hit by other riders. He got his bike back together and got up in sixth, then charged his way back to fourth by the end of the moto. It was a good recovery, but his chances for a third-straight overall win were gone.
So was Tomac with the lead. He built a nice gap over his teammate Barcia to take the moto win and win the overall with 3-1 scores. Barcia and Baggett were next, while Roczen went 4-3 to take fourth.Rockstar Suzuki Racing's Blake Wharton was strong, going 6-5, while a few other 250 riders were up front early but went backwards. Justin Bogle, in his first race back following knee surgery, had good starts but struggled a bit down the stretch to go 10-8. Musquin had bad stats and a fall leave him with 7-6 finishes. Jason Anderson looked fast on his Rockstar Suzuki, but lost a header pipe in the second moto, dropping him from the top five to 10th.
The series now heads to Washougal, Washington.
450 Overall Results
Ryan Dungey 1-1
Mike Alessi 3-2
Jake Weimer 2-3
Justin Brayton 4-4
Andrew Short 5-6
Broc Tickle 12-5
Les Smith 11-9
Cole Thompson 15-7
Tyla Rattray 6-28
Christian Craig 14-14
Tommy Hahn 7-38
Kyle Chisholm 33-8
Michael Byrne 9-20
Josh Grant 8-34
Mike Brown 18-12
Derek Anderson 22-10
Jimmy Albertson 10-32
Ronnie Stewart 21-11
John Dowd 19-13
Vince Friese 17-16
Ryan Sipes 13-35
Jake Loberg 25-15
Heath Harrison 16-22
Jason Thomas 36-17
Fredrik Noren 32-18
Dalton Carlson 27-19
Ben LaMay 20-37
Kevin Rookstool 23-30
Josh Greco 30-24
Dakota Kessler 29-25
Michael Stryker 28-26
Robert Lind 34-21
Austin Howell 26-31
Michael Riehm 31-27
Drew Yenerich 24-36
Dustin Pipes 38-23
Alex Millican 39-29
Kyle Regal 35-33
Matt Lemoine 37-39
Nick Wey 40-40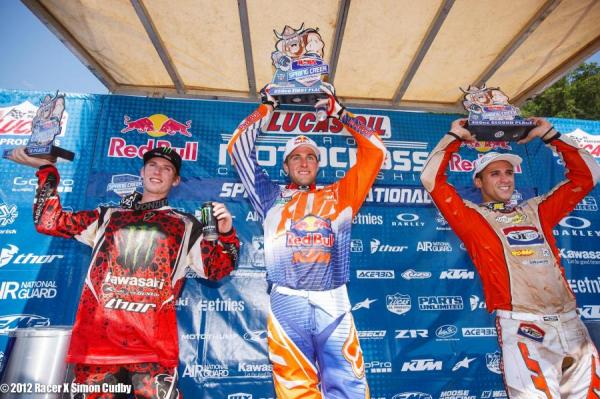 The 450 podium.
Cudby photo
250 Overall
Eli Tomac 3-1
Justin Barcia 2-2
Blake Baggett 1-4
Ken Roczen 4-3
Blake Wharton 6-5
Wil Hahn 5-7
Marvin Musquin 7-6
Justin Bogle 10-8
Jason Anderson 8-10
Jake Canada 9-13
Jessy Nelson 9-13
Travis Baker 13-11
Alex Martin 16-9
Malcolm Stewart 12-14
Dakota Tedder 17-16
Mike McDade 20-15
AJ Catanzaro 18-17
Kyle Peters 14-36
Gareth Swanepoel 15-37
Ryan Zimmer 29-18
Joey Peters 28-19
Jacob Hayes 19-30
Kody Kamm 26-20
Tevin Tapia 22-21
Broc Schmelyun 21-22
Lowell Spangler 23-24
Gannon Audette 24-29
Cody Lackore 30-26
Micahel Akaydin 31-27
Killy Rusk 25-34
Travis Bell 37-23
Dylan Schmoke 35-25
Ignacio Pazos 32-28
Hunter Hewitt 27-33
David Buller 33-31
Zack Freeberg 36-32
Joseph Perron 34-38
Sean Hackley Jr. 34-38
Steve Roman 38-39
Phil Nicoletti 39-40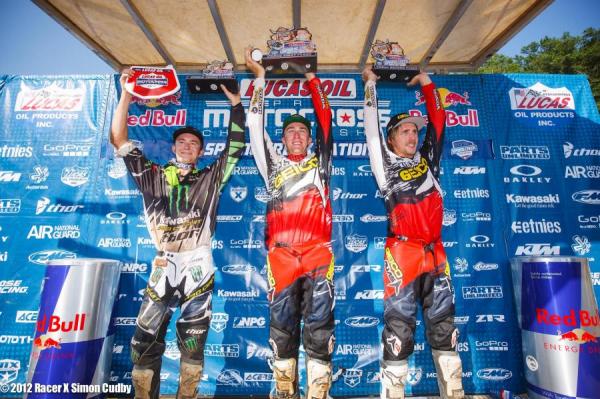 Tomac, Barcia and Baggett on the podium.
Cudby photo
450 Points Standings through round seven
Ryan Dungey 336
Mike Alessi 256
Jake Weimer 244
Andrew Short 209
Broc Tickle 187
Justin Brayton 167
James Stewart 151
Josh Grant 150
Brett Metcalfe 142
Kyle Chisholm 113
Michael Byrne 110
Nico Izzi 95
Ryan Sipes 94
Cole Thompson 64
Matt Lemoine 61
Tommy Hahn 53
Tyla Rattray 49
Les Smith 49
250 Points Standings through round seven
Blake Baggett 315
Justin Barcia 297
Eli Tomac 281
Ken Roczen 273
Marvin Musquin 218
Wil Hahn 191
Blake Wharton 156
Jason Anderson 145
Jessy Nelson 128
Jake Canada 125
Travis Baker 121
Gareth Swanepoel 106
Ivan Tedesco 99
Kyle Peters 73
Alex Martin 72
Justin Bogle 38