Spring Creek MX Park
Millville

,

MN
Spring Creek (Millville)
Lucas Oil AMA Pro Motocross Championship
Racing AMA Supercross and Motocross for over a decade now, Australia's Michael Byrne has become a fixture on the U.S. race scene. Previously a very consistent top five factory rider, injuries, as recent as a broken neck just prior to the 2012 Monster Energy Supercross Championships, have derailed his success. Still, while many would have called it a day, the 33-year-old Byrne is now back on track and quickly racking up championship points.  Currently just three points outside the top ten, we chatted with Michael as he relaxed in the Team BTOSports.com/BBMX semi after a 10-10 day.

Racer X: Michael, it appears that you have been on the gas and turning things around these last few races?
Michael Byrne: Yeah, my supercross season really didn't even happen, so the early part of this year didn't go very well at all to say the least. But I feel like my motocross series has been going pretty decent so far, and I have a lot of tracks coming up that I really like racing on. I'm just going to focus on building each week, getting stronger and progressing.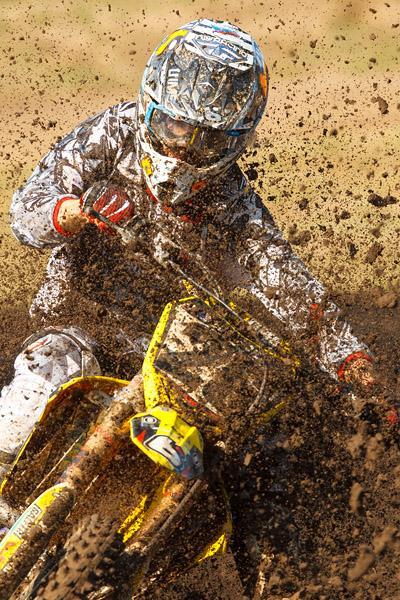 Byrne had one of his best races of the season at RedBud, going 10-10 for eleventh overall.
Simon Cudby photo
Let's talk a little bit about all the time that you had off with your neck injury. Obviously it affected you, but in what ways?
It really hurts you physically to be out that long, as well as mentally. I really put in a lot of laps testing and training for supercross that I never got to show. It's very difficult to be out that long. For a while I was pretty down about it. The only good thing is that you now have time to check different things out that you normally wouldn't be able to -– along with giving you some time to re-group. Sometimes it is nice to have a bit of a break, but you don't want to be forced into it for sure!
Physically how are you now?
Physically I am good. I'm 100 percent healthy. I'm just trying to get stronger, and hope to get a bit of a rhythm going in these next few races.
Recently you've been hovering around the top ten, what do you need to do to get into the top five?
Well for me, I have been doing pretty well at the end of the motos, especially the first moto. Near the end is when I have been my strongest, and been able to make moves toward the front. But my problem is that I have been qualifying badly, so that is giving me poor gate picks -– which leads to bad starts, and long motos coming from the back. It was actually pretty good for me to qualify 14th this weekend at RedBud, as I've been having a hard time cracking the top twenty in qualifying. I'm definitely trying to work on this aspect of my racing, and getting better starts.
I think that you are probably riding one of the better bikes out there with the Suzuki RMZ450, but on the other hand I would image that you didn't have much testing time coming into motocross.
I started riding about four weeks before Hangtown, which may seem like a lot to some, but really isn't when you are coming off an injury. During my first week of riding I was only able to ride a few times as I was just so sore, and my hands got so blistered. But I was able to do a little bit of testing during our recent little break, and that went very well. So I am starting to figure some stuff out, the bike has definitely been better for me this year than it was last year.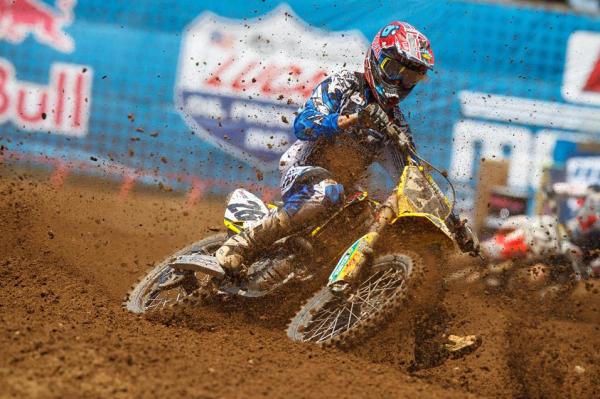 Byrne currently trails Kyle Chisholm by three points for 10th in points.
Simon Cudby photo
Your team is working with the guys at JGR this year, has that been helpful?
It's been great, especially with having everything with one company, and having everyone work together. The biggest advantage has been with them helping to develop our race bikes. We spent some money with them, and it has been well worth it.
Where do you want to be as the series winds down in September?
I just want to be improving each week. I've had a couple good motos and bad motos in the same weekend, so I really want to be able to stabilize things out. But really, I want to get back up into the top five again.
Considering your injury, and your age, what about next year?
I still want to race, if I can go out and get top tens in this type of race (with the heat and humidity). I'm definitely am not ready to give up. I may not be one of the young kids, but I don't feel old yet. I truly feel like I am improving every time that I have been on the bike this summer, and I want to let my riding do the talking. You're only as good as your last race is how I look at it. I know that I can be an especially good asset to a team that may have a young kid. Not only do I have a lot of experience, not only with riding and training, but bike set up as well.
That may be a good way to wrap this up Michael, but would you like to add anything?
My wife Danielle has been with me through all these injuries, so she definitely deserves a big thank you, for sure! To go through having a broken neck is not a lot of fun, and she helped me, encouraged me, and stood by me so much through all that. Of course I also want to thank the guys at BTO and Palmetto Suzuki, along with JGR, Pirelli, Fly Racing, Smith, Alpinestars, and everyone else out there that helps me.