Spring Creek MX Park
Millville

,

MN
Spring Creek (Millville)
Lucas Oil AMA Pro Motocross Championship
Before the 1994 season, Team Yamaha had a bomb dropped on them when their star rider Damon Bradshaw just up and quit in the middle of a multi-year contract. Bradshaw, citing the pressures and the fact that he wasn't having fun, was Yamaha's number one guy and one of the biggest names in the sport at the time. The guys at Yamaha struck fast in replacing Bradshaw with Mike Craig and they hoped that maybe the talented but enigmatic Craig could finally pull it together.
And for a while, he did. He even won the Tampa Supercross that season, but also had plenty of crashes, fades and sub-par results. Part way through the AMA Motocross Nationals, Yamaha released Craig from his deal and the sides parted ways. Meanwhile, over on the support team of Boyesen Yamaha, there was a rider that was outperforming his privateer ride.
John Dowd, he of the upset National win at a muddy Hangtown in 1991, was fourth in the 250 motocross standings when the series headed to round ten at Millville, Minnesota. With a factory Yamaha machine just sitting there, the guys offered it to Dowd for the last three rounds, starting at Millville. The deal was the bike was prepped each weekend for Dowd and would be at the races only. In between, he practiced on his usual production-based machine.
Wearing #16 and adjourned with Boyesen team graphics, Dowd used the newfound horsepower to holeshot the first moto and lead until about halfway. The series juggernaut Mike LaRocco soon caught and passed Dowd but a second to "Iron" Mike was nothing to sneeze at. (One of the my favorite moments of the race occurred when they asked a soon-to-be-retired Jeff Stanton what it's going to take to beat LaRocco. Stanton, in his usual way, remarked that none of his teammates, nor him, nor anyone else can do anything to beat LaRocco. Good times with Jeff Stanton!)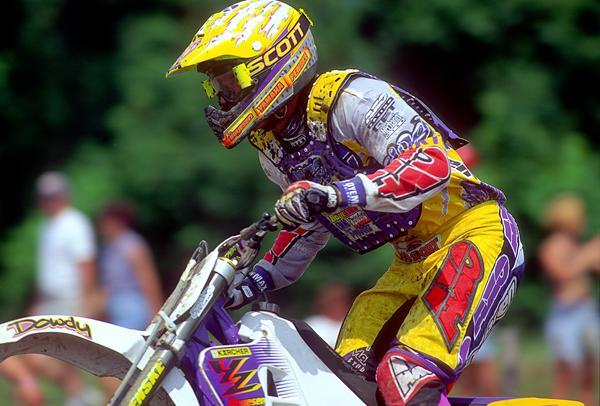 John Dowd pulled off a shocker at Millville in 1994.
Fran Kuhn photo
Stanton and Jeremy McGrath were right there putting pressure on Dowd early in the moto, so it was a great feat for Dowd to get second. Remember, this was a rider who was considered "aged" even back in 1994!
Second moto it was another holeshot for Dowd (in an interview played earlier, he says there was "no lag time" with the factory bike. The power was instantly there). But this time, LaRocco was down on the ground in the first turn. (One year later, Larocco would completely blow out his knee in the first turn at the same track and it would be the last time he rode a Kawasaki). Dowd had pressure from Suzuki's Brian Swink for a bit but the privateer-turned semi-factory rider rode away to a nice lead.
LaRocco, however, was a man on fire and by about halfway, he had passed 36 other riders and was catching Dowd. The crowd at Millville was going nuts cheering on the upstart privateer and the courageous last to second ride by LaRocco. In fact, I was there that day (having failed to qualify by the way) and I seem to remember everyone happier for Dowd than acknowledging LaRocco's ride. With the white flag waving, LaRocco was all over Dowd and a key line switch in the sand whoops helped Dowd out immensely. He bulldogged down the inside (LaRocco's line) and held the lead the rest of the way. And with that, Dowd went 2-1 for his second career National win. The guys at Yamaha took a bit of a risk in getting Dowd the bike and it paid off in spades.
This weekend at that same track, Mike LaRocco will be managing the GEICO Honda squad and Jeff Stanton will be there watching his pupil Justin Barcia try to win his first championship. Jimmy Button and Larry Brooks, two more racers in this race will probably also be there in their capacities (agent and team manager).
And what will John Dowd be doing? Well, he's still out there wearing his number 16 and at 46-years old, trying to recapture some memories.