RedBud MX
Buchanan

,

MI
RedBud
Lucas Oil AMA Pro Motocross Championship
RedBud
's Red Bull National weekend goes big well beyond the boundaries of a couple of 30-minute plus two-lap motos for the pros. The weekend is jammed with amateur racing for everyone, including time on the National track surrounding Saturday's pro day, as well as moto after moto on the amateur track down the hill.
But a small part of the 450 Class, for pros, seemed to have an amateur tilt to it. Was there a 40 plus class out there?
Legends John Dowd and Mike Brown sure made it look that way. Brown, who turned 40 on May 1, was coming off of an X Games gold medal in EnduroCross just six days earlier. It's hard to find two more different dirt bike disciplines than MX and EX (except, maybe Freestyle and EnduroCross, which are both on the X Games ledger, oddly), but Brown quickly readapted to his old sport and hauled ass all weekend at RedBud. Brown has had great success on this track, taking his last National win here in the 125 Class in 2004. This time, he seemed set for an incredible top-ten finish in 450 moto one until he ran out of gas. That seems ironic since Brown races the WORCS for KTM off-road. You know they had a big tank laying around somewhere! But more mechanical problems led to a similar issue for Brown in moto two, so clearly this wasn't about just having enough fuel. It cost Brown a chance for a top-ten overall and a nice points haul.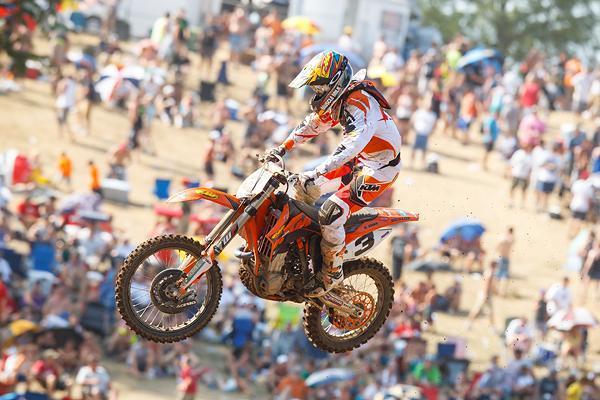 Brown, the 2001 125 National Champion, passed his way into tenth in moto one of the 450 Class.
Simon Cudby photo
Remember, both of these men are clinging to their national numbers and need to score 25 points this season to keep them. Brown could have made nearly 25 in one weekend, instead he scored zero. Dowd also came painfully close, going 22-24 (you only get points for top-twenty finishes).
But these two weren't just racing for points—they were racing as parents. I talked to Brown at Budds Creek last year, and he said the number-one reason he races some Nationals is because his son never got a chance to see him race moto, so he likes to show him he can do it. And Dowd's son was the big pull, too—John wants to let young Ryan get some experience on the bigger National tracks, so he let him loose at RedBud for amateur day. Dad just decided he might as well race, too.
The good news? Both Dowd and Brown will be back at Millville this weekend (and Ryan Dowd will get in some track time during the amateur program again). They'll be trying to score some points and keep their numbers, yes, but more importantly, these two old vets will be trying to show the kids—theirs specifically—that they can still get it done.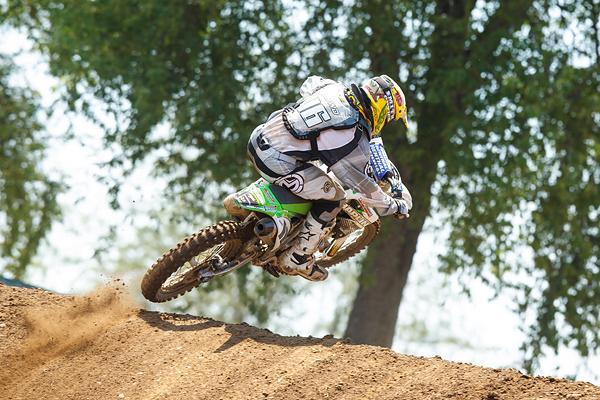 Dowd will turn 47 the day before his home race at Southwick.
Simon Cudby photo