RedBud Track 'n Trail
Buchanan

,

MI
RedBud
Lucas Oil AMA Pro Motocross Championship
If RedBud is the centerpiece of the Lucas Oil Pro Motocross Championship, if it's really the heart of this sport, than why not use this race as a pulse check?
I remember well the first time I heard about economic troubles on the horizon for the U.S.—and like just about everything in my life, there's a motocross tie-in. I was in the Racer Productions office talking about the Grand National Cross Country Series at the end of the 2007 season, and suddenly, the manufacturers and sponsors who were always looking to go bigger and better each year were taking a different approach. They started talking about slashed budgets and diminished sales. Somewhere along the way in 2007, in preparation for 2008, Americans were starting to spend less money (or have less money to spend). Now motorcycle manufacturers were starting to suffer. At the time, I thought it was just a negotiation tactic, a way for the companies to spend less by crying poor. After all, this industry had been on a meteoric decade-long up swing. It just seemed hard to fathom that hard times were ahead.
Well, they were. For everyone. Everyone just hoped 2008 would be at least as good as 2007, even though 2007 wasn't as good as 2006. But unfortunately 2008 turned out to be another hard one for the industry, and so was 2009. Everyone hoped that each year would be the year things would swing back up, but instead, we found we had not hit rock bottom (and really, we never did. People are still making a living racing dirt bikes. That's pretty good when you look at it from a distance).
Once the hard reality set in, new trends emerged. Within this sport, the reality was that the idea that riders would be making less money. That decade of meteoric growth within the industry had inflated salaries to ridiculous levels (for a sport a great swath of America had never heard of), and soon we saw the "too much too soon" fallout from many potential stars. Once everyone realized, for sure, that budgets were going to be cut and weren't going to grow again for quite some time, the next line was "You're going to see a lot more riders fighting for their place."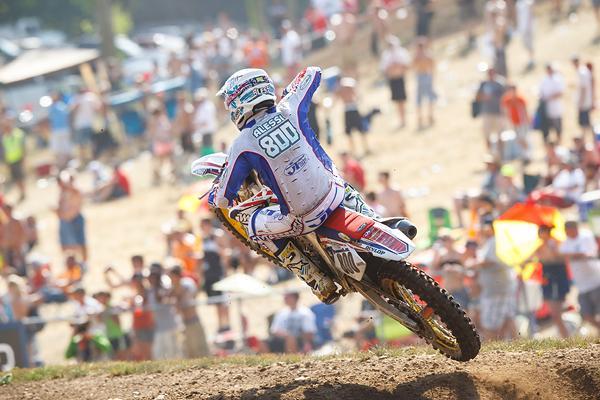 Mike Alessi, is now a privateer, and eight years removed from "Believe the Hype."
Simon Cudby photo
We now see the fallout from that fallout. Today's field of Lucas Oil Pro Motocross Championship riders might be hungrier, more fit and more serious that any previous generation. We've always seen strength at the top—I'm sure Jeff Ward and Johnny O'Mara could share their training logs from 1984 and make you sweat just reading it—but now we see sacrifice and max effort from top to bottom. No one is slacking in this field. No one. Go dig through the results and find me the guy who is slacking, partying and J-Lawing it. Here are your 450 top 20 from RedBud: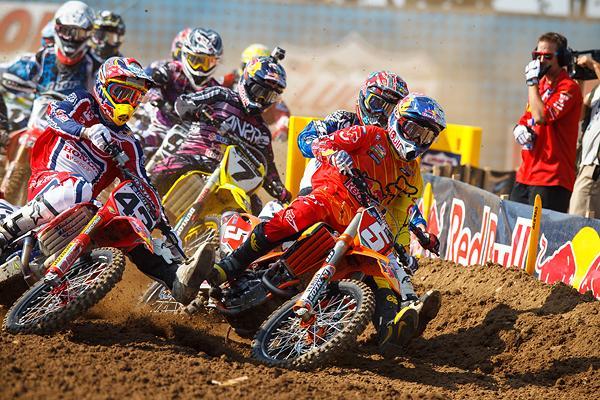 Ryan Dungey and the rest of the field are giving it 100 percent week-in-and-week-out.
Simon Cudby photo
Every one of those dudes is working at this, and none of them are taking it for granted and cashing checks—heck, a bunch of them aren't even getting checks to cash. Les Smith is busting his ass down at Ricky Carmichael's place every week, but thanks to bike problems, bad luck, and the fact that everyone else is working hard, too, that 12th place is about the only strong result he has all year. Smith was once a top amateur prospect with a bunch of titles at Loretta Lynns. As a pro, he's bounced from team to team, often week-to-week, trying to gain his footing. He's working hard all the time. Thompson and Anderson are privateers trying to make a name for themselves. LaMay and Lemoine were amateur stars now trying to grind out a living as pros, hoping one week will give them their breakthrough. Veterans like Byrne and Short know their window is closing, and they approach this as a job, checking into work each day, logging their laps, and giving it their all on the track. Their careers may only last a few more years, and they're making sure they leave nothing on the table when they are finally over. Heck, the only rider on this list considered an underachiever at this point is Regal, who is struggling mightily based on expectations. But consider that the only reason Regal is even in this position with JGR, the only way he even made a name for himself in the first place, is by driving to the Nationals in a van, riding a privateer Honda, and strong-manning his way into the top five on the hottest, roughest, gnarliest races of the year. He's been there.
There's Mike Alessi, now a privateer, and eight years removed from "Believe the Hype." He's come so far from his amateur prodigy days that the only team that even wants him is a team managed by his own dad. Back in the day, Honda seemed to drop a dealership's worth of bikes and parts in the Loretta's pits, and when the transition to pro didn't work out with that brand, they just found another big suitor in KTM. They went to Suzuki, it didn't work out, but KTM came calling again! There used to be so many safety nets out there, but many of the lines have been cut. Mike wasn't getting offers from anyone for 2012, and he had even considered retirement and getting a real job. He's fighting for his life out there and running second in the series doing it.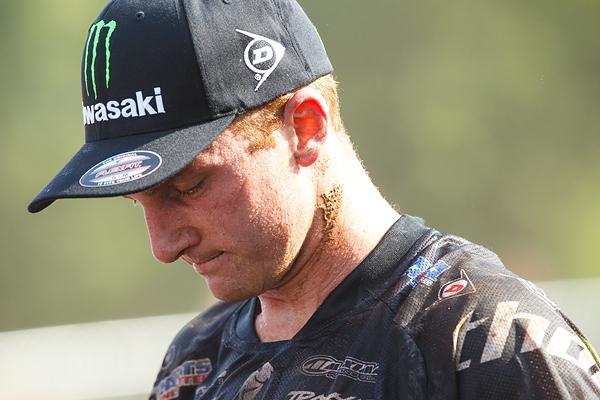 The offers have not come for Tyla Rattray thus far.
Simon Cudby photo
Tyla Rattray has a World Championship. But right now he knows he needs to move to the 450 Class, and no one is dangling an offer to him yet—he's been too beat up this year to prove himself. He returned from injury at RedBud and nearly made the podium. After the race, he was so spent that I found him literally laying on the ground in the Monster Energy Kawasaki pits while debriefing the team on how his race went. Laying on the ground!
Justin Brayton missed a supercross main event early in the year, but he, like Alessi, has been at every single AMA SX and MX race this year. He's had scant few days off, but he spent last Saturday, a rare free weekend day, at Club MX in South Carolina, logging his motos in 105 friggin' degree heat. For that, he went 3-4 and finished second overall at RedBud. He rode incredibly hard, but was 51 and 53 seconds down to the moto winner in each race.
Even James Stewart, the man who might have made more money than anyone during the halcyon big-salary days of the past, has had to adjust his approach this summer. He's publicized that his Suzuki contract doesn't even begin until next year, so he's racing without a salary for now, and when the money does kick in, you can bet it's a far cry from what he used to make. James did walk away from big money at JGR, but right now, even for the riders who could make the money, it's not all about the money. Everyone else is trying so hard that you can't win if your full focus isn't on the program first, and the money second. So Stewart takes less money to race where he thinks he can perform best.
We live in a world now were riders like Nico Izzi admit they have squandered opportunities and are putting in the work, riding for little pay and hoping to catch that last grain of sand before it all falls through their fingers.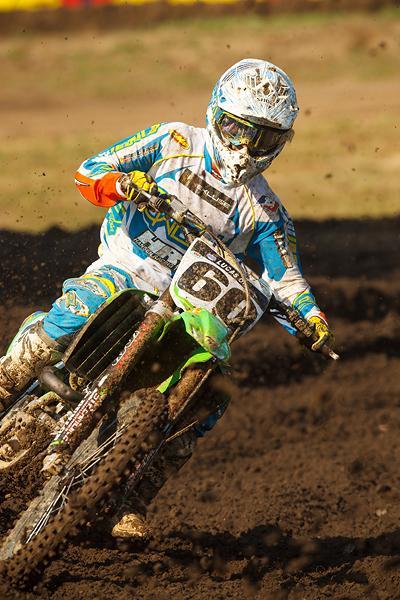 Guys like Matt Lemoine are just trying to grind out a living.
Simon Cudby photo
But the lessons aren't only for those who once had it great. The next generation already knows to avoid such fate. After finishing second to Blake Baggett at RedBud via 2-2 scores, Justin Barcia could only say he is training and riding and trying as hard as he can. He gave it his all at RedBud and he just came up short. His trainer, the notorious hard ass Jeff Stanton, says there is not an ounce of slacking in Justin; he really is putting in the work. You know Eli Tomac is, too. It's just that Baggett is also killing himself to be better and stronger every day. If any of these kids don't win, it won't be from lack of trying, which isn't something you could always say in previous years of this class.
We are watching races won the hard way. Baggett is making his charge in the toughest part of the day—the final four laps of each moto. And Ryan Dungey is pouring it on through those late laps, too, even though he has massive leads. He just keeps pushing and digging, knowing that a healthy Stewart, Ryan Villopoto and Chad Reed will be back someday, and they'll be hungry, too. He'll be as ready as he can be.
But such desire at the front of the pack is the one thing that hasn't changed. I'm not sure if Ryan Dungey is the fastest, best or most talented motocross rider ever, but he's certainly in any conversation when it comes to "hardest working." He's a machine, a warrior, a worker. Pay him two bucks or two million and he'll give you the same effort, but, still there's no difference there. The guy who wins the races is never overpaid. The great champions of the past were the same way—they won because of pride, the money just came along with it. The difference is, today, everyone—and I mean everyone—is working just as hard.