With one of the most tightly contested points battles in XC1 Class history coming down the stretch run, massive crowds embarked on the picturesque mountain side of the beautiful Snowshoe Mountain Resort in West Virginia for round eight of the Can-Am Grand National Cross Series (GNCC).
The Motosport.com Snowshoe GNCC has every bit of GNCC history incorporated as the toughest race on the circuit pays homage to the race that started it all—The Blackwater 100. Like Blackwater, Snowshoe has a unique "in town" start. Unlike any other GNCC, which feature a dead-engine start in an open field setting, Snowshoe offers a truly unquie live-engine start. Riders at Snowshoe line up on a paved road in groups of five. They start live-engine every ten seconds, which makes for a spectacular scene and usually features a massive turn of events in the overall standings.
Current points leader AmPro Yamaha's Paul Whibley, who one round earlier smothered a red-hot Kailub Russell, was looking for back-to-back victories in the Mountaineer state. For Factory FMF/KTM's Russell, who has been on an absolute tear since round one, winning four of the last six races, a points lead that he has been slicing down round by round looked to finally be within reach as the series invaded Snowshoe last weekend.
Meanwhile, defending XC1 Champion Charlie Mullins' slim championship hopes have unraveled. Back-to-back finishes outside the top ten relegated Mullins to third in points, and then the final knockout blow came when the Factory FMF/KTM rider was diagnosed with an elbow injury prior to the weekend. Mullins was not cleared to ride at Snowshoe and will also miss round nine in Millfield, Ohio on July 7-8.
Former trials rider and WMR/KTM-backed Rory Mead would use the technical course to his advantage to crash the championship party and fully insert himself as a contender with five rounds remaining. The aforementioned Russell was able to reel in Mead late in the race but was unable make a pass stick on the New Zealander. Points leader Whibley would round out the podium in third.
With Russell's second and a coinciding third from Whibley, Russell has cut the points deficit to one.
In the XC2 Class, KR4 Performance's Jason Thomas captured his first victory of 2012 over a sizzling Andrew DeLong—the F.A.R Husqvarna rider who was on a two-race win-streak entering Snowshoe—and points leader Steward Baylor Jr., a KTM-supported privateer and XC2 defending champion.
Although Baylor missed the previous round due to injury, he still holds a nine-point lead over Thomas in the battle for the championship.
Let's check out the lap charts to see how it all broke down.
GNCC
XC1 Pro Class

| | | | | |
| --- | --- | --- | --- | --- |
| Lap Rank | Finish | Best Lap | In Lap | Rider |
| 1 | 2 | 23:12.516 | 3 | Kailub Russell |
| 2 | 1 | 23:26.391 | 3 | Rory Mead |
| 3 | 3 | 23:26.797 | 3 | Paul Whibley |
| 4 | 5 | 23:44.094 | 3 | Bobby Prochnan |
| 5 | 6 | 23:49.625 | 3 | Jordan Ashburn |
| 6 | 4 | 24:.02.500 | 3 | Nick Fahringer |
| 7 | 7 | 25:02.047 | 3 | Takeshi Koikeda |
| 8 | 9 | 25:27.593 | 3 | Nathan Kanney |
| 9 | 14 | 25:33.032 | 2 | Thad DuVall |
| 10 | 10 | 25:40.172 | 2 | Garrett Edmisten |
XC2 Pro Lites Class

| | | | | |
| --- | --- | --- | --- | --- |
| Lap Rank | Finish | Best Lap | In Lap | Rider |
| 1 | 1 | 23:38.563 | 3 | Jason Thomas |
| 2 | 3 | 23:41.875 | 3 | Steward Baylor Jr. |
| 3 | 2 | 23:49.328 | 3 | Andrew Delong |
| 4 | 4 | 24:20.516 | 3 | Jesse Robinson |
| 5 | 5 | 25:01.450 | 3 | Jedediah Haines |
| 6 | 6 | 25:14.765 | 3 | Zach Nolan |
| 7 | 11 | 25:38.360 | 3 | Scott Grills |
| 8 | 7 | 25:45.203 | 3 | Ryan Echols |
| 9 | 8 | 25:50.438 | 3 | AJ Stewart |
| 10 | 18 | 25:58.422 | 3 | Michael McGinnis |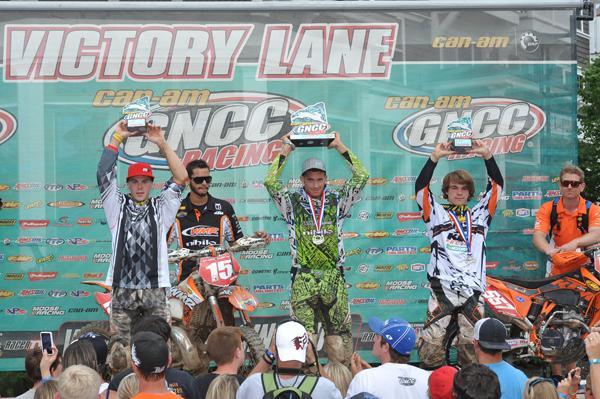 Jason Thomas (left, XC2), Rory Mead (center) and Kailub Russell would round out the overall podium at Snowshoe.
Ken Hill / GNCCRacing.com photo