Budds Creek Motocross Park
Mechanicsville

,

MD
Budds Creek
Lucas Oil AMA Pro Motocross Championship
Monster Energy Pro Circuit Kawasaki's
Blake Baggett
brought tremendous speed to last year's title fight in the 250 class, but consistency was an issue. He promises to be more consistent this year, but at
High Point
, his run of podiums came to an end after a series of crashes in moto two.
Well, crashes and his typical bad starts and rough opening laps.
"Moto one, I pulled the typical Blake Baggett because I am Blake Baggett, so I should probably pull a typical Blake Baggett. Otherwise it just wouldn't make sense," explains Baggett. "I would throw everybody off. I went backwards like five positions on the first lap. So, five positions backwards, then I finally got going. Picked off those five guys and then started picking off the rest of the guys in front of me, which there were quite a few. Ended up getting to third and just couldn't get by Eli [Tomac]."
Baggett pulled a rare good start in moto two, but couldn't do much with it.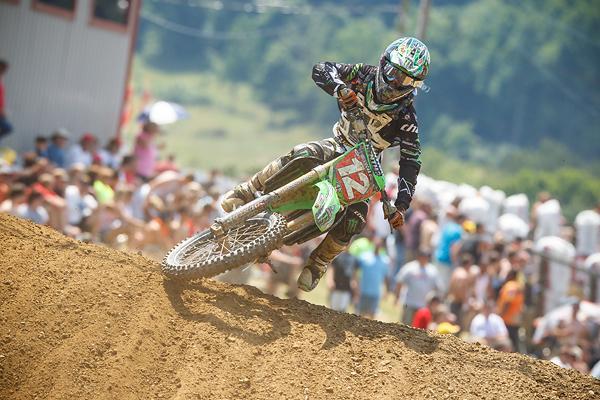 High Point would mark the first time all season that Baggett has finished off the podium.
Simon Cudby photo
"Second moto, I got a good start, which was very surprising. I think I ended up fourth. I made my way into third shortly after the start or started there. I don't know, maybe halfway, I looked back and I saw Eli and he was right there, right on us. He had caught us and, I don't know, I just went. I went hard.
I was able to make the pass on [Justin] Barcia and actually pulled a pretty good gap on him, they said. I felt like I was going to get to the front. I could see him [Roczen], so there was definitely a possibility to get there. Instead of using the cushion on the outside, I decided to protect my insides because with those guys, not mentioning any names, you've got to protect yourself. So I kind of took a more inside line than normal, ended up washing the front wheel. Kind of a dummy move, but oh well. I was trying to protect my inside and I didn't know I had a gap on them. I thought they were closer than they were. So I was protecting my inside line and crashed, they got by. After that, I got up and then just went for it. Went bonanzos, wide open."
At that point, any thoughts about consistency went out the window. Baggett was just going to ride as fast as he could, consequences be dammed. "I was going," he explains. "I was going to get second! Whatever it took, I was going to get there! I just caught a lapper and he was in my line. There was a line that hooked a right and went up over the single and there was a line that went straight and around it. He was in the straight line and I was behind his roost, but I could see him. He was right there. So I kind of got indecisive on where I was going to go and then last minute tried to get back to the outside and caught the inside rut that went right and then just went head over heels. I got up from that and was sore and I was just like, 'Well this really sucks.' It was a big one. But made it another lap and a half, maybe, and crashed again. Got up from that and maybe passed, I don't know, one or two more people and then I called it a day. So that's a recap on High Point."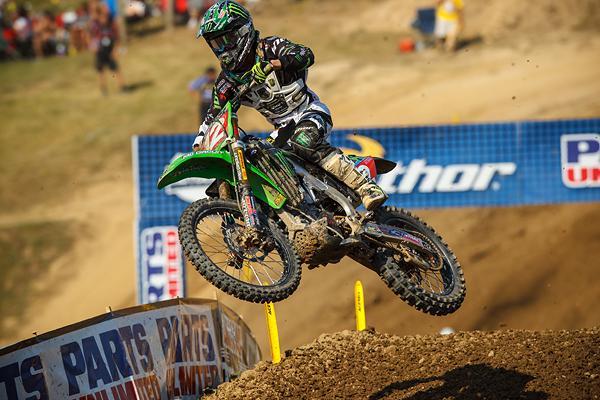 Baggett continues to lead the 250 class in points as the series heads to Budds Creek.
Simon Cudby photo
Three crashes in three laps—and the biggest came when Baggett went "bonanzos" trying to catch Barcia and Tomac. For this weekend, Baggett was going for the W, instead of the points. At least, as a saving grace, he leaves High Point with the series' lead, which is something he didn't have last year at this time. Oh, and one other thing that looked better than last year's race at this track.
"I crashed, but I kept the visor going straight, which was a plus."