High Point Raceway
Mt. Morris

,

PA
High Point
Lucas Oil AMA Pro Motocross Championship
High Point
Raceway lived up to its name for today's FMF
High Point
National, the fourth round of the Lucas Oil Pro Motocross Championship. The track name could have just as easily referred to the action on the track, as the racing in the 250 class just might be the high point of the season so far, while the 450 class provided more championship drama and points-standing shakeups.
The 450 class was headline by the anticipated battle between James Stewart and Red Bull KTM's Ryan Dungey the series' points leader. Dungey was coming off of a race win last weekend, while Stewart, despite a huge crash and hand injury incurred last week, announced he would try racing.
In the first moto, Mike Alessi grabbed one of his trademark holeshots on his MotoConcepts bike, and he set a fast early pace. Behind him, Monster Energy Kawasaki's Jake Weimer and Chaparral Honda's Andrew Short battled, before Dungey fought his way past both of them for second. He then systematically worked his way up to Alessi's rear tire, but a battle for the lead ended before it started once Alessi bobbled and Dungey rolled past.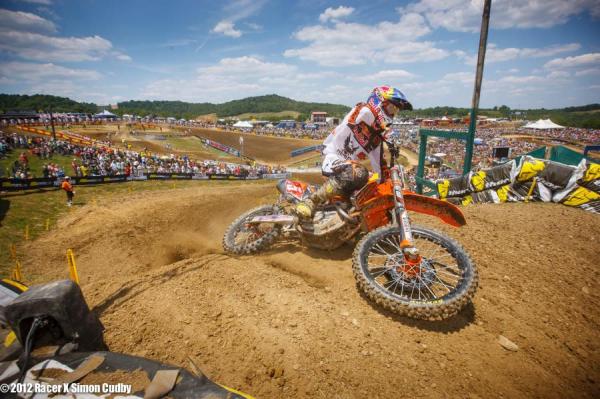 Ryan Dungey is moving away from the 450 field in points and on the track.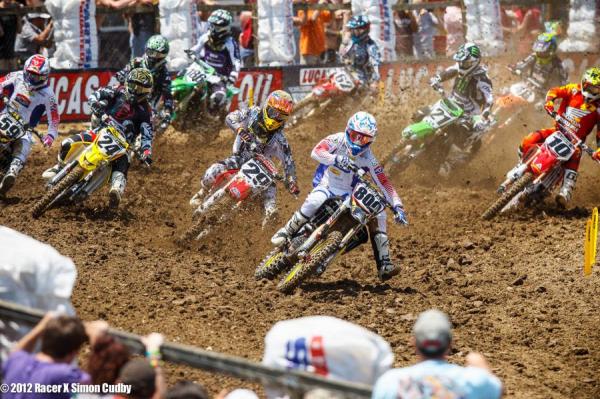 Mike Alessi nailed the first-moto holeshot, and led parts of both motos en route to second overall.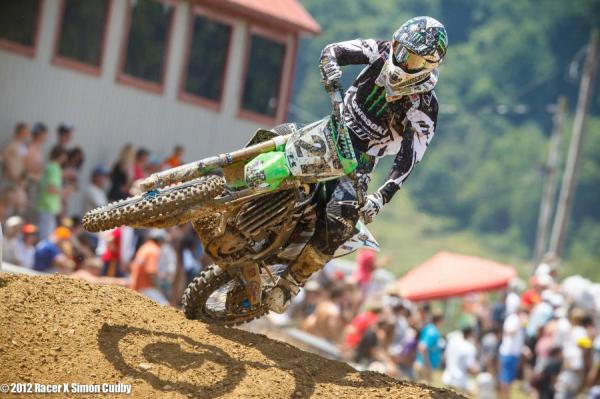 Jake Weimer took his second-straight podium finish.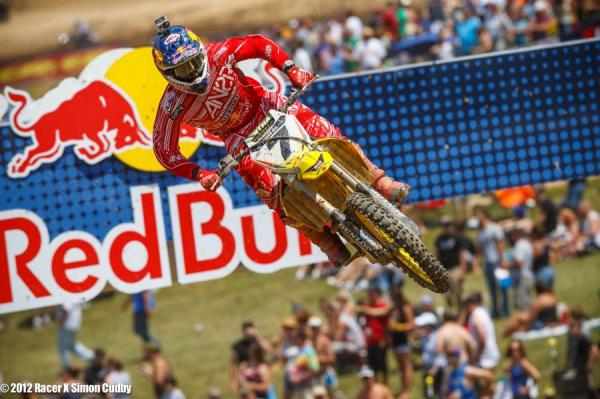 James Stewart raced to fifth in moto one but called it a day since he could barel hang on.
Simon Cudby photos
Meanwhile Stewart started poorly and wasn't able to make up ground like he had in the earlier rounds—when he was healthy—and his charge stalled in about fifth. Up front, Dungey sailed to the win over Alessi, Monster Energy Kawasaki's Jake Weimer, and Short.
Moments before the second moto, Stewart elected not to race, saying his team thought better of sending him back out after he could barely hold on in moto one.
In moto two, Dungey pulled a better start and grabbed the lead, but Alessi was on fire with his early pace, pressing Dungey and then taking the lead. Then he took off and opened it up while Dungey regrouped. Behind Dungey, Weimer rode solid in third, but Dungey began to pull away from him and close back in on Alessi. He eventually made the pass and pulled away steadily, again, to take his fourth-straight moto win and second straight overall. Alessi's 2-2 gave him second over Weimer's 3-3. Short and Davi Millsaps, who returned to action after a two-week layoff with internal injuries, rounded out the top five.
"Mike (Alessi) put up a fight in both motos," said Dungey. "It was a crazy one (today). These were the toughest conditions I've experienced here, (but) the bike worked really well throughout the day. Every race (and) every championship series goes differently, so I'll keep my head down and go one race at a time. To celebrate the win is awesome; you've got to enjoy it, but its time to go to work again. You're only as good as your last race and you've got to be there every single weekend."
"Halfway through the first moto I could barely hold on," said Stewart, whose right throttle hand has been of concern. "I was struggling a bit (because) I got a bad start, but I was working my way up. I was trying to do my best to hold on and I almost fell over a few times. At this point, I came out here (and) I tried. I knew I wasn't 100 percent and I felt like I at least needed to try and do that, but I couldn't. I was still going to try and give it another shot for the second moto, but (the team) knew about my riding. We'll see what we can do maybe next weekend or in a few weeks."
The 250 class hosted amazing racing—again—with an incredible come-from-behind-last-lap effort for the win. But not by the expected party, Blake Baggett. This time Eli Tomac did the damage on his GEICO Honda with an incredible effort for his second overall win of the season.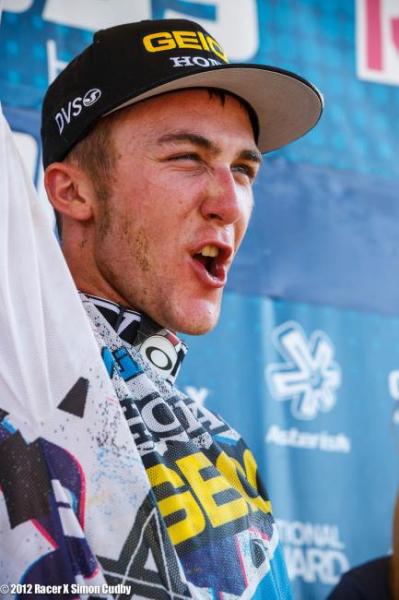 A shocking, jaw-dropping, amazing come-from-behind ride by Eli Tomac landed him his second victory of the season. Yeah, Eli! Scream!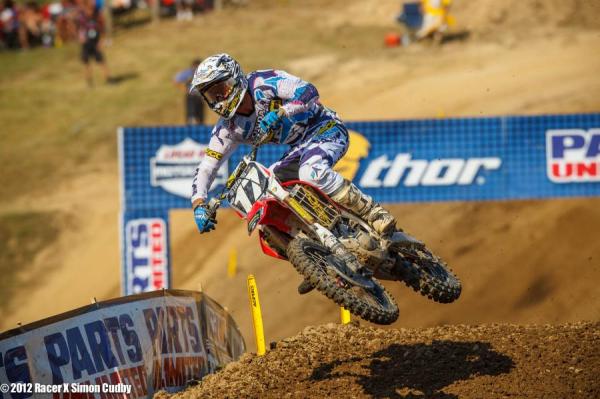 Tomac took second in moto one but really made a mark in moto two.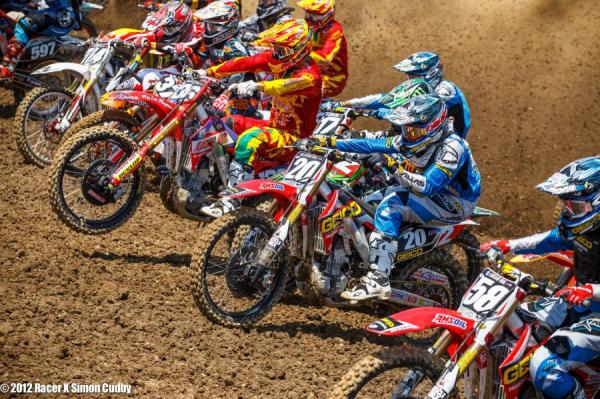 Justin Barcia (20) took the win in moto one.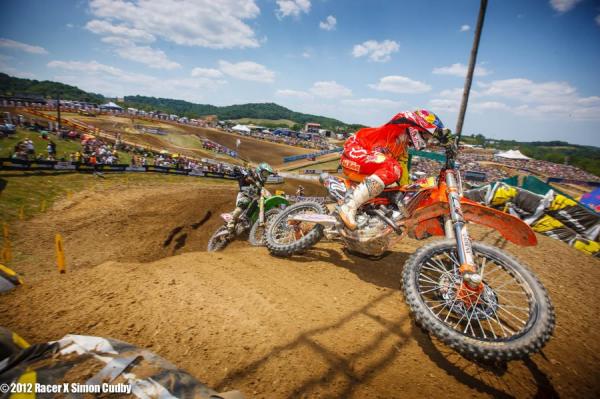 Ken Roczen (leading) took a dissapointing fifth in moto one, but came within a lap of winning moto two. Crashes in the second moto dropped Blake Baggett off of the podium.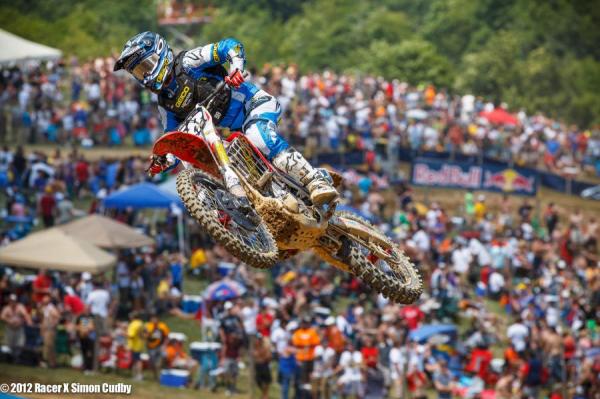 Wil Hahn broke up the "big four" for awhile by running in a podium spot for most of the first moto.
Simon Cudby photos
In moto one, the GIECO boys were up front early, with Wil Hahn and Justin Barcia nailing the start and battling for the early lead. Tomac soon moved forward as well, and at one point the GEICO squad was running 1-2-3. But Baggett, the series' points lead on a Monster Energy Pro Circuit Kawasaki, was up to fourth, and then he picked off Hahn for third. Baggett went after Tomac for second, but Tomac was stingy with the spot. Meanwhile Barcia had a solid lead until he fell late, and that pushed Tomac and Baggett toward him. Barcia hung on for the win, with just two seconds between the top three. Hahn took fourth, with Red Bull KTM's Ken Roczen struggling a bit for fifth.
In moto two, though, Roczen turned things around completely by grabbing the early lead and checking out from Barcia and even Baggett, who had a rare good start. The Barcia versus Baggett battle raged on, while Roczen pulled a gap and Tomac—incredibly, began to creep up on the leaders despite starting way, way back. When Baggett saw Tomac coming, he turned the pace up even higher and got around Barcia, but that aggression cost him when he crashed. This put Barcia into second, but Tomac was all over him, and the two teammates went at it, running side-by-side lap after lap until Tomac finally made the pass stick. At that point, Roczen held a nine-second lead and looked headed to his first moto win in the U.S. But Tomac kept coming, and then Roczen crashed in traffic. He got up still holding the lead, but there was no holding back Tomac's incredible charge—he passed Roczen on the last lap to complete a ridiculous run from around 20th to get the win, and the overall via 2-1 scores. Barcia went 1-3 for second and Roczen went 5-2 for third overall—his fourth-straight third-place finish.
"That second moto was a lot of work," said Tomac. "I never really gave in and kept fighting. Kenny (Roczen) had that mistake, so I ended up getting a chance for the win and I capitalized on it. I really think it was one of the best rides I've ever had because I had to come from so far behind. I think I was about sixth or seventh out of the gate."
As for Baggett, he ended up crashing two more times in the moto for a total of three. He finished fifth in the moto.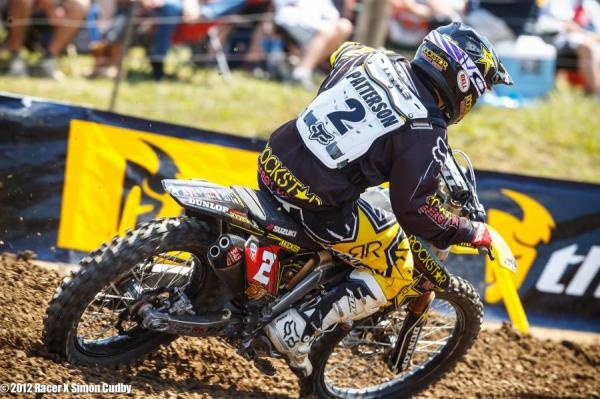 We would like to run the classic "This is all the competition got to see of Jessica Patterson today" caption but we can't, because JP$ had some serious ground to make up in every moto.
Simon Cudby photo
In WMX action, Jessica Patterson and Lucas Oil Troy Lee Honda's Tarah Gieger presented the fans with one of the best battles we've seen all year. Gieger got out to an early lead and opened a huge gap on the field while Rockstar Suzuki's Patterson crashed on the first lap and remounted in dead last. Patterson put her head down and started twisting the throttle hard, but with the colossal lead that Gieger had, it seemed impossible that Patterson would be able to catch her. Interestingly enough, Gieger said that her lead was so large it caused her to get bored and put it on cruise control a little too early in the race, and in the closing stages of the moto, it became obvious that Patterson was indeed going to catch Gieger. On the final lap, Patterson was all over Gieger, but Gieger hung tough and was able to maintain the lead to take the moto win by less than a bike length.
When the second moto started, it looked like the crowd would be treated to another battle between Gieger and Patterson, as Gieger again took the early lead while Patterson gave chase several positions back. Honda's Sayaka Keneshiro was up frot as well, but Patterson got around here for second, then caught up to Gieger. Patterson tried a line on the inside just as Gieger attempted to shut the door. The two collided and they both went down. Gieger's bike stalled, courtesy of a Patterson's front wheel getting wedged in Gieger's rear wheel, while Patterson's stayed running, and Patterson was able to remount quickly and eventually take the moto win over Sayaka Kaneshiro and Marianna Balbi. Patterson's 2-1 gave her the overall, Gieger took second, and Kaneshiro, Balbi and Kasie Creson rounded out the top five.
Lucas Oil Pro Motocross Championship
FMF High Point National, presented by United Bank
High Point Raceway – Mt. Morris, Pa.
June 9, 2012
Round 4 of 12
450 Overall
1. Ryan Dungey 1-1
2.
Les Smith
38-24
33. Cole Thompson 28-35
34. Dalton Carlson 35-29
35. Heath Harrison 34-32
36. Seth Rarick 32-34
37. Josh Greco 37-31
38. Dustin Pipes 39-30
39. Michael Stryker 36-33
40. Shane Sewell 40-40
250 Overall:
WMX Overall:
1.
Jacqueline Strong
7-4
7. Marissa Markelon 6-7
8. Sara Pettersson 9-8
9. Amanda Brown 8-11
10. Sade Allender 11-9
450 Class Championship Standings
1. Ryan Dungey, Belle Plaine, Minn., KTM, 186
2. Mike Alessi, Victorville, Calif., Suzuki, 144
3. Jake Weimer, Rupert, Idaho, Kawasaki, 141
4. Andrew Short, Smithville, Texas, Honda, 128
5. James Stewart, Haines City, Fla., Suzuki, 116
6. Brett Metcalfe, Mannum, Australia, Suzuki, 114
7. Nico Izzi, Rochester, Mich., Yamaha, 95
8. Broc Tickle, Holly, Mich., Kawasaki, 90
9. Josh Grant, Riverside, Calif., Kawasaki, 84
10. Kyle Chisholm, Valrico, Fla., Kawasaki, 66
250 Class Championship Standings
1. Blake Baggett, Grand Terrace, Calif., Kawasaki, 175
2. Justin Barcia, Monroe, N.Y., Honda, 168
3. Eli Tomac, Cortez, Colo., Honda, 164
4. Ken Roczen, Apolda, Germany, KTM, 158
5. Marvin Musquin, La Reole, France, KTM, 117
6. Wil Hahn, Decatur, Texas, Honda, 101
7. Blake Wharton, Pilot Point, Texas, Suzuki, 87
8. Ivan Tedesco, Murrieta, Calif., Kawasaki, 86
9. Kyle Cunningham, Fort Worth, Texas, Yamaha, 86
10. Jason Anderson, Edgewood, N.M., Suzuki, 77
WMX Class Standings
1. Jessica Patterson, Tallahassee, Fla., Suzuki, 188
2. Tarah Gieger, Aguadilla, Puerto Rico., Honda, 155
3. Sayaka Kaneshiro, Osaka, Japan, Honda, 137
4. Mariana Balbi, Belo Horizonte, Brazil, Honda, 126
5. Ashley Fiolek, St. Augustine, Fla., Honda, 125
6. Jacqueline Strong, Cottonwood, Ariz., KTM, 114
7. Kasie Creson, Vallejo, Calif., Honda, 110
8. Sara Pettersson, Sweden, KTM, 101
9. Meghan Rutledge, New South Wales, Australia, Kawasaki, 78
10. Sade Allender, Sanford, Maine, Honda, 74