High Point Raceway
Mt. Morris

,

PA
High Point
Lucas Oil AMA Pro Motocross Championship
#superstarproblems
That's what I had to deal with during the one-hour weather delay before the first 250 moto from the Toyota Thunder Valley National. The weather must have been bad, because motocross generally runs rain or shine, and this race wasn't running. We must have been experiencing something either in between, or completely outside, of rain or shine. Maybe a giant rainbow had broken out and everyone just wanted to stop and look at it?
But I really had no idea, because even though it was my job to explain to live TV viewers what was happening at the track, I was probably the least equipped to do so. While thousands of people were enjoying outdoor motocross while actually outdoors, I was inside, tucked away in the plush, air conditioned TV booth.
Yup, [Jeff] Emig and I only get out in the elements before and after the motos. During the races, we have climate control, and the only issue we have to deal with is when the AC gets too cold and we have to stuff blankets over the vents. I'd like to say they keep it frosty in there to help us out, but reality is that we've got like 10 TV monitors in that booth, and that makes things hot, and they don't run well outside in 100 degree heat. The TVs get the royal treatment, and I just sit there in the same room as them.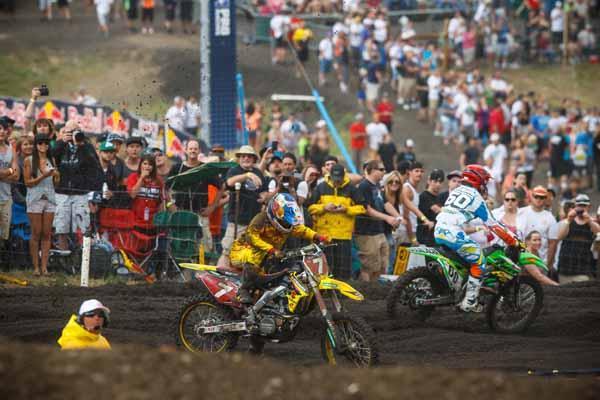 Stewart went down and the TV crew had to go searching for shots to figure out what happened.
Simon Cudby photo
I mean, you can announce all day in bad weather. We did five-straight hours live on Saturday, but that's nothing compared to the days announcing live over the PA system at the events. At Washougal, you work a good 12-straight hours, starting with the smooth, sandpapery vocals of Brian Barnes yelling "Hello Washougal" at 6 a.m. Washougal has an announcer's tower, but it lacks windows or doors—or even steps. You use a ladder to get up there. But its motocross, its summer time, and being outside is fun.
At Millville, the tower sits sandwiched between the finish line jump and the first turn. When four-strokes came in and started digging deep, under heavy load, through the 180 degree corner after the finish, the sound was pure thunder, and then amplified inside the echoing wooden walls and glass windows. Bose can't noise cancel anything that loud.
Heck, Loretta Lynn Ranch is the hottest place on earth in August, and even though we have a tower with windows and doors there, General Electric is yet to invent an A/C unit that can handle cooling that 10x10 hot box—especially when "guests" stop by, unbutton their pit shirts, and form a parachute bubble over the vents. If it's 90 on the track, it's 83 in the tower, give or take how much of the dude's exhaust is blowing out the back of his polyester shirt. And then you still have to go to the podium every 20 minutes. For six days straight from 7 a.m. to 7 p.m.
But wait, even that is nothing compared to announcing a GNCC, where we don't even have a tower or building of any kind. We have a table and a tent, but if you want to see what's going on, you'll need to walk and look for yourself. And GNCCs never have good weather. If you're experiencing a drought, we'll bring the rain. If you have flooding, we'll find dust. If we're racing in Ohio, we'll have both in the same weekend.
But there's something about being in the trenches that kind of makes the show. Two of the most fun announcing gigs I've ever had? Daytona Supercross in 2008 and 2012. Both times I had to fumble with both a mic and an umbrella as rain pounded down, but you knew everyone around you was experiencing the same thing, and that shared experience made it special. The Daytona staff has hosted some of the biggest races in the history of racing, but the Daytona 2008 Supercross registers as one of their craziest nights ever.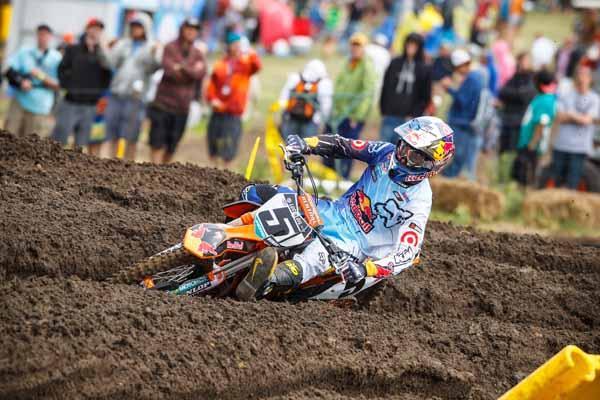 Ryan Dungey scored a big 1-1 overall victory on a strange day.
Simon Cudby photo
But this time, I was holed up in the booth. Kind of like Southwick last year, where we apparently had a hurricane blowing through, but not of the "Hannah in '87" variety. But someone storming through the pack is the only storm we can generally recognize, because we're in there with those royal TV sets.
This time, wind was the big factor. We knew the potential, as a storm ripped through the pits on Friday and took the J-Star JDR team awning with it, possibly back down to Australia. While it may have only seemed like a dark cloud has followed that team this year, we now know that it literally does.
So when the riders completed the parade lap for the first 250 moto, but were then pulled back from the starting gate and into staging, we could guess what was happening. We then saw images of banners blowing across the track, so that was something. But when you're doing live TV, you very often don't have any more information than what the viewers are seeing at home. And often, that's not much—especially when the wind gets so bad that all the camera operators have to be called off of their spots for safety reasons.
But that's the kind of day we had. When James Stewart crashed while leading the first 450 moto, we didn't have the shot. The crew went through a search of all the cameras we had on the track, but came up empty. Unlike supercross, where you can stick one camera atop the 50-yard line and follow the leader for the entire race, in motocross, you take your chances and hope you don't miss anything. This year we have caught 95 percent of what matters, but we missed this one.
At first. Stewart had a GoPro camera, and the shot we had of him getting up showed that camera had broken off of his helmet and was sitting on the track. Maybe someone could rescue it? We had no idea. So we were left guessing as to what happened. Of course, Stewart had crashed without warning plenty of times, and we even rolled a crash reel from supercross this year as proof. At that point, we had no idea that his crash had been caused by a photographer crossing the track.
Pit reporter Kelli Stavast rushed over to the Yoshimura Suzuki pits and got the word—someone had crossed the track, and that caused the wreck. That was the first anyone of us had heard this—the viewers found out at the same time we did.
Later, probably a good 40 minutes after the crash, the GoPro footage was retrieved. Our producer only said "We have the footage let's roll it" so none of us even knew what it would show—again, Emig and I saw it for the first time as it rolled. Later, we received an additional shot via Allisports.com video man Matt "Abe Lincoln" Wozny, who was further down the track. But from his angle, the shot only showed Stewart crashing, and didn't catch the guy crossing the track.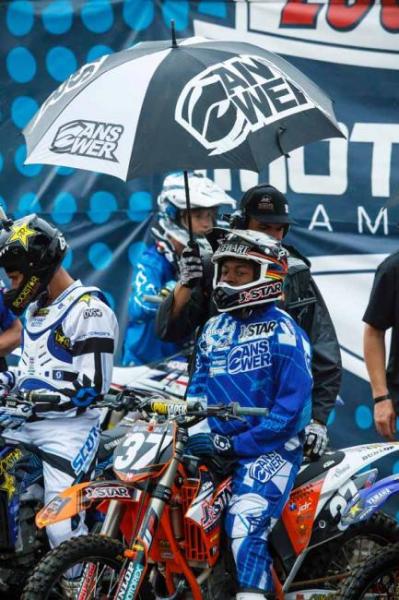 Riders needed protection from weather that quickly went from bad to worse.
Simon Cudby photo
And that's all the info we had. At that point, we are left to describe things even though we didn't have much to go on—and that, folks, is how any live broadcast works. You're working on the fly. Heck, this morning, the Today Show covered Queen Elizabeth II's Diamond Jubilee and you could tell Matt Lauer, Meredith Vieira and Al Roker were in the same spot. They saw the same thing you did, that's all the info they had, and they just riffed on it. It's a common misconception that producers are in the ear of the talent feeding them tons of stuff. Keep in mind the producer has a very important other job to do—keep the TV show running! Our guy, Chris Bond, is awesome and he helps us when we ask, but if anyone thinks we are saying things or asking things because someone is in our ear telling us to, hey, the crew wishes they had time for things like spoon-feeding the announcers. They're trying to keep a live TV show on the tracks despite the 1000 things that might potentially go wrong. It's up to the announcers to be the announcers.
And of course, as with all things James Stewart, the GoPro footage left room for interpretation. Does anything Stewart does not end up polarizing the audience? Dude came back to motocross even though he didn't have to, rode for free, won a bunch of races, and yet somehow something crazy had to happen and it had to happen in a manner in which half the fans will see it as his fault, and half won't.
As for me, I know these shows are getting DVRed and archived forever, so you have to be careful not to overreach and make some sort of grand statement that will sound really dumb once all of the facts are known. For example, did you know GoPro cameras have a wide-angle lens than can make "objects actually closer than they appear?" This means if I had said, "Hey, that dude wasn't even close!" I would have sounded like an idiot. So you have to be careful when your first thoughts live on forever. So we just kind of kept repeating that he crashed, mentioned that the guy crossed the track, and showed the footage a few more times. That's all we could really do without guessing. And if you think someone was in our ear telling us what to say, what would be the point of that? The footage was right there for all to see, so what could we have really said, anyway?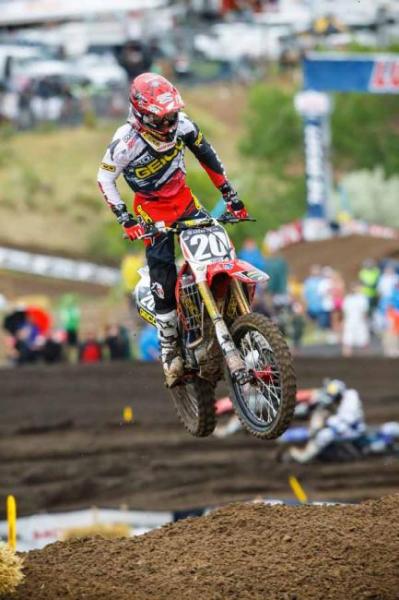 Justin Barcia won the first 250 moto after an hour weather delay.
Simon Cudby photo
A few minutes later, crazier stuff was happening when the wind, lightening and everything else came to greet the 250 riders, and the moto was delayed for an hour. But while everyone at the track understood the decision to delay, Emig and I were in that truck, not feeling any wind or rain, and just trying to stay warm in the AC storm. Yup, #superstarproblems, it was just so tough explaining how bad the weather was inside our weatherproof box! We had no idea how long the delay would last, because things were happening on the fly. So all I could do was repeat the same stuff over and over, careful not to, like the Stewart deal, say anything rash or speculative that could end up sounding stupid later.
At some point, an hour later, the race started. Kudos to FUEL TV for giving us an additional live hour, and kudos to NBC Sports Network for allowing the 450 moto to go on live at 5 p.m. instead of 4 p.m. after the weather delay—for once, motocross got to be the sport that bumped all the other shows around. Sorry if your DVR wasn't prepared for that. Not that I'm complaining—if you didn't record the show, then all you did was miss me saying something stupid on my own. I don't need and don't receive anyone's help doing that.