Thunder Valley Motocross Park
Lakewood

,

CO
Thunder Valley
Lucas Oil AMA Pro Motocross Championship
Just when you thought you've seen everything in this sport, something like this year's Toyota
Thunder Valley
National breaks out.
Lakewood, Colorado, just outside of Denver, was the host for this third round of the Lucas Oil Pro Motocross Championship, sanctioned by AMA Pro Racing, and it shook up the series standings quite a bit. At the end of the wild day, Red Bull KTM's Ryan Dungey, GEICO Honda's Justin Barcia and Rockstar Suzuki's Jessica Patterson had emerged with the overall wins in the 450, 250 and WMX classes.
The 450 class was headlined by a big crash from series points leader James Stewart, who was leading the first 450 moto before going down early in the race. Footage from Stewart's GoPro helmet camera revealed a photographer had crossed the track as Stewart was landing from a jump. Although the footage revealed they weren't close enough to have collided, Stewart's team indicated that he was forced to adjust his line and lose focus just as he hit a deep set of ruts. He went down hard. That ended Stewart's day, as he retired to the Yoshimura Suzuki truck with a jammed wrist. His status for next weekend's race at High Point is now uncertain, as he will get the wrist checked out when he gets back home.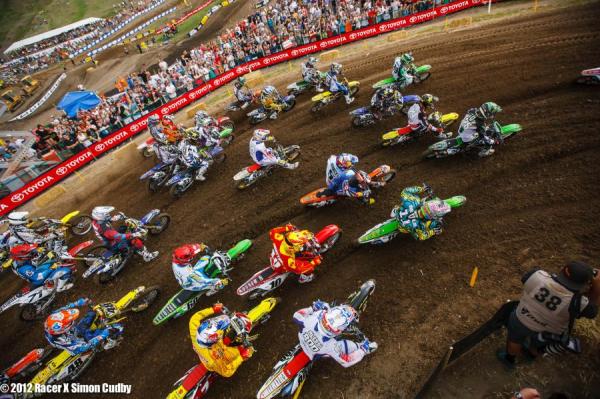 The 450 pack blasts off.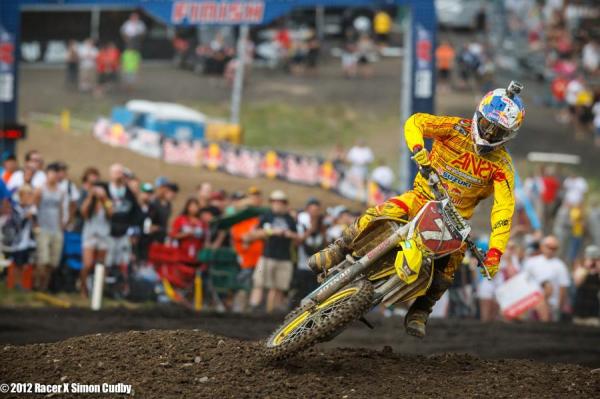 Stewart pulled into the lead early in moto one.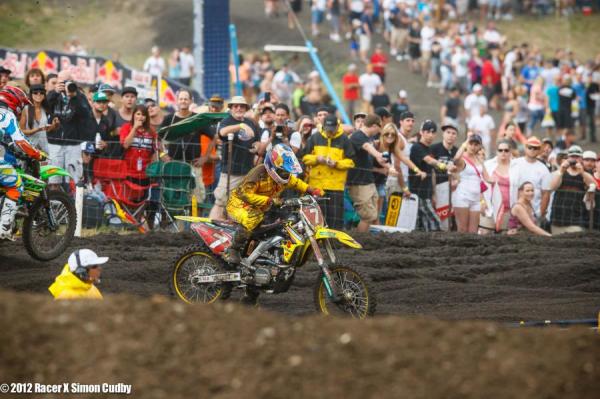 But then a big crash ended his day.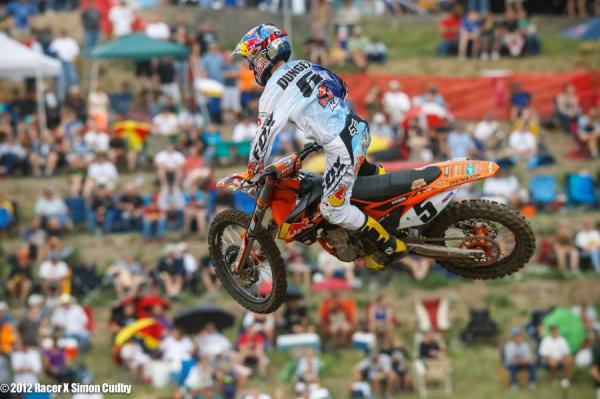 Without Stewart to battle, Dungey was able to pull clear to solid 1-1 finishes.
Simon Cudby photos
Before the crash, Stewart had climbed from ninth to second in the first lap, and then overhauled Team Honda Muscle Milk's Tommy Hahn for the lead. Before long Red Bull KTM's Ryan Dungey was into second and trying to close back in on Stewart. Once he inherited the lead after the Stewart crash, he opened up a big gap and hung on for his first moto win of the season. Monster Energy Kawasaki's Jake Weimer rode a solid race for second with Yoshimura Suzuki's Brett Metcalfe in third.
In moto two, Dungey got the holeshot and had pressure early from Colorado's own Andrew Short. Short rode well but eventually Dungey got away, posting 1-1 scores for the day and taking over a big points lead.
"I hate to win like that," said Dungey, who has won three consecutive races at Thunder Valley. "James and I have pushed each other to new levels and although he won the first four motos (this season), it's been good. Hopefully he heals up and comes back (next week). My game plan is always the same, to take it one race at a time. You can't focus on the end result and we saw that today. I just do my own thing, put my best foot forward, and never underestimate anyone."
Battles raged behind him, with Short under pressure from Weimer and Monster Energy Pro Circuit Kawasaki's Broc Tickle. Tickle rode strong and eventually overhauled Weimer for third, but Short hung on to finish second. But Tickle didn't finish the first moto with bike problems, so that left Dungey, Weimer and Short in the top three overall.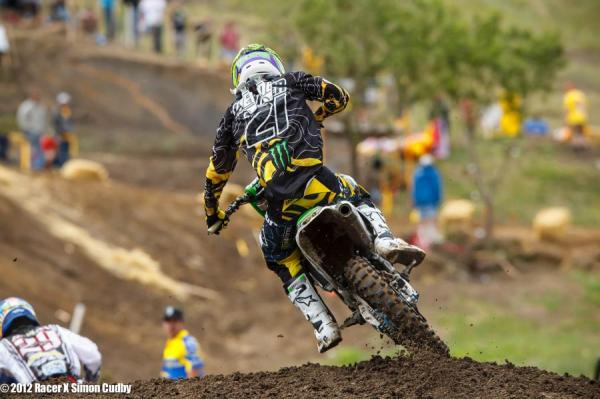 At the sight of his first-ever win on 250s, Jake Weimer went 2-4 for second overall in the 450 class.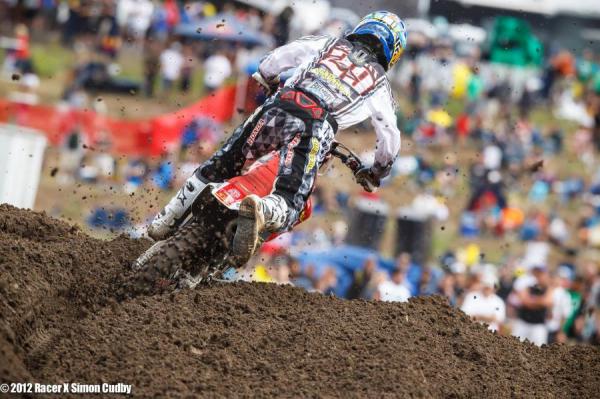 Andrew Short demonstrates how deep the ruts were at Thunder Valley. The home-state favorite took third overall in the 450 class.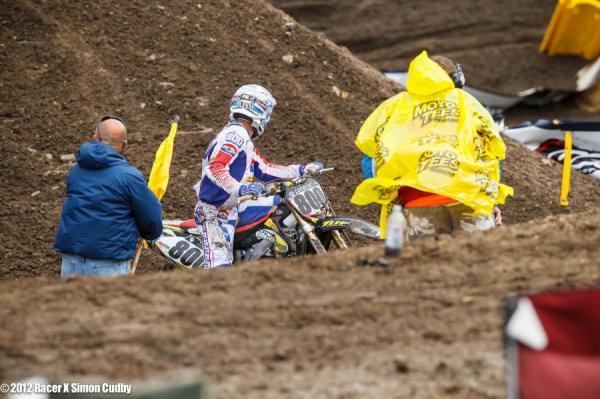 Mike Alessi's two-race podium streak came thanks in part to an early crash in moto two.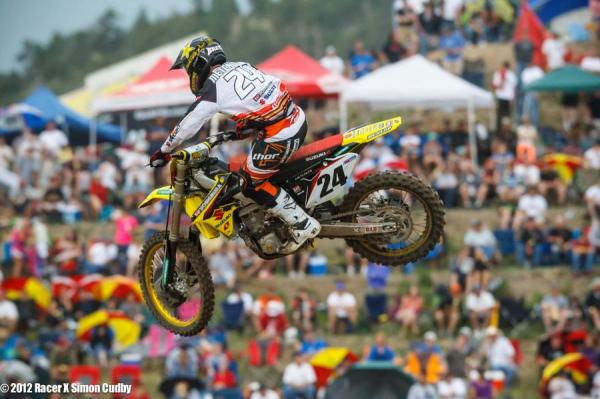 Brett Metcalfe got around Alessi for third in moto one, but troubles early in moto two knocked him off of the overall podium.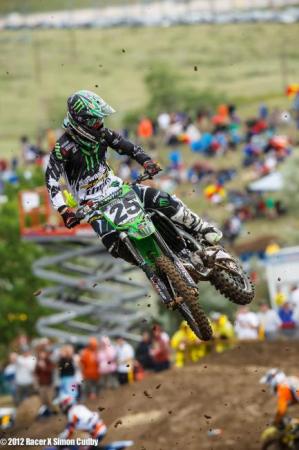 Broc Tickle's second 450 moto--where he got around Weimer for third--was his best 450 performance yet. Bike troubles in moto one hurt his overall score.
Simon Cudby photo
Then all heck broke loose, but not in the first 250 moto. Before that race even started, the perfect storm broke out, with high winds, rain, thunder and lightning making the Thunder Valley name apt. The first 250 moto was held up for an hour, and when the racing began, the track was a little muddy—and the ruts had become super deep.
Once it started, the 250 class hosted its usual array of crazy racing. Barcia grabbed the holeshot in the first moto and spent much of the race holding off Red Bull KTM's Ken Roczen, who would make frequent attacks from second. Points leader Blake Baggett, on a Monster Energy Pro Circuit Kawasaki, caught neutral off the start while shifting from first to second gear (first gear starts are needed at altitude, and up Thunder Valley's uphill start). He had to come from way back. Also way back was last week's winner Eli Tomac got a poor start. Tomac worked his way into the top ten and then tipped over and lost a few spots. Later Baggett would have a similar crash in the deep ruts himself while trying to pas Rockstar Suzuki's Blake Wharton. Despite that, Tomac and Baggett kept moving forward, with Tomac getting to fourth, and Baggett to third.
Late in the moto, Roczen tried another run on Barcia but also crashed in a rut, similar to Baggett and Tomac. This allowed Barcia to cruise to victory, while Roczen got up under heavy pressure from Baggett. Roczen managed to hand on for second.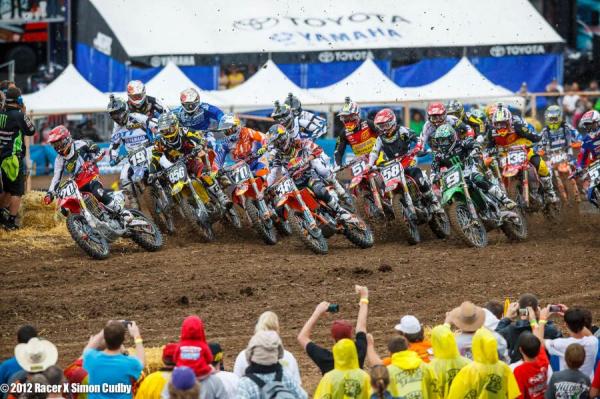 Barcia got back to his old starting tricks in Colorado.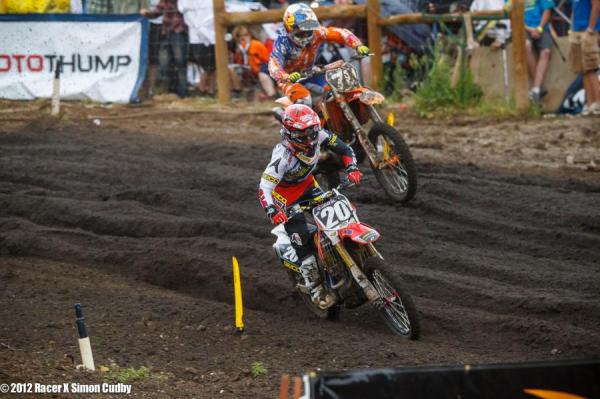 Barcia and Roczen were about this close all day.
Simon Cudby photos
Wil Hahn grabbed the holeshot in the second moto but Barcia swept to the inside and immediately had the lead again, with Roczen all over him, again. Roczen's teammate Marvin Musquin was there, as well, but this time Baggett and Tomac had better starts, and soon Barcia, Roczen, Baggett and Tomac were into the top four spots. Each exchanged fast laps, putting on a first-rate battle. At one point, Tomac looked like the fastest rider of the group, but around the halfway mark, Baggett began putting together one of his patented charges, getting away from Tomac, and then getting around Roczen and Barcia and pulling away with the lead.
Barcia would later say he was suffering from rear brake problems, but if he held on for second, he would still edge Baggett for the overall win. But Roczen, after about an hour of trying through the two motos, finally made a pass on him. This set up Baggett for the overall win with a 3-1, until a crazy last lap. Barcia put in one last-ditch charge to try to get Roczen, and when Roczen got held up by lappers, Barcia was able to pull alongside him. Roczen tried to block Barcia's line by cutting across some ruts. They touched, and Roczen went down. Barcia stayed up and took second back over, which put him back into the overall lead. Tomac also got around Roczen for third. At the finish, Baggett won the moto, but Barcia edged his 3-1 with 1-2 scores. Roczen's 2-4 edged Tomac's 4-3.
"Last weekend was tough on me, but today was awesome," said Barcia, who last won as a rookie during the 2009 season. "The first moto couldn't have gone any better and the second moto was good too. I knew what I had to do (in the second moto). I rode my own race a little bit, but then I put on a hard charge at the end. Ken and I may have touched a little bit, but I just kept going."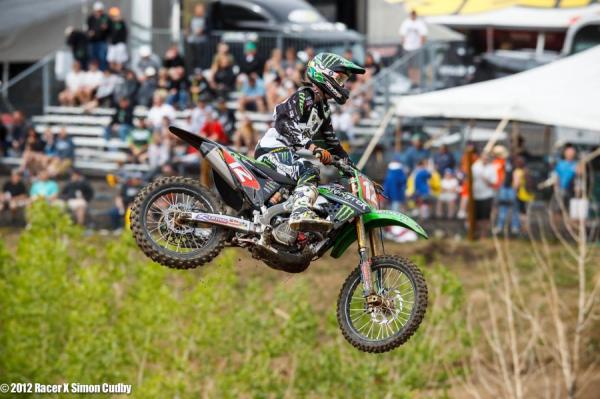 Baggett took off with the second-moto win.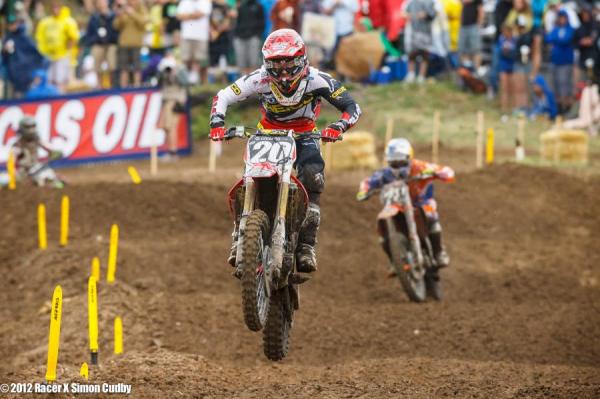 Once again, Barcia and Roczen hooked up in a battle.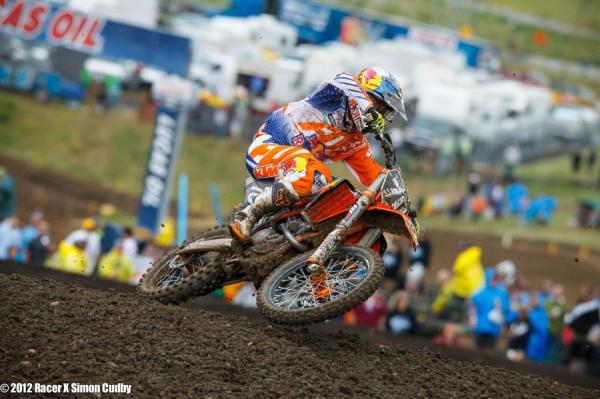 Roczen and Barcia came together on the last lap, Roczen went down and Barcia stayed up--and that made the difference for the overall win.
Simon Cudby photos
In the WMX class, Patterson and Team Honda's Ashley Fiolek put on a superb battle in the first moto, one of the best in their long-running rivalry for the top spot. The two were never more than a few bike lengths apart, but Patterson held on to win.
Things got crazy in moto two, as Fiolek had a big crash and was only able to solider on to finish sixth. Patterson had troubles as well, allowing Lucas Oil Troy Lee Honda's Tarah Gieger to take the lead. Then Gieger made a bobble, and Patterson took the lead, giving her 1-1 scores and the overall win. Gieger and Fiolek rounded out the podium.
"I didn't feel like I was in my groove in the first moto, but Ashley and I had a really great battle, and that made it fun," said Patterson. "It was good for the fans, too. I've got that red plate, and the team says I'm not not allowed to lose the points lead because it looks sweet on the bike."
The series next heads east to High Point Raceway in Mt. Morris, Pennsylvania.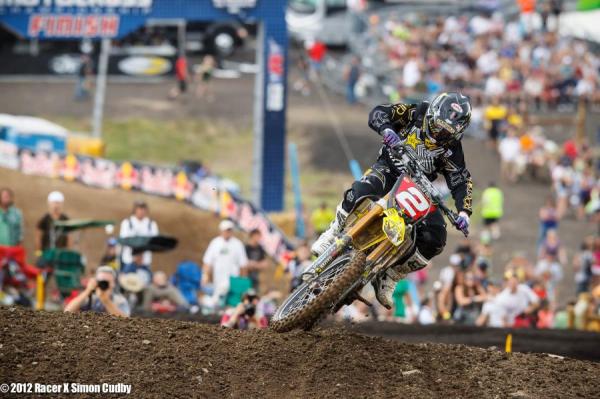 JP$ was money in the WMX class.
Simon Cudby photo
450 Moto Results
Overall
Ryan Dungey 1 1
Jacob Weimer 2 4
Andrew Short 7 2
Nico Izzi 5 5
Brett Metcalfe 3 10
Mike Alessi 4 9
Justin Brayton 9 6
Michael Byrne 12 7
Billy Laninovich 11 8
Kyle Chisholm 10 11
Broc Tickle 35 3
Mathew Lemoine 13 12
Shane Sewell 14 13
Josh Grant 8 19
Ryan Sipes 6 26
Derek Anderson 16 16
Ben LaMay 18 15
Vince Friese 15 18
Les Smith 20 14
Jimmy Albertson 37 17
Kevin Rookstool 17 23
Evgeny Mikhaylov 19 20
Justin Sipes 23 22
Michael Giese  26 27
Austin Howell 34 21
Cole Thompson 21 34
Dustin Pipes 27 29
Heath Harrison 25 31
Robert Lind  29 28
Kyle Regal 22 37
Drew Yenerich 24 36
Jake Loberg 31 30
Nick Paluzzi 39 24
Alexander Millican 30 33
Tye Hames 28 35
Tucker Saye 32 32
Preston Mull  40 25
Tommy Hahn 33 38
Sean Collier36 39
James Stewart 38 40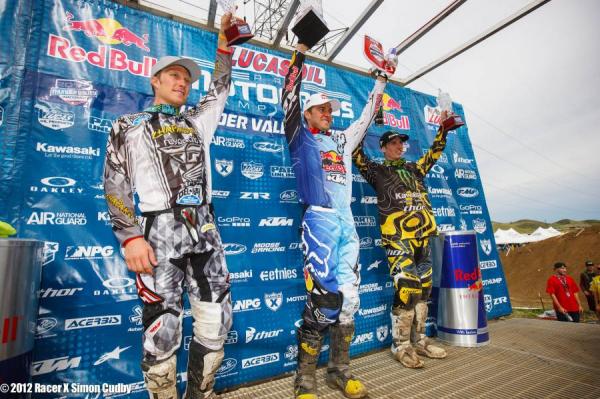 The 450 overall podium.
Simon Cudby photo
450 Class Championship Standings
1. Ryan Dungey, Belle Plaine, Minn., KTM, 136
2. Jake Weimer, Rupert, Idaho, Kawasaki, 101
3. James Stewart, Haines City, Fla., Suzuki, 100
4. Mike Alessi, Victorville, Calif., Suzuki, 100
5. Andrew Short, Smithville, Texas, Honda, 97
6. Brett Metcalfe, Mannum, Australia, Suzuki, 84
7. Josh Grant, Riverside, Calif., Kawasaki, 73
8. Nico Izzi, Rochester, Mich., Yamaha, 71
9. Broc Tickle, Holly, Mich., Kawasaki, 63
10. Kyle Chisholm, Valrico, Fla., Kawasaki, 50
250 Results
Overall
Justin Barcia 1-2
Blake Baggett 3-1
Ken Roczen 2-4
Eli Tomac 4-3
Marvin Musquin 5-5
Malcolm Stewart 8-6
Blake Wharton 6-9
Wil Hahn 10-7
Kyle Cunningham 9-10
Jake Canada 7-14
Ivan Tedesco 14-8
Gareth Swanepoel 13-13
Jason Anderson 12-15
Travis Baker 16-12
Hunter Hewitt 15-16
Jessy Nelson 22-11
Alex Martin 11-39
Zack Freeberg 17-19
Kyle Peters 20-17
Phil Nicoletti 27-18
Kellian Rusk 18-21
Tevin Tapia 19-36
AJ Catanzaro 40-20
Ryan Zimmer 21-24
Dakota Tedder 25-23
Michael Akaydin 26-26
Myles Tedder 24-33
Kerim Fitz-Gerald 31-27
Dylan Schmoke 28-30
Joey Peters 23-35
Travis Bell 38-22
Landon Powell 32-28
Ignacio Pazos 29-31
Erick Meusling 37-25
Shawn Rhinehart 36-29
Chad Crawford 34-22
Trevor Whitmarsh 30-38
Ozzy Barbaree 35-34
John Pauk 33-37
Garrett Eckman 39-40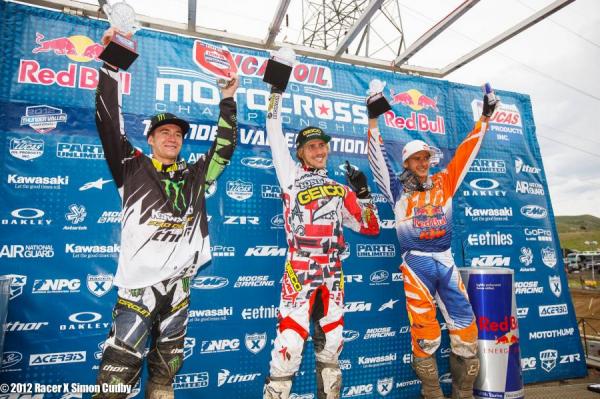 The 250 overall podium.
Simon Cudby photo
250 Class Championship Standings
1. Blake Baggett, Grand Terrace, Calif., Kawasaki, 139
2. Justin Barcia, Monroe, N.Y., Honda, 123
3. Ken Roczen, Apolda, Germany, KTM, 120
4. Eli Tomac, Cortez, Colo., Honda, 117
5. Marvin Musquin, La Reole, France, KTM, 84
6. Blake Wharton, Pilot Point, Texas, Suzuki, 82
7. Wil Hahn, Decatur, Texas, Honda, 71
8. Kyle Cunningham, Fort Worth, Texas, Yamaha, 65
9. Jake Canada, Sun City, Calif., Honda, 62
10. Ivan Tedesco, Murrieta, Calif., Kawasaki, 61
WMX Results
Overall
Tarah Gieger 3-2
Ashley Fiolek 2-6
Sayaka Kaneshiro 7-3
Mariana Balbi 6-4
Sara Pettersson 5-7
Alexah Pearson 8-11
Sade Allender 12-9
Amanda Brown 11-10
Christina Reed 9 13
Brianna DeGray 10-14
Kasie Creson 20-8
Alyssa Fitch 17-12
Ashley Boham 14-15
Sarah Whitmore 13-18
April Zastrow 15-19
Sydney Dickson 18-17
Jackie Ives 16-20
Chelsea Newbold 21-16
Meghan McClain 19-21
Ashleigh Hall 22- 22
Tressa Rau 23-23
Lauren Volentir 24-24
Justine Cox 25-25
Cady VanCura 26-26
Meghan Rutledge 27-27
Christel Allen 28 28
WMX Class Standings
1. Jessica Patterson, Tallahassee, Fla., Suzuki, 141
2. Ashley Fiolek, St. Augustine, Fla., Honda, 125
3. Tarah Gieger, Aguadilla, Puerto Rico., Honda, 114
4. Sayaka Kaneshiro, Osaka, Japan, Honda, 99
5. Mariana Balbi, Belo Horizonte, Brazil, Honda, 88
6. Jacqueline Strong, Cottonwood, Ariz., KTM, 82
7. Meghan Rutledge, New South Wales, Australia, Kawasaki, 78
8. Sara Pettersson, Sweden, KTM, 76
9. Kasie Creson, Vallejo, Calif., Honda, 75
10. Sade Allender, Sanford, Maine, Honda, 52