Freestone Raceway
Wortham

,

TX
Freestone Raceway
Lucas Oil AMA Pro Motocross Championship
Yoshimura Suzuki's James Stewart took some serious pressure from Red Bull KTM's Ryan Dungey at Freestone, but he once again didn't falter under it, and held on to notch another 1-1 overall win. He talked about it in the post-race press conference.
Racer X: It must have been nerve wracking hearing a bike and seeing that orange fender behind you all day. But it was a great race, battling all day. What are your thoughts?
James Stewart: I thought my day went good. It was a tough one, you know, but it was fun. I was able to get two good starts and make a couple of quick passes on the first lap. They kind of over watered the track before the first moto so I wanted to get out front early and set the tone there, just ride a good pace. But I was pumped. Ryan [Dungey] rode a great race today, I just kind of did my own deal, I knew he would be there for 35 minutes the whole time.
Throughout the day we made some changes. The first practice, it was like a freeway out there, it just seemed like we got better and better all day. We made a change for the second moto and it was good.
You switched teams and said you just wanted to get through the first one, now you've gone 2-0 with overall wins. Safe to say this has exceeded your expectations?
Yeah, every week, we are learning. I've been in California testing. That's one of the difficult things, out there I'm racing, and as the race goes on, I'm learning things about the motorcycle. It was funny, I told my dad earlier, we haven't had the forks and shock off of the bike yet since I've been here. So it has been good, we have a good base, and I think every week we will continue to get better. I like this place, I like Texas, I like the dirt, but again it's not my favorite track, so I was happy to get a win here. I think the guys did a great job with the track, it got rougher for the second moto, it was a lot better for me. It was good.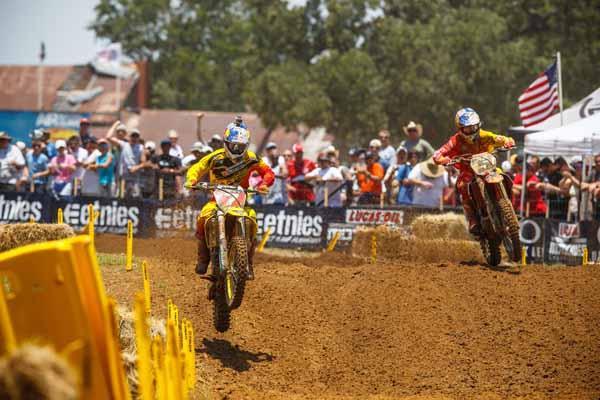 Stewart was able to hold off a charging Ryan Dungey in both motos at Freestone.
Simon Cudby photo
After the second moto, you had a minute there with the fans and they were really charged up. I heard people saying down there that it seems like you're having so much fun. Do you feel like you're enjoying things more than when you weren't here racing outdoors the last few years? Does it seem like a lot more fun?
Yeah it is. I just enjoy racing. I have competitors like Mike [Alessi] and Ryan [Dungey] who are great competitors, and that motivates me during the week. Like I've said, I didn't expect to be where I am now, I wouldn't say I'm surprised, but it just seems like I feel like at the beginning of the motos I have another gear. Then Ryan is able to match it, and that's what makes it good. I think as the year goes on he will get stronger, and I will get stronger, and Mike will, as well. So that's what makes it fun. I remember in 2008, I was racing Mike in the first half of the season, and then after he got hurt at RedBud, after he left, it kind of took the fun out of it. Although I did go 24-0 and that made it a special year, when you're out there racing and you feel you're not beating the best, like right now we don't have Chad [Reed] out there and the other Ryan [Villopoto], but we do have great competitors still out here. Trust me, I knew coming in here, Ryan [Dungey] worked those guys last year here in the second moto, he put it on them but unfortunately he did have a little issue at the end, but I knew he would be tough today.
You have a lot of experience having close battles like you had today. Does that experience help you stay relaxed when someone is on you like that?
Yeah. To me, it's just different. It's different than the supercross season and the last couple of years. I feel like I'm in a safe zone. It's the wrong word to use, it's…I don't want to say easy, but I just feel like I'm in a comfortable zone, like the bike is working the way I want it to, and there are no surprises. And there are no surprises with Ryan being there, I expected it. Obviously there are a few shockers here and there, I'll see that orange fender and the Red Bull logo getting in there at times (laughs) and I don't like that! (Laughs) But overall, I'm pretty happy with it. It kind of reminds me of when I raced Ricky [Carmichael] outdoors, because you just know the guy is going to be there.
Fans were going crazy on the podium. Are you surprised how much you've been welcomed back?
Yeah you know, I'm not dumb, I understand some of the criticism I got was just from not racing outdoors. A lot of people were bummed just because I wasn't here. They want to see the best guys race, they want to see a battle between me and and both Ryans, Chad and Mike and the others guys. Some of the time it sucked, but at the same time, I knew at least a percentage of it, why it was happening. Also, the fans on the east coast, the fans are just different. They don't have six races a year like they do in California, sometimes they only get to one race a year, so they're really into it. It's kind of like when you go to Europe once a year, and they're just happy to see the best guys race. It was cool, it's definitely fun when they're cheering for you, and they gave Ryan lots of love, too. So it's definitely fun. You never know how it's going to go, but they were good last week at Hangtown and they were good here today.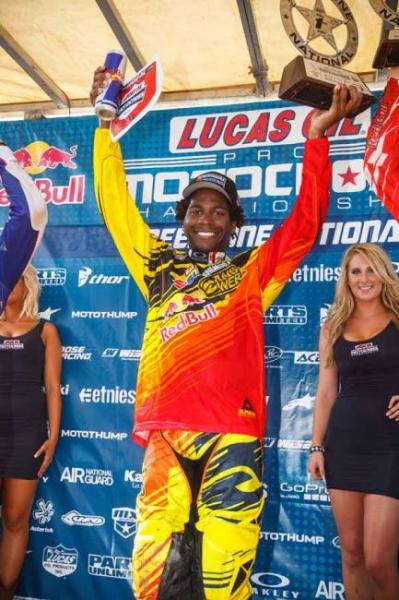 James Stewart is a perfect 4-0 through two rounds.
Simon Cudby photo
Talk about the end of that first moto, Ryan was close to you and you seemed to pick up the pace near the end. Did you just have something extra in the tank?
No, the track was just getting better. And like Ryan said, there are certain times you have to capitalize on the race. I felt like, out front, I could run my own lines, and there weren't that many places to go. I think the track got better, at least in the lap times in the first moto you could see we got faster. And there were some lapper issues here and there, some of the guys, I don't know what they're doing out there. Second moto, I felt like we both had a lot left in the tank, so we just threw it down the last few laps, it was just one of those things, may the best man win. I felt like we were even today, I felt like if he would have gotten out front it could have been the other way around. I was just feeling good, when you're in a comfortable zone, you can pick it up at any time. And like I said, it's just going to get better, with Ryan and Chad out, I feel like us three, [himself, Dungey and Alessi] are doing our best to keep it exciting. I think that will help grow the sport. We were coming off of a supercross season that was okay, but Ryan [Villopoto] worked us all. But last season, we had some great racing and I think that draws more spectators. We're doing our job  and hopefully we will just continue on and make it better and better.
Did you see Blake Baggett jumping into the Texas 12-pack?
Yeah! I was watching the race, we have the TV coverage so I can watch the race, and when I saw him jump that, I turned the TV off! I was like, there's no way I'm jumping that thing, and I started making up all of these excuses to why he could jump it by I couldn't. That was ridiculous, so good job, Blake. The first guy to jump it in practice, actually, was Tevin Tapia, my brother told me he jumped it first. I told my brother, I am not doing it!
Your thoughts on heading to the altitude in Colorado?
I'm excited. It's a race where you do your best. You come to Texas and you deal with the heat, although today it wasn't that bad, and you go to Colorado and you deal with the altitude. I'm just having fun, I'm not worried about it. I just know this guy is going to be there the full 35 minutes, and may the best man win.