Freestone Raceway
Wortham

,

TX
Freestone Raceway
Lucas Oil AMA Pro Motocross Championship
What to make of Freestone and the amazing two-man race we saw at the front of the 450 pack? From the moment the starting gate dropped in both motos on the fairly mild day (it wasn't nearly as hot as everyone was guessing it might be) James Stewart and Ryan Dungey were literally wheel-to-wheel. Unfortunately for the Red Bull KTM-mounted Dungey, the order was Stewart's back wheel to his front wheel! In one of the most impressive rides we've ever seen from James, the Yoshimura Suzuki rider was able to fend off every single challenge that Dungey threw his way, never once buckling, fumbling, fading or any other action verb once thrust upon the normally "______-ing" Stewart.
But what does it all mean? What does this new and improved—maybe not faster, but certainly smoother, more confident and seemingly much happier, and thus improved—James Stewart mean in the whole big scheme of things?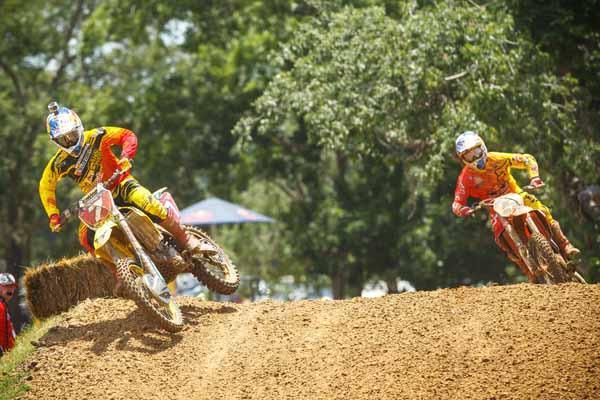 Stewart was able to hold off all of Dungey's advances at Freestone.
Simon Cudby photo
I believe the jury is still out: four motos does not make a championship. It takes twenty-four motos of solid, catastrophe-free riding, and the Yoshimura Suzuki rider still has a long ways to go. Dungey has seemingly gotten faster with each moto of this championship, as he too is on a new motorcycle for the summer—his first-ever outdoor rides on the KTM 450. Of course he's been with the bike and team for much longer than the newly-rebranded Stewart has with Suzuki, but the orange bike is still new for a man who rode RMs ever since he was on 80s. Dungey did not seem too put off by his frustrating defeat in Texas because he knew he was almost there. It would be interesting to ask him (or even his boss Roger DeCoster) if he thought Stewart would hold up to such pressure, because it was a masterful defense...
And maybe that's the real question: Is this as fast as James Stewart can go? Was Stewart doing all he could to stay just in front of Dungey, or was he doing just enough? We'll know soon enough.
One more note: Mike Alessi missed his gate pick for the start of the first moto when his bike came to the staging area late. Tony, his dad, took full responsibility. So Mike went to the far outside, got an okay start, put his head down and raced his way up through to fifth.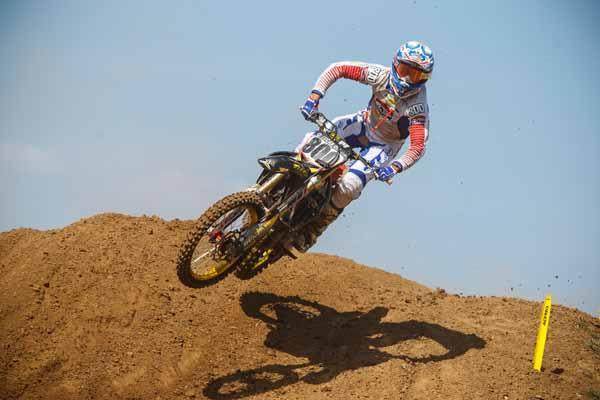 Will Alessi be there to pick up the pieces if Dungey and Stewart shall falter?
Simon Cudby photo
The MotoConcepts rider got a much better spot for moto two and went out and rode as fast as the front duo early in the moto, then backed it down a little to hold third for his second straight podium. Alessi may not be as fast or flashy as Stewart and Dungey, but he's proven to be a steady, solid presence this season. He made it through SX unscathed, and now he's picking up his faster outdoor pace. If he keeps plugging along, he will be right there if and when mistakes start happening ahead of him.
And that's a pretty big "if" right now.