Freestone Raceway
Wortham

,

TX
Freestone Raceway
Lucas Oil AMA Pro Motocross Championship
Tommy Hahn took a strange route into the 2012 season. Instead of latching on with a privateer team and settling for lesser support, he decided to go on his own with a privateer Honda, and essentially put himself in position to grab a ride if a spot opened up. When he broke his leg at the Phoenix Supercross, it seemed that his plan had run aground, but, he got the call from Honda Muscle Milk to fill in for Trey Canard in the Lucas Oil Pro Motocross Championship. T Hahn is a factory rider again! We called the winner of the '09 Steel City 450 National for this week's Between the Motos.
Racer X: T Hahn! Are you in California or Texas right now?
Tommy Hahn: I'm in California. Normally I go to Texas after Hangtown to get acclimated, but we've had a little more testing to do, so I stayed out here and rode with a sweater on.
Wow! Really?
Yeah. I rode with an Under Armour thing on under my jersey to try to replicate the heat. Broc Tickle told me it would work. We'll see this weekend!
Well, congrats on the factory ride with Honda. But the funny thing is, you actually were on this team once before.
Yeah, in 2007 I was on factory Honda, on the 250. I was the only guy on the team on the 250. I had an up and down year, so I've been fighting to get back to that team every since I left, I'll tell you that. This is where I've always wanted to be again. Unfortunately, it was because of an injury, but that's what I wanted to do this year, put myself in position to be ready in case something like that happened.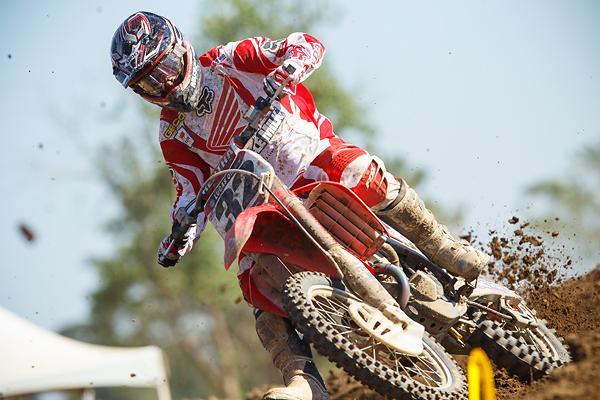 In his first ride with factory Honda, Hahn finished 14th overall at Hangtown.
Simon Cudby photo
You broke your leg back in Phoenix. Could you have come back for more supercross? Take me through the last few months.
Yeah, I got injured, and the very next week in L.A., Canard got injured. I kind of knew he would be down for a while. My goal was to get my leg as good as I could to come back to supercross, but after talking to Honda, and hearing they might be interested for the outdoors, I elected to just get ready for that. I started riding that so if and when they called, I'd be ready.
When did you find out this was really, officially going to happen? Have you had much time to test on their bike?
I've been in California for about a month now, so I got a fair amount of testing in before the race, and we did some more testing this week. I feel like the bike was pretty close the first time I got on it, so now I'm just getting used to it. The setup I have now is awesome. I'm ready to go back home and just put my head down, put in laps, and make a run at this thing.
How hard was it to get over the injury?
I didn't take a whole lot of time off with my leg. I started walking 10 days after surgery, and was on my road bike a little over a month after. I tried to keep my fitness up off the bike, and my fitness didn't feel too bad at Hangtown. I had a little bit of bad luck, crashing in the second moto. I got good starts in both motos, and ran top five in the first moto before eventually finishing eighth. So I felt pretty good for the first race, now it's up to me to keep getting better and better, and start fighting for that podium.
Where do you expect to be? Will you be mad if you're not on the podium?
I definitely want to be there battling for them. If I'm not on the podium every week, I want to be there at least battling for them. If I'm not on the podium because I'm way far off, then, yeah, I won't be happy. I want to just keep getting good starts and run that pace. It's been a long time since I've raced, and I was really nervous at Hangtown. I already felt much better on the bike this week just because I wasn't as nervous. I'm excited to get to the second race, get some good starts and go with it.

"I rode with an Under Armour thing on under my jersey to try to replicate the heat." - Hahn on how he is preparing for the heat in Texas.
Simon Cudby photo
The inevitable question is, is there more pressure riding for a factory team than riding on your own? Is that a big deal?
It's not a big deal. They don't put any extra pressure on you. Yeah, they want you to do good because you're on a factory team, but if you're good enough to get that shot, there's no reason you shouldn't be able to do well. The pressure comes from yourself. I've had a bad problem putting too much pressure on myself, and I told myself I'm not going to do that anymore. I'm not worried about anyone else; I just need to have confidence in my own ability to ride a dirt bike.
So your scenery and bike have changed, but your mental outlook has not.
If anything, I put more pressure on myself when I was on my own, because I felt like I had a point to prove. Yes I did get hurt, but I felt like I was riding well, and I made main events in a very stacked class.
So what was the reaction when you finally got the official word on the Honda deal? You went from privateer—and hurt—to factory Honda!
After I got hurt at Phoenix, I honestly didn't think it was going to happen, even when they called me and said they were interested. I honestly didn't think it was going to happen just from the simple fact that I haven't been racing. So I want to thank them by just riding my ass off and making them look good, as well as myself.
Sounds like you're in a good place.
Yeah, honestly I was so relived. It was such a weight off of my shoulders, because I didn't see anyway I could have gotten to every single round on my own as a privateer. So, now I'm on a great team and I get to race my dirt bike every weekend. What more could you ask for?