The Kawasaki-KTM-Monster Energy-Red Bull pendulum swung back into the green and black camp at Brazil for the fifth round of the FIM Motocross World Championship. Red Bull KTM duo Tony Cairoli and Jeffrey Herlings had topped the MX1 and MX2 podiums in Mexico the previous week but both riders had difficulty in the rain-hit Grand Prix at Beto Carrero and Christophe Pourcel (CP377 Monster Energy Pro Circuit Kawasaki) and Tommy Searle (Floride Monster Energy Pro Circuit Kawasaki) ruled the muddy terrain to each post their second victories of 2012.

After the turmoil of Mexico the series arrived to a set of conditions in Brazil that could not have been more of a contrast. In twelve seasons of covering Grand Prix racing I have not seen a more impressive circuit in terms of prep and appearance than Beto Carrero. It might not be a point high on many people's priority list but this was an image of motocross that was quite stunning: a stadium section surrounded by grandstands that were already sold-out pre-event, a perfectly graded track and a real enthusiasm from the Brazilian personnel. An immense effort had gone into this fourth Brazilian GP in four years but this is what we have come to expect from a meeting that enjoys excellent backing from sponsors and a gathering of public and fans whose passion for the sport borders on mania.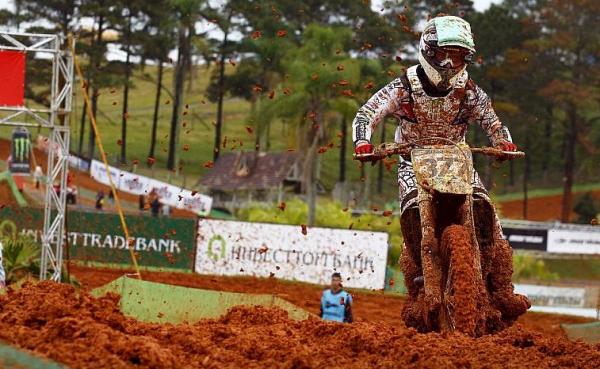 Pourcel was flawless en route to a moto 1 win and the overall.
Kawasaki photo
A press conference was called on Saturday where is was announced that Brazil would be in contention for MX3 and Women's World Championship events and could also run a second grand prix inside a single campaign in 2013. Beto Carrero has also been earmarked for the 2015 Motocross of Nations. At the same time representatives from Thailand talked about the first ever Thai GP opening the 2013 series on March 16-17.

Mexico was the definition of a "rough" meeting but it was partially saved by some fantastic racing in the MX1 class. Brazil had the sheen and raised the bar for how motocross should come across as a major motorsport spectacle (it was that good). What a shame then that the weather turned to the dark side and couldn't show Beto Carrero in the best light when it counted.

Again we had a contrast to the dry heat of Mexico. The rain was torrential Saturday evening and didn't let up throughout Sunday morning. The thick red mud became clumpy and swampy and turned the Grand Prix into a "mudder"; so attrition, immense good fortune and a fast starts were the keys for success.

Christophe Pourcel's natural ability on a motorcycle couldn't have been more evident and after an indifferent beginning to the weekend. He managed to win the first moto by a minute-and-a-half from twentieth place in the gate (due to clutch trouble on Saturday). It is hard to imagine a more dominant performance in the premier class occurring this season or for years to come. The Frenchman was not immune to the mistakes that saw many riders hit the slop, notably Cairoli on several occasions (the world champion cited the GP as one of the worst he has ridden, finishing 8th overall), Rockstar Suzuki's Clement Desalle, Red Bull KTM's Ken De Dycker and even Monster Energy Yamaha's David Philippaerts whose determination and confidence still helped him to second place overall and his second podium finish in a row.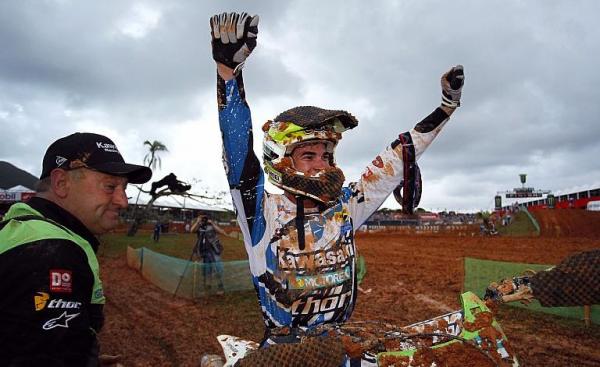 Xavier Boog took the surprising win in moto 2.
Kawasaki photo
Pourcel's error came in the second moto where he conceded the lead to the impressive Kawasaki Racing Team's Xavier Boog (speed and faultless riding seemingly from nowhere) and also room to the charging Desalle who is still looking for his first chequered flag this year. Through the unpredictable nature of the terrain there were always going to a few eyebrow raising sights and aside from Boog's first ever MX1 moto win there was Australian Dean Ferris running as high as second in the first race and former double world championship runner-up HM Plant KTM UK's Kevin Strijbos making the box for the first time since 2007 and after half a decade of injury frustration with third overall.

"It is never easy to win or ride a bike in unbelievable conditions like that," Pourcel said, who also admitted afterwards that his penchant for Enduro riding helped him out at Beto Carrero. "When they showed me I had a lead of more than a minute I thought 'this can't be possible!' because it didn't feel like I was riding particularly fast. I made some mistakes with the lappers in the second moto and waited some laps before making my move but it ended up that I was the guy who made the final mistake. I was a little sad for that race but it was good to win the overall GP."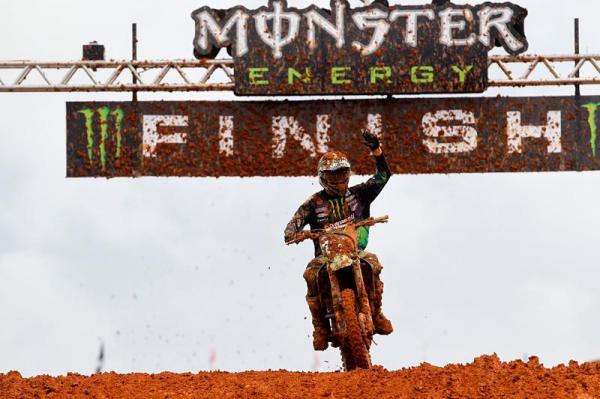 The MX2 class belonged to Tommy Searle.
Ray Archer photo
MX2 was firmly in Searle's pocket. The Brit even had time to pit for a change of gloves and goggles in the first moto and remerge in third position to regain the lead shortly after. Searle halved the deficit to Herlings in the standings from 41 to 20 points after the Dutchman finished 7th overall for his worst day of the year so far. "When I woke up in the morning and looked out the window I thought 'I'm screwed' because I haven't ridden much in the mud," was the championship leader's initial assessment.

"It was not easy and for sure was a race where you could lose a lot of points," said Searle. "I just tried to stay out of trouble and that's all you could do really. Luck went my way at last."

"It was quite funny; normally on the last lap we might be fighting for first or second," he added on being able to lap Herlings on the final circulation of the first race. "To be honest though I was concentrating so much on the track because you could have crashed at any moment. It is very good for me that he [Herlings] had a bad day for the championship."

In a drier second moto Searle was able to beat Diga KTM's Jose Butron but the Spaniard gave his country their first ever trophy in the MX2 class with the third step of the podium. Another rostrum debutant was Monster Energy Yamaha's Christophe Charlier who breached the winner's circle for the first time on the prototype YZ250FM and whose speed in the mud was as unexpected as it was noteworthy.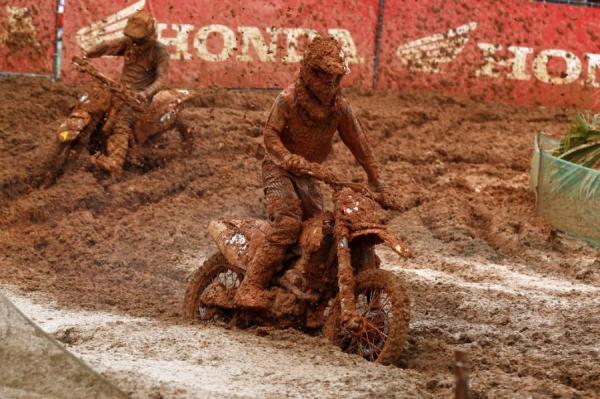 Jeffery Herlings would struggle in the mud in Brazil.
Ray Archer/KTMImages photo
After some "will-he-won't-he" Michael Leib showed up with a painful right hand in Brazil. The Californian appears to still be stuck in a Grand Prix/National limbo but is viewed as a good prospect by Yamaha with key Monster Energy backing and Leib carries the right flag. On Saturday a slip in the qualification heat saw him land on the same hand where he dislocated two fingers the previous weekend. Toughing out the races he walked away with a 13th in the second moto and could be in France in two weeks time.

As the Lucas Oil Pro Motocross Championship heads to Thunder Valley for round three the Grand Prix's will be back on familiar ground the same weekend with 2011 Motocross of Nations site St Jean D'Angely running the French round and starting a run of three races back-to-back.

MX1 Moto1
1. Christophe Pourcel (FRA, Kawasaki), 44:47.275; ;
2. David Philippaerts (ITA, Yamaha), +1:29.145;
3. Gautier Paulin (FRA, Kawasaki), +1:43.349;
4. Rui Goncalves (POR, Honda), +1:47.125;
5. Kevin Strijbos (BEL, KTM), +1:49.116;
6. Ken de Dycker (BEL, KTM), +2:26.285;
7. Shaun Simpson (GBR, Yamaha), +2:43.169;
8. Antonio Cairoli (ITA, KTM), +2:59.506;
9. Evgeny Bobryshev (RUS, Honda), -1 lap(s);
10. Matiss Karro (LAT, KTM), -1 lap(s);

MX1 Moto2
1. Xavier Boog (FRA, Kawasaki), 42:09.534; ;
2. Clement Desalle (BEL, Suzuki), +0:02.155;
3. Kevin Strijbos (BEL, KTM), +0:07.681;
4. Christophe Pourcel (FRA, Kawasaki), +0:32.074;
5. Gautier Paulin (FRA, Kawasaki), +0:43.134;
6. David Philippaerts (ITA, Yamaha), +0:53.271;
7. Tanel Leok (EST, Suzuki), +1:02.910;
8. Rui Goncalves (POR, Honda), +1:03.333;
9. Antonio Cairoli (ITA, KTM), +1:05.447;
10. Evgeny Bobryshev (RUS, Honda), +1:26.338;

MX1 Overall
1. Christophe Pourcel (FRA, Kawasaki), 43 points;
2. David Philippaerts (ITA, Yamaha), 37 p.;
3. Kevin Strijbos (BEL, KTM), 36 p.;
4. Gautier Paulin (FRA, Kawasaki), 36 p.;
5. Rui Goncalves (POR, Honda), 31 p.;
6. Xavier Boog (FRA, Kawasaki), 30 p.;
7. Clement Desalle (BEL, Suzuki), 30 p.;
8. Antonio Cairoli (ITA, KTM), 25 p.;
9. Evgeny Bobryshev (RUS, Honda), 23 p.;
10. Shaun Simpson (GBR, Yamaha), 23 p.;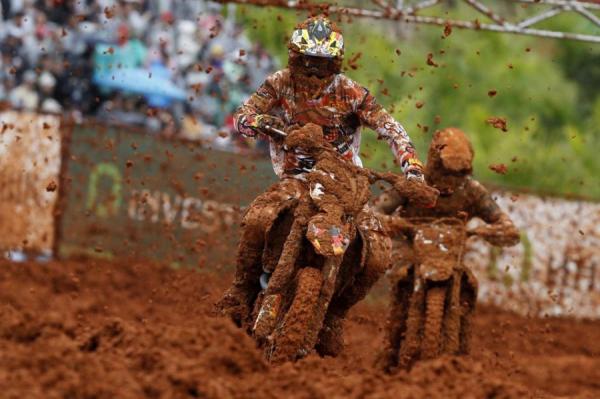 Cairoli finished a seasons worst 8th in Brazil.
Ray Archer/KTMImages photo
MX1 World Championship standings after 5 of 16 rounds
1. Antonio Cairoli (ITA, KTM), 203 points;
2. Clement Desalle (BEL, Suzuki), 179 p.;
3. Christophe Pourcel (FRA, Kawasaki), 172 p.;
4. Gautier Paulin (FRA, Kawasaki), 170 p.;
5. Ken de Dycker (BEL, KTM), 154 p.;
6. David Philippaerts (ITA, Yamaha), 142 p.;
7. Kevin Strijbos (BEL, KTM), 139 p.;
8. Xavier Boog (FRA, Kawasaki), 129 p.;
9. Rui Goncalves (POR, Honda), 110 p.;
10. Tanel Leok (EST, Suzuki), 107 p.;


MX2 Moto1
1. Tommy Searle (GBR, Kawasaki), 44:31.410; ;
2. Christophe Charlier (FRA, Yamaha), +0:23.896;
3. Jeremy van Horebeek (BEL, KTM), +0:46.131;
4. Max Anstie (GBR, Honda), +2:16.278;
5. Joel Roelants (BEL, Kawasaki), +2:22.232;
6. Glenn Coldenhoff (NED, KTM), +2:29.302;
7. Jake Nicholls (GBR, KTM), +2:34.943;
8. Jose Butron (ESP, KTM), +2:47.345;
9. Jordi Tixier (FRA, KTM), +2:53.896;
10. Harri Kullas (FIN, Suzuki), +3:24.769;

MX2 Moto2
1. Tommy Searle (GBR, Kawasaki), 43:42.838; ;
2. Jose Butron (ESP, KTM), +0:11.095;
3. Jeffrey Herlings (NED, KTM), +0:36.276;
4. Joel Roelants (BEL, Kawasaki), +0:39.879;
5. Christophe Charlier (FRA, Yamaha), +1:15.554;
6. Jeremy van Horebeek (BEL, KTM), +1:21.010;
7. Max Anstie (GBR, Honda), +1:23.875;
8. Alessandro Lupino (ITA, Husqvarna), +1:28.353;
9. Harri Kullas (FIN, Suzuki), +1:39.850;
10. Jake Nicholls (GBR, KTM), +1:53.530;

MX2 Overall
1. Tommy Searle (GBR, Kawasaki), 50 points;
2. Christophe Charlier (FRA, Yamaha), 38 p.;
3. Jose Butron (ESP, KTM), 35 p.;
4. Jeremy van Horebeek (BEL, KTM), 35 p.;
5. Joel Roelants (BEL, Kawasaki), 34 p.;
6. Max Anstie (GBR, Honda), 32 p.;
7. Jeffrey Herlings (NED, KTM), 29 p.;
8. Jake Nicholls (GBR, KTM), 25 p.;
9. Alessandro Lupino (ITA, Husqvarna), 23 p.;
10. Harri Kullas (FIN, Suzuki), 23 p.;

MX2 World Championship standings after 5 of 16 rounds
1. Jeffrey Herlings (NED, KTM), 223 points;
2. Tommy Searle (GBR, Kawasaki), 203 p.;
3. Jeremy van Horebeek (BEL, KTM), 189 p.;
4. Joel Roelants (BEL, Kawasaki), 152 p.;
5. Max Anstie (GBR, Honda), 137 p.;
6. Jordi Tixier (FRA, KTM), 128 p.;
7. Jake Nicholls (GBR, KTM), 120 p.;
8. Dylan Ferrandis (FRA, Kawasaki), 107 p.;
9. Alessandro Lupino (ITA, Husqvarna), 103 p.;
10. Harri Kullas (FIN, Suzuki), 99 p.;