FMF KTM's Kailub Russell won the XC2 Lites title in the Can-Am Grand National Cross Country Series in 2009 and 2010, and enjoyed a strong rookie XC1 season last year. He started this year on the ground with an injured shoulder, but has been on fire since, reeling off four wins in the last five races. He's now come all the way back to tie AmPro Yamaha's Paul Whibley for the GNCC XC1 points lead. We talked to the 22-year-old about his win over the weekend at the Dunlop Limestone GNCC in Indiana, and his prospects for nailing down his first XC1 title.
Racer X: Congrats on another win, KR. Take me through the race from Sunday.
Kailub Russell: It went similar to the rest of the races that I have won this year. I got a poor start and I worked my way up. I caught up to Charlie [Mullins] and Whibs [Paul Whibley] and I could tell by the way Charlie was riding, he wanted to get around Whibs and really go for it and build a gap. He got around Whibs, and I was like 'Oh, man.' He [Mullins] started picking up the pace quite a bit, and pulled a gap on me and Whibs, maybe 10 seconds. So I started looking for ways to get around Whibs, and when I finally did, it took me a few miles to catch Charlie. When I did, I was able to put the pass on him, and then I tried to slow the pace down from the front.
I hear you guys say that sometimes, that you actually wanted to get the lead to slow things down.
For sure. Every now and then I kind of pump up at the beginning of the race if we start pushing it really hard. Charlie got into the lead on the second lap and I didn't know if I was going to be able to catch him, but, I did, and we had built a nice lead over the rest of the guys, so I decided to slow things down so I didn't get arm pump and stuff. He was riding really well and had some good lines. I wanted to get into the lead and make sure I could set a pace I could run the whole time.
But why doesn't he just pass you right back and pin it again?
It definitely changes the race if you're able to get around the guy. When I got into the lead, I didn't slow down a whole lot, but it's not easy to pass a guy right back. You have to find a good line and think about how you're going to make a pass. There are lines, but it's not like motocross where if you're going much faster you can just go around the guy. We have to deal with all the things in the woods, there's mud and rocks and trees and lapped riders everywhere. So you really have to plan out your pass. He did get back by me, and we went back and forth a few times. But it definitely changed the race.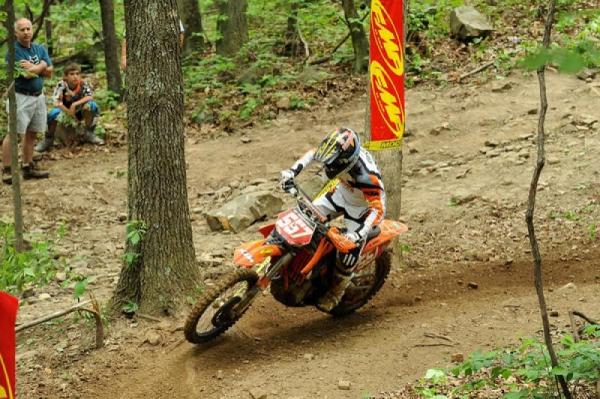 Russell took home his fourth win in five races at Limestone.
Ken Hill/GNCCRacing.com photo
What happened from there?
Charlie got around me and I could see him looking down at his bike, so I was able to just ride right around him. I thought maybe he had broken off his shifter the way he was looking down. I got around him and just tried to sprint because I wanted to get out of sight while he was looking at his bike. He did end up having a bike problem, and then I got the pit board that he was out. So I had a decent lead at that point, but on the last lap I got the pit board that the XC2 guys, Steward Baylor and Andrew DeLong, were closing up the gap on me on adjusted time. I was able to pick it back up and hang on for the overall lead.
What has changed this year? You won a race last year in your rookie season, but this is a step up.
I think the biggest thing is the experience. You can't buy it, you just have to do it. Last year I learned a lot. And, last year I lost a few races because I wasn't in shape, and that's something I can control. I hate losing. It's my least favorite thing in the world. I know everyone hates to lose, but I feel like right now I hate to lose more than anyone. So I applied all of that, I worked hard and I got into better shape. Now I'm putting it to use and everything is clicking.
What kind of stuff are you doing?
Mostly I do a lot of running and mountain biking, and of course, riding. That's my main thing right now, but after this race, I could tell my upper body was getting weak toward the last lap. So I need to pick it up on my end with weights. I feel like cardio wise I'm solid though and can maintain the pace throughout the race.
You working with a trainer?
I'm doing my own thing. Everyone is different and I've found what works for me. For some guys, it's all about pounding out motos, or road cycling 50 miles every day. Some guys have a trainer. For me, it's all about keeping it fun and doing what I feel like I need to do. It has worked out best for me.
You chose to ride the 350 for the past two years, and obviously that's working for you.
Yeah, for sure. I don't really need the 450 in the woods, it's just too much bike for me. I'd have to work harder to use the power. In the woods, there are so many obstacles and situations where you have to just manhandle the bike. In the woods, you can catch a flow. It would take a lot more upper body strength to use the 450.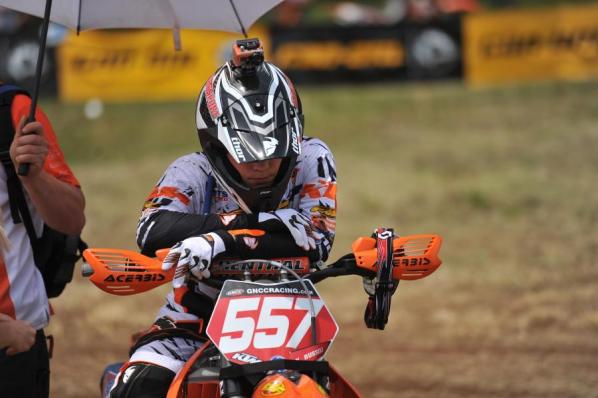 Russell is now tied atop the XC1 points standings with Paul Whibley.
Ken Hill/GNCCRacing.com photo
And you don't feel like you're outgunned?
No, KTM has put a great bike together for me. It has just as much top end horsepower as the stock 450s, but the way it handles allows me to ride it to my potential.
When I saw you at the opener in Florida you were standing along the side of the track with a hurt shoulder. Did you think it was realistic to come all the way back and get into a tie for the points lead by the halfway point? Because that's exactly what you've done!
You know, there was a part of me that knew I could do it, but for sure there was another part of me that was like, 'Man, I just put myself in a huge hole.' My expectations for myself is to perform every weekend and try to get wins. I was confident I could do that, and that's what I've done. I've been able to get the wins and get those points back. Now I have to focus on the consistency, and trying not to have any more bad races.
That's the hard part. We've seen guys get on a roll like this, but it's hard to maintain it in a woods series.
For sure. There are a lot of tough races coming up, like Snowshow and the new race we're going to have in West Virginia. They're going to be rocky and tough, and possibly rainy or muddy and slick as well. They will be really physical races, and I've kind of struggled there in the past. So I'm going to be ready for it, and hopefully I can capitalize if other riders make a mistake, and put myself in position to get another win.