The 2012 Can-Am Grand National Cross Country Season began with two genuine contenders in 2011 GNCC Champion Charlie Mullins and 2009 GNCC Champion Paul Whibley. These boys finished 1-2 in last season's standings, and while a whole bunch of other riders hoped to join them at the front, the "Big 2" quickly controlled the opening round in Florida, settled into a private duel for the win and taking it down to the last corner. Whibley won, Mullins finished just two seconds behind, and no other XC1 class rider was close at the end.
But it's been a much different story since then. Neither Whibley nor Mullins have won since, although they have remained consistent. Meanwhile, new guys have broken through. First, Mullins' young teammate Kailub Russell launched a three-race win streak through Georgia, North and South Carolina. Then came an even bigger shocker, when Whibley's younger New Zealand counterpart, Rory Mead, won the last race in Kentucky.
Making this an even bigger surprise, Russell has gotten his wins on a KTM 350, and, even more shocking than that, Mead won his race on a KTM 300 two-stroke!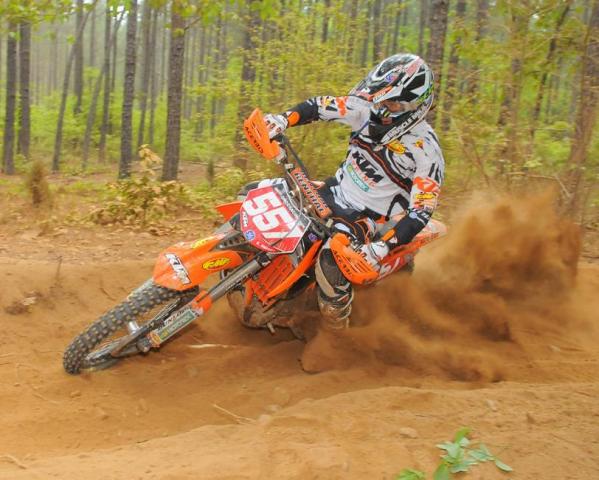 Russell won three straight to get back into the title chase...
David Scearce photo
Whibley still leads the points heading into this weekend's Limestone 100 in Springville, Indiana, which is a new stop for the tour. Since GNCC tracks aren't even built until a few days before the event, no one knows what the track will be like, and, they don't have practice at these races. So it's anyone's guess who the track will favor. Behind Whibley. Russell, Mullins and Mead aren't far off in points, setting up a nice four-way struggle between two KTM factory riders, Mullins and Russell who both originally hail from Ohio, but now live in North Carolina, and two New Zealanders in Whibley and Mead.
Mead's rise is perhaps the biggest surprise. He entered a few GNCC races last year as a replacement rider for the GEICO Honda team and supplied decent results with a few top tens, and one fourth-place finish at the ultra-rugged Snowshoe GNCC.  For this season, Mead hooked on with the WMR KTM team and actually battled with Mullins and Whibley at the Florida opener before getting "knackered" in New Zealand speak (that's tired for the rest of us, and after three hours in the sand, you'd be, too). Mead proved consistent through the other rounds, and when the course got rocky and gnarly in Kentucky, he and his two-stroke couldn't be topped. Behind him, Mullins and Whibley dueled right to the finish, and ended up second and third.
Russell, meanwhile, had a few close calls in the rocks and trees held him to fourth at the finish, which keeps him second in points.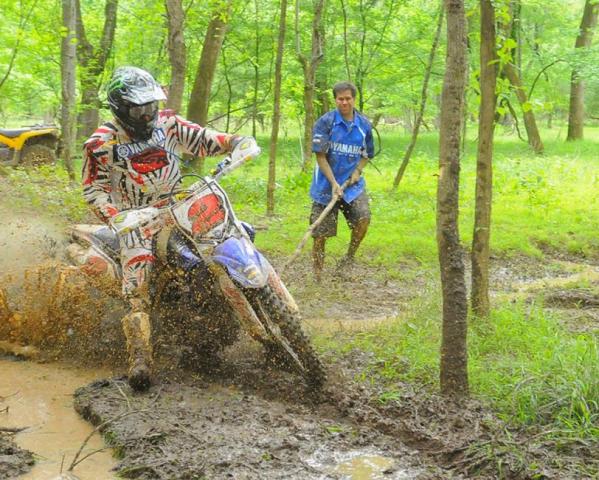 But Mullins still leads the XC1 class.
David Scearce photo
But there's another rider in contention for these wins, only he doesn't compete in the XC1 class with those riders. Steward Baylor is the 17-year-old sensation of the XC2 Lites class, and he's railed his KTM 250 two-stroke to five wins in five rounds this year. He has also collected overall finishes (when judged on time against the XC1 riders) of 3-7-2-4-4. With the right breaks, the kid can win one of these things outright, which means, on any given weekend this year, the GNCC overall win could come from either a KTM 450 (Mullins) 350 (Russell) 300 (Mead) or 250 (Baylor), or a Yamaha YZ450F (Whibley). That's some variety!
With Russell and Mead showing the stuff needed to run with Mullins and Whibley, a few others in the field hope to do the same. Shenandoah Honda/OffRoadChampions.com rider Thad DuVall has been enjoying a renaissance this year, rebuilding his once thought to be can't-miss career as a privateer now. At each round, DuVall has been in the top five and hovering near the podium, until he blew up his rear wheel late in the race the last time out. He finished 12th after stopping for repairs, but should bring his same new-found consistency to this weekend's race.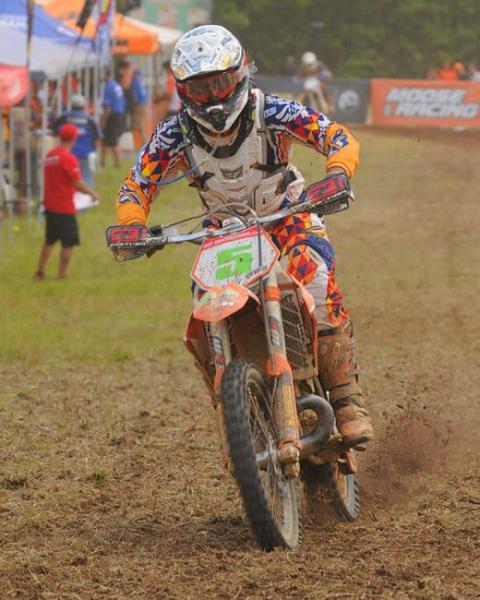 Baylor Jr. has already begun to run away with the XC2 class.
David Scearce photo
Chris Bach was once known as the guy flying the Beta colors (which are red and white, for the majority of you not familiar with Beta bikes). But the team parted ways with him a few weeks back, and he busted out a brand-new Yamaha at the last race and finished sixth. He'll actually have some testing time under his belt this weekend. Yamaha has another young rider in Jordan Ashburn, who has been solid transitioning from the XC2 class up to the big bikes. You also have the Honda riders to contend with in Jimmy Jarrett and Nathan Kanney. But one rider who is now out of contention is Mullins and Russell's teammate Cory Buttrick, who tore up his knee and leg at the last round of the AMA Enduro Series.
This weekend's race marks the sixth round of the 13-stop tour, so we're very near the halfway point. A win this weekend could go a long way toward establishing championship momentum for all of the contenders. So who will get it? One of the new guys, or one of the old favorites?