Welcome to Racerhead, coming to you from seemingly every corner of this great land of ours. Our own Davey Coombs has left our plush, well-lit offices in Morgantown, West Virginia, to help out at the Racer X Pro Ride Day at Elsinore in California, so I, Jason Weigandt, took the helm today (for once, I don't have a race to go to this weekend.) But there's much to discuss this week as we put Monster Energy Supercross in the rearview for 2012 and prep for Lucas Oil Pro Motocross, sanctioning by AMA Pro Racing, next weekend.
For sure, we need to give a big shoutout to the folks at Feld Motorsports who worked so hard to deliver 16 superb shows in 18 weekends (along with the folks at Daytona, who did a great job with their event). This year's SX season will, unfortunately, be marked by injuries as it slips into the history books and bench-racing lore. But behind the scenes, the crew puts in the same incredibly hard work no matter who is racing and no matter how close the points standings shape up. I know some folks on the staff who seem to postpone sleep until May. Well, you guys earned it! Take a nap!
But now it's time to think outside the stadiums and get back outdoors. Earlier today, before we lost him to probably 1000 different duties at Elsinore, DC checked it with this update.
The Inaugural Racer X Advertiser Ride Day and Lake Elsinore Pro Ride Day are under way in Sunny SoCal, and a host of industry personnel and top riders are in attendance. Everyone was greeted with a perfectly groomed track, which our advertisers enjoyed through noon PST. Then at 1 pm, Ryan Dungey, Wil Hahn, Ken Roczen, Josh Grant, the Pro Circuit team, the Rock River squad, and many more took to the track to shake it down before the 2012 Lucas Oil Pro Motocross Championship kicks off.
Not only is this event a great way for these riders to check out the track, but it's also an excellent opportunity for MX Sports to receive top-level feedback while there's still plenty of time to make changes before the facility's September 8 event, the first pro national the revitalized Lake Elsinore track has hosted.
Keep an eye on our Instagram feed (@racerxonline) for pics of this exciting day.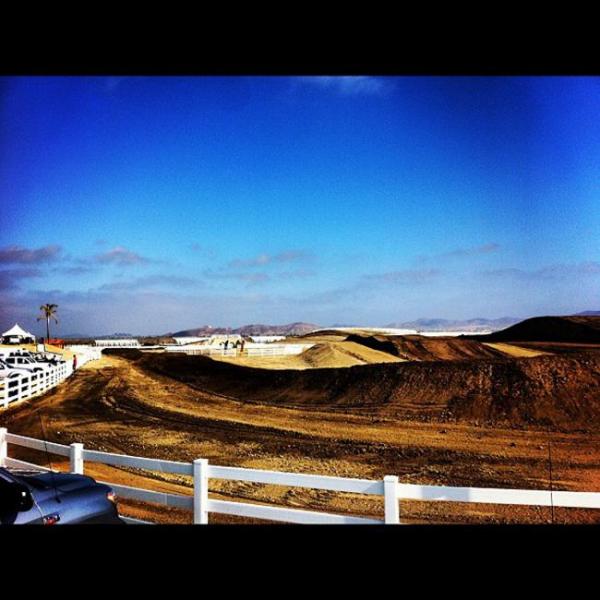 Lake Elsinore was in prime condition for the Racer X Pro Ride Day.
Pro Taper photo
By the way, as soon as we let the pros roll out, it looked like a 250 preview out there. Justin Barcia, on the #20, was out front followed by Eli Tomac, Ken Roczen, and Ivan Tedesco on his new PC 250F. They were all dicing and feeling each other out. There will be some great racing in that class next weekend at Hangtown!
Here's Steve "Viva Las Vegas" Matthes:
And that's a wrap on the supercross season, which, for the good of all of us, finally ended on a peaceful note. Las Vegas came and went without any major injuries and we saw Red Bull KTM's Ryan Dungey take the last checkered flag of the indoor season. What a year it was for the racers of the sport, and let's all hope that 2013 doesn't turn into the same game of attrition.
This weekend is off but we're starting the Nationals next weekend in Sacramento. Neither class has a clear-cut favorite, and it's an exciting time to be a fan of the sport. The GEICO Honda guys desperately want to show Pro Circuit that their supercross season wasn't a fluke in the 250 class, and Ken Roczen is looking to show everyone that the MX2 World Championship #1 plate he got last year was no fluke. Ivan Tedesco riding for Mitch Payton in the 250 class? What is this, 2005?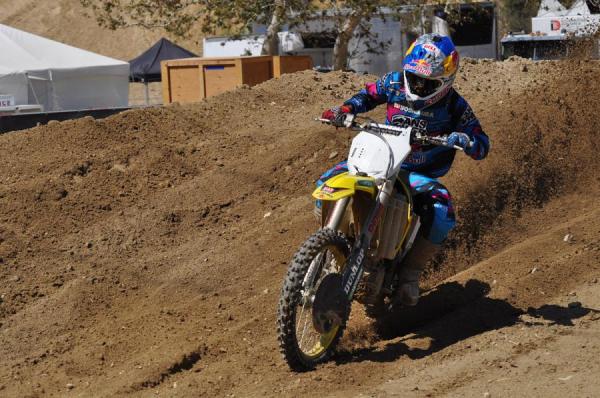 Suzuki made a big splash Monday with the signing of James Stewart.
The 450s got a lot more interesting with the James Stewart-to-Suzuki announcement this past week. I see Stewart and Dungey to be the top guys at Hangtown, but if you were to ask me who was going to be third, I'd give you about five or six names. It's wide open. I will say this: Watch out for the #800 of Mike Alessi. He was flying there last year before crashing out. He's always been pretty good at Hangtown. Just sayin'.
Today is a shakedown for the pro racers at the Lake Elsinore facility and it's going to be cool to see the videos and interviews that come out of it. The national there is a long way off and there's work to do on the track, but this will give the designers some real-world feedback from the fastest guys in the world.
Is Austin Stroupe still with Star/Valli team and lining up at Hangtown? As with all things Stroupe, no one really knows. Guess we'll see.
Thanks for listening to the Pulpmx Show. We've been getting great numbers and this past Monday we had Ryan Villopoto, Ryan Morais, Brian Swink, Ken Roczen, some guy named Davey Coombs, and then out of the blue, James Stewart texted me during the show asking if we had time for him. Which, of course, we did.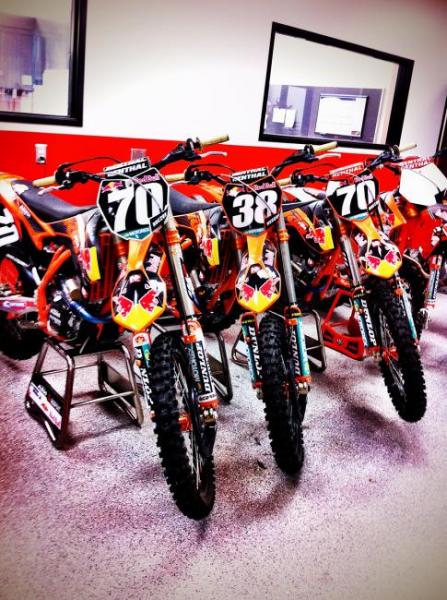 Roger DeCoster has to feel good about his chances outdoors with these two cats in the 250 class.
DC photo
Hard to listen to a James Stewart interview (and I've done a bunch of them) and not come away impressed with James. He had simple, rational explanations for leaving JGR and going to Suzuki, and not really any hard feelings on his end. He knows he's under the gun here, and like he said in the interview, "Maybe it's not the bike, maybe I'll come out to Hangtown and just find out I'm old and slow." Here's the thing I've come to learn about Stewie: When he's not winning, more so than any other rider I've been around, he's not happy. Winning is truly what makes him happy. And sure, all racers' moods are generally affected by their results, but Stewart's is off the charts. He's so competitive and has just always known winning that when things are going sideways, it's no interviews or funny videos for him.
Check out Pulpmx.com for more stuff like a classic look back at a 1986 CR500, a column about Dungey and Stewart, a look at the guys who came Just Short of the mains in Vegas, a Podcast by David Vuillemin talking about Vegas and much, much more. Thanks to DC, Bryan, and Chase for letting me get the word out about this little site of mine.
Thanks, Matthes. Here's Weege:
Most of the riders are back out West prepping for the Nationals, but there are a few stragglers here on the East doing some testing. Davi Millsaps was out at the JGR facility earlier this week before heading out to California to ride at Elsinore today, but his new teammate Kyle Regal is staying here to get more time with his new crew. Regal will actually stay in North Carolina throughout the summer, which kind of revives the original JGRMX format of keeping the riders and team together throughout the week (Stewart and Millsaps spent most of the time at their own private tracks this year). Also, the BTOSports.com/BBMX Suzuki boys (Byrner, Top Jimmy Albertson and JT$) were in the Carolinas as well, since they use JGR stuff on their bikes. Of course, everyone lost some time this week after a hefty dose of spring rain. I bet that wasn't a problem in California!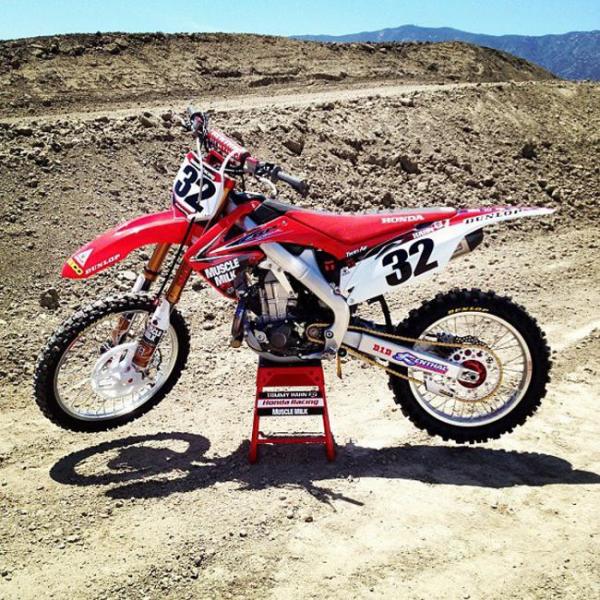 Tommy Hahn and his new factory Honda were out at the Racer X Pro Ride Day.
Simon Cudby photo
I know, I know, someone is going to think that JGR signing Regal could be construed as a swipe at Stewart, since Regal doesn't seem to like James after they were teammates last year. And they had a little run-in at the Houston SX this year. But in reality, Regal is just the fastest available outdoor option out there, and that's the only reason JGR signed him.
Plus, I haven't been able to find a single person involved who says a bad thing about the Stewart/JGR breakup. Everyone seems to paint this as a win-win, and as much as I say that the only real win-win would be the team and rider combination actually having won, I appear to be the only one who sees it this way. For James, it's a great deal, no doubt, because he simply wasn't happy. We've all been in a job or relationship or situation that wasn't working, and getting out is always good. But from the other side, I thought maybe we'd hear some gruff. Heck, I asked Yamaha's Jimmy Perry about this a few weeks ago, and even he wasn't mad about the move. Granted, James has done a great job of never publicly, blatantly slamming his YZ450F, even though we all know the bike just didn't work for him (James said so much on the Pulp show, saying the bike didn't work for him, but clearly wasn't bad, overall, because it worked for others, such as Millsaps). But manufacturers and sponsors are very sensitive, and often anything taken as a slight at all doesn't go over well. That's part of the reason we see so many boring podium interviews. Riders are pretty well penned in by what they are allowed to say.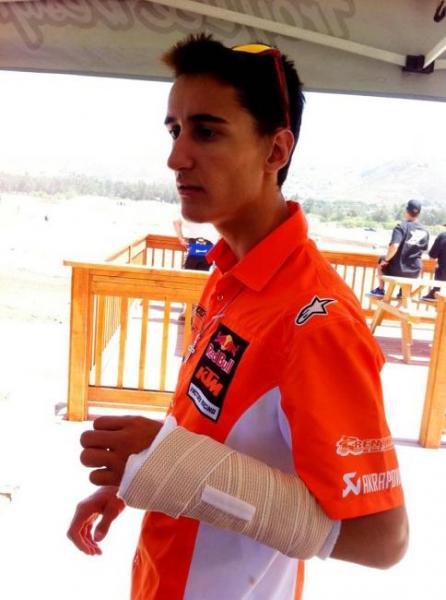 Marvin Musquin has been nursing an injured hand, but should be ready to go for Hangtown.
DC photo
I'm impressed everyone has chosen to just take the high road. They know that's just a better way to deal with the breakup, rather than keep hashing it out and dragging bad press around. The reporter in me wants to get a juicier story, but I have the feeling it's not there. So I guess I'll just also stop dragging this thing on! No matter how you slice it, having a happy and healthy Stewart fired up for the start of the Nationals definitely raised the excitement for the series by what seems like 1,000 percent. I already couldn't wait for Hangtown, now I can't wait even less, if that makes any sense.
By the way, I feel like it's strange that the SX finale came and went, and the SX Champion wasn't racing (due to injury) and the defending MX champ (same guy) won't be racing next weekend (due to injury). Doesn't happen like this very often, and thus Ryan Villopoto is quickly falling out of the news cycle. So, just so we remember how good he is and was, and since we won't see him back to prove it for awhile, I just want to say, Ryan Villopoto, Ryan Villopoto, Ryan Villopoto. I just feel like the guy deserves a mention every one in awhile!
Next weekend I get to go back into the TV booth alongside Emig and new pit reporter Georgia Lindsay. You've seen Georgia hosting Racer X Films from the pits at supercross this year, so you know she'll do a great job. But of course I'll miss Erin Bates, who sets the standard. With Georgia moving in, Erin has taken on some new gigs this summer with the Lucas Oil Off-Road Series for trucks and is doing a great job there. Have fun, Erin!
That's it from me. Our own staff NorCal guy, Aaron Hansel, checks in with this update:
The Lucas Oil Pro Motocross Championship, sanctioned by AMA Pro Racing, is just eight days away. Are you ready? By the looks of this video taken at Pala Raceway on Wednesday, Ken Roczen and Dean Wilson sure are! That's a 160-foot gap they're clearing on their 250s.
After such a rough season of Monster Energy AMA Supercross, I know a lot of riders and team personnel are looking forward to a change of scenery. You know guys like Eli Tomac, Justin Barcia, and Davi Millsaps are looking to carry their momentum from supercross into the outdoors, while racers like Wilson, Roczen, James Stewart, Brett Metcalfe, Jake Weimer, Ryan Dungey, Kyle Cunningham, Ryan Sipes, and many more are all champing at the bit to wash the sour taste of an indoor season that didn't live up to their expectations out their mouths with some sweet victory champagne this summer.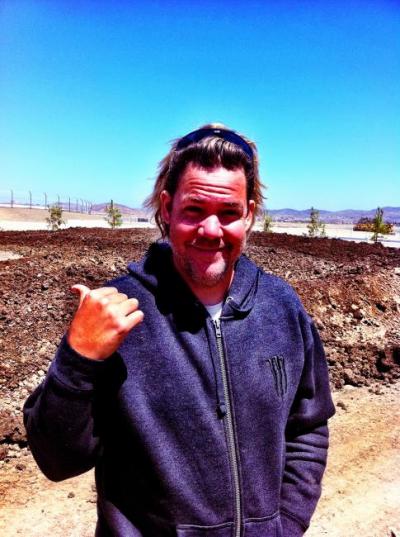 Marc Peters and the Lake Elsinore gang have been up to all good on the tracks out here.
DC photo
We'll also see a couple of new old faces next weekend when Ryan Hughes and Ivan Tedesco line up to do battle. Hughes has a one-shot deal going with Rock River Powersports/Moto Star to ride a 450 at Hangtown, while Tedesco will likely be aboard a Monster Energy/Pro Circuit Kawasaki 250F. I contacted him yesterday, but not everything with his deal is finalized and he can't divulge the details just yet. Hopefully we'll have more info next week.
There are just so many cool things to watch outdoors this year that I don't have room here to talk about all of them. I will say that I'm especially excited about watching Roczen and Nico Izzi out there. Izzi, you ask? Yep. I watched him get better and better on that 450 in supercross this season, and from conversations I've had with Star/Valli Yamaha co-owner Chad Lanza, he has calmed down a lot, matured, and has been working his ass off. Sure, you might expect a team owner to say positive things about his rider, but Izzi's flashes of speed in supercross prove that he's made some positive changes in his program. If he can get a handle on some of the wildness he's been having on the bike lately, he'll be able to find another gear this summer.
As for Roczen, that's just a no-brainer. He's blazing fast, he's the MX2 World Champ, and his whips are flatter than stale beer. There's nothing to not be excited about with Roczen, and I can't wait to see how he'll stack up against the existing competitors of American motocross.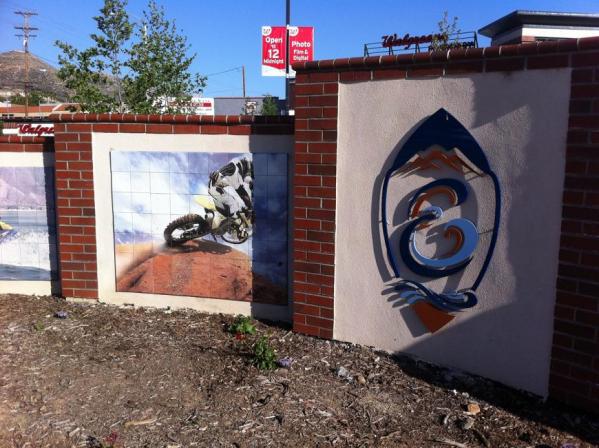 Lake Elsinore moto-friendly civic art....
DC photo
It all starts next week at the FMF Hangtown Motocross Classic, where the track gets rougher and nastier than Mel Gibson's divorce proceedings. Hangtown has forged unforgettable moto memories like Jeff Emig getting his last moto win as a professional, the famous finish-line Grant Langston vs. Mike Alessi controversy, Eli Tomac winning the first pro race he ever entered (and later enlisting the help of teammate Trey Canard to help him open his champagne on the podium), Tallon Vohland holding off Ricky Carmichael on a 125 for what seemed like a million laps to take the moto win, me breaking my first bone, and many more. What kind of memories will be made this year?
Now our go-to girl on all things GEICO Honda, Haley Wisennand, has this update:
With GEICO Honda coming off of a huge supercross season, the dynamic duo of Justin Barcia and Eli Tomac is topping the prediction charts. Tomac felt like his championship was long overdue, ever since the unforgettable championship battle between him and Broc Tickle the year before. He knew coming into the season that he had the tools to win—he just needed to put it all together.
This year, Tomac thinks the outdoors will be the same way. With all the confidence he has coming off of his supercross championship run, he couldn't be more ready for Hangtown to come.
"We're racing the same guys in outdoors as supercross," he says, "so every time you beat them, it's a boost."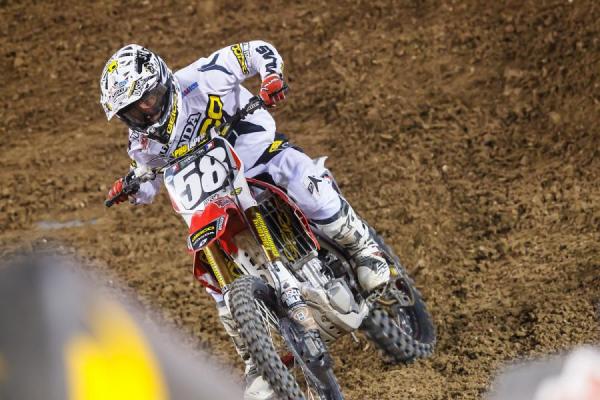 Look for a healthy Wil Hahn to be a contender outdoors.
Simon Cudby photo
In the midst of Tomac and Barcia's supercross glory, though, their teammates were nearly forgotten. I talked to Wil Hahn and Justin Bogle Thursday. I wanted to know how it felt to be on the team that dominated the Lites SX class this year without actually being the stars of the show. Hahn said the team is really close-knit and has only grown closer over the past few months. Bogle agreed but admitted that watching his teammates win wasn't easy all the time.
"It's cool to be a part of the team that accomplished that and I'm pumped for Bam Bam [Justin Barcia] and Eli [Tomac], but at the same time, you always wanna be the one who is winning and doing good," he said. "It's motivation, too."
The spotlight is nice for those in it, but some riders are left wanting more. Hahn battled an injury throughout the supercross season to get his shining moment on the podium. But finally, in Vegas, Hahn's season goal came true. And I would be lying if I said that the media wasn't all happy for him when he got to step up onto that podium. He felt the support coming from the moto community and that only made his accomplishment that much more satisfying. Said Hahn, "People get what I've been through and the hard work that it took to get through it."
Both Hahn and Bogle are looking to make a stand in the outdoors. Preparations are going strong for the team, which claims that its bikes are significantly more prepared for the intensity of the outdoors this year. With so many injuries and team changes affecting the classes, it's still anyone's championship. Expect to see the forgotten guys on the box this summer. With a championship battle come casualties, which only open up more opportunities for the underdog to shine
By the way, over in the Pro Circuit camp, I spoke to Darryn Durham this week and he said, "I'm okay. My shoulder sucks, but it will heal up. Just gotta work it back. I'm not sure how long I will be out for. I'll miss some outdoors for sure."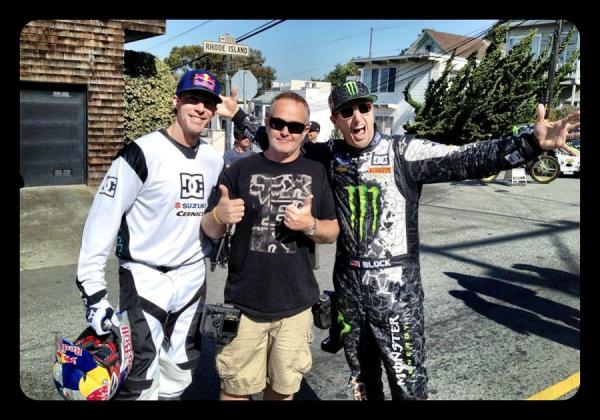 One of these guys is lucky enough to be The Simon Cudby.... the other two are named Ken and Travis.
DC photo
Now onto some random notes:
We received this personal update from Jeremy McGrath earlier this week regarding his wife Kim's current condition. Please take the time to sign up. You could save a life.
Hi Friends:
I am sending this message to let everybody know what is going on with my wife Kim and my family. As you may or may not know, about two years ago Kim was diagnosed with Breast Cancer. She had a number of different surgeries, underwent chemotherapy for many months, and handled the processes like a true champion. Kim was feeling great.
Kim was 15 months removed from her last treatment, about a month ago she noticed a couple of small blotches on her skin. Due to her great instincts she went and got them biopsied. That biopsy came back as "Leukemia Cutis," which is Leukemia of the skin. Naturally we were blown to pieces by this news.
As I said, Kim was feeling great and due to her good instincts we caught this in the Pre Leukemic stage. The bad part is the doctors have to treat "Leukemia Cutis" the same way as if you came in the hospital at the later stages of leukemia. Which sucks….
This means more chemo. She is currently in the hospital and has completed her second days of chemo and they are saying a BONE MARROW transplant is next…. THIS IS WHERE ALL OF YOU GUYS COME IN… We really need your help with going and getting on the Bone Marrow registry, the idea is to find a Marrow match.
Its as easy as finding a Bone Marrow Drive and getting your mouth swabbed, or having the kit sent directly to you at your house, and you can send it back. I ask all of you to do this ASAP, this is something that is time sensitive. In order to help Kim, we have to be willing to help anybody, which is the right thing to do.
Go to http://marrow.org/Join/Join_Now/Join_Now.aspx?promo_code=mcgrath
This is the biggest challenge of my and my family's life…. You guys have never let me down, so PLEASE help us with this one… Thank you…
Sincerely,
Jeremy McGrath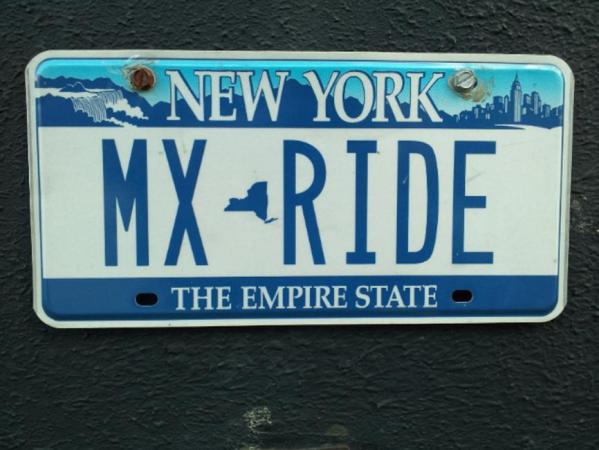 Check out Joe Ellington's custom license plate...
DC photo
We also got this news from The GOAT this week:
Ricky Carmichael's Motocross Matchup is now available for Android users. The latest update has also been released for Apple users and PC users. Now all three platforms can race against each other in head to head live racing. Click here for the the Droid and here for iTunes. And look out for the VIP tag with "The Real Ricky Carmichael" if you see that you are racing the real RC!" Click to download on iTunes and Droid.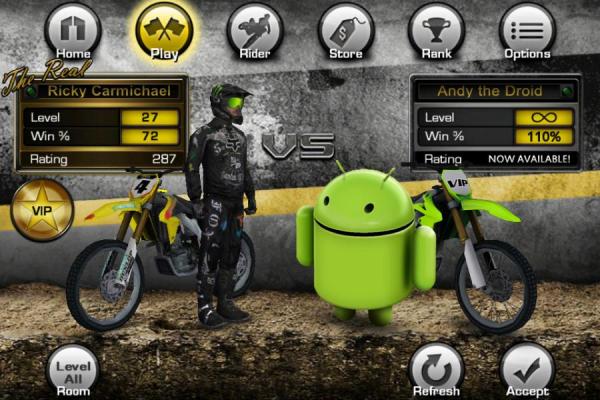 There is a bold new entry on the Motocross Fantasy 2012 scene. FantasyRacingClub.com is the creation of former professional MX/SX rider and factory Kawasaki mechanic Bryan Emig. Fantasy Racing Club offers simplified rules and scoring, making league play easy to understand yet exciting enough to keep the most die-hard fans interested.
"After years of racing professionally and working on bikes, FantasyRacingClub.com was a natural progression for me," said founder Brian Emig. "It's a great way to keep the thrill in the sport." And for Emig, MX/SX is a family affair, as you all know his brother Jeff.
On FantasyRacingClub.com, league players pick four riders in each of the two classes and earn points off of those riders. Riders outside of the top ten earn double points. There are a variety of picks available each week and results are posted the day after the races. Fantasy Racing Club also offers a full race day guide, complete with injury reports, practice times and TV schedules. Prizes will be awarded to the top 10 players in the overall series with additional prizes for the top three in points after round six.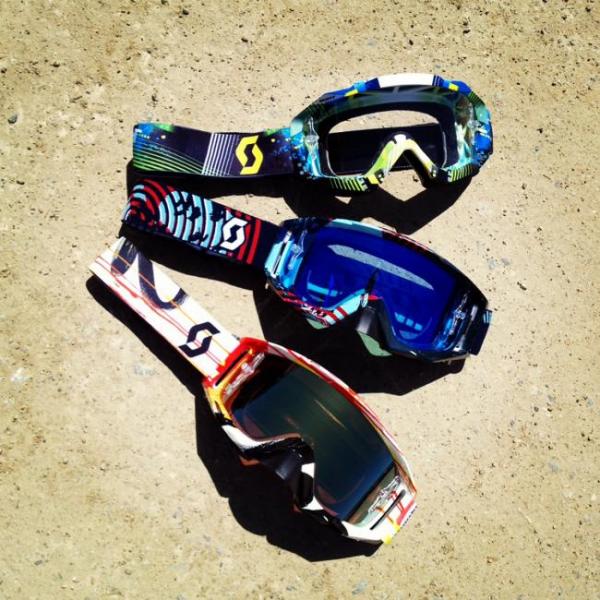 Here's a sneak peek of the 2013 SCOTT goggles.
Simon Cudby photo
With exciting additions planned for 2013, Fantasy Racing Club is poised to make its mark on the industry. The 2012 season offers public league play, while planned 2013 changes include a Private League option, allowing fans to create and compete in their own leagues.
MX/SX fans should race to www.fantasyracingclub.com to sign up today. The deadline for league entry is May 19, with the first race starting at 1pm PST. Players must enroll by May 19th to be eligible for prizes.
That's it for this week. Thanks for reading, see you at the races.