Sam Boyd Stadium
Las Vegas

,

NV
Las Vegas
Monster Energy AMA Supercross Championship
The list of racers who have raced AMA Pro Supercross is quite short when you compare it to the number of dirt bike enthusiasts in America, although it got a little longer last Saturday night in Salt Lake City when 19-year-old Collin Jurin qualified for the first supercross Lites race of his life in what was just his second attempt. Talking to first-time qualifiers always seems to give us that warm and fuzzy feeling, so we decided to give the Monroe, WA, native a ring and ask the newest member of the supercross club a few questions about his night in SLC.
Racer X: Congrats on making it into your first supercross main event!
Collin Jurin: Thanks, I raced Seattle the week before, but yeah, this is the first main I've ever made it into.
Take us through your day in SLC.
I woke up about 8:00 a.m., and ate a small breakfast to get through the day. My dad and I set up our easy-up, went through tech, did track walk, and waited for practice to start. It was nice to actually get three practices this week (practices were cut in Seattle due to wet conditions). That night, I was in the second heat, and it was nice to have the track a little broken in already. The race went pretty good, even though I got a horrible start. Scott Champion and I tangled, and he ended up going down in the first corner. I was pretty much dead last off the start, but by the end of the first rhythm I think I was in twelfth, and my mechanic was writing what place I was in on the pit board every time I went by. I saw, "tenth" about halfway through and I could see ninth right in front of me. I knew I was going to have to pass soon, because the LCQ would be pretty tough. I ended up getting in, and it was nice to be able to relax for the rest of the night until the main.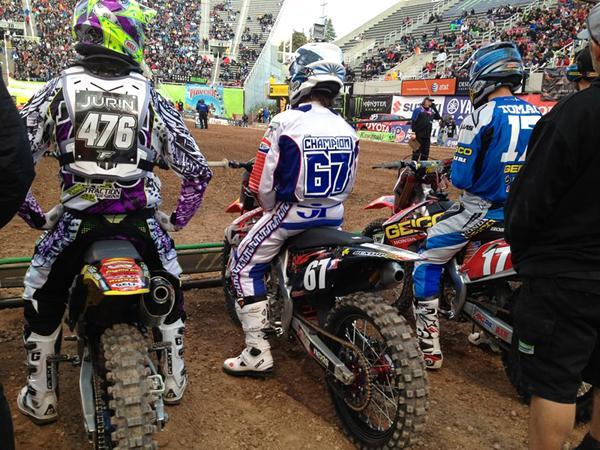 Colin Jurin (left) made his first career supercross main event in Salt Lake City.
Photo: Denny Dennis
Were you expecting to make the main?
I wasn't expecting it, but obviously I was hoping to make it. I knew I had a decent chance, and that there was no question that I could do it.
What was going through your mind when you realized you had made it in?
The last lap I was so excited inside my helmet! I came across the finish, and I was happy, but I was thinking, "What if my mechanic didn't count right and I got tenth?" But when I got back to the pits, we confirmed that I got ninth and I was pumped. It was like a dream you've had since a little kid, and for it to finally come true was awesome.
How'd the main go for you?
Not so hot. Well, it was good for my first one. I cased one of the triples on the third lap I think it was, and jumped off the track. I caught back up, and I was riding with some guys and ended up cross-rutting in one of the rhythms and ended up jumping off the track again. By that time, the leaders were coming around and the blue flag was out. I was just getting in everyone's way, and I could see Deano and Tomac coming and I didn't want to mess anything up. I ended up pulling off and being safe so I can ride again next weekend and not screw up anyone else's night.
It sounds like you had some nerves going!
Yeah, I was definitely nervous, no question about that.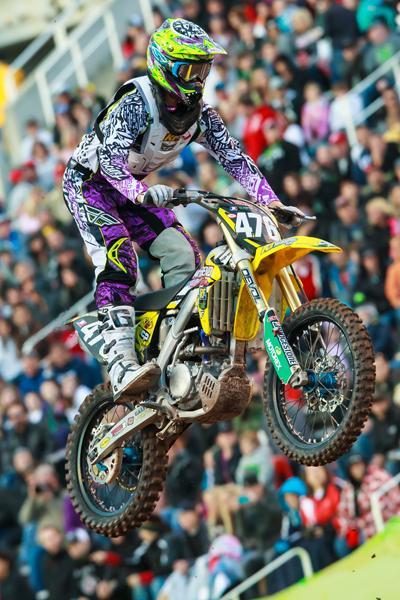 A couple of rookie mistakes would cost Jurin in the main. He would finish 20th on the night.
Photo: Simon Cudby
You got hurt earlier this year and weren't able to race at all, so coming back and making the show in SLC has to feel especially good.
Yeah, I've only had about a month-and-a-half on the bike before Seattle, and I didn't ride for three months before that. So to be able to get ready is pretty good I thought.
So what's next, are you racing the outdoors?
I plan on being at four outdoor races. I'll be at Hangtown, Colorado, Washougal for sure, that's my hometown race, and I'll be at Lake Elsinore.
Who is helping you out?
RF Motorsports, North Bend Automotive, Bell Helmets, Smith Goggles, Fly Racing, Fusion Graphix, Moto Star Clothing, Pro-Wheel Racing, J Whipple MX Schools, Galfer Brakes, Traction Designs, Torch 1, DT1 Filters, Sunstar, Engine Ice, CV4 and Motorex.and Devol Suspension.