Sam Boyd Stadium
Las Vegas

,

NV
Las Vegas
Monster Energy AMA Supercross Championship
The 2012 Monster Energy AMA Supercross series has been full of injuries. But with every crushing blow to a rider's hopes and dreams, a door opens for someone else, and a fairytale begins for the rider that gets the call to replace the racer who's once pleasant dream has become a nightmare. In this week's Bench Race Ammo, we're taking a look at some of the replacement 450 riders and giving them grades on how the team and the rider did under sometimes trying circumstances.
Cole Seely- Team Muscle Milk Honda
Best Result- Fifth
With Trey Canard's injury sidelining him for the season, Honda went to an old friend to help them out on the track. Lucas Oil Troy Lee Designs Honda's Cole Seely got the tap on the shoulder to come race the 450 for a few rounds and just like last year when he was called upon by Honda, he did pretty well. Although his best result came in Indianapolis, there's no doubt his best ride was his first one in Atlanta where he holeshot and led for a bit before getting sixth. Cole's steady throttle control and finesse probably suits a 450 better than a 250, which bodes well for his future.
Grade: B
Seely gets docked a bit for getting on what might be the best bike in the class and because he was there last year. All in all though, he's exactly what you want in a fill-in guy. He got press by holeshotting and leading in Atlanta, and then also when he shot off the side of a bridge. It's a win/win!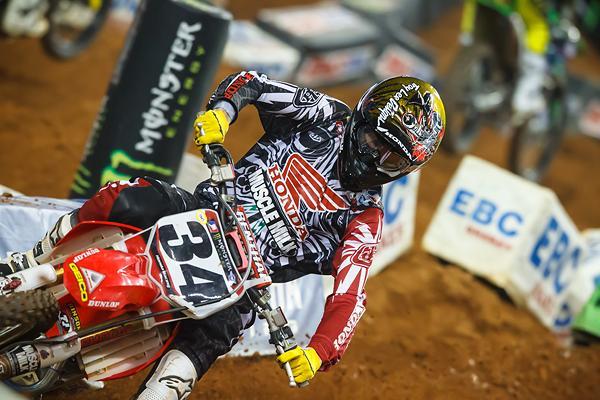 Seely was solid as a fill-in for Muscle Milk Honda.
Simon Cudby photo
Wil Hahn- Muscle Milk Honda
Best Result- Ninth
Wilbur got the slot at Honda after Seely, and although he didn't perform as well as Seely did, there were a couple of things going against him right from the start. One was the fact that he had never ridden a 450 in supercross before, and the second was that he was coming off an injury. So with all that, Wil's ninth was a decent result, and along the way he gained some valuable track time on a 450 with the factory Honda guys. Hahn did what was expected of a fill-in guy and that's get top tens and be a good guy. Done and done for Hahn.
Grade- C
As we said, Hahn had a couple of stumbling blocks he had to overcome right from the start, but we would have liked to have seen him do a little better by his third and final race.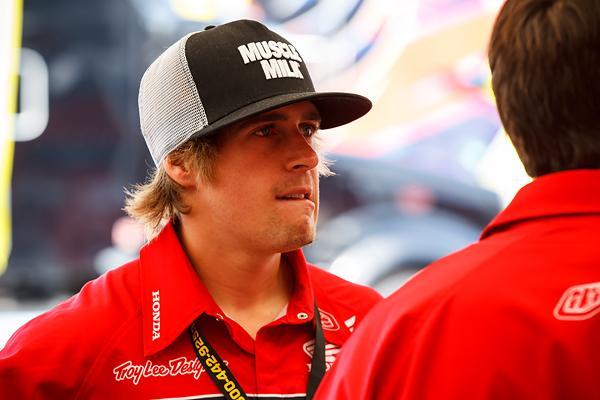 Hahn made his Supercross class debut in a fill-in role for factory Honda.
Simon Cudby photo
Bobby Kiniry- Star/Valli Yamaha
Best Finish- Sixth
Kiniry had hopes to do some east coast 450 races with the Star/Valli guys but was called into action early when Ryan Morais got hurt. At his first race in Oakland, Kiniry hadn't really been riding that much but put the Yamaha YZ450F into the main before a DNQ at the next race. Since then though, Kiniry's been a main event staple and has done nothing but do exactly what you want a fill-in rider to do. He's low drama (on that team, that's appreciated), works hard and is just happy to be there.
Grade- A
It's debatable on whether Kiniry has actually produced better results than the rider that he replaced (Morais) would have gotten. Although there's far too many mains made via the LCQ to make Kiniry or the team happy, it's been such a good experience for him and the team that Star/Valli offered him a ride at some of the AMA Nationals that don't conflict with his Canadian National deal this summer.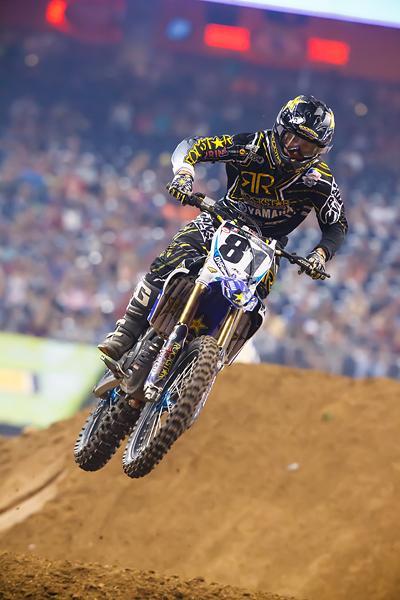 Kiniry has been spectacular as a fill-in for Star/Valli.
Simon Cudby photo
Weston Peick- Star/Valli Yamaha
Best Finish- Seventh
Peick started out the season as a privateer on a Kawasaki before getting picked up by the Star/Valli guys for one race. He then dropped back to his Kawasaki before strangely getting another shot with the Yamaha team. Weston has been solid on the much-maligned Yamaha, and with four top-ten finishes he's been pretty good. He's five points behind Kiniry in the standings with one less main event under his belt, but three more races entered. Clearly, there's not much to separate the two guys.
Grade- A
Peick gets the same grade as Kiniry, and the Star/Valli guys did pretty well with their picks one would think. The fill-in spots are not often filled with wheelbarrows of cash or anything like, that so the value of guys like Peick and Kiniry are high.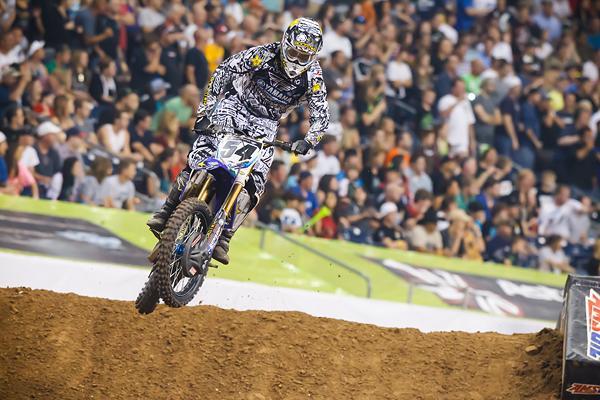 Like Kiniry, Peick has been great in his fill-in role.
Simon Cudby photo
Matt Goerke- BTOSports.com/BBMX Suzuki
Best Finish- Ninth
Hey look at this, guess who's close behind Kiniry and Peick in the series points? That's right, Matt Goerke, another fill-in guy. The BBMX team picked up Goerke when regular rider Michael Byrne got hurt. As soon as Matt got back from Germany, he rode one race on a Kawasaki wearing Sexy Devil race gear and then thankfully for all of our eyes, he started the third round with the BBMX crew. Goerke moved to California to get better at the hard pack tracks and had no real plans to race supercross the whole season without getting a ride. Thankfully for the BBMX team it all worked out because their regular riders, Jimmy Albertson and Jason Thomas, haven't been as good as the team thought they would. Goerke has been the team's shining light in terms of getting into the main events.
Grade- A
We're giving Goerke a high grade because even though Kiniry and Pieck have been consistently better than he has, he really saved the BBMX team in terms of having a rider in the main event. In short, he's been everything and more you could want in a fill-in rider. His ten mains are more than regular BBMX riders Albertson and Thomas combined!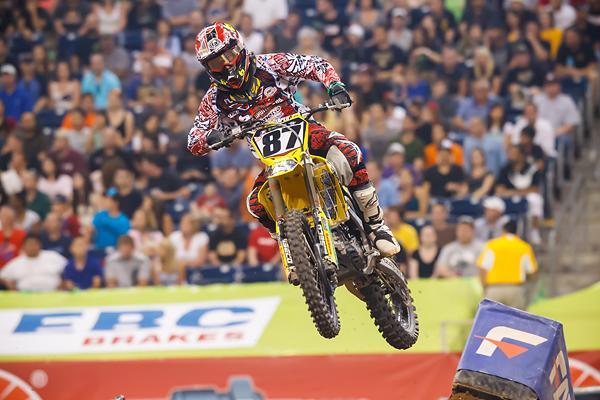 Goerke has shined for BBMX in 2012.
Simon Cudby photo
Gavin Faith- JGR/Toyota/Yamaha
Best Finish- Fourteenth
Faith has only been a replacement guy at JGR for two races, and he's gone DNQ- 14 for the guys in blue but really, it's tough to judge the Hawkeye on his results. We'll say this though; he was pretty fast on a Honda out of a van in the back of the pits. His best finish was a fourteenth, but he showed some speed here and there. And really, on the JGR Yamaha, he only had one day before Seattle to get used to the bike, so we'll cut him a break here.
Grade- Incomplete
He's racing this weekend in Las Vegas for the guys and that will be it for Faith. Three races on the JGR bike and we're not sure if we'll see him outdoors or not.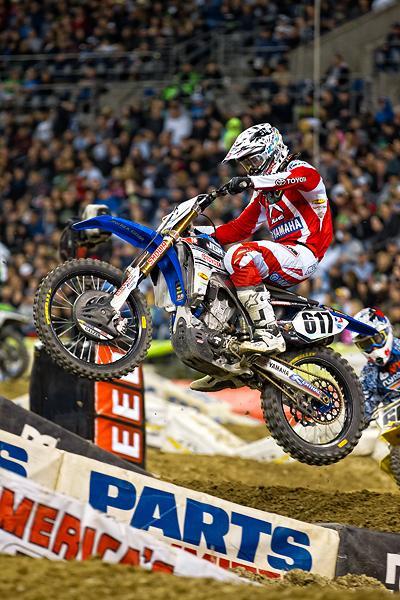 In only two riders for JGR, Faith has gone DNQ-14.
Garth Milan photo
Kyle Regal- Dodge Motorsports/Hart & Huntington Kawasaki
Best Finish- Fourteenth
This union hasn't worked out as well as many people thought it would. In fact, Regal's best finish of the year so far came on his own Honda at the muddy Daytona race where he ended up thirteenth. Regal didn't have much time to get used to the Kawasaki and it was thought that his results would get better as he went. Instead it's been crash, crash and then crash again on the Kawi. Not sure if it's something in the water over there on the H&H team, but Regal, like the other guys they started the year with, just hasn't been as much of a factor as many of us thought he'd be.
Grade- C-
Regal is starting to get a rep as an outdoor only guy and may need to drop back to 250s to learn the indoor game a little better. He's been in every main event for the team and that's a plus, but he can't seem to stay off the ground, which is a bummer.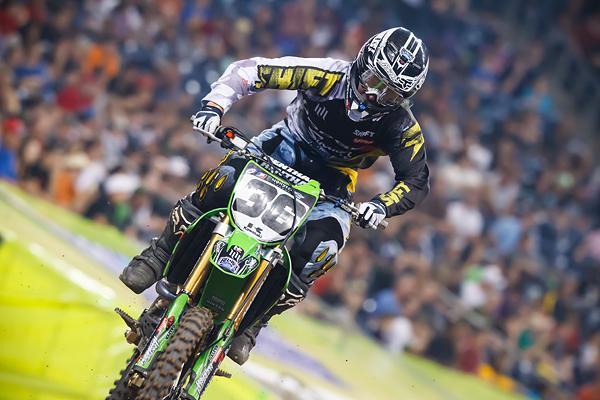 It's been a struggle for Regal and H&H.
Simon Cudby photo
Tyler Bowers- Dodge Motorsports/Hart & Huntington Kawasaki
Best Finish- Tenth
Bowers, the reigning Arenacross champion, earned himself a ride with the H&H guys for the last three races and in Salt Lake City, he scored himself a top ten finish. In fact, regular H&H rider Josh Hansen only managed to beat that finish three times, while Ivan Tedesco and Kyle Partridge never did. Bowers recording one of the team's best finishes all year is definitely what you're looking for in a fill-in guy.
Grade B-
I know we gave Faith an incomplete because of a lack of races, and while Bowers has the same number of fill-in races under his belt as Faith, his tenth in SLC was enough for us to say that this has already been a winning deal for team owner Carey Hart and the guys at H&H. Let's see how Tyler does this weekend on the hard packed track of Las Vegas, which is similar to the track he's been practicing on during the week.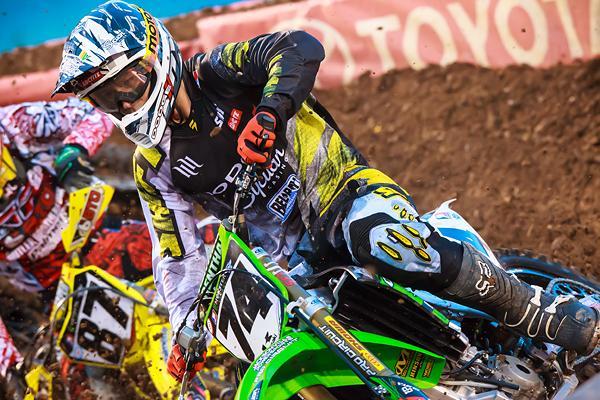 Bowers has been solid during his two races with H&H.
Simon Cudby photo
Cody Mackie- Jeff Ward Racing Kawasaki
Best Finish- Twelfth
Remember the Aussie who filled in early this season for the injured Josh Grant? Yeah, him. Mackie started off the year on a privateer Honda but got the call to fill in at the fourth race of the year. He wasn't spectacular, but he fought hard and made more mains than he missed on the Kawasaki.
Grade C-
It's hard to fill the shoes of the talented Grant but considering that Cody was just here on vacation, he filled in admirably.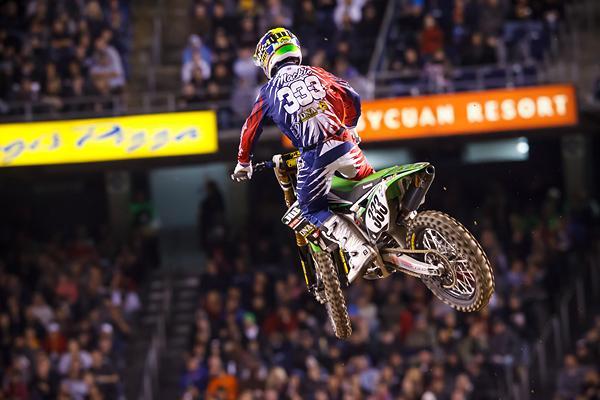 Remember me?
Simon Cudby photo