Salt Lake City, UT
Salt Lake City
Monster Energy AMA Supercross Championship
BTO Sports is your number one source for all of your motocross parts, gear, accessories and apparel. BTOSports.com is a motocross company who is truly dedicated to the sport and to the customer. Proud sponsor of your Racer X Podcasts and the BTO Sports/BBMX Suzuki race team.
This weekend we were in Salt Lake City, Utah, for round 16 of the Survival Series of Supercross while our champion Ryan Villopoto was at home recovering from knee surgery, Chad Reed was doing press and then going home, Trey Canard was signing autographs and not racing, and James Stewart was nowhere to be found. It's been a little bizarre this year to say the least.
I'd be careful to not over-analyze this series and proclaim any sort of proclamation (proclaim a proclamation? Yeah, that just happened) declaring that the series is in trouble and things need to change because of all the injuries. Remember, just last year we had the best season we've had in a long time, and a lot of guys stayed healthy and had great battles. Like I wrote in Racerhead on Friday, sometimes, we just have a crappy series. Now if this trend keeps going on and on, let's look into what we can do to help the riders make it through the series in one piece.
Just look at this list of who is, or was, injured and missed races: Ryan Villopoto, Chad Reed, Ivan Tedesco, James Stewart, Trey Canard, Ryan Morais, Kevin Windham, Josh Hansen, Kyle Partridge, Josh Hill, Andrew Short, Ryan Dungey, Tyla Rattray, Jimmy Decotis, Christian Craig, Nick Wey, Tommy Hahn, Gannon Audette, Austin Stroupe, PJ Larsen, Kyle Cunningham, Nico Izzi, Ben LaMay, Jarred Browne, Wil Hahn, Ryan Sipes and Gareth Swanepoel. And I'm sure I missed a few at that.
Well, add to this list Cole Seely who crashed hard in practice and suffered internal injuries, his teammate Travis Baker who hit his head and was forced to sit out, and Nick Paluzzi, who broke his wrist. The last three guys all got hurt in practice. Practice, we're talking about practice, as Allen Iverson would say.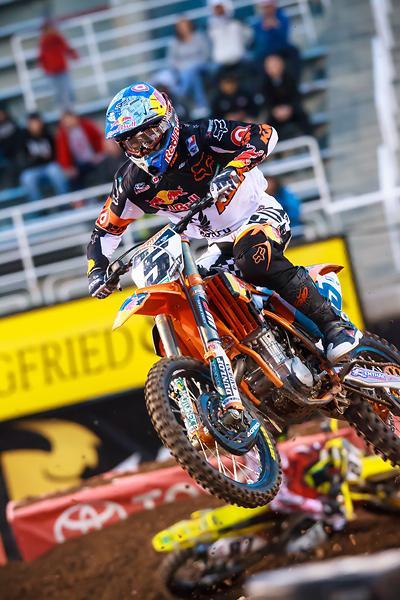 A brilliant ride by Dungey in Salt Lake City helped push KTM to its third SX class win of 2012.
Simon Cudby photo
Making his return from injury last week in Seattle, Ryan Dungey had a so-so race. In the past we've seen the elite riders be able to come back and run right at the front with their old speed, and while Dungey was good in Seattle, he wasn't Dungey-good, if you know what I mean. Well, this week in SLC, we saw the old Dungey reappear. And this was after a very rough practice in which Ryan crashed out in the first lap of the first untimed session and got his bike plowed into by Andrew Short. After a few repairs, Dungey went out in the second session and found there was still some problems with the KTM, so he really only got in on the last practice session of the day. That had to jack with him a bit out there, but the more he rode, the better he got. Dungey seemed to figure things out as the main went on, and with some help from a lapper who jacked Davi Millsaps, Dungey motored by for the win.
Without even looking at the lap times for the main I could tell that Dungey had the best time. At one point, he was put over a berm by Jake Weimer, fell down, and still caught up to the leaders. It was easy to see Dungey was the fastest, and upon checking the times, yup, he was almost a second faster than Millsaps on the night. It was a great race for Dungey and the KTM guys, and if he had gotten more laps on the track, it might have been a runaway.
Davi Millsaps should've, could've, would've won but he made a mistake in lapped traffic, and it was all Dungey needed to get by. Millsaps led for eighteen and three-quarter laps and this one had to hurt. Injuries or not, he's been a revelation, and was looking to win his first supercross in four years, but it was not to be. Although Millsaps wasn't pumped on the lappers messing him up, it didn't look like it was too bad to me, just the standard stuff that fast guys have to deal with. The little hesitation from Millsaps is all it took for Dungey to get by and win the race. The good news for Millsaps is that he now has a really good hold on second in points going into the final round. He's got 7 points on Justin Brayton and 12 points on Dungey. It would have to be a total disaster for Millsaps to not end the season in second overall.
If I had said to you that Davi Millsaps was going to get second in the points when we started the year, you'd have said I was drunk or high. Or maybe both. So I really think that it's been a good season for the somewhat maligned Millsaps, and he and his team should be proud of what he's accomplished.
Speaking of JGR, I have this to say: James Stewart.
Lately it seems that my computer just auto finishes his name and I can't type anything without having his name in there. There is no real news about James Stewart right now but there will be some this Monday after Vegas. Then there will be more about him after that, and then we'll see him at Hangtown racing outdoors, which to me, will be bitchin'.
Jake Weimer came through with his second great race in a row and he's got to be pleased with that in a season in which he hasn't exactly been a model of consistency. Weimer was on fire in practice in SLC, and I thought he was going to win. I even said as much to a couple of fans in SLC that stopped me to ask who I liked for the win that night. Weimer passed Dungey early and when he put Dungey over the berm, I thought we were really going to see something! I thought he was going to get Millsaps, but credit to Davi for keeping the gap the same.
Dungey, however, did catch back up to Weimer and made a clean pass on him. After that, Weimer struggled for the second half of the race.  He was clanking some jumps and seemed to tighten up. Maybe he was thinking about my pre-race win guarantee? Doubt it. Anyways, good job from Weimer, and maybe this weekend he can grab that win. After all, his second at Phoenix earlier in the year was on soil similar to what we'll see this weekend in Vegas.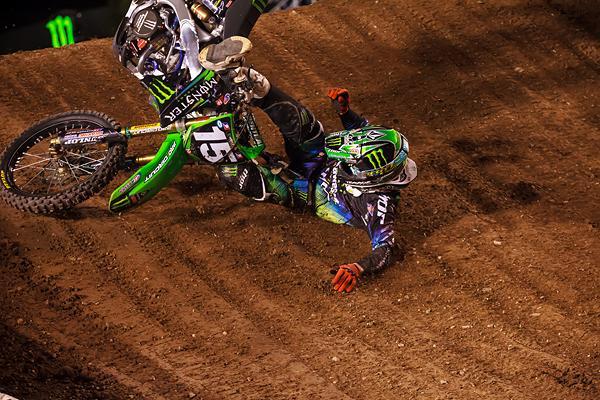 A late crash would cost Wilson a shot at his first career SX Lites title.
Simon Cudby photo
It figures that in this season of injuries, the Western Regional Supercross Lites title, the one championship that seemed destined to go down to the wire to Las Vegas, was instead awarded early to Eli Tomac when his two closest competitors, yep you guessed it, crashed out. Cole Seely crashed in practice and missed the race (and will be out for some time), and Dean Wilson, who was four points back, came into the race with a bad shoulder. He tried his best to stop the Tomac train, but he went down late in the race and DNF'd.
When it was over, GEICO Honda Powersports' Tomac had won both the race and the West Region Lites Championship. Kudos to Alias gear for having a number 1 jersey ready for Tomac at the race, because the chances of Tomac clinching it were pretty slim. That Jeff Surwall, he's so clever. Anyway, Tomac was, I think, the fastest guy from start to finish in this series. He managed to catch and pass Wilson on more than a few occasions, and really rose above everyone else this year. If you include last season's results, Tomac has produced twelve podiums in his last fifteen 250 SX races. In short, he's on point in the supercross series, and the only thing left for him to conquer is the outdoor series. He's got to get better outdoors to grab that, "Best 250F Rider in the World," title, but it's there for the taking.  Anyone want to bet against him?
So that's it folks, GEICO Honda captured both supercross titles for the first time in the team's history, and they're to be congratulated on this achievement. With Tomac and Justin Barcia, they've got themselves a couple of riders that they hand picked in the amateur ranks, and the duo has done exactly what was expected of them—win races and championships.
The GEICO team took a bit of a risk in going away from longtime sponsor Pro Circuit for pipes and motor help this year. They instead went with Yoshimura for exhaust, and chose to source out their own vendors for motor parts. It was something that could have backfired on them, but by all accounts, their bikes are better this year, although the biggest improvements have been in the chassis department.
Honda introduced an all-new CRF250R a couple of years ago, and like a lot of new models, the teams have worked and worked to get the most power they can out of the bike. Once they felt comfortable with that department, they went about working on getting the suspension and chassis where it needed to be. All the riders report great improvements on this end and in talking to the guys at GEICO, you know who's responsible for a lot of this improvement? None other than team manager Mike LaRocco!
That's right, the ex-outdoor national champion still gets busy on a supercross and motocross track now and again, and word is, LaRocco's been instrumental in testing for the team. Instead of the riders possibly leading the team out into left field, there's a guy that's got national titles, race wins and 20 years of professional motocross racing experience, telling the riders that this is the direction they're going to go in. LaRocco moved from Indiana to Southern California last year to devote more time to the team, and it's working out great so far. And besides, if you're a kid on the team, are you really going to argue with Iron Mike?
So now, with three years of trying (and failing) to win a supercross title, the question needs to be asked. Is Dean Wilson the fastest rider to never win a supercross title on a 250? Wilson is eligible to ride the class next year, but will more than likely begin his 450 career instead. In scanning the record books, the last time we saw such a situation was in 2003 when Grant Langston won the outdoor title without also having won an indoor title, although Langston would later go on to win two supercross titles with Pro Circuit once he washed out as a big bike rider the first time. In '01, Mike Brown won the 125 national title, but was never able to win an indoor title. Every guy since then that has won an outdoor title (like Wilson has) has also won an indoor title.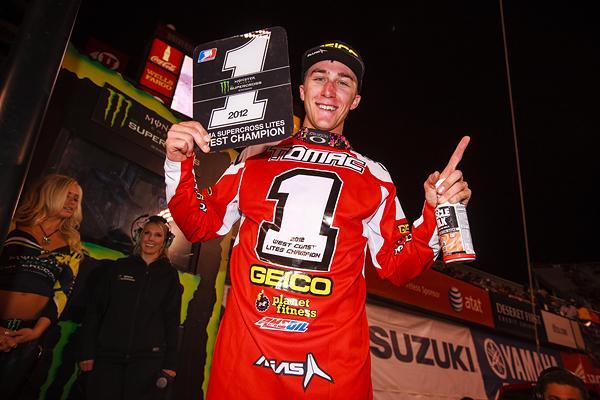 Tomac, unexpectedly, captured his first West Region Lites title in Salt Lake City.
Simon Cudby photo
Wilson was fast in his rookie year, but probably not ready to win the title (he did miss two races when he was held up by immigration in Toronto), and in his second year, he battled hard with Barcia but came up just short. This year he switched to the West Coast and had to deal with Tomac.  He gave it a good run but came up short once again. In the grand scheme of things, it's really not that big of a deal not to have won an indoor 250 title (after all, any rider out there would take a 250 MX title over a 250 SX title), but it is a bench racing question for us. The great
Ryan Villopoto
was only able to win one 250 SX title in his three years in the class, so it's not exactly a harbinger for future success.
I'm sorry but I just have a hard time saying anything bad about Bobby Kiniry. I can't do it, no matter what. If I came home tomorrow and caught Kiniry in bed with my wife, I'd probably just blame myself for not paying enough attention to her. After all, it must have been my fault to have forced her into Kiniry's arms. The New Yorker is just one of the good guys in the sport and he's putting in some good work this year as a fill-in guy for the Star/Valli Yamaha guys. Ninth this week in SLC, Kiniry continues to do everything that you could ever ask of a guy that didn't have a ride to start the year off!
As any listener to the PulpMX Show knows, it continues to baffle my brain as to why teams constantly go with these "home run" riders that inevitably end up striking out or laying down bunts. Yeah, these guys could do better than a Bobby Kiniry, but most times do not. Most times they get hurt and fail to fulfill their expectations while a dude like Kiniry goes out there, creates zero drama, tests and rides his balls off and gets good results. Kiniry is the Chia pet of motocross—put the damn seeds in and leave it alone. It will be fine. Walk away from it and it will be fine. If you own a motocross team and continue to try and hit home runs with every single rider you pick, then you deserve what you get. Why not realize what your team is and just hit an easy double or triple with a Bobby Kiniry?
Let's take a look at the results shall we?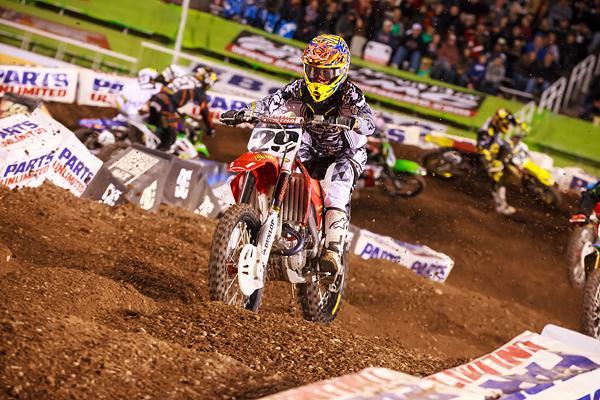 Andrew Short would struggle to a 7th after his win in Seattle.
Simon Cudby photo
Western Regional Supercross Lites Overall
1. Eli Tomac Hon
2. Jason Anderson Suz - Anderson had his best race as a professional in SLC, leading the race for quite a while. And he did it after a bizarre crash with Ryan Sipes on the start straight during the parade lap. You know how riders that are late to the gate with mechanical problems always seem to pull the holeshot? Well it appears that 100 percent of riders that ram into other riders while they do a practice start before the race go on to lead laps. Watch out in Vegas!
3. Martin Davalos Suz - Davalos rebounded from a terrible race in Seattle with his first podium appearance of the year in SLC. He rode great, and good for the Rockstar Energy Drink Suzuki team for getting two spots on the box as well. With this and GEICO's two titles, maybe there are some chinks in the Pro Circuit armor? You're right, that's dumb of me to say. Anyways, I think it's time for Davalos to jump up to the 450 class. No really, it's time.
4. Wil Hahn Hon - Wilbur probably would have passed Davalos if he had had just one more lap. Good ride for Wilbur, who at this point is probably just riding outdoors during the week.
5. Marvin Musquin KTM - I don't know man, Moving Marvin The Martian Musquin was not good this week. He was fast in practice and more was expected of him in the main but he just went backwards. Very bizarre race for the Frenchman.
6. Matt Moss KTM
7. Billy Laninovich Hon - Privateer hero Laninovich put in another good showing, and with some luck can get fifth in the points if he does well in Vegas. Yeah, that's right; just think about that and how maybe this guy should get another shot with a top team for next year. He does have a tryout ride with TLD Honda for the outdoors on a 450 though.
8. Topher Ingalls Hon - Ingall's bike is like Medusa's head. Once you look at the beautiful orange and black Honda, you can't stop staring at it. Unlike Medusa's head though, you won't turn into stone upon staring at it. Instead, you'll be filled with wonderment because you've never seen anything so incredible.
9. Vince Friese Hon
10. Scott Champion Hon
11. Killy Rusk Hon
12. Landen Powell Hon
13. Preston Tilford Hon
14. Beau Hudson Kaw
15. Chris Plouffe Hon
16. Ryan Sipes Yam - The word is that Sipes is going to need some shoulder work because of Anderson's accidental take out on the parade lap. Bummer for Ryan if it's true because he was slated to ride the factory Yamaha 450 and was going to be immediately installed as everyone's sleeper pick.
17. Myles Tedder Kaw - A Tedder in the main!
18. Travis Bright Hon
19. Dean Wilson Kaw - Dean was on it for a while and admitted after the race that he thought if he had a decent shoulder he probably wouldn't have crashed. It was an ugly one, and went along with the one in practice where his bike quit and he racked his nuts really bad.
20. Colin Jurin Suz

Jason Anderson captured his first career podium in Salt Lake City.
Simon Cudby photo
Supercross Overall
1. Ryan Dungey KTM
2. Davi Millsaps Yam
3. Jake Weimer Kaw
4. Justin Brayton Hon
5. Mike Alessi Suz - Mike was a solid fifth and sort of rode by himself for most of the race before Brayton caught and passed him.
6. Broc Tickle Kaw - Great race for Broc. I'm hearing that he's going to drop back down to the 250 for the Lucas Oil Pro Motocross Championship while Tyla Rattray moves up to the 450 and into the factory truck to replace Ryan Villopoto. That's just what I heard, and it's all subject to change.
7. Andrew Short Hon - Short was bummed about his race after his win in Seattle and barely wanted to talk after the race. If you know Short, him not wanting to do an interview is pretty amazing. His race was THAT bad.
8. Josh Grant Kaw - What Grant has to do is just keep it on two wheels and get stronger and stronger as he goes on. With so many stops and starts the last couple of years, it's been tough for him to get into a rhythm. The longer he keeps going, the more his talent will show and better results will come.
9. Robby Kiniry Yam
10. Tyler Bowers Kaw - Bowers had his best race for the H&H crew. I know he won the Arenacross title on a 250F, but in my opinion he had no business racing the East Region Lites class on a bike that he's clearly too big for. A guy who goes to the Kawi track all the time told me that Bowers looks like "the fastest guy in the world on Wednesdays at the Kawi track," and just needs to figure out how to bring that speed on Saturday. And not on a 250F.
11. Matt Goerke Suz - A great ride for Goerke and a great night for the BBMX crew, as they got all three of their bikes into the main event for the first time this year. All the guys seemed to get good starts as well.
12. Weston Peick Yam - See my rant about Kiniry above and equate it somewhat to Peick as well, although I think that Kiniry's off-track demeanor is a little better than Peick's. Kiniry wouldn't say poop if his mouth was full of it, where Peick actually does sort of stir it up about teams he's been on.
13. Nick Wey Kaw - Wey, his mechanic, Big Nasty, and myself all went for dinner on Friday night at Bennihana and Nick picked up the bill! What a nice guy, and let me be the first to say that you can't buy favorable media coverage but in SLC, it appeared to me that the twelve guys who finished in front of Wey were definitely cheating.
14. Gavin Faith Yam - Faith's two-race fill-in deal with JGR Yamaha has been extended to this weekend's race in Las Vegas because you-know-who isn't coming back as originally planned.
15. Jason Thomas Suz - Must have been the funky rhythm section where JT (and sometimes Alessi) was the only guy going 2-3-3-1. He did that all the way to his second main event of the year.
16. Chris Blose Kaw - Blose hurt his just-repaired shoulder but toughed it out in the main.
17. Kyle Chisholm Kaw - Chisholm's fork broke at about the midway point in the race and he just rode around after that.
18. Jimmy Albertson Suz - Top Jimmy! That is all.
19. Kyle Regal Kaw - Regal crashed out again. I'd say that he's trying too hard or something and that's why he's crashing so much, but honestly, he just seems to be in the wrong place at the wrong time. Not all of his crashes have been his fault.
20. Brett Metcalfe Suz - I said Metty was going to podium before the year was out, and we're down to one race left after his DNF at SLC, where he and Regal collided. I even stamped it, so he's got to do it this weekend.
Thanks for reading, I appreciate it. Email me at matthes@racerxonline.com and we can chat some more.